This just in from the Crimea. Tensions are building as conflict continues between the advancing Russian forces and the Allies. Supplies have now reached Cossack Bay, Balaclava, bringing much-needed relief to beleaguered British forces. There are reports of columns of refugees fleeing the area.
The year is 1855 and, as these pictures attest, the war against the Russian land grab has taken its toll. In particular, Captain Lord Balgonie of the Grenadier Guards is suffering from the effects of fighting. Balgonie is enduring post traumatic stress disorder – although it will be many decades before that term enters common usage.
The photographer was Roger Fenton and his celebrated images from the Crimea appear in a new exhibition, Salt and Silver: Early Photography 1840-1860, which opened on 25 February at Tate Britain in London and will run until 7 June. The show is the first to focus entirely on salt prints – the earliest attempts by pioneers such as Henry Fox Talbot to capture a negative image that could then be used to produce multiple positive prints.
Fox Talbot, who called his technique "photogenic drawing", competes for the title of the father of photography with Louis Daguerre of France, who used a different method employing heavy silver plates for his daguerreotypes, which could not be re-printed.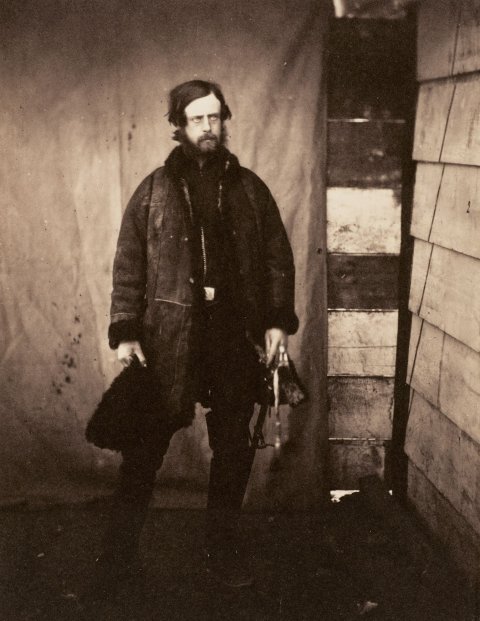 The Great Exhibition of 1851 had galvanised global interest in this brand new medium of photography. As a result, not only British but French and Italian photographers are represented in the show.
Fenton and other photographers such as John Beasley Green built on Fox Talbot legacy's and lugged their apparatus across the world. Fenton, now regarded as one of the first war photographers, abandoned his career as a lawyer to devote himself to the new art and, as Carol Jacobi, the exhibition curator, explains, the results of his trip to the Crimea were shocking. "The war was going badly and he was expected to take morale-boosting photographs for propaganda purposes. But he ended up taking hugely sympathetic portraits of the soldiers showing pain and struggle."
The pain was severe. Lord Balgonie was only 23 when he was photographed and was soon sent home to recover. He was dead by the age of 25.
Fenton fared rather better. He returned home a hero and his photographs were published in the Illustrated London News. Championed by Queen Victoria and Prince Albert, he went on to travel extensively. Then, because photography was still not considered a serious art form, he gave it all up. In 1862 he sold his negatives and equipment and returned to the bar. Our loss.