"I shall never ever wear trousers," says the Serbian army's first transgender officer. There may be several other things Helena will never do again after serving in the Armed forces as a man for more than 20 years and after being married to a woman for 21 years.
One might be reflecting positively on the Serbian Army and Serbia's Ministry of Defence, since she is taking legal action against both of them on the grounds that they did nothing to stop her being the subject of insults and harassment.
Currently she is being supported by a civic group called Egal, which fights for equal treatment for transsexuals in Serbian society. When approached by Newsweek, Helena, 41, [not her real name] agreed to tell her story on the one condition that the names of her four children, as well as her ex-wife and closest relatives, would not be made public.
With her above-the-knee skirts, high-heeled boots and ample cleavage, Helena looks like a woman but still speaks in a low, rough voice.
"I know my voice is a problem but I am taking hormones to help make the transition from male to female so it all will be settled very soon. People don't pay attention to me at all, and it's only when they hear me speaking that they become surprised," she says.
Helena's identity card is misleading. Under Serbian law she is still legally considered to be a male, even though her official photograph is that of a woman. As a man she reached the rank of major in Army Quartermaster Corps before, as she claims, being forced to take early retirement.
"I visited the Belgrade-based Military Medical Academy (VMA) so I could start resolving the crucial issue that deeply permeated my whole inner life, taking into account that my biological sex and my gender identity are not congruent. We are talking about early September 2014."
That was when the military decreed that she could have a "negative impact on the reputation of the Serbian Army" – which triggered her legal action. Last month, she filed a discrimination lawsuit against Bratislav Gašić, the Serbian minister of defence, as well as the Ministry of Defence itself and the Serbian Army.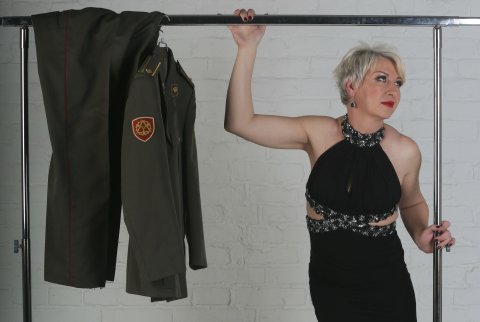 "That period was the most terrible of my whole life. Many media reported on me. It was the first time I had to deal with it and I was completely lost. My closest female friends tried to calm me down and one of them was even able to get me temporary housing so that I could avoid intrusive journalists who were threatening to reveal my identity. Some journalists were purposely lying in their reports, thereby intentionally misleading the public, claiming that the only reason I had filed the lawsuit was because I had been retired against my will, not because I was the subject of discrimination."
Finally, it was agreed that Helena would receive 60% of her basic pay over the lifetime of her retirement.
"This allowed me to live my life to the fullest as a woman, finally in peace with myself around the clock, all day and all night. It was, and still is, an immeasurable joy. I didn't want to hide my desire to be a woman any more. I just didn't.
"But after we made the deal I received a paper from the Ministry of Defence saying that I was fully capable of serving in the Army as a professional officer – even though we had agreed that I was retired."
But what concerned her about any ongoing wrangle with the military was the fear of what might happen to her then wife and to her four children, three of which were still juveniles.
"My children are still young, two of them have just entered puberty, and I am afraid they might find themselves in no-win situations where they could come to blows, or where violence prevails: or they could just harm themselves because they don't know how else to cope with social pressure situations. Believe me, I am most worried about my four children."
Helena now gets on well with her ex-wife. They spend a lot of time together, relying on one another, talking to one another. But a year ago it was a different matter.
"Everything was just fine until I started breaking out because I felt such a strange, pushing urge to tell the truth. I guess it becomes too strong to resist as years go by. It was early March 2014 and years of waiting culminated in a terrifying confession. I felt so terrible about myself, about concealing the truth. I was totally silent at home, nobody could draw me into conversation, and day after day my wife kept asking me what's wrong. I remained reserved and uncommunicative.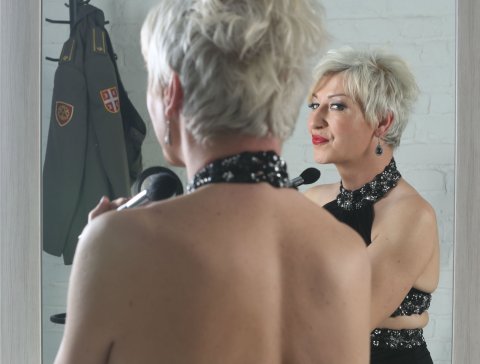 "Finally, I decided to tell her everything. Her reaction about me being a woman in a man's body was fast and furious. Months later she told me she had thought she was going to kill me in my sleep that night because she felt that I had betrayed her.
"For her it was as if she was living a lie for 20 years. She thought through the consequences and realised that if she did kill me our children would be parentless. I always loved my wife and I got married and I stayed in the marriage because I loved her.
"Then, after a month, everything settled down. We mutually decided to get a divorce and agreed that my wife would have custody of our children. In May 2014 I left our home and, four months later, in mid-October we were divorced. My ex-wife and I now see each other almost every day and I am glad to declare that she is my best friend. No one knows her better than I do and she knows me better than anyone else does. What we have is a new type of family; we have lovely children; we have formed a strong, great friendship that we cherish and we keep taking good care of each other."
As she slowly lights her cigarette and sips her pineapple juice, Helena explains how the children started asking about what happened, what lead to divorce, why their mum and dad were not married any more.
"I decided that my two older sons would be the first of my four children to hear the truth. Telling them was the hardest thing I have ever done in my whole life. I was scared that, as enthusiastic sports fan living in a rampantly homophobic Serbian society, they wouldn't understand and accept what their dad is. My oldest son is 21 and his brother is 16.
"When I broke the news, my older son started jumping uncontrollably and shouting at the top of his voice, my younger son was silent for a while and at some point he said out loud: 'Holy Moley! What the hell! She-male!' I guess he has vaguely heard of what 'she-male' refers to."
Helena's other children comprise a 13-year-old daughter and four-year-old son.
"The first thing I did was dye my hair blonde. My oldest son told me there was no way I could enter our home that way because his brother, my youngest son, would be totally frightened. So I put a cap on. After I walked in, my youngest asked me why I was wearing the cap and his next question was about 'that yellowish thing under the cap'."
Helena whispered to her son that he could take the cap off, which he did, and then he cried out joyfully: "Look, daddy is acting like Santa Claus."
Helena's oldest son kept asking her how much longer her "game" and "play-acting" would last, while his teenage brother wanted to meet her face-to-face outside the house – and wanted her to be dressed as a man.
"I tried to talk him out of it, telling him I would not be wearing men's clothes any more. But he just said: 'Hey, man, what's wrong with you? You can look whatever you feel like, you can look like hell, I don't care, you are – and you always will be – my dad."