"You don't need massive amounts of force to allow a nuclear plant to go into instability. The plant has enough energy to destroy itself. Drones can be used to tickle the plant into instability."
With devastating simplicity, John Large explains how drones could be used to coordinate a terror attack on a nuclear power station. First, one drone hits the distribution grid serving the plant, depriving the facility of off-site power, making it dependent on its diesel generators to cool the reactor, which generates up to 1,000 megawatts of power – enough to light up half of Paris. Then the generators are easily taken out by an unmanned drone with a relatively small payload. Without power to cool the radioactive fuel, Large estimates it would take approximately 30 seconds before the fuel begins to melt, leading to potential leakages of nuclear waste.
It's the same cause behind the meltdown at the Fukushima nuclear plant in Japan after it was hit by a tsunami in March 2011. But potential terrorists wouldn't need to trigger an earthquake, just be able to accurately pilot a pair of readily-available commercial drones carrying small payloads of explosive. Last year, unmanned drones were spotted flying over at least 13 nuclear power stations in France. The last widely-reported sighting was on 3 January, when two aircraft were seen flying over a nuclear facility in Nogent-sur-Seine, in northern-central France.
Activists maintain that a government blackout has blocked information on any further sightings. Curiously, no pictures of drone sightings near power stations have surfaced, a fact that causes concern amongst experts.
"There's not one single picture. That's very troubling," says Jean-Luc Fornier, whose company designs and operates drones for use in the media industry. "If we had some pictures, we could decide on who may be operating the machines." Fornier suggests that the flyovers that have been noted have three possible explanations: innocent pranksters, anti-nuclear protestors, or trial runs by terrorists. French National Research Agency said the General Secretary for Defence is "providing €1m of funding for research projects into the detection, identification and neutralisation of small aerial drones".
According to Large, of consulting engineers Large & Associates, based in London, who was commissioned by Greenpeace France to evaluate and report on the spate of flyovers, the "unacceptable" risk posed by a terrorist drone attack means that many of Europe's nuclear power stations – including the majority of those in France – should be shut down.
He has advised countries around the world on nuclear safety and believes that governments must reassess the balance of risks and benefits of nuclear power due to the increased danger from terrorists targeting them with modern and readily available hardware such as unmanned drones. "If the risk of a nuclear plant's design, age and location is unacceptable, governments must consider closing those plants down," he says. "At the moment, most of the plants in France are not acceptable. The plants in the rest of Europe are old and need reviewing in this respect." Banning the drones will only spark an underground network of drone builders, adds Large; the best solution for some plants is to close down altogether rather than risk a meltdown.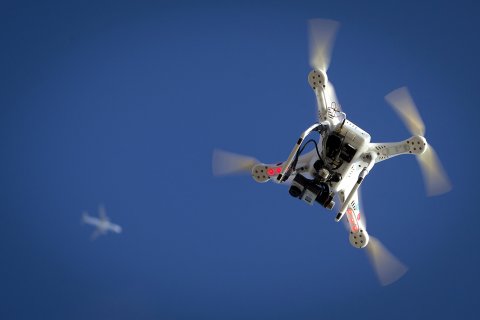 France generates around 75% of its electricity from 59 nuclear reactors, a higher proportion than any other country. The terror threat there has been heightened following the January attacks in Paris. Large's confidential report into the flyovers found that drones are a significant threat if put in the wrong hands, capable of leapfrogging the plants' defences, which were not designed with agile, airborne technology in mind. "Nuclear power plants were designed to prevent accidents, they weren't designed to protect against terrorist threats."
According to figures from France's Directorate General for Civil Aviation DGAC, 1,300 commercial drone licences have been granted since regulations were brought in in 2012, but they can also easily be bought without a licence on the high street or online. Although commercial drones have become popular with hobbyists and businesses, being used for everything from delivery to advertising, Large is keen to highlight the new threat to sensitive buildings and facilities that could become the target of terrorist attacks. Last month a drone was spotted over the Elysee Palace, and this week they were seen flying around at least five other Paris landmarks, with no operators found by police. "Some of these drones can be very sophisticated," says Large. "There are drones available now to buy in shops, but, more importantly, there are amateur geeks that build drones, and some of these are really impressive. They are a new form of threat in the wrong hands."
Caroline Baylon, a cyber security expert at Chatham House, who has been researching drones, agrees: "The French flyovers highlighted the fact that nuclear power plants have not been designed to defend against drones. Because drones are so small, conventional radar cannot detect them. There's a huge vulnerability there." Modern reactors claim to be able to withstand considerable external force, including impact from airliners or missiles, according to Dr Michael Bluck, a member of the Centre for Nuclear Engineering at Imperial College London, but older designs would be more susceptible. "They weren't designed with an attack in mind, particularly, though it's always a risk," he says. "Having said that, the biggest thought in the mind of somebody building a reactor is to not let stuff out. There's usually a concomitant result is that it's quite difficult to get in."
A DGAC spokesman could not comment on safety issues relating to drones, but said that the Ministry of Defence was developing legislation around the use of drones and threat to nuclear plants after last year's flyovers. The ministry did not respond to requests for comment on this legislation but Yannick Rousselet of Greenpeace France says that soldiers are authorised to shoot drones down, but not when they are over the plants for fear of causing damage. "They have the authorisation to do it, but in fact it's pretty impossible," he says.
Aurélien Cassuto, director of communications for Électricité de France (EDF), which manages the country's reactors, denied threats, reassuring that "nuclear stations in France have been designed to resist external stress".
Rousselet says the government is downplaying the threat. He says Greenpeace became aware of a further flyover sighting on 28 January before a government blackout blocked further reports. For Large, the threat remains: "The problem is that these nuclear plants are very attractive targets as the public's perception of all things nuclear is a fate worse than death. There's a psychological attraction for these plants as targets as they can cause mass concern among the public."