"You are strong, smart, beautiful and we are hoping you will make the right decision. We miss you more that you can imagine. We are worried and we want you to think about what you have left behind. You had a bright future, so please return home."
That was emotional plea to Amira Abase from her devastated family after they learned that the 15-year-old had got on a flight from Gatwick to Turkey with two friends Kadiza Sultana and Shamima Begum, 16 and 15, in what police think is an attempt to travel to Syria to join Islamic State as 'jihadi brides'.
However, along with the sadness, there was also anger after it emerged that the three girls, all pupils at London's Bethnal Green Academy, had been contacted on Twitter by Aqsa Mahmood, 20, another woman who had flown to Syria from Glasgow in 2013 to join the terror group. with the Mahmood family saying that the British intelligence services, who had been monitoring Aqsa's account, having "serious questions to answer".
"Sadly, despite all the government's rhetoric on ISIS," the Mahmood family said in a statement, "if they can't even take basic steps to stop children leaving to join ISIS, what is the point of any new laws?"
That the radicalisation of three teenagers by a known jihadist on a major platform such as Twitter points to major flaws in the strategies being employed by Western intelligence services, with experts saying that they are being overrun by the sheer scale of extremist propaganda online.
The UK Home Office admits the problem, saying that such propaganda "can directly influence people who are vulnerable to radicalisation". To tackle this perceived bedroom radicalisation, the Home Office say they are cooperating with social media companies and civil society groups, divulging figures that reveal the takedown of unlawful terrorist material online has almost tripled.
While the Home Office could not divulge government spending figures on the battle against online extremism, it revealed that, from 2010 to 2013, 19,000 pieces of online extremist material were removed from websites by the British government's Counter Terrorism Internet Referral Unit (CTIRU) in comparison with 56,000 pieces since December 2013 alone, marking an almost 300% rise. Other members of the US-led coalition against ISIS are also increasing their online counter-terror efforts. Australia's attorney general, George Brandis, announced last week that Canberra would be dedicating $18m (€12.38m) to the closure of websites and social media accounts which proliferate terrorist propaganda.
The British government is also obtaining more information from tech companies - with 194 information requests made to Twitter last year compared to 82 the year before, and 1,906 data requests to Facebook in the second half of 2013 in comparison with 2,110 in the first half of last year. Home Secretary Theresa May called on tech and social media companies to do more to prevent material being circulated on their platforms at a summit on extremism at the White House last week.
"All companies should take a zero-tolerance approach to the use of their systems by extremists," she told the conference. "I firmly believe that they have a social responsibility to ensure that their platforms are not being abused for extremist or terrorist purposes."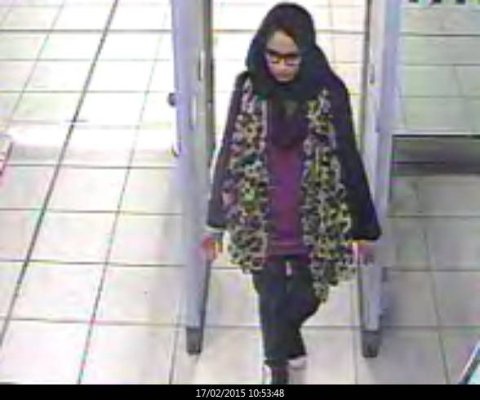 However, experts argue that, while more and more pieces of extremist material are being removed from the eyes of impressionable Brits, Britain's security services are overwhelmed to the point that this "cat and mouse" strategy is being rendered ineffective.
Dr Erin Saltman, senior researcher at the counter-extremism think-tank Institute for Strategic Dialogue, says that British authorities are already "strained" because of the swarm of extremist content being published and shared online. "It's definitely an overwhelming amount of content. If we are just looking at that content as a problem that needs to be removed, we will continuously play a cat and mouse game with that content," she warns. "But if we see it as something we can challenge and engage with, that's when we can start winning the battle of ideas."
Videos, such as the brutal execution films Islamic State have become famous for, can be removed multiple times - sometimes thousands - but remain accessible to those who wish to seek them out and view them, notes Saltman. Therefore, the 76,000 removal figure touted by the British Home Office remains negligible as thousands of the content takedowns could be limited to just a few pieces of the same material, she adds.
"That number is actually really low when we look at the quantity of extremist material online. It's still very much a drop in the pond. We need to look at the roots of the problem and the individuals who are susceptible to that material."
The prospect of British authorities thwarting such a vast amount of extremist content can be compared to Hollywood film companies futile struggle to halt the online piracy trade, says Jamie Bartlett, director of the Centre for the Analysis of Social Media at British political think-tank Demos.
"All of the financial might of the world's film industry cannot stop pirated videos getting around. How do they think they are going to stop extremist groups with $18m?" Bartlett says, in reference to the Combating Terrorist Propaganda in Australia initiative. "How much money do you think film companies are trying to spend on people pirating their stuff? They have not got anywhere near it."
"It's getting so much easier to have multiple social media accounts, to use encryption software, obscure your IP address. We should focus our resources and our energies on stopping people going and killing each other rather than stopping people seeing material that may or not radicalise them, or may or may not be possible to remove."
Radicalisation experts say the removal of extremist content is a "negative measure" which pushes the problem of online extremism to other platforms or becomes ineffective because of the sheer persistence of extremists. Haras Rafiq, managing director of the anti-radicalisation think-tank The Quilliam Foundation, speaks of one particular jihadist being monitored who is on his 80th Twitter account and, within three hours of creating a new account, amasses 5,000 followers.
Therefore, in order to tackle the tsunami of terror content - such as beheading videos, gruesome images and persuasive recruitment messages - from affecting young minds, "counter narratives" should be created to negate the effect of extremist messages, Rafiq says.
"Negative measures on their own do not work. What we need more of are counter narratives. What we need more of are individual activists responding to these messages that are coming out by the recruiters to counter some of their ideas. There's a propaganda war online, we have not got to grips with it."