The last time the Islamic State (ISIS) aimed its grisly propaganda machine at Italy, Rome responded with a collective shrug. In August, when the Italian press reported that the jihadist group was targeting Pope Francis, the Vatican considered it "nothing serious." The pontiff fired the head of the Swiss Guard (apparently for being "too strict") and continued to move freely about the continent without his bulletproof "Pope-mobile."
"There is no particular concern in the Vatican," Reverend Federico Lombardi S.J. told the Catholic News Agency. Authorities in Rome seemed equally unconcerned.
Today, the Italian government is taking the threat from the caliphate much more seriously—and perhaps with good reason. In October, the ISIS magazine Dabiq published a cover with the jihadist group's black flying above St. Peter's Square. The article, "The Failed Crusade," called for a war against the Catholic Church. Earlier this month, ISIS released a chilling video showing the beheading of 21 Egyptian Coptic Christians on a Libyan beach. The camera then cut to a militant pointing his knife at Italy and promising to "conquer Rome, by Allah's permission." And last week, an ISIS-affiliated Twitter account promised homosexuals would soon be tossed from Italy's "Leaning tower of Pizza."
Over the past few months, Italian authorities have rushed to prepare in case the threats are real. Shortly after the Charlie Hebdo attacks in Paris, Italy and Albania established a joint terrorism task force to train police officers and establish an anti-terrorism database. Italian security chiefs also installed 500 soldiers at sites around the country, with plans to add up to 4,800 more. And two weeks ago, Italy's cabinet proposed new penalties aimed at terrorists. Among them: prison sentences of up to six years for those convicted of recruiting jihadists and the ability to revoke passports of suspected militants.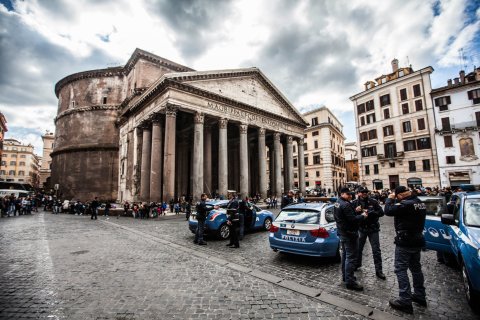 Security experts and sources in the Italian Secret Service tell Newsweek that Rome is newly worried ISIS has infiltrated their country. Not only do they suspect that dozens of jihadists who fought in Iraq and Syria have since returned home to Italy, they're afraid the terrorists could be hiding among thousands of people arriving here on boats from war-torn Libya. (Some of these migrants are Libyan citizens; others are passing through the country from Iraq and sub-Saharan Africa).
Since the fall of Muammar el-Qaddafi in 2011, Libya has descended into chaos, giving rise to warring militias, some of whom are loyal to ISIS. "We find ourselves facing a country [Libya] with a vast territory and failed institutions, and that has potentially grave consequences not only for us but for the stability and sustainability of the transition processes in neighboring African states," Italian foreign minister Paolo Gentiloni told the country's parliament last week. "The time at our disposal is not infinite and is in danger of running out soon."
'They Are Bullies'
Over the past four years, Libya's civil war—and the number of people fleeing it— have overwhelmed the European Union, especially Italy. A former Italian colony, Libya lies only 109 miles south of the island of Lampedusa and 300 miles south of Sicily. As many as 500 newcomers arrive on those islands each day from across Africa. Some are seeking better economic prospects; others say they're refugees, fleeing for their lives. Thousands have died along the way as overloaded boats sank in the Mediterranean.
The Italian Navy responded with Mare Nostrum, a fleet of ships dispatched to find these migrants at sea, scoop them out of the dangerous boats and transport them safely to Italy, where they're moved inland into camps. These ships saved as many as 170,000 people from sinking vessels last year, a 66 percent increase compared to 2013. But in November, Italy ended Mare Nostrum; Italians weren't happy about the program's cost (roughly $10 million a month) or the influx of newcomers. They also felt the E.U. wasn't providing sufficient resources to help with the rescue effort. Brussels responded with Operation Triton, which is aimed at securing the E.U.'s borders, not at rescuing people or stemming the tide of new arrivals. The ships used for Triton are much smaller than those employed for Mare Nostrum, and there are far fewer of them. Since the Italian program ended, hundreds of migrants have died trying to cross into Italy.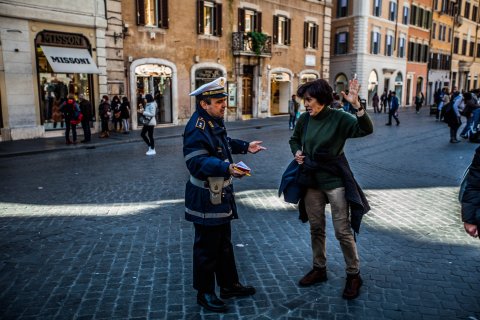 It's hard to say how many hiding among these immigrants could be terrorists or ISIS sympathizers. The country isn't at the top of ISIS's list of enemies, and the Islamic State seems to view Italy more as a launching pad for future attacks in other countries, such as France. But as a "nation signed with the blood of the cross," as ISIS militants said in the video from Libya, counterterrorism experts believe it's folly to underestimate jihadists' eagerness to murder Italians, or other Westerners in the country.
The threat of terrorism here (and a riot in Rome by Dutch soccer hooligans) explains why the government has flooded its streets with cops recently. Perhaps nowhere is the increased police presence more evident than in Rome, home to the Vatican, the Colosseum and St. Peter's Basilica. I walked the city Monday and found officers at nearly every major site.
Yet most Italians don't seem particularly concerned about ISIS. In response to last week's "Pizza" threat on Twitter, some took to social media and mocked the terrorists with the hashtag "We_are_Coming_O_Rome," a reference to another typo'd tweet from the ISIS account. The popular hashtag served up funny travel tips, like this one: "Don't fall for the 'jump the line!' offers at the Vatican; it's a scam. Just wait your turn like everyone else." In a recent national poll by the European Observatory on Security, only 1.3 percent of Italians listed "terrorism" as their greatest concern, behind unemployment, corruption, the economy and taxes. Only "environmental degradation" scored lower.
"You have to laugh [at ISIS], because they are bullies," Francesco Borgonovo, news editor at the Italian daily Libero, told me. "But you also have to increase the measures against terrorism in Italy, beginning with the first threat: immigration. It is completely out of control."
Turning Europe Into Hell
The Italian government isn't laughing at ISIS. Last week I spoke with Sabrina Magris, president of the International University School of Rome and Florence, which offers counterrorism and hostage negotiation training to various governments around the world. She told me Italian officials are increasingly worried about the situation in post-Qaddafi Libya and the influx of terrorists sneaking into Italy. A growing number of Libyan militias have proclaimed their loyalty to ISIS in recent months; in response, Italian intelligence agencies have ramped up their online surveillance of suspected ISIS supporters.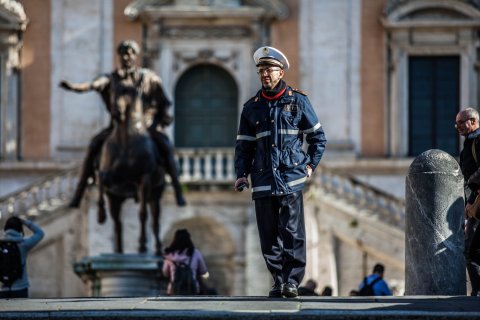 Sift through enough ISIS propaganda and you can see why Rome is on edge. Italy "has a long coast overlooking the southern Crusader countries which could be reached using small boats," pro-ISIS blogger Abu Irhim al-Libi wrote last month. "If ISIS can successfully intermingle with those fleeing the Libyan coast en route for Europe," al-Libi added, "this could turn life in southern European states into hell."
A source in the Italian Secret Service downplayed this threat, though. The government is far more focused on foreign fighters who arrive via traditional means, he told Newsweek, with their papers in order. "Why would terrorists risk their lives to get into Italy on an open boat?" the source said.
No matter how they're trying to get here, the best way to prevent militants from infiltrating Italy, the source added, is to focus less on electronic eavesdropping and more on deploying personnel throughout Europe to identify potential terrorists. Magris disagrees. While the Italian response is "currently the best we can implement," thanks to the complexity of the Libyan and migration problems, she says, Italy should heighten its data analysis measures to trip up young ISIS members who aren't adept at cloaking their messages online. The country should also recruit and deploy younger agents to gather intelligence—especially women, she said, because ISIS is increasingly using them to gather intel abroad.
Now, more than ever before, Italy is focused on counterterrorism, says Marco Lombardi, an associate professor of crisis management at the Catholic University of Sacred Heart. But some politicians in the country are struggling with dissonance, he adds. To avoid offending migrant and refugee sympathizers on the left and to avoid stoking Islamophobes on the right, Italian pols are perhaps a bit too careful when they talk about ISIS. "Italian intelligence is on the spot, and they are monitoring about 50 or 60 foreign fighters," Lombardi says. But when it comes to policy, elected officials have talked more than they've acted, failing to actually implement laws aimed at thwarting terrorists. "This is the highest threat we've had in the last 30 years, and while the government is more conscious, there's a disconnect between what officials are saying and how they act."
If that gap doesn't close, Lombardi and others fear Italy could become a new breeding ground for terrorism—or, worse, the next Paris. Perhaps the pope should climb back into that bulletproof car.
— With Nicholas Farrell in Rome