After years of producing some of the most vaunted dramas on television, HBO was in trouble. It was 2007, and some of the channel's biggest hits, including The Sopranos and Sex and the City, had run their course, and the channel's pipeline of premium programming had run dry. AMC's Mad Men, a show HBO had passed on, was dominating water cooler conversations. "I think we learned something as a company," says HBO President Michael Lombardo of that lull. "You need to keep those scripts coming and be ready for the next thing. Now we wake up anxious to find a different show."
Fast-forward to the present. HBO has rebounded, thanks in part to standout shows such as Girls, Game of Thrones and Last Week Tonight With John Oliver. But the channel is at yet another crossroads. For years, it's been available only with a package of paid channels, but the pay-TV universe is shrinking as viewers increasingly abandon cable for online, on-demand services such as Netflix and Amazon Prime. In 2014, 125,000 TV subscribers dropped off the books of the top 13 pay-TV providers in the U.S. to join the 10 million or so broadband households that don't subscribe to paid television. The industry calls them cord-cutters, but that's a misnomer. These people are more tethered to the cord than ever; they're just pulling a different kind of content through it.
Which is why, beginning this spring, HBO will begin selling $14.99-a-month stand-alone subscriptions for a service called HBO Now, decoupling the premium channel from the cable machine that's made it billions. "When you subscribe to HBO Now, you will have access to all our programming, past, present and future," HBO CEO Richard Plepler said at an unveiling with Apple last week. The move throws HBO in direct competition with Netflix and Amazon, among others, at a time when the battle for eyeballs has grown more and more fierce.
Whether HBO's plan works may depend on its ability to find the next Game of Thrones. The channel is a nice addition to the hundreds of cable or satellite offerings, but on its own, HBO may not seem as attractive for the price, especially if other channels continue to come up with HBO-quality television.
Plagued by Glitches
Five years ago, the idea that Netflix, Amazon or even Hulu would invest in original programming seemed ridiculous. They were tech companies, and television is a hits business. Then, in 2011, Netflix CEO Reed Hastings cited HBO as his biggest competitor, even though the company had no original content and HBO had just started HBO Go, its online streaming service. But then came Netflix's breakout shows, House of Cards and Orange Is the New Black, which were both green-lighted in 2013. As Netflix Chief Content Officer Ted Sarandos told GQ that year, "The goal is to become HBO faster than HBO can become us."
Today, Netflix has slightly more revenue than HBO and an edge in U.S. subscribers (38 million vs. 30 million). But HBO has more than five times the profit ($1.8 billion), in large part due to the channel's ability to command premium pricing for high-end original series and movies. The company is also starting its new venture during boom times. Despite pay TV's decline, subscriptions to HBO and its sister network, Cinemax, are growing, up 2.8 million in 2014, their biggest tally of new subscribers in 30 years.
"I think HBO is still king of the block," says Michael Nathanson, an analyst at the research firm MoffettNathanson. "They raised their game in the last couple of years. Just because the others have one or two great shows does not mean they are HBO."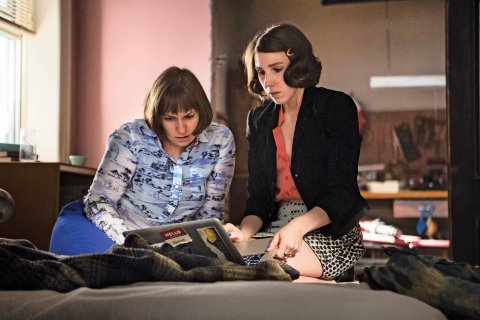 To propel its new service, HBO is looking for a different kind of distributor. Apple TV (which is HBO's initial launch partner), TiVo, Amazon and some cable operators, such as Cox and Cablevision, want to offer HBO with broadband for customers who don't subscribe to pay TV and probably never will. At the same time, HBO will be making it easier for viewers to cut the pay-TV cord, and no one really knows if what replaces cable will be anywhere near as lucrative for TV networks.
Some believe HBO will benefit from moving outside the cable bundle. "HBO is one of the world's best brands," says Rich Greenfield, a tech and media analyst at research and brokerage firm BTIG. "The greatest inhibitor to HBO's growth has been the $70-plus buy-through."
Jeff Bewkes, CEO of Time Warner, HBO's parent company, has long said the premium channel would ditch cable. The question was always when. Last year, discussions about HBO Now grew more serious, as Time Warner's higher-ups debated whether the company should build its own Netflix-like service. But during the most recent season of Game of Thrones, glitches plagued HBO Go, further throwing into question the viability of a broader on-demand service. The channel had hired a team of ex-Microsoft engineers in Seattle to shore up HBO Go and build HBO Now, but when the estimate came back last year, Time Warner blanched: It was going to cost more than $1 billion to build a distribution system on par with Netflix, and it wouldn't be ready until 2017. Late last year, HBO abandoned those plans. The channel contracted with Major League Baseball Advanced Media, which streams baseball games on the Web and powers other live sports programming. The new service will begin in April.
'A Huge Gamble'
In the short term, HBO Now's success may hinge on the public's continued appetite for Game of Thrones. The service will launch with the fifth season of the series, a medieval fantasy epic that's the network's biggest hit since The Sopranos. The show isn't like the channel's typical programming. When HBO created it in 2010, the channel was better known for serious-minded dramas than shows about dragons. "It was a huge gamble [for HBO]," wrote co-creators David Benioff and Dan Weiss in an email.
The competition for the next big show is going to get very expensive. Netflix has committed to 320 new hours of original programming in 2015. Because many of its competitors are pouring money into new shows, HBO will be relying on its renowned development process to create new hits. Entourage, for example, was in development for two years before HBO shot the pilot. For now, the channel's access to the best ideas and to top writers, directors and actors is its biggest advantage. "When creators think about their content, we've heard that their choices are one of three: HBO, Netflix or FX," says Nathanson. "Spending more money doesn't guarantee success."
HBO has often dominated water cooler conversations, but that talk is a lot broader than it used to be. Today, there's so much good television but not enough time in the day to watch it all, even for those who are deeply committed, or deeply unemployed. Which means the competition for viewers' attention is more heated. "You are inundated by the number of new shows, new networks, new digital networks" says Lombardo, the HBO president. "What happens when there is too much volume? How do you let a consumer know a show exists?"
The answer, he says, may be for HBO to pump as much money into marketing as it does into its programming. Yet the channel is taking a risk with HBO Now. Lombardo may be eager to find the next "it" program, but because HBO no longer has a monopoly on premium television, non-subscribers may be satisfied with what they already have. Lombardo, however, remains confident that the new service will be successful. "A certain part of this job is just luck and magic," he says. "[But] people watch more than one network. I don't know if there is a winner."