Ilya Yashin, a long-time Russian political activist, always knew there would be a price to pay for the 2011–12 mass protests against "national leader" Vladimir Putin's long rule. But what he hadn't counted on was the ferocity of the Kremlin's payback for those memorable afternoons, when the squares and boulevards of central Moscow echoed with the chant "Russia without Putin!"
"We knew back then that the demonstrations would provoke a reaction from the authorities," said Yashin, a close associate of Boris Nemtsov, the outspoken opposition leader gunned down in Moscow last month. "But I could never have imagined that things would go this far. We are in a new political reality now, one which we as yet don't fully understand. It is a dark forest, and anyone who criticises Putin is in danger."
The unofficial anthem of the white ribbon protest movement was a rousing perestroika-era rock song entitled "Change". This more-than-two-decade-old track encapsulated the hopes of the demonstrations, unparalleled in both scale and ambition in Putin's Russia. For years, what passed for opposition politics had been the almost exclusive domain of Kremlin-compliant, and often Kremlin-created, parties offering little in the way of genuine dissent. But these well-educated and energetic protesters were seeking to, despite Putin's warning, "rock the boat". For a brief period, it seemed as if they might succeed in transforming Russia forever.
Three years on, changes have certainly come to Russia. Unfortunately for the protesters, they are very different from the ones they were expecting. Even before the cold-blooded murder of Boris Nemtsov, the once-promising white ribbon movement lay in tatters, ripped apart by a swathe of criminal charges, newly-approved legislation designed to make dissent more dangerous, and a vicious state media smear campaign. It's not Joseph Stalin's Great Terror, but the intensity of the crackdown, described as "unprecedented in post-Soviet Russian history" by Tanya Lokshina, the deputy director of Human Rights Watch's Moscow office, has left the Kremlin's foes reeling.
For Putin, the protests were proof that the West – inspired by the toppling of long-entrenched dictators during the Arab Spring – had turned its sights firmly on Russia. It didn't help that the Kremlin's chief ideologue at the time, Vladislav Surkov, was an avid reader of Gene Sharp, the US academic whose writings on non-violent struggle have been used by political activists the world over. "Putin believes that the West is constantly seeking to bring about his overthrow," said Gleb Pavlovsky, a former Kremlin advisor, who helped bring Putin to power but now sympathises with the opposition. "He was sure the protests of 2012 were orchestrated by the West, and this convinced him that it was time for a deeper reaction than anything that had gone before. Everything that we see today is based on this belief."
Armed with the "knowledge" that the protest leaders were working on behalf of foreign powers, an opinion reinforced, so Pavlovsky believes, by the advice of high-level security officials seeking to advance their own interests, Putin lost no time in unleashing his hard-line allies in the FBI-style Investigative Committee on the opposition.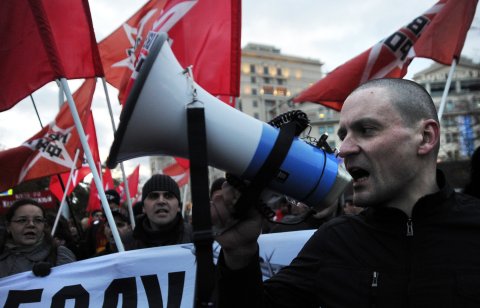 The first protest leader to feel the heat was Sergei Udaltsov, a fiery, shaven-headed leftist, who comes from a long line of Soviet diplomats and officials. The leader of the Left Front political movement, Udaltsov was the protest movement's wild card – a streetwise radical far more willing to rough it up with riot police than the middle-class, liberal Muscovites with whom he forged an unlikely union. His downfall was engineered by the Kremlin-controlled NTV channel, which in October 2012 aired grainy footage that purported to show the leftist leader meeting with an influential Georgian politician named Givi Targamadze to plot Putin's violent overthrow.
Udaltsov denied ever meeting Targamadze, an ally of Georgia's pro-West leader Mikheil Saakashvili, and called the documentary "lunacy". Udaltsov's sidekick, Leonid Razvozzhayev, fled Russia for Kiev, but was allegedly snatched and tortured by Russian security forces after seeking political asylum at a UN branch office. Both men were jailed last summer for four and a half years on charges of organising mass disorder.
As Udaltsov fought to stay out of jail, criminal charges against Alexei Navalny, the charismatic anti-corruption activist with nationalist tendencies, who is the closest thing the protest movement has to a figurehead, were piling up. Even Navalny found it tough to keep track at times. "A year ago, I had zero criminal charges against me," he said, at a subdued May 2013 rally on the first anniversary of Putin's return to the Kremlin. "Now, there are four . . . or six? I've already lost count."
Although Navalny was jailed for five years on embezzlement charges in July 2013, the authorities backed down after some 20,000 protesters rallied outside parliament in the hours following the verdict. "Putin doesn't like surprises, and the size of that crowd was unexpected," said Pavlovsky, the former Kremlin advisor. The verdict was later reduced to a suspended sentence on appeal. But still the pressure mounted. Fresh charges of embezzling the Russian branch of the French cosmetics company Yves Rocher resulted in Navalny again being hit with a suspended sentence in December 2014. However, his co-defendant and younger brother, Oleg, was jailed for three and a half years. "They have taken my brother hostage," an emotional Navalny said on the steps of the courtroom.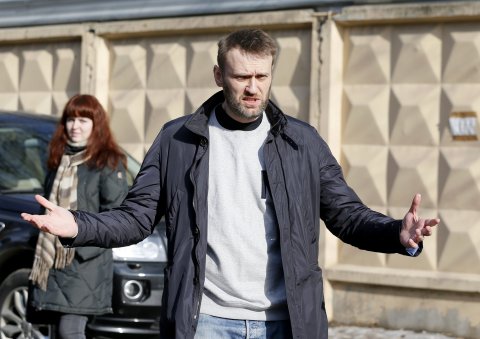 Earlier this year, Navalny was jailed for 15 days for distributing opposition flyers in Moscow's metro. He had been at liberty for a mere 55 hours, after spending a year under house arrest.
The authorities have also targeted rank-and-file protesters, almost 20 of whom are currently behind bars. That figure looks set to rise. Under new legislation, anyone convicted of attending illegal protests more than once in a period of 180 days faces up a jail sentence of to five years. Three people, including a 75-year-old man, have so far been charged. Other more high-profile protest figures, including former world chess champion Garry Kasparov, have fled Russia to escape what they believe is inevitable arrest and imprisonment if they remain.
But it is events in Ukraine that have proven, perhaps, the most damaging of all to attempts to dislodge Putin. Russia's annexation of Ukraine's Black Sea peninsula of Crimea in March 2014 sparked an aggressive patriotism that saw Putin's approval ratings soar to an all-time high. Opposition figures who supported the Maidan uprising in Kiev – dubbed a Western-backed "fascist coup" by state media – have been labeled "national traitors" and a "fifth column" by a host of Kremlin officials, including Putin himself.
The atmosphere is explosive. News of Nemtsov's grisly demise came as a shock for his fellow government critics, but there should have been little surprise. The weekend before Nemtsov's murder, tens of thousands of pro-Kremlin activists rallied near Red Square, many carrying signs vowing violent retribution against opposition figures. Less than 24 hours before his death, shots were fired at the windows of an apartment owned by Anna Stepanova, the head of Nemtsov's PARNAS party in the central Russian city of Nizhny Novgorod. Two days after the opposition leader's funeral, an anti-Putin activist named Alexei Semenov was savagely beaten in Moscow by assailants wielding baseball bats. The arrest of five suspects from Chechnya over Nemtsov's murder has done little to persuade protest figures that Putin bears ultimate responsibility.
"This is a very dangerous game Putin is playing," said Gennady Gudkov, a former opposition MP who was expelled from parliament in the wake of the 2011-12 protests. "He is deliberately setting one section of society against another in a bid to maintain power. This has already led to increased confrontation, and could even result in civil war."
So what's next for Russia's beleaguered opposition? In the long-term, the parliamentary elections of December 2016 offer, if not the chance of success at the ballot box – Navalny's Progress Party, for example, has so far not even been permitted to take part in regional polls – then a potential flashpoint.
In the short term, Russia's new generation of dissidents will do well to even survive the Kremlin's increasingly frenzied onslaught.