Vladimir Putin, steel in his eyes, strides purposefully through a field of corn. In the distance, the Kremlin's elaborate towers, and the onion domes of Red Square. Floating above the Russian president, in the azure sky, are the words: "Congratulations on your return to your native harbour!"
This eye-catching painting takes up the entire side of a five-floor, residential building in Sevastopol, a sun-kissed port city on the southern coast of the Black Sea peninsula of Crimea. Like other works of similarly-themed art – most of them, admittedly, on a far smaller scale – the painting was created by pro-Putin activists to celebrate Crimea's 21 March 2014 return to Russian rule, following a hastily-arranged referendum that de facto put an end to decades of Ukrainian jurisdiction over the region.
It is not just empty propaganda: although the Kremlin's annexation of Crimea sparked international condemnation and Western economic sanctions, for many locals on the peninsula, gifted to Ukraine from Russia by former Soviet leader Nikita Khrushchev in 1954, it was cause for wild celebration.
"I'd known the meaning of the word 'referendum' from about the age of six or seven," says Diana Kun, a dark-haired 24-year-old, who recently entered the ranks of Network, the pro-Putin youth movement responsible for the painting. Her fellow activists, gathered at Network's stylish office in Sevastopol city centre, nod in agreement. "Whenever Russia played Ukraine at football, my parents always supported Russia," laughs Liza Kuksova, the movement's 24-year-old press secretary. Eager to make clear their passion for Putin, the activists – all young women – demonstrate their mounting collection of tributes to Russia's "national leader". Among the items they present for inspection are T-shirts, glossy brochures, and a bizarre paper snowflake, all featuring images of the ex-KGB officer. "Rejoining Russia was a childhood dream come true," gushes Kun.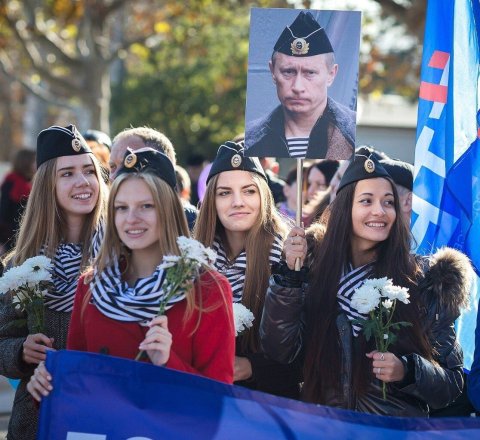 But one person's dream is another's never-ending nightmare. The Ukrainian nationals who refused to play along with Putin's military adventure in Crimea are feeling the strain of a year under Russian rule. According to Russian law, anyone residing legally on the territory of Crimea on 18 March 2014 automatically became a citizen of Russia. Anyone who objected to this had just under a month to file a refusal. Those who did so – as well as those who refused to apply for the internal Russian passport necessary for a host of everyday procedures – immediately became strangers in an increasingly strange land, without the automatic right to work, receive state medical care, or even reside permanently in Crimea.
"I had four weeks to make a decision," recalls Ella, a highly-educated, 40-something ethnic Russian, who has lived in Crimea since her early teens, and considers herself a Ukrainian patriot. "It was absurd. If you decide to become a citizen of a country, you should first study its laws, its economic policies, as well as all the pluses and minuses. You'll need some time to think it over, right? But when you wake up one morning and they tell you that you will become a citizen of Russia in four weeks unless you file a refusal, this is just ridiculous."
Having formally declined the Kremlin's unexpected offer of citizenship, Ella – who asked that her name be altered for this article – found herself entangled in the maze of Russia's notorious bureaucracy. "I decided to apply for a residency permit to stay in Crimea," she said. "But this is a hellish procedure that involves collecting multiple documents and standing in queues for days on end." One of the documents necessary for anyone wishing to receive a Russian residency permit is a signed and stamped form issued by a state-approved psychiatrist as to the applicant's mental health. She shakes her head with understandable exasperation. "Excuse me, but why should I have to prove my mental wellbeing so as to remain living in Crimea? I've been here for over 30 years!"
Missing Persons
Despite Putin's boast that the capture of the strategically-important peninsula was achieved with "no human casualties", a wave of apparently politically-motivated violence has swept the region since the arrival of Russian forces in late February 2014. (Putin initially denied, but later admitted that the heavily-armed "little green men" who mysteriously appeared on the streets of Crimea ahead of the referendum were indeed Russian servicemen.)
According to Human Rights Watch, at least 15 people – all Crimean Tatars or Ukrainian activists opposed to Russian rule – disappeared between March and November 2014. Militia units loyal to Crimea's new pro-Russian leader, Sergei Aksyonov, a 42-year-old former businessman with reported links to the Russian mafia, have been implicated in a number of the suspected abductions. Six of these people have since been released, while seven are still missing. The bodies of two others, both Crimean Tatars, have since turned up: one dangling from a rope, the other bearing signs of torture.
It was less than a week since well-organised gunmen had raised the Russian flag over Crimea's parliament when Reshat Ametov, one of the earliest victims, was bundled into a car by three men wearing military-style uniforms without insignia. Although he resisted, Ametov, who was seized while attending a small 3 March 2014 protest against the Russian occupation, had no realistic chance of escape. The vehicle sped off with him inside. All of this took place in broad daylight, in the centre of Simferopol, the Crimean peninsula's economic and business capital, in front of dozens of eyewitness. Video footage of the abduction, in which the three kidnappers' faces are clearly visible, was later uploaded to YouTube.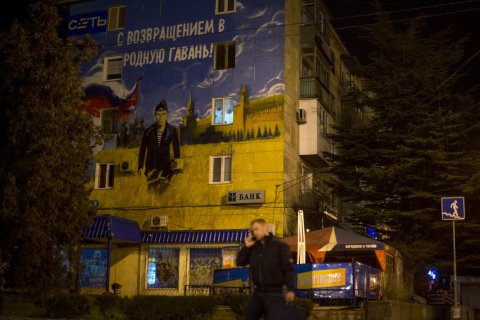 Almost two weeks after he had been forced into the car, Ametov, a 39-year-old Crimean Tatar and father of three young children, was found dead in nearby woodland. His hands were handcuffed, his head wrapped in duct tape, and a sharp object had reportedly been thrust into one of his eyes. Over a year on, prosecutors have released no information on the investigation into his grisly death. When I questioned Kirill Nagornov, a militia member in Simferopol responsible for liaising with the media, about the apparent involvement of paramilitary units in the abduction, he suggested Ametov's murder was a "provocation" by Russia's enemies designed to stir up ethnic strife.
Like other Crimean Tatars, the Muslim ethnic group that makes up around 12% of the peninsula's total population of 2.3 million, Ametov had good reason to be wary of Russian rule. On 8 March 1944, on Soviet leader Joseph Stalin's orders, the entire Tatar population – some 190,000 people – was forcibly deported from Crimea to Central Asia on the flimsy pretext that some of their number had cooperated with Nazi forces. Many did not survive the journey. Those who did, and the generations born in exile, would not be allowed to return home until the late 1980s.
"My brother was a law-abiding man. This is very important to understand. He just wanted to express his opposition to what was going on, and to demonstrate that this is the Crimean Tatars' homeland, and we have every right to be here," Ametov's softly-spoken elder brother, Refat, says on the first anniversary of the abduction, during an interview in Simferopol city centre.
"No one will ever face charges over my brother's death. The investigating officers, I have just found out, have already questioned the men who took Reshat away. It turns out, you see, that they had a witness who saw them let him out of the car later." He sighs. "The investigators have done their business." Perhaps feeling that he has not got his point across, he rephrases his words. "The investigators are covering up for the men who took my brother away."
Perhaps It's My Son
Such allegations are grimly familiar. In the tiny Tatar village of Sary-Su, around an hour's drive from Simferopol, Abdureshit Dzhepparov, a 54-year-old man, whose features are etched with anguish, waits for his 18-year-old son, Islyam, and his 23-year-old nephew, Dzhevdet Islyamov, to return home. "Every time I hear a noise, or some knocking, I jump up, because I think, perhaps, it's my son," he says.
On 27 September 2014, according to witnesses, Islyam and Dzhevdet were snatched by two men wearing black uniforms, and pushed into a Volkswagen van with tinted windows. Their whereabouts remain unknown. Although, like many Tatars, both men had taken part in demonstrations against Russian rule, neither was particularly political. That's not something that can be said of Dzhepparov, who has for many years been involved in social activism in Crimea.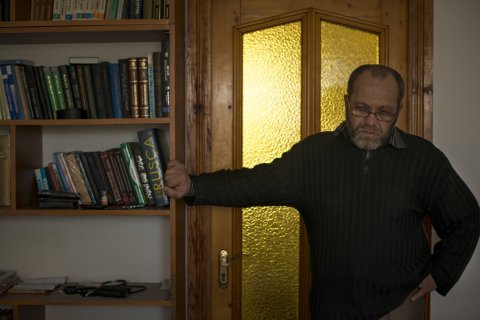 "The investigator in the case told me that their disappearance had something to do with my activities," says Dzhepparov. "He told me to think about that. I told him I was willing to do whatever it takes – go to prison, wear an electronic bracelet – if only the boys would be set free. He just shrugged, and said he'd report this to his superiors."
The violence and the pervasive sense of political repression have given rise to fears that Islamic extremism could flourish among Crimea's Tatars. But while Dzhepparov freely admits that he is someone who could "organise something", he also stresses that an outbreak of violent radicalism would be a "catastrophe" for Crimea's Tatars. "I will never do this," he says. "This is not Chechnya," he adds, referring to the mainly Muslim Russian republic that has witnessed two devastating wars since the collapse of the Soviet Union in 1991.
Analysts, however, aren't so sure that a rapid radicalisation of Crimea's Tatars is entirely off the cards. "There is a double danger of Islamic extremism in Crimea," said Alexey Malashenko, an expert in Islamic studies at the Carnegie Centre in Moscow. "Firstly, it's quite likely that this could arise naturally as a result of the situation there. But it's also extremely possible that Russian special services could provoke or arrange this in order to justify a further clampdown."
Tensions have been further exacerbated by Russia's refusal to allow the Crimean Tatars' veteran leader, the ex-Soviet dissident Mustafa Dzhemilev, to travel to the peninsula. Dzhemilev, who spent a total of 15 years in Soviet prison camps, has spoken out sharply against the Kremlin's actions in Crimea, and called for a non-violent campaign of resistance against the occupation. Dzhemilev's last attempt to cross into Crimea, in May of last year, resulted in a nervy stand-off with riot police, after thousands of Tatars chanting the name of their 71-year-old leader stormed into the buffer zone on the Russian-Ukrainian border.
While Crimea has avoided the open warfare that has torn apart east Ukraine, Dzhemilev's wife, Safinar – who is determined to remain on the peninsula – sees little hope for the future. "Just because there is no shooting doesn't mean things are good. There is an evil silence here," she says, tears rolling down her face. "We are all in a prison camp. None of us is safe."
Political Hostages
Putin justified Russia's military incursion into Ukraine (whose territorial integrity the Kremlin had in 1994 pledged to respect in exchange for Kiev surrendering its Soviet-era nuclear arsenal) by what he called the necessity to defend ethnic Russians from "Neo-Nazis and Russophobes". This was his term for the demonstrators based at Kiev's Maidan protest camp, who toppled Ukraine's pro-Moscow president, Viktor Yanukovych, in February 2014.
Although there were far-right elements involved in the protests against Yanukovych, both Putin and Kremlin-controlled media massively exaggerated their numbers and influence in a spectacularly successful bid to whip up anti-Maidan hysteria, as well as heap up the pressure on Russia's beleaguered opposition.
Like the Crimean Tatars, Ukrainian patriots are also facing far more difficulties than mere bureaucratic hassles. One of the most high-profile victims of what critics say is a Kremlin-backed campaign of intimidation is Oleg Sentsov, a Ukrainian film-maker who was arrested by Russia's FSB, the successor to the KGB, at his home in Simferopol in May.
Charged with plotting a series of terrorist attacks, Sentsov, 38, is currently awaiting trial in a Moscow prison. He faces up to 20 years behind bars, in a case that Memorial, Russia's oldest human rights organisation, has called politically motivated. UK filmmakers such as Mike Leigh and Ken Loach are among those who have signed a letter to Putin calling for his release.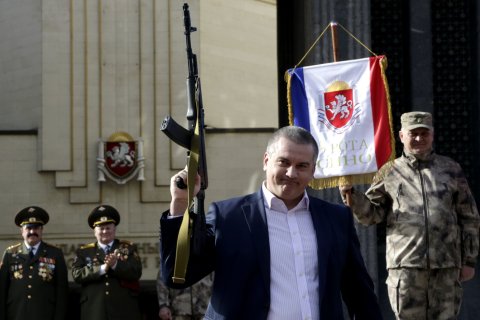 Other pro-Ukraine activists have allegedly been tortured by militia units, while yet more have simply vanished and are presumed dead. Those still at liberty face the constant threat of prosecution and imprisonment under Russia's vaguely-worded extremism laws. "They are trying to frighten us into silence," says Tatiana, who is half-Russian and half-Ukrainian. "We cannot state without fear of arrest that Crimea is part of Ukraine. We cannot wear the Ukrainian colours or freely celebrate our national holidays."
Just days after Tatiana made these comments, a number of people gathered in Simferopol at a monument to Ukraine's 19th-century national poet, Taras Shevchenko, were detained by police. "We have now taken to wearing black ribbons to show our opposition to Russia's occupation," Tatiana says.
'Cut It All Off'
Crimea's geographical location – it has only tenuous air and sea links to mainland Russia – makes it vulnerable to economic blockade by Ukraine, which continues to supply gas, water, and food to the region. "Cut it all off," says Tatiana, who asked that her surname not be published. "That's the only way to return Crimea to Ukraine. We are ready to bear any hardships. We can't go on like this for much longer."
It's not only people who are being snatched in Crimea. Militia units have been involved in the confiscation of a range of enterprises across the peninsula, from the Yalta film studios that were once dubbed the Hollywood of the Soviet Union, to assets owned by Ukraine's new president, Petro Poroshenko. In all cases, the seizures are either part of a campaign of nationalisation, or the compulsory buy-out of "strategic objects". Critics say that much of this is nothing more than brazen property theft. "These are purely criminal acts. They have often simply been seizing shops, including property and ownership deeds," says Zhan Zapruta, a Simferopol-based lawyer, who supported Russia's annexation of Crimea. "But no one is reacting to complaints, including officials in Moscow."
Crimea's new authorities have justified the raids as part of what they call the "forced redemption" of property they say was stolen from the people by corrupt government officials in Ukraine. They have also targeted wealthy businessmen they accuse of funding the fight against pro-Russian rebels in east Ukraine. This argument is dismissed out of hand by Yury Kolesnikov, whose Obyedinenie Trans-Kontinental gas company was grabbed by militia last autumn. "This is sheer banditry," he says. "There's no two ways about it. We thought the previous Ukrainian authorities were corrupt, but these new guys make them seem like small fry in comparison."
Russia's dramatic economic slump, triggered by Western sanctions and a steep decline in global oil prices, as well as a massive reduction in the number of tourists visiting the region, has devastated local businesses, and sent prices for everyday goods rocketing.
In Sevastopol, Crimea's main tourist resort, empty shops line the city's main thoroughfare, while pawnbrokers have, as one local put it, "sprouted like mushrooms". All this has led to growing disappointment among even those who supported annexation.
"The only thing that has changed is that things have got more expensive" says Viktor, a Sevastopol pensioner, who declined to provide his surname. "Russia promised a lot," he says, "but as we say here 'a promise doesn't mean he'll marry her'."