The Kremlin's war on the Russian opposition has now become so savage it has torn up its own rulebook. Russian dissidents struggling against Vladimir Putin used to be sure of two things. The security services would not shoot them and they would not come after their families. Not any more.
Vladimir Ashurkov is one of Russia's most notable dissidents after Alexei Navalny – and his right-hand man. But he could not be more different from the moralists and street protesters that make up most of the opposition. Ashurkov was one of the country's leading investment professionals: a well-off, successful, Western-educated top manager who switched to politics.
With soft-spoken manners and corporate efficiency, Ashurkov helped turn Navalny from a blogger into a national politician with a highly-professional team able to run for mayor of Moscow. Ashurkov brought two important assets to Navalny – one of the best policy minds in Moscow and elite respectability. With Ashurkov behind him, it was clear Navalny was a serious politician with a policy agenda discussed at the most moneyed tables in Moscow.
The Russian authorities are now out to get him, he says. But not only him. They are also trying to inflict pain on his family by persecuting his partner Alexandrina Markvo, a leading figure in the arts in Moscow, and mother of his nine-month-old baby – with a politically motivated case. "Russian authorities are trying to make an example of us," says Ashurkov. "They want to punish me for supporting Navalny in a way that will discourage others from doing the same. That's why they are not only coming after me. They are now coming after Alexandrina. This is new. The authorities never used to hunt down family members of its enemies. When Putin went after Mikhail Khodorkovsky he never touched his wife and children during his 10-year jail sentence. Khodorkovsky even thanked Putin for not touching them. But these rules are now over. The authorities are consistently increasing the degree of repression following the crisis in Ukraine and the economic decline of recent months. This is why they have already jailed Navalny's brother, who was never involved in politics. Now they want to do the same to my partner."
The Kremlin is coming after Ashurkov the same way it is coming after Navalny: with "lawfare", using fabricated court cases as a weapon to silence and paralyse them. Putin's regime has been mounting an escalating campaign on the opposition movement since 2012. The Kremlin first opened more than a dozen politically-motivated lawsuits against protesters who took part in a May 2012 rally that turned violent. Then it brought charges against Navalny, locking him into an ongoing, seemingly never-ending series of Kafkaesque trials. Many who had publicly donated money, often as little as 1,000 rubles (£11) to the campaign, have been harassed.
"Some of our strongest allies were even forced to leave the country," says Ashurkov, "this wave of persecution even went as far as touching Russia's leading economist and close government adviser Sergei Guriev, who was a public supporter of Alexei Navalny. The next wave of persecution now is they are trying to punish Navalny and myself by turning against our family members. This is their plan to stop us."
Navalny has decided to face his show trials in Moscow, the latest round of which saw the Kremlin jail his brother – who was never involved in politics – with biblical scenes of grief and injustice in the courtroom. The case was so openly fabricated that Yves Rocher, the company supposedly ripped off by Navalny brothers, did not admit they had even suffered any damages. Ashurkov says he has decided to try to keep the fight going from London, where he is seeking political asylum with his family. The decision is still pending.
"Just because we are in London doesn't mean we have peace of mind," says Ashurkov, "Our status is yet undecided and since the recent court decision prescribes the Russian law enforcement authorities to start an extradition process of Alexandrina, we are facing a long and costly legal battle. Russian authorities are trying to disrupt our life even as we left Moscow, and I cannot actively participate in Russian political life."
The Red Notice
Russia has announced it plans to issue what is called a "Red Notice" for Markvo – a demand registered at Interpol that encourages – though it does not oblige – the more than 190 countries cooperating to detain the person named. This is now a preferred tactic of the Kremlin in the war to harass its exiles; Russia has issued Red Notices against Bill Browder, the campaigning hedge funder, whose quest for justice for his murdered lawyer Sergei Magnitsky has seen him successfully lobby sanctions and asset-freezes against the perpetrators in the US. Red Notices have also been issued against Russia's own political and environmental activists. Interpol has done little to stop this abuse of its own system.
Ashurkov says this is the main danger the family now faces. "If the regime can issue a Red Notice before we can get the slow-moving and uncertain process of asylum finished, we could face a nightmare scenario of Russia demanding an extradition, of Alexandrina being detained in Britain, or even sent back to Russia to face trial there. The Kremlin wants this. They want to have this picture of an innocent woman – the mother of a nine-month-old baby – being hunted by them around the world to send a message. 'We know no limits. We will stop at nothing to persecute our opponents.' The cruelty, the absurdity of it – that's the entire point."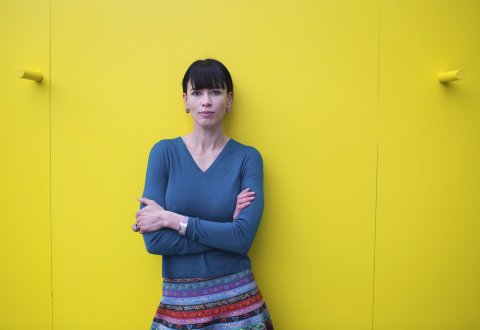 Markvo says her life has come to resemble the opening scenes of a psychological thriller. Overnight she has found herself no longer in control of her life – but forced to respond to the plans that a sinister enemy force has in store for her.
"I never imagined I would keep so many people busy," says Markvo. "The Kremlin has whole teams of investigators working tirelessly trying to frame me. They have interrogated our parents, both in their seventies. They are combing through the accounts of my small art and communications firm. And if they issue a Red Notice, it means that they could extradite me from Britain or detain me at any state border."
The Art of the Phony Lawsuit
The Kremlin has perfected the art of the fabricated political case. These cases are not designed to be realistic, or even remotely convincing – just maximise amount of people connected to their targets who they can implicate and harass for questioning. This is why the case they have opened against Alexandrina Markvo is a work of art, the couple says. "It's strange, absurd, and surreal to become the enemy of the state," says Markvo. "The charges against me are hallucinatory. The Kremlin has accused me of both working for them, as a secret conduit to fund the opposition, whilst it is trying to jail me with fantasy charges of having stolen public funds. They are accusing me of being both their agent and their enemy."
Markvo is a former TV presenter – an easy target for the Kremlin because of her work as arts and events planner with Russia's cultural elite. Kremlin-loyal media has accused her company of being used by the Kremlin to secretly fund Navalny, while also accusing her companies of defrauding the Moscow authorities she worked with for over a decade.
Markvo's company was well known for working with the Moscow authorities organising book fairs and literary festivals. It organised events with some of Russia's most famous writers, actors, scientists, any of whom can now can be called in for questioning or even be made suspects, she says. "They have invented a case that allows them to harass the liberal intelligentsia," says Markvo, "This politically-motivated case has created a device whereby they can call in for questioning most of the writers of Moscow at whim. We have been watching them being called in and out for questioning from their sinister buildings like its 1937. I'm frightened of the psychological strain this is putting on Russia's leading writers, many of whom are elderly men and women in their seventies. They could have a heart attack under this kind of questioning. Especially because in Russia those called in for questioning can sometimes suddenly find themselves turned into suspects if this is to the Kremlin's advantage."
Obliterating the Opposition
Ashurkov was not expecting the Kremlin to turn as savagely as it has against the Russian opposition. As late as September 2013, the Russian authorities had permitted Navalny's run for mayor of Moscow, although, barred from national TV, he was forced to campaign with primarily his laptop and with the help of his enthusiastic activists – he still managed to secure 28% of the vote and almost force a run off.
"Looking back at this," says Ashurkov, "there may have been some friction inside the system about how to react. They may not have been sure exactly what response to take. There were definitely those who did not think persecution was necessary but they have clearly lost influence."
Markvo says she never imagined that becoming involved with Ashurkov would lead to her becoming a political target. Not only had she never been involved in political life, but she had seldom crossed paths with those the regime considered his enemies. "I met Vladimir in 2011 just before the outbreak of protests in Moscow," says Markvo. "When they began, we found everyone we knew attending these joyous and festival-like rallies. There was hope and optimism in the air. We thought we were watching Russia's new middle class finding its voice. We thought that change for the better was coming."
Ashurkov and Markvo say that they first realised they were in danger when 10 men in black uniforms holding a camera raided their Moscow apartment early one morning in March 2014, when Alexandrina was eight months pregnant. They were taken to the police station for questioning. That night, the footage of the raid appeared on national TV. Soon afterwards, a politically motivated criminal case was brought against Ashurkov. "The regime has lurched so violently in a repressive direction," says Ashurkov. "It is easy to forget that, as recently as the September 2013 election in Moscow, there was a real belief that change was possible and that a growing and professionalising opposition could nudge the country in the right direction or even seize a piece of power in elections."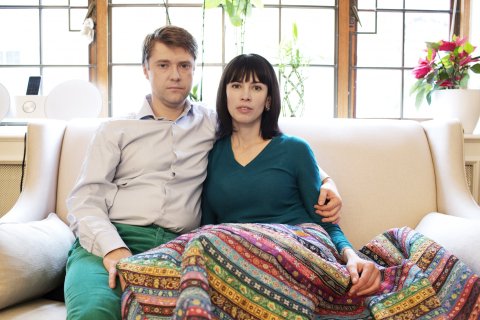 This is why the family found itself in line with Syrian, Somali, and Pakistani refugees in Croydon in South London in July 2014, applying for political asylum. They did not anticipate the regime would go this far. "I still find it hard to believe we are political refugees," says Markvo. "We are barred not only from going to our country, separated from our friends and relatives, unable to do the work which was important for both of us. Even when we get the refugee status, our travel will always be restricted since the Russian authorities are using international mechanisms of Interpol and extradition against us."
Life After Nemtsov
The Kremlin's war on the Russian opposition has become darker still since the assassination of Kremlin-opponent Boris Nemtsov. This means that nobody in the opposition movement can really feel confident of their safety. There are growing fears now that there could be new targets. Ashurkov says he prefers not to think about whether his life may be in danger, as that would mean giving into the paranoia those responsible for the Nemtsov killing want him to feel. "Even, at the funeral of Nemtsov, amidst the hundreds, people approached Alexei Venediktov [head of Moscow's radio station Ekho Moskvy, which often gives its air to people opposing the current regime] and Ksenia Sobchak [a leading TV personality who dabbled in opposition movement] and whispered to them "you are next", says Ashurkov.
Ashurkov last spoke to Nemtsov in Israel in April 2014. The leader of the Russian opposition was then working on a report into the Kremlin's war in Ukraine and had made public warnings that the Kremlin might move to assassinate him. Nemtsov had also warned that Ramzan Kadyrov, the leader of Chechnya, had suggested that he might kill the exiled oligarch Mikhail Khodorkovsky, urging him to take on protection even abroad. Nemtsov told Ashurkov that he believed a criminal case could soon be opened against him, but that he would not decide if he would flee the country or face jail, until the last moment.
"I don't believe that the murder would have been possible without some measure of involvement of the secret services," says Ashurkov. "Now whether this goes all the way up to Putin nobody knows. The murder and its aftershocks have revealed the pathologies and strains running through the system. There are signs of feuds, friction and fear, which show that old system of checks and balances is hardly holding any more."
Ashurkov and Markvo believe their exile is only temporary. "I understand that the people who have hijacked the Russian state and turned it into a vast machine of political and economic corruption have enormous resources," says Ashurkov. "But I have seen myself how terrified they were of our anti-corruption and civil activism and of electoral success of Alexei Navalny. That is the sign they know how fragile Putin's system is and how unsteady its foundations are. This is why I am certain I will return to Russia – within the decade, but possibly much earlier – and continue the efforts to bring fairness and transparency into the way Russia is run. This tawdry regime will not last for ever."