When CBS postponed James Corden's debut as host of The Late Late Show, David Letterman feigned incredulity.
"Why are you here?" he asked Regis Philbin, the show's stand-in host that night, when Letterman appeared as a guest. "Where's the tubby kid? Why isn't he ready?… I think something's gone wrong or he'd be here."
Letterman, whose production company used to own The Late Late Show, had already had Corden as a guest on his own show and knows better than anyone that successful late-night talk show hosts are invariably self-confident, smart, dapper and knowing.
So why would CBS hand such a valuable and prominent, if minor, gig to an unknown foreigner who has spent most of his career playing overweight goofs?
Corden says he landed the job almost by accident. Top CBS executives, especially Nina Tassler and Leslie Moonves, had been impressed by his work, and "CBS reached out and asked if I would write a sitcom," Corden says. "I went in to talk about it. [Stephen] Colbert had just been announced [as Letterman's successor], and I was saying what a genius appointment I thought that was."
"James has got an opinion on everything," says Ben Winston, Corden's long-standing collaborator and now co-executive producer for The Late Late Show. "He just started telling them what he thought the future of late night was. We thought no more of it. Five months later, we were having a barbecue in James's garden in London when the phone rang. CBS had offered him the job."
With a varied career that has spanned success on the stage as well as television, Corden, 36, may be better equipped for the role than many Americans realize. Raised in a small town near London, the son of a Royal Air Force bandsman and a social worker, he landed his first big role in 2004 as the fat kid in The History Boys, Alan Bennett's award-winning West End and Broadway play (later a movie). Popularity in the U.K. came when he co-wrote and co-starred in the BBC sitcom Gavin and Stacey, a gently uneventful show about very ordinary young folk. Corden played a naive but lovable loser.
His career had a serious wobble when this newfound stardom went to his head. His private life became wild. An embarrassing speech at the BAFTA awards—in which he questioned why he had not won the best comedy award, a performance he describes as "ungracious, ungrateful and brattish"—was followed by a train wreck of a TV sketch-show series. A comedy film, The Lesbian Vampire Killers, was a critical and box-office disaster, and the U.K. press was reporting the death of his career.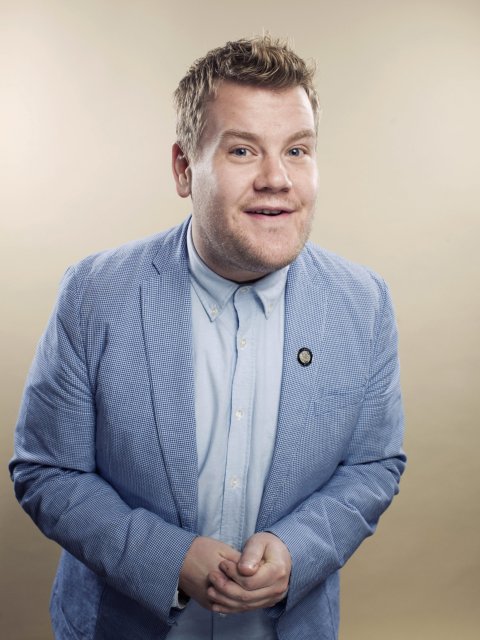 Resurrection came through prominent appearances in marathon children's charity fund-raisers for the BBC, organized with Winston. Then his starring role in the stage comedy One Man, Two Guvnors brought rave reviews (The New York Times called him "a comic star in Britain who seems poised to become one here in short order"), awards in London and a Tony in New York in 2012. A TV comedy-thriller, The Wrong Mans, written with co-star Mathew Baynton, was well received, and he has been hosting a comic panel show about sport for four years.
Much of his comic acting has been physical slapstick, trading on his size (although he has lost several dozen pounds in recent years), and this infuses his persona as a presenter and host. He loves inventing daft scenarios and cajoling celebrity guests and audience members alike into joining in his little fantasies, which they have generally done with surprise and pleasure.
Neither Corden nor Winston is prepared to share many details about the format for the CBS show, beyond saying that guests will all be on together, as on the popular BBC America series The Graham Norton Show. And they have hinted that Corden, who has never been a stand-up comedian, may shorten or even dispense with the traditional opening monologue. Otherwise, both use the word experimental to describe the format they are working toward and declare that the network seems happy with whatever they've come up with. "CBS has been unbelievably hands-off," says Corden. "They say, 'Just go and make your show and tell us what you need.'"
Many English comics have succeeded in America, and Corden doesn't seem daunted by operating in an alien culture. "The world is a much smaller place than it used to be," he says. "I don't see the divide as being as big as it was before the Internet. America is an incredible place. Here in Los Angeles I've met some of the most incredible, creative people I've ever met. They makeThe Simpsons here. It's a thrilling place to be."
"It's not about ripping up the rule book," says Winston, "because we grew up in England, so we never really read it.
"James is one of those comedians that I hope America will love," he continues. "He's embracing. He's kind. He never wants to laugh at anyone's misfortune. He wants to be laughing with the room rather than at a guest. I hope that with that warmth we can get a different perspective on the artists we have on the show."
Corden sounds tired when we talk, having been kept up half the night by his 3-year-old son and baby daughter. When I suggest he must be feeling a mixture of intense excitement and blind terror, he chuckles. "I think I've been feeling that for about the last five years, but it's more exhilarating than exhausting. You're constantly trying to second-guess yourself. Is this right? Is this something that just feels good in this room? Will it still feel good if I'm watching in Nebraska at 1 a.m.?"
An earlier version of this story incorrectly stated that David Letterman's production company owns The Late Late Show.