Updated | In February, "ArbCom" voted to expel "Wifione" from Wikipedia.
No idea what "ArbCom" is? You're not the only one. It's the Wikipedia Arbitration Committee, the highest court in Wikipedia land. And Wifione was a Wikipedia "administrator" account, run by persons unknown, that was accused of manipulating the Wikipedia site of an unaccredited business school in India by deleting links to numerous media reports alleging it scammed students into paying hefty sums for worthless degrees.
For four years, that Wikipedia page was a primary marketing tool of the Indian Institute of Planning and Management (IIPM), which at one time boasted a network of 18 branches and which drew tens of thousands of students over the years. It lured students with the promise of an MBA and partnerships with international universities in the United States and Europe.
Last September, the High Court of Delhi ruled that those promises were misleading and that IIPM was not accredited to confer any degrees.
So this isn't just a question of obscure Wikipedian politics. It's a tale that demonstrates how Wikipedia can be cynically manipulated by companies, and how the credibility of the website is, especially in the developing world, a powerful and potentially dangerous tool.
The Wifione account, which the Arbitration Committee has now banned indefinitely from editing the site, had been active since 2009. "They managed to blend in, like a chameleon," said Andreas Kolbe, an experienced Wikipedia editor. "Wifione offered to do administrative donkey work, said the right things about how inspiring 'the project' is and was unfailingly polite."
Wifione's helpfulness eventually bore fruit—the account was promoted to an "Administrator." "Admins have a huge advantage in Wikipedia," explains Kolbe. "The default assumption is that they are 'good guys.'"
Wifione's primary purpose from that point appeared to be to monitor IIPM's Wikipedia page. If criticism of the business school appeared, Wifione would use its influence to remove it, according to the Arbitration Committee.
In 2009, Careers360, an English-language magazine about the Indian education industry, started publishing a series of investigative stories about IIPM. The magazine noticed that in its advertising literature, IIPM claimed it was linked to a Belgian business school called IMI Belgium, styling its course as a premium "European MBA." But Careers360 published what it said was a letter from Belgian education authorities saying IMI Belgium was not accredited and had no legal authority to grant MBAs. (The Delhi High Court found IMI Belgium was nothing more than an "alter ego or another face of IIPM.")
IIPM also advertised partnerships with a number of foreign institutions, including the University of Buckingham in Britain. Careers360 reported that Buckingham University had told it that it had no formal agreement with IIPM—a report judged to be true by a court in the Indian state of Uttarakhand that dismissed a libel suit over the story. The magazine also reported that many of IIPM's graduates were unable to find work or ended up working for IIPM as lecturers, at much lower salaries than they might have expected from the advertising that had lured them. The magazine also found that neither of India's official educational bodies had accredited IIPM's so-called MBAs. (The Delhi court ruling confirmed this too.)
"My parents re-mortgaged their farm to pay for this degree," one former student was quoted as saying. "I'm just too scared to tell them it was a fraud. It's better they just think I have an MBA. It would break their heart."
Like many who attended IIPM, the student, who did not want to be identified, said she was unable to find management work after graduating, despite the school's promise that the degree would open doors at some of India's leading companies. Students paid up to $15,000 for IIPM's courses. "What IIPM was really selling was aspiration," says Mahesh Peri, publisher of Careers360, which has successfully defended itself against two libel suits over its reporting on the school. (Several more suits filed in courts around India are still grinding their way through the slow and fragmented system.)
Financial documents from 2010 reported by Careers360 show IIPM reported revenues of about $39 million.
In its September ruling, the Delhi High Court ordered IIPM to stop making false claims in its advertising and to post the court ruling on its website, making it clear that it had no authority to confer degrees of any kind. The court also noted that IIPM may be liable "in any action taken by any other person for having been misled in the past"—effectively opening the door for students to sue the school.
Calls to the offices of IIPM were not returned. Arindam Chaudhuri, the sharp-suited dean of IIPM and a self-styled "management guru," did not respond to numerous calls for comment on this story, and his whereabouts could not be ascertained. He also did not respond to messages sent by email and to his Facebook page. Peri believes he may have left India.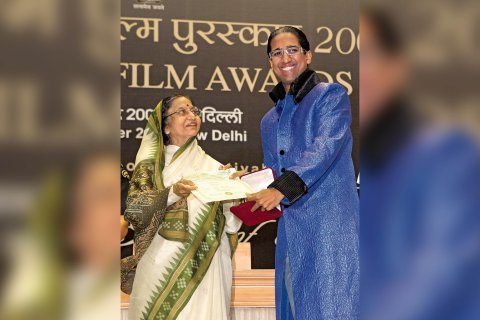 Chaudhuri, whose portrait was featured in IIPM's glossy adverts, posed for pictures in front of a Bentley Continental and, like many successful Indian businesspeople, he had also produced several movies, including three that won National Awards in India. He projected success and the fruits of aspiration—an aspiration shared by the much poorer families IIPM targeted.
After the negative articles came out about IIPM, it became harder to attract students through conventional marketing. That was when IIPM's Wikipedia page became its primary lure, though it has never been conclusively proved that Wifione was being run by Chaudhuri or his company. Wifione began operating on the site around the same time critical articles about IIPM began to surface.
Many of the articles Wifione removed from IIPM's Wikipedia page were from Careers360. In 2011, another magazine, The Caravan, interviewed Chaudhuri and published a highly critical investigation. The link to this, too, was removed from the Wikipedia page.
In the place of those and other negative articles, false claims that Peri had lost the libel cases Chaudhuri filed against him sprung up. The Wikipedia page also now emphasized a link, praising IIPM, to a newspaper called The Pioneer. It turned out the article in the link was an advertorial (paid content designed to look like a news story) , according to Peri, who showed Newsweek what he said was an email exchange with The Pioneer's editor, Chandan Mitra, confirming that was the case. "There was this endless battle of claims and counterclaims," Peri says.
The Wikipedia Arbitration Committee believes Wifione was at one time operating over 60 so-called "sock-puppet" accounts, fake users run by the same person that can be used to out-vote rival editors who want to make a change. Members even found evidence of two sock-puppet accounts threatening editors with violence if they didn't back off, according to a Wikipedia editor.
For poor students from rural areas of India, Wikipedia was often the only source of information they could use to research which business school to attend. "They don't really understand how Wikipedia works. It is just a web page to them," Peri says.
In 2013, IIPM got an unexpected boost for its page. A new initiative launched by Jimmy Wales's Wikimedia Foundation offered free access to Wikipedia from mobile phones. The program, Wikipedia Zero, launched in India and other parts of the developing world, including Thailand, Myanmar, Morocco, Ghana and Malaysia.
"In my opinion, by letting this go on for so long, Wikipedia has messed up perhaps 15,000 students' lives," Peri says. "They should have kept track of Wifione and what they were doing—they were just so active."
The Wikimedia Foundation is apologetic but won't be offering compensation. In a statement, it said, "The Wikimedia Foundation was very disappointed to hear of the allegations of fraud committed by IIPM and Wifione. If true, it was a tremendous violation of the trust and good faith of our editors and readers. We will continue to work to support our editors and administrators in serving as a vigilant defense against such incidents and in hopes that they can prevent future incidents like this from occurring."
When asked about Wikipedia Zero, the foundation said, "The feedback we have received from people around the world confirms that free access to Wikipedia has made a positive difference in their lives."
British writer and researcher Roger Davies, who sat on the Wikipedia Arbitration Committee for the past seven years, explains that spotting malicious accounts like Wifione isn't as easy as you'd think. "Wifione got away with it for so long because it was cleverly done. It was only with the aggregate view, taken over many years, that you can see what's going on in cases like this."
Davies also argues that judging whether a page about a business is accurate or not is difficult, without knowing about that industry in depth.
Tonda Vejvancicky, another veteran Wikipedia editor, says there could be many more stories like the Wifione-IIPM case. "Often nobody notices, or nobody cares. The project has become too big to be manageable by its current editorial staff."
Kolbe believes the site's flaws are felt more keenly outside the West. "People in the developing world don't always understand how Wikipedia is created. It's such a credible website, it comes so high up the search rankings—people think it's just another encyclopedia."
Follow Alastair Sloan on Twitter at @AlastairSloan.
This story has been corrected to remove incorrect information suggesting Arindam Chaudhuri drank champagne. Mr Chaudhuri says he does not drink alcohol. Newsweek apologizes for any offense caused. The story has also been updated with further information about Mr Chaudhuri's movie production career and awards and to clarify the number of students who studied at IIPM over the years.