Alfred Hitchcock, said director François Truffaut, was "an artist of anxiety". Everything made him anxious: as a baby he was terrified by an aunt who put her face up against his and made cooing noises; in Hollywood he refused to cross the studio floor in case a stranger tried to speak to him. He suffered from vertigo, he was scared of sex, he had been morbidly afraid of the police ever since his father, to punish him for a childhood misdemeanour, had him locked up for three minutes in a police cell. The reason he fell asleep during dinner parties, Peter Ackroyd speculates in this nifty little book, is because he alleviated his anxieties with opiates.
When he was asked by a critic to explain the "deep logic" of his movies, Hitchcock – who considered such questions pretentious – replied that it was "to make people suffer". And suffer they did. The 45-second shower scene in Psycho had audiences running up and down the aisles; the director Peter Bogdanovich left the cinema feeling that he "been raped or something". So deafening was the screaming in the auditorium that no one heard the famous soundtrack of hysterical violins.
Hitchcock also liked his stars to suffer, keeping them on edge during the shoot in order to catch their tension on celluloid. While he was filming Psycho, he hid the body of Bates's mother in Janet Leigh's dressing room so he could measure the quality of her scream when the thing was discovered. "He relished scaring me," said Leigh. While he was filming The Birds he allowed a raven to attack Tippi Hedren's face; she narrowly avoided losing an eye.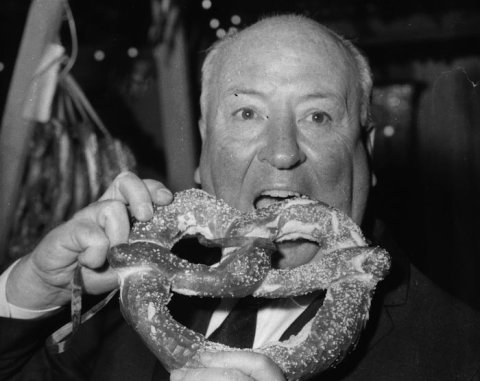 Ackroyd's Hitchcock is as packed with anecdotes as an after-dinner speech. Everyone, it seems, had a story about Hitch, most of them ghoulish. David O Selznick, with whom he collaborated on Rebecca, described him as "not exactly a man to go camping with". It was the kind of dry comment Hitchcock enjoyed: nothing amused him so much, he said, "as understatement". He looked for it in his actors as well, instructing Barbara Bel Geddes, in the soft, controlled voice of a hypnotist, not to act, and Kim Novak to get rid of her facial expressions. When Gregory Peck asked what his character was supposed to be thinking, Hitch replied: "My dear boy, I couldn't care less what you're thinking. Just let your face drain of all expression." Someone else was instructed to smile as if she had a mouthful of broken china.
He was born of Irish Catholic stock in 1899, in the East End of London, where his father ran two fishmonger shops on a street called Salmon Lane; the cartoonish quality of his background would not have been lost on him. Hitchcock had a strong comic streak. As round and English as a cheddar cheese – "I have always been uncommonly unattractive," he conceded – he would have been at ease in one of the raucous Rowlandson sketches he hung on the walls of his Hollywood home. For all his ice-cool blondes, it was bawd that he liked best; what he most admired about Grace Kelly was her hoard of dirty jokes.
He met his wife Alma Reville in the early 1920s, at Paramount's Famous Players-Lasky Studio in London. Alma was a cutter and Hitch was doing a medley of things, including screenwriting and assistant-directing. He proposed during a storm at sea; too sick to lift her head from the pillow, Alma apparently burped her acceptance. The burp, notes Ackroyd, said it all. They somehow produced a child called Patricia (Hitchcock claimed to have inseminated his wife with a fountain-pen), after which the relationship became purely professional.
Alma had an instinctive understanding of film, and Hitch deferred to her in everything. They were, by any standard, an odd couple: she went around in jacket-and-trouser ensembles, which he had specially tailored by Austin Reed, while he equipped himself with a uniform of six suits (dark blue), six pairs of shoes, 10 identical ties and 15 identical pairs of socks and underwear. She was as nimble as a schoolboy, and he moved his huge body with feline grace; he would have become a "poof", he joked, had he not met Alma.
Ackroyd goes no further than Hitchcock's other biographers in trying to make sense of his sexuality. A sado-masochist, a voyeur, a homosexual, a fetishist, Hitch ticks all the boxes but still eludes categorisation. His obsession with Tippi Hedren verged on the criminal; so terrorised was she by his attentions that even Alma was forced to apologise to the poor actress. He filmed, said Truffaut, love scenes as if they were murder scenes and murder scenes as if they were love scenes. In Strangers on a Train, Ackroyd observes, the murderer falls into a romantic swoon as he strangles the old lady.
Having made 24 films in 13 years in England, including The Lady Vanishes and Jamaica Inn, Hitch and Alma left for Hollywood in 1939. "I am itching to get my hands on those American stars," he said, but it was Ingrid Bergman who had most impact on him.
The real star of his films, however, was Hitchcock himself, whose direction of Bergman reduced her to tears for the only time in her career. "How I suffer and loathe every moment on the set," she said during the filming of Spellbound. "Ingrid, it's only a movie," Hitchcock would retort by way of calming her down. It became his catchphrase. He hated the language of film criticism which evolved with the century; when Hitchcock helped his granddaughter with an essay she was writing on Shadow of a Doubt, his favourite of all his films, she only got a C grade. "That's the best I can do," he shrugged.
He died in Bel Air in 1980, the year that a nervy young blonde called Diana Spencer became engaged to the Prince of Wales. Now there's a story Hitch would have enjoyed.