It was built in the 1920s in the Spanish Mission style, topped by one of those red clay tile roofs so popular in South Florida back then. The Catholics laid their foundation just a short walk from the famed Biltmore Hotel (modeled on the Giralda, the tower of the Seville Cathedral in Spain), and named their church in honor of Saint Thérèse of Lisieux, also known as "the Little Flower." These days, Coral Gables is majority Cuban-American, the Church of the Little Flower's pastor, the Reverend Michael W. Davis, tells me, which might also explain why he is so comfortably bilingual. Unlike so many Catholic parishes in the U.S., Davis says, his still boasts packed pews and "reflects a vibrant community." He adds playfully that the church's lovely setting makes it a "wedding factory."
On a more serious note, Davis explains the Rite of Christian Initiation of Adults (RCIA)—the Catholic conversion program. He tells me about it because Little Flower's most famous parishioner is a convert: Jeb Bush, the former governor of Florida who's already touted as the Republican front-runner in the upcoming presidential race, attends Mass frequently with his wife, Columba, and their daughter, Noelle. "[He'll be] gone all week, and yet he regularly makes the liturgy," Davis says.
Jeb, of course, hails from one of America's great preppy families, one more strongly associated with J. Press suits and Kennebunkport tennis than a La Santa Misa (a Mass conducted in Spanish). The Bushes are famously of the Episcopal wing of Protestantism, whose origins trace back, in part, to Henry VIII's peevish break with Rome. Jeb, which is an acronym for John Ellis Bush, joked in 2013, "[I'm] no longer a WASP; I guess I'm whatever a W.A.S.C. would be"
As a young man, Jeb showed no interest in Catholicism, the Vatican or much of anything except, perhaps, baseball and weed. He attended Phillips Academy Andover, like his brother George W., the 43rd U.S. president, and played baseball there, like his father, the 41st. While at Andover, he took a semester abroad, working with the poor in Leon, Mexico, where he was quickly and deeply smitten with a local young woman, Columba Garnica de Gallo.
They married when she was 20 and he was 21; in addition to exchanging vows, they exchanged languages: He became fluent in Spanish, and she learned English. It took the rest of the Bush clan some time to get used to having a Catholic in-law, and this being the mid-'70s—a time of coups and juntas across Latin America—it probably caused a few ripples for Columba's family that her new father-in-law was head of the CIA.
They later married and lived in Texas and did a stint in Caracas, Venezuela before settling in Miami in 1980, where Jeb carved out a living in real estate, investments and finally politics. The couple attended Mass together, and their children were baptized and given confirmations, but Jeb didn't convert. This wasn't owing to any great desire to retain his ties to the Episcopal Church, friends say. He just didn't feel moved to take on the course of studying and then going through the rites to become a full-fledged Catholic.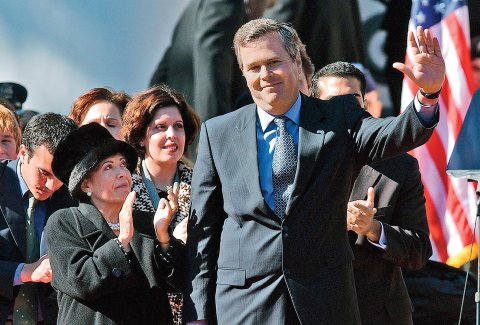 That changed in 1995. He took RCIA, the gateway to conversion, at the Church of the Epiphany in Miami, when he was 43. Jeb has said he was motivated "by the faith of my wife. I didn't want to raise our children in a mixed marriage," although that explanation is a little puzzling since Jeb's children were 20, 19 and 13 at the time. He has also acknowledged that there were strains in his marriage back then, many of them related to his 1994 campaign for governor. It was Jeb's first run for office, and it weighed heavily on Columba, who has never cottoned to the role of being a hand-waving, ribbon-cutting, speech-giving candidate's wife.
"You're away from home. There's stress," says one person close to Jeb, explaining the clouds over the marriage then. What's more, Jeb lost that race. Sure, the Bush men had seen defeat over the decades, but Jeb's loss was particularly disheartening for him in a year when so many Republicans were swept into office nationwide, and when his brother George got elected governor of Texas despite starting out as a big underdog. Like so many people—regardless of whether they're pols—Jeb turned to religion in hard times.
That emotional trough may have been the catalyst for his conversion, but Jeb soon became an enthusiastic Catholic who loved the ritual and the sacraments. He even started carrying a rosary in his pocket—a habit that continues to this day—but he retained his father's reluctance to talk about his faith. "He's not a cufflinks Catholic," says Jim Towey, president of Ave Maria University, near Naples, Florida, and a longtime friend of Jeb's. By that, he means Bush isn't showy about it. "Faith isn't something he talks a lot about," says Towey, who ran the Office of Faith-Based and Community Initiatives in the George W. Bush White House.
A former lawyer, Towey dedicated his life to Christ after a mission to Calcutta to work with Mother Teresa, and he became her counsel in America. "Like a lot of people who convert, [Jeb] has a zeal about it and a joy," he says. He recalls taking Jeb and Columba to Tijuana to meet with priests who had worked with Mother Teresa. The visitors were greeted with a song at the bus stop, a welcome that stirred something in Bush. "You could see his joy. He was moved to tears," Towey says.
Jeb's road to Catholicism is a telling example of the noble and knotty, maddening and comforting, always contradictory and confusing ways faith and politics intersect in America. We like to say we are independent thinkers basing our votes on carefully crafted political beliefs and goals, but we often vote with our tribe. We're a church-going people, but we elect a diverse set of presidents—some who profess to having been saved, like George W. Bush, and some with a decidedly more secular mien, like Barack Obama. This year's growing gaggle of presidential aspirants is an intriguing snarl of inconsistencies when it comes to faith—much like the rest of America.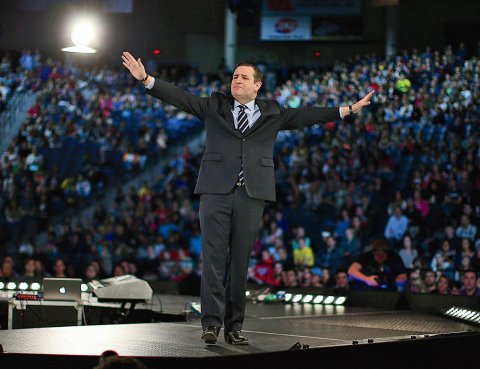 So while the media obsesses about Hillary Clinton's emails or Ted Cruz's pugilism or Chris Christie's girth, one the biggest stories of the 2016 campaign will be how faith has changed the candidates themselves—and how it may decide which of the dozen or so likely candidates will be sworn in as our next president on January 20, 2017.
Consider for a moment the messy, mixed messages of that Inauguration Day, a pageant that's so peculiar and so right for a republic that says it loves God but bans organized prayer from our schools. It's a ceremony that's secular, yet shrouded with religious references and symbolism. The incoming president lays his hand on the Bible—and so far it's only been a man and it's only been a Bible—and pledges to God that he will defend a Constitution that forbids a religious test for public office. It is both inspiring and contradictory. And when it comes to God and politics, so are we all.
Evangelists and Chanters
Jeb Bush's conversion to Catholicism was a very personal journey, one that millions of his fellow Americans have made in one church or another. People in the U.S. switch faiths with remarkable frequency. There aren't firm statistics comparing, say, conversion rates in the 19th century with those today, but social scientists believe it's on the rise. And that's notable if only because Americans have always been impulsive shoppers when it comes to their pew of choice. Think of the remarkable rise of that uniquely American creed Mormonism, and of charismatic evangelists like Aimee Semple McPherson and Billy Graham, and of the vast mega-churches.
According to the Pew Research Center's Religion and Public Life Project, more than half of all Americans will leave the church of their youth at some point, which suggests that most churches and temples and mosques are launching pads, not permanent homes.
Many parishioners who flee eventually return to the fold, but the Religion and Public Life Project, in its "Faith in Flux" report, says about 40 percent of those who give up the religion of their birth don't return. And many are joining a flock that's one of the fastest-growing religious groups in America—those who believe in a higher being but don't feel attached to any church. These "Nones" make up almost 20 percent of adults in this country.
Making the picture even more complicated is the question of dabbling in two religions. A relatively small number of Americans identify with more than one faith, e.g., "I'm Muslim and Lutheran." But that doesn't include another burgeoning group that social scientists know is out there but haven't yet measured: Americans who identify with one religion but who also casually borrow practices from another—say, Buddhist chanting or Hindu meditation.
At times it seems as if we're shopping for churches while pushing a cart at Wal-Mart. But we're pious, too. America has one of the highest church attendance rates among Western countries. Around 40 percent of Americans report attending a service in the past week. That number is close to 15 percent in the U.K. And with apologies to that high priest of atheism, Bill Maher, American voters have no interest in nonbelievers. No atheist has ever made a serious run for president, and only one of the 535 members of Congress lists her religion as "none:" Kyrsten Sinema, Democrat of Arizona. And while very few of us would pick our surgeon or plumber based on his or her faith, we expect our politicians to be pious. We want to know they pray, even though we don't seem to care all that much about how or where they pray.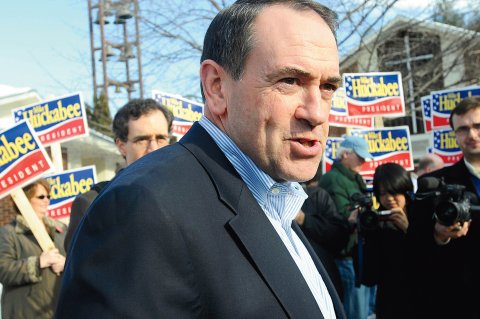 Harry Loved His Bourbon
But how much faith is enough? In presidential candidates, Americans are all over the map. Harry Truman was a drinking, gambling Baptist who didn't talk a lot about his faith. Jimmy Carter drank rarely, never gambled and was a loquacious Baptist eager to share being born again. George W. Bush, an Episcopalian turned Methodist, has told journalists, and recounted in his memoir, how he stopped drinking. "I believe God helped open my eyes which were closing because of booze," he wrote inDecision Points. He was followed in the White House by Barack Obama, who talks about his faith but in a less emotional, more intellectual way.
We don't seem quite as bigoted as we once were when it comes to judging a candidate's religion. Mitt Romney's Mormonism didn't stop him from being the Republican nominee against Obama last time around. Joe Lieberman, who is Jewish, didn't seem to be a drag on Al Gore's ticket, since they won the majority of votes in the 2000 presidential election. Conservative Catholic Rick Santorum polled best in the South in 2012, while John Kennedy in 1960 had to solemnly swear to Dixiecrats that he wouldn't be taking orders from the Vatican.
But tribalism still rules at the ballot box. Among Mormons, 80 percent lean Republican, according to the Pew Forum on Religion and Public Life. Jews lean 65 percent Democratic. Atheists and agnostics are 71 percent Democratic. Black Protestants lean 88 percent Democratic. White Evangelicals are 70 percent Republican. And while it's true that Catholicism is big enough to include Nancy Pelosi and John Boehner, Bill O'Reilly and Stephen Colbert, where we worship is often an excellent predictor of how we'll vote.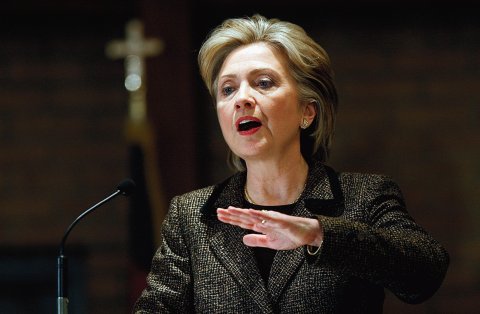 Aqua Buddha or Purifying Fire?
This season's crop of presidential candidates reflects this country's many contradictions in faith. A minority of them have stuck with their first church. Hillary Clinton has always been a devout Methodist—her only conversion was from Goldwater Girl to '60s liberal under the tutelage of her suburban Chicago pastor, Don Jones, who took his youth group to hear Martin Luther King Jr. speak. Mike Huckabee, the former Arkansas governor and minister, has never strayed from his Baptist roots—his latest book is called God, Guns, Grits and Gravy. Santorum has always been Catholic; he tells Newsweek his faith was invigorated while he was in the Senate, owing to factors like his parish priest in Northern Virginia, his experiences of fellowship in the Bible Study Group in the Senate and his wife's deep faith.
Ben Carson, the renowned neurosurgeon, hews closely to Seventh-day Adventist teachings, which include observing the Sabbath on Saturday and a literal belief in creationism. (He allows that Earth may have been formed over six "periods," but insists that however long it took, it was God and not a Darwinian struggle that made us who we are.) Carson says his faith strengthened when he had an epiphany as a teenager that took him off a path he believed was headed to prison and onto one that made him the pride of the Johns Hopkins School of Medicine. (He's famous for pioneering an operation to separate twins joined at the back of the head.)