At one point in Gun Baby Gun, Iain Overton mentions that as a young man he ran a gun club, firing pistols and rifles, and was a reader of Guns & Ammo. Then, he notes laconically: "I saw someone get shot and things changed."
The change occurred in 1999, on a ferry off Guadalcanal. Overton had gone to the Solomon Islands to learn about shark-hunting, little realising that a tribal war was in progress. When he did realise, he decided to leave. His ferry, with Malaitan soldiers aboard, was followed by motorboats filled with rival Isatabu militia. A firefight ensued and the young man next to him, with whom he had been talking a few minutes earlier, was shot in the neck and fell dead at his feet.
Overton has reported in print and film from many countries around the world, including quite a few war zones, and in Gun Baby Gun he uses his travels to explore our fatal love affair with the firearm.
He relates how he and a colleague were mugged in Papua New Guinea by wild highland gangsters in elaborate wigs, armed with long rifles, who took their rucksacks, clothes and money. They reported the theft to a policeman, a giant of a man in mirrored shades and a moustache, who threatened to burn down the local villages if the white men's possessions were not returned. Twelve hours later they were. He remembers a training camp in the West Bank where American tourists are taught to shoot Palestinian "terrorists" and an open-air market for contraband AK-47s in Mogadishu. The AK-47 features on the national flags of Zimbabwe, East Timor and Burkina Faso, and is so common that in some places it can be bought for as little as $50.
Overton has supped full of horrors, and is not reticent about sharing them. He recalls a female doctor in a Cape Town trauma ward, understandably hardened by her job, interested only in the fact that a patient has been shot: "I don't need to know … a guy we've spent a long time helping and given lots of resources to, that he then brags about how many women he has raped. That's too hard to hear."
The reams of statistics he supplies are just as shocking as his accounts of violence. There are now nearly a billion guns in the world – about one for every seven people – and 12 billion bullets are manufactured every year. The United States has a murder rate of about 5.3 per 100,000 people, Honduras 90.4 and that country's San Pedro Sula, "the most violent city on Earth", has a rate of 172. On a visit there, he talks to a mortician and a journalist, and hears stories so appalling that even he cannot bring himself to repeat them.
Besides his journalism, Overton is director of investigations at the charity Action on Armed Violence.
He concedes that guns have legitimate uses, for defence and recreation, but there is never any doubt about whether he is in favour of them. On a hunting safari in South Africa, he listens to conservationist arguments about how game reserves maintain stocks of wild animals and counter the devastation caused by sheep and cattle grazing, but then he shoots a springbok. In a moment straight out of Bambi, he notices one of its offspring, tail quivering, looking back for her mother. Afterwards he is photographed with his trophy: "My eyes looked like the eyes of a killer."
As he investigates the police, military and criminals, the manufacturers, dealers, smugglers and lobbyists involved in guns, his attention is inevitably drawn to the gun mania, fuelled by Calvinist paranoia and billions of dollars, that prevails in the United States. The US has more gun shops than petrol stations. At gun shows private sellers are not required to make background checks or even demand ID and an al-Qaida spokesman has advised jihadis that that is where they should buy their automatic rifles.
Since 9/11 America's police forces have been extensively militarised, so sleepy little towns have been provided with SWAT teams that often raid the wrong houses, shooting children, grandparents and pets. And since the massacre of 20 children at Sandy Hook elementary school in 2012 gun laws have been significantly liberalised; in some states now you can carry a gun into church. Such is America's faith in the gun that it has handed over hundreds of thousands of weapons to the security forces of Iraq and Afghanistan, at least some of which have ended up in the hands of the Taliban and Isis, which it is fighting against.
It would be interesting to read a book about guns that took the opposite line to Overton's, but I'm not sure it would be possible to write one.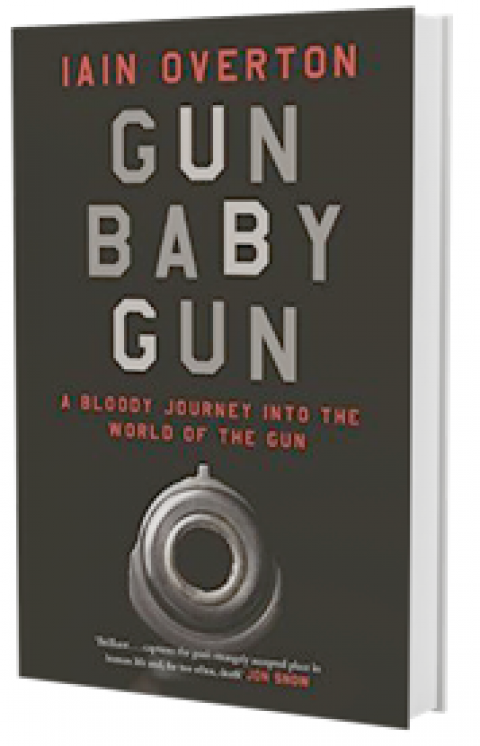 Gun Baby Gun by Iain Overton, Canongate (£18.99)