When Barack Obama goes to Congress to sell the nuclear deal thrashed out with Iran in Lausanne, Switzerland, he will likely replay his pitch that the agreement offers "a peaceful resolution that prevents Iran from obtaining a nuclear weapon." To fiercely skeptical U.S. allies, such as Israel and Saudi Arabia, the White House will likely say that this is a breakthrough opportunity for Tehran to shed its rogue status after 30 years of hostility between the U.S. and Iran. The underlying logic is that Iran, once it falls under international scrutiny, will become a U.S. ally against Sunni Islamist extremism. Another remarkable element of the deal is that it seems to have been the result of a joint effort between Washington and Moscow who, for all their bitter differences over Ukraine, have momentarily come together to work for peace in the Middle East.
If only the Iranians—and their Russian allies—saw things that way.
Instead, according to Iran's Defense Minister Hossein Dehghan, "Iran and Russia are able to confront the expansionist intervention and greed of the United States through cooperation, synergy and activating strategic potential capacities." When his Russian counterpart, Sergei Shoigu, traveled to Tehran in January to sign a comprehensive agreement on military cooperation between the two countries, he spoke of "Russia and Iran's joint struggle with the intervention of outside forces in the region"—read the U.S.—and predicted that "a powerful Russia and a powerful Iran [will] jointly promote international security and regional stability."
During those talks Russia offered Iran its latest Antey-2500 anti-aircraft and anti-missile defense system—an upgraded version of the S-300 system that international pressure persuaded Russia not to sell to the Iranians in 2010.
"Iran promises to suspend its [nuclear] weapons program—but at the same time is negotiating to buy a missile defense system that will protect its nuclear facilities from U.S. or Israeli attacks?" asks one retired Western ambassador with detailed knowledge of the Iran nuclear talks, who requested anonymity. "You can see why many are finding it hard to believe that [Tehran] is negotiating in good faith."
Other reasons to distrust Iran include its support for Houthi insurgents in Yemen, fomenting of unrest among Shiites in Bahrain, supplying arms and aid to Hamas and Hezbollah, controlling Shiite militias in Iraq and propping up Bashar Assad in Damascus—all of which suggest to skeptics that Tehran is seeking to establish itself as an enemy of the West, Israel and the Sunni world. And Moscow has been Tehran's willing partner in at least part of that endeavor. Russia has been working closely with Iran to support Moscow's only other Middle Eastern ally to survive the Arab Spring—the Assad regime in Syria. Over the past four years Russia has provided Assad with assault weapons, grenades, tank parts, fighter jets, attack helicopters, military advisers, anti-ship cruise missiles and long-range air defense missiles that have downed at least one NATO plane: a Turkish F-4 fighter in 2012.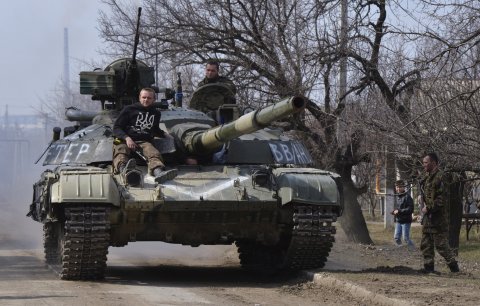 Why has Russia spent so much money and diplomatic capital on interfering with a region so far from its borders? Because Russia, Iran and China represent the three world powers that are in different ways seeking to challenge the post–World War II, Western-led status quo, according to Walter Russell Mead of Bard College. "Russia wants to reassemble as much of the Soviet Union as it can.… Iran wishes to replace the current order in the Middle East, led by Saudi Arabia and dominated by Sunni Arab states, with one centered on Tehran," argues Mead in an essay in Foreign Affairs magazine. "Leaders in all three countries also agree that U.S. power is the chief obstacle to achieving their revisionist goals."
In other words, the main wellspring of Moscow's interest in arming Iran and backing Assad is to use that leverage to extract concessions from Washington for its own empire-building closer to home. "Moscow looks at its role in the Iran talks not so much in its own terms but in how it can play into issues of more central interest to itself," says Mark Galeotti, a professor of global affairs at New York University. "The West is forced to recognize Moscow's status as a global power; Iran can feel it has been a good ally; and other current or potential Russian allies can be reassured."
But what makes Russia's role in pushing for the lifting of U.N. sanctions on Iran somewhat counterintuitive is that in practical terms such an outcome will be very bad news for Russia's economy. "Iran needs cash and will not agree to hold back as part of an OPEC [oil] supply–reduction deal," says analyst Chris Weafer of Macro Advisory. "While a deal with Iran regarding its nuclear program will open up the country's energy sector for investment and eventually lead not only to a restoration of the 1 million barrels of daily output lost since sanctions were tightened against Tehran, but will also lead to a longer-term rise in both oil and gas output."
Iran's supply of natural gas is enormous—and the most obvious market is Europe, via Turkey's well-developed pipeline network, that feeds directly into the Balkans. That, of course, is also the heartland of Gazprom's consumer base. Income from Russia's state-owned gas giant accounts for over 20 percent of that country's budget.
Iran's gas coming online will exacerbate the problems that have already taken Gazprom's profits down some 30 percent over the past four years. Economic slowdown in Europe has meant falling energy consumption, the U.S. shale gas revolution has pushed down oil prices, and the spread of Liquefied Natural Gas technology is allowing gas from Qatar and the U.S. to reach Europe. More important still is the fear factor in the wake of Russia's invasion of the Crimea in 2014 that has sent customers in former Soviet-bloc states such as the Baltics and Poland rushing for alternative energy sources.
Ukraine cut gas imports from Russia 44 percent to 14.5 billion cubic meters last year, according to its national pipeline operator, and it promises to reduce its dependence on Gazprom by 80 percent by the end of 2015. Iranian gas is now set to challenge Gazprom's supplies to Turkey, one of Russia's major energy markets, as well as Europe.
There is another factor in weighing Russia's economic interests: Iran's aggressive regional policies are fueling one growth industry in Russia—and that's war. "I don't conceal it, and everyone understands this: The more conflicts there are, the more they buy weapons from us," Sergei Chemezov, head of the Russian state arms industry conglomerate Rostec, told reporters in Tehran in January. "Volumes are continuing to grow despite sanctions. Mainly, it's Latin America and the Middle East."
Being friends with Iran (and an Iran that will have more money to spend after sanctions are lifted) may be good for the Russian arms industry—last year Moscow sold more than $15 billion of military hardware around the world—as well as Russian companies rushing to build roads, pipelines and infrastructure. But those interests are dwarfed by the potential damage to Russia's economy from falling oil prices and lost gas markets.
Russia's veteran Foreign Minister Sergei Lavrov has been pushing long and hard for the lifting of sanctions on Iran. Why? One simple reason is habit: For most of the past two decades the U.S. has pushed for sanctions and, under a variety of administrations, Russia has felt the need to resist. But with a shift of policy in both Tehran and Washington toward rapprochement since 2012, Moscow has unexpectedly found itself on the same side as its archrival, the United States.
Russia's behavior over the past year seems to show that geopolitics matter more to the Kremlin than economic self-interest. U.S. and European economic sanctions in the wake of Russia's annexation of Crimea in 2014—including an asset freeze on Chemezov and dozens of other Putin cronies—have put Russia's economy into a tailspin, but that hasn't made a difference to Putin's support for rebels in Eastern Ukraine.
As the U.S.'s grand bargain with Iran enters its last and most painful stage, Moscow will certainly look to use any leverage in the Iran talks to forestall any expansion in the sanctions that really matter to Putin—those on Russia.
Fundamentally, Russia's interest in the Middle East remains in "keeping the pot bubbling, but not boiling over…whether [ISIS] in Syria and Iraq, or the Yemen mess," says Galeotti. "The more the Middle East is in chaos, the more the West—and Washington in particular—is focused on the region, and not on Ukraine or Eurasia in general."