Martin Schwarz has only 30 bottles left of his new wine. Despite their hefty €50 price tag, 70 have already been snapped up since the batch went on sale a few months ago. That may be because it's the first-ever barolo grown in the East German state of Saxony. "Saxonian barolo" is what Schwarz jokingly labels his pioneering creation, made of Piedmontese nebbiolo grapes, since barolo itself is a Piedmontese trademark.
But the grapes are the same. Until recently, nebbiolo grapes grew only in regions like Piedmont in northern Italy. Saxony, bordering Poland and the Czech Republic, is Germany's smallest wine region, and for eight centuries vintners here have mostly planted Müller-Thurgau and riesling, earning a well-deserved reputation for excellent dry whites. But with climate change pushing temperatures up, Schwarz decided to try out the red Italian nebbiolo grape here in Radebeul outside Dresden.
"The mountain slopes here hadn't been used for grape-growing for a very long time, but I realised that the sunnier side would be perfect for nebbiolo," explains the 52-year-old. He could not have asked for a more picturesque laboratory: his newly planted slopes below the palace Neufriedstein overlook Radebeul's charming medieval city centre of small shops and neatly paved streets.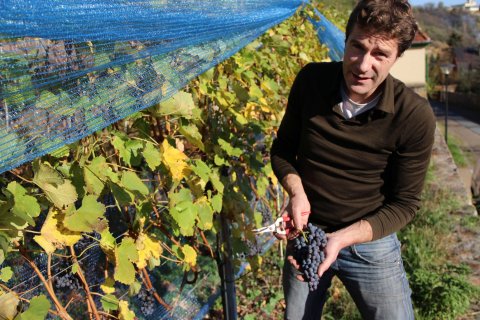 Though Radebeulers refer to their city as the Nice of Saxony, because of its mild climate and stunning scenery, planting Italian grapes this far north was a risky venture. Temperatures may not reach quite the levels common on the south side of the Alps, and climate change may also bring a risk in the form of floods.
"I must say I was surprised the grapes ripened," Schwarz recalls of his first harvest, in 2012. One year later, he filled his first batch of bottles – the 100 now on sale – and from last year's harvest 100 litres are now maturing in his cellar.
Vintners in the traditional German wine-growing regions of Rhineland-Palatinate and Baden-Württemberg are also beginning to experiment with southern European grapes. According to figures from the German Wine Institute, planting of cabernet franc – a traditional Bordeaux grape – more than doubled between 2010 and 2013. Trade journal Wine Economics and Policy says climate change is causing monumental changes in wine production, with premium wine production moving north.
"What we're doing now here in the north would not have been possible 20 years ago," reflects Schwarz. "For vintners in Germany, climate change is a good thing. But I do feel for vintners in southern Europe. They can keep planting their grapes, but they'll get a wine with higher alcohol content."
Indeed, according to Wine Economics and Policy, Europe's centuries-old viticulture will undergo an enormous shake-up as entire regions along the coast of Italy, Greece and France become unsuitable for wine-growing altogether, while southern England turns into the new Champagne. A generation from now, pinot noir lovers may well be drinking only the finest Saxonian bottles.
Right now, Schwarz can't think that far ahead, busy as he is with his current grapes and bottles. "Saxonian barolo is lighter than barolo from Piedmont, but you recognise the nebbiolo straight away," he says. "It's a typical nebbiolo; it makes for a very elegant wine."