Early in March 2015, almost exactly four years since he spontaneously combusted with a booze-fuelled, anti-Semitic rant in a Parisian café, John Galliano presented his comeback collection on the catwalks at the Grand Palais. His collection comprised 30 looks created for his new employer, Maison Margiela.
There were neon makeup and accessories, Mary-Jane shoes and fake-fur slippers, short skirts, long coats, patent finishes – most of that more wearable than it might sound – and a few odd hobo-ish poses – models scuttling down the catwalk clutching large handbags as if gripped in a fit of consumption. At the end, two rounds of applause failed to entice the designer – who used to appear in a blaze of costume and posing at the end of all his shows – to take a bow at all. A new age of Galliano had begun: his stealth period.
The show was actually Galliano's second of the year. Before the show in March, January had seen a womenswear couture show in London, the "Artisanal" collection, presented not only to press and buyers but also supportive friends and fashion designers from Christopher Bailey from Burberry to Alber Elbaz of Lanvin. The reviews were broadly positive; as Plum Sykes of US Vogue says: "It was a very modern take on couture, rather amazing. His clothes often make more sense when photographed or taken apart … they looked beautiful in American Vogue."
Hired in October last year by Italian-born Renzo Rosso to head the hip Margiela brand founded by the Belgian Martin Margiela, Galliano is undoubtedly back in the saddle. The fashion crowd wanted to know whether his designs could successfully marry the frayed-hem, plain-yet-arty aesthetic of Maison Margiela with his signature flamboyant theatricality – or whether he would choose between the axioms.
But the question for everyone else was this: how has Galliano managed to return to the front line of fashion after his spectacular fall from grace? Can a man so hell-bent on self-destruction put himself back together again in the increasingly complex world of high fashion, where creativity meets commercial reality, sometimes in a brutal fashion?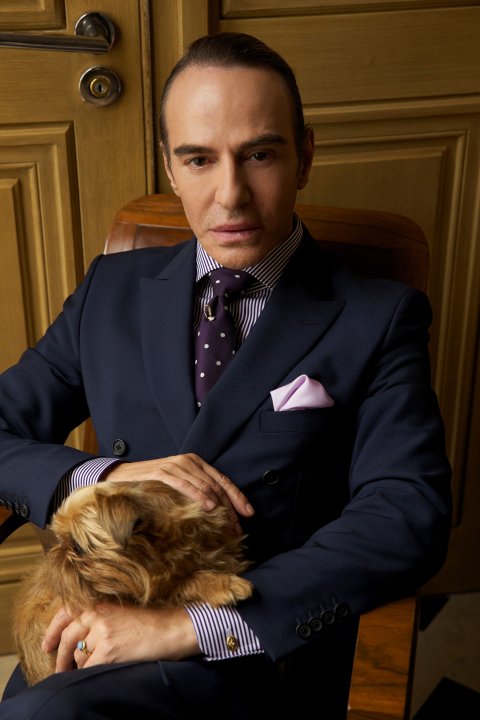 'I love Hitler'
Today Café La Perle, situated around the corner from the Picasso Museum, on a street junction in Paris's fashionable, originally Jewish quarter, Le Marais – where Galliano still lives in a first-floor apartment – is bustling with young men in suits and women in mini-skirts in the early spring sunshine. There are formica table tops and orange, worn banquettes, and Heineken in plastic cups; the place is popular with fashion types now but it is neither expensive nor flashy.
This is Galliano's local brasserie. And it was here that he, on more than one occasion, launched into drunken anti-Semitic tirades against other guests, total strangers, who he claimed he thought were being either too noisy, or too ugly.
In October 2010, he called a fellow customer an "ugly Jewish" woman; in December he told two women "I love Hitler" and "your mothers and ancestors would all be gassed"; and, in the final outburst in February 2011, he told an art historian called Geraldine Bloch she had a "dirty Jewish face". He insulted her "ugly eyebrows", her "cheap thigh boots" and then struck one of the pouting "rock star" poses he used to relish at the end of his fashion shows.
And that was that. A video of one of these rants went viral. Galliano's bosses at Christian Dior, where he had been creative director for 14 years, sacked him; he would later be found guilty of anti-Semitism in a Paris court. Many – from Natalie Portman, the face of Miss Dior Cherie scent, to Suzanne Johnson, then general manager of Saks department store – were quick to say they would not be associated with him.
Meltdown in Paris
It is hard to gauge the current mood of Paris's Jewish community, still reeling in shock at the Charlie Hebdo and Jewish supermarket murders earlier this year; Paris is understandably even more sensitive about anti-Semitism than it was when Galliano had his rant. Yet Richard Prasquier, who was president of CRIF (Conseil Représentatif des Institutions juives de France) at the time, is forgiving.
"I strongly supported the reaction of Dior at the time to strip him of his position because I was appalled by his comments. But I met him – he wanted to see me – six months later. He told me he was extremely sorry and was doing work on himself. I told him that was good news. I haven't seen him since. I always like to give people the benefit of the doubt and I appreciated that he wanted to see me." The current president of CRIF would not comment.
The fashion industry has been mostly supportive of Galliano's attempts at recovery. Sykes says: "Everyone in the fashion business really admires the way John Galliano has worked hard to get back on his feet. A lot of people are extraordinarily fond of him and very happy to see he's recovered." The industry is accustomed to stories of addiction. Aside from Alexander McQueen, who hanged himself in 2010, Marc Jacobs, Donatella Versace and Calvin Klein all struggled with addiction – they know the acute stress the industry can cause.
The fashion world also missed his talent. A Galliano show was a theatrical event, says Sykes, "like the first night of a play. Only a McQueen show was the same. You would wait for two hours, maybe – but it would be mesmerising". At the Opera Comique in Paris at the last show for his own label in October 2010, just before his first rant, gold confetti fluttered down from the ceiling as 1920s-style models paraded in the old theatre. Galliano came on last, hobbled, shy, yet defiant. The clothes were exquisite, eclipsing the rumours about his wellbeing that had already begun to fly.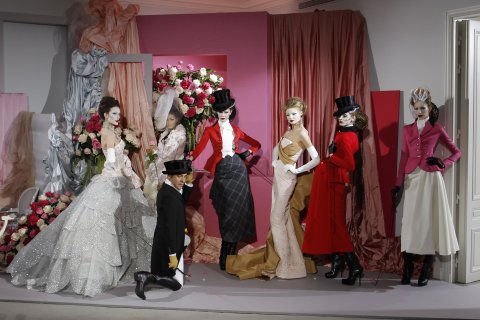 Guns for hire
Born in 1960 in Gibraltar to a Gibraltarian policeman-turned-plumber and a Spanish woman who later became a dinner lady, Galliano moved to south London at the age of six. Years ago I went to his parents' house to interview his mother, a glamorous woman in an ordinary terraced house with a heavy, Spanish Catholic interior – shiny wood furniture, antimacassars, crucifixes and huge framed photographs of the Gallianos' beloved son, grinning from ear to ear with his dyed blonde hair. Bright, creative, he went to grammar school and then to St Martin's, London's training ground for fashion designers.
His entire 1984 graduation collection – "Les Incroyables" (The Incredibles), inspired by the French Revolution – was bought by Joan Burstein, owner of London's premier talent-spotting boutique, Browns, in South Molton Street. Diana Ross was the first buyer. Burstein has said many times that seeing his collection was the most exciting fashion moment of her entire career.
Galliano's meteoric beginnings coincided with Anna Wintour's tenure as editor of British Vogue – "they grew up together in a way," says Sykes – and Wintour has supported him ever since. With fashion stylist Amanda Harlech and milliner Stephen Jones, he founded his own label. Thrillingly imaginative yet never financially robust, he went through several backers and even bankruptcy until a seminal show at socialite São Schlumberger's house in Paris in 1993 fixed his own label (with new backers, again through Wintour). Two years later he landed a plum job at the house of Givenchy, owned by Bernard Arnault's fashion conglomerate LVMH. He was the first British designer to head a French couture house. The next year he moved on to Dior. Under his tenure the stores and revenue grew tenfold.
But running parallel to this story of career highs and increasing influence – which saw him dress Princess Diana for the Met Ball (a blue and black slip bias-cut dress compared to a nightie by some, seen as refreshingly different for Diana by others) and Nicole Kidman in a chartreuse gown still named as a top 10 Oscars dress – lay an immense battle for personal lucidity.
Wintour and friends had already performed some kind of intervention in 1990. An addictive personality, his friend and business partner Steven Robinson had become the man who did nearly everything for him but eventually tempers frayed, Galliano's behaviour became erratic and Steven died of a cocaine overdose in 2007, whether deliberate or accidental, nobody knows.
In 2003, Galliano's father died. Relations with Arnault and Sidney Toledano – the boss of Dior – were strained. Fashion design had become increasingly stressful. Aside from the imperative to create clothes that sold, there was a new demand for other high margin products – the accessories and branded scent – and the relentless desire for publicity and editorial coverage that would secure sales in boutiques. Designers had become celebrities, but they were also artists, business people, employees, employers and ambassadors for themselves and their brands, all at once. Many – like McQueen and Galliano – were running more than one label, their own and also another brand as a gun for hire.
By 2007 Galliano found himself alone. Harlech had been poached by his rival, Karl Lagerfeld, at Chanel, and Robinson was dead. Eccentricity had become a personal trademark – at his first show a girl had thrown a dead mackerel into the audience – but it was less charming seen away from the "divine decadence" of his fashion (his words). He had often seemed "annoyed by other people", wrote Dana Thomas in her recent book about McQueen and Galliano, Gods and Kings. Staying in bed when he shouldn't – for example, when asked to a state dinner at Buckingham Palace – had become a regular occurrence. There was also the matter of his questionable taste; his obsession with the homeless, ruined and derelict could be seen as boundary-pushing or just plain wrong.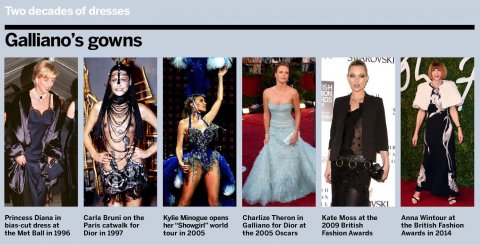 Reining in the beast
After his fateful rant had exploded in Galliano's face, he fled Paris and went into rehab, in Arizona and then Switzerland. There are some who think Dior could have sent him there before sacking him, although Galliano eventually lost his unfair dismissal case. He was sacked from his eponymous label too – also owned by LVMH – and his old friend and helpmate Bill Gaytten, originally a pattern cutter from Manchester, took over in his stead.
Galliano had lost both his fashion houses and also, unusually, his own name. The steps to recovery were not smooth. First, there was silence. After rehab, he sank into what friends called a "deep depression". Kate Moss – like Wintour – was a supporter. She had organised a surprise 50th birthday party for him at the Savoy hotel in London a few weeks before doomsday, at which an old London friend says he had been "a shadow of himself". Galliano was wearing "a near-invisible headband that pulled the skin on his face and smoothed out his wrinkles". The ageing process was never going to come easily to a self-styled enfant terrible.
Moss also asked him to design her wedding dress in July 2011. It was a classic bias-cut Galliano number – a hit. And where Moss leads, the rest of the fashion set follows. A guest at the wedding said that when Galliano walked into the Gloucestershire church everyone stood up and clapped. "US Vogue ran the pictures, including a shot of John with Kate. I'm not sure any other editor would have done that at that point," says Sykes.