Before there was reality television, with its scripted dramas and unlikeable characters, there was a group of American filmmakers who looked at the world with fresh eyes (and lenses) and captured something as close to truth as we'll ever see on film.
After five decades of filmmaking, Albert Maysles, the so-called Dean of Documentary, died March 5 at the age of 88. But he'll still be moving audiences. Iris, his documentary about fashion icon and interior designer Iris Apfel, will have its worldwide release this spring, and In Transit, a portrait of America through the stories of riders on Amtrak's Empire Builder, its busiest long-distance train route, has its debut at the Tribeca Film Festival in April.
Part of the cinéma vérité, or direct cinema, movement that eschewed voice-overs or scripts in favor of carefully recording reality, Albert and his brother David helped revolutionize documentary film in the 1960s and 1970s. They were aided by an early-1960s innovation: the sync-sound, handheld camera, which allowed them to roam unfettered by cables. Freed from the studio, the Maysles brothers—Albert on camera, David recording sound—were released into the wilds of the late 1960s, with all of its political and cultural cataclysms. What they found is documented in their best-known films, which still seem radical: Salesman (1968), Gimme Shelter (1970) and Grey Gardens (1975). The themes and styles explored there reverberate in popular culture and in the work of directors such as Terrence Malick, Martin Scorsese and Wes Anderson.
For Salesman, the Maysles followed four men doing something so alien to our click-and-shop era that we might not believe it existed if we didn't have this footage: going door to door selling expensive Bibles to people who didn't need them—and usually couldn't afford them. Introduced via intertitles with names like "The Rabbit," "The Gipper," "The Badger" and "The Bull," each salesman is shown, alternately predatory and desperate, as he charms his way into people's living rooms and wallets.
Muffie Meyer, who, with Ellen Hovde and Susan Froemke, edited Grey Gardens, says great cinéma vérité directors like the Maysles didn't fuss too much about perfect lighting and angles; they worried most about "sensitivity to the situation" that allowed them "to be at the right place at the right time."
Albert grew up with a learning disability and said it forced him to focus on listening and paying attention, for fear he'd miss something. It also helped that he had professional training in listening—a degree in psychology. Before he and his brother began making movies together, he was a psychology professor at Boston University. During a trip to Russia, he had the idea to investigate Russian mental institutions, and thus he began his film career, with the 1955 documentary Psychiatry in Russia. His natural empathy, intense listening ability and training in psychology served him well in shooting "fly-on-the-wall" cinema.
One beautiful scene from Salesman—The Bull in a couple's living room—is both sad and funny. Just as he closes (improbably!) the sale of yet another expensive Bible, a woman in curlers writes out a check while her husband in a ratty white undershirt puts a record on the turntable and turns the volume up high: It's an orchestral version of the Beatles' "Yesterday."
The music drowns out the salesman's conversation with the woman—seemingly a hint from the husband that it's time for The Bull to leave. The song, which becomes the accidental but perfect soundtrack to the scene, fades out as the door-to-door salesman backs out of their driveway.
In another scene featuring music, The Badger's failed sale is punctuated by a young girl randomly hitting the keys of a piano, her descending minor-key song matching his deflated expression.
"The shock of seeing 'real life' up close can't be imagined today," B. Ruby Rich, a professor at the University of California, Santa Cruz, and editor of Film Quarterly, says of Salesman. "It was a time with three networks on a black-and-white TV, and Ed Sullivan was prime-time entertainment. The impact of 16-mm documentary back then was like the Google Glass—but converted into an art form. They were empathy machines—they taught America how to feel." Norman Mailer once said Salesman taught him more about America than any other film he'd seen.
The Maysles also taught America how to listen—and, of course, to see. Like the best psychoanalysts, who master the ability to pay attention, waiting for the moment a patient's dull ramblings suddenly reveal a searing emotional truth, the Maysles cultivated a calm attentiveness, allowing a scene to unfold in all its ordinariness, until it shimmered and pulsed with meaning.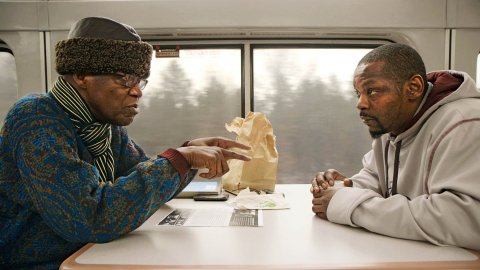 Albert was able to show nuances even in stadiums filled with thousands of concert-goers, as he demonstrated in Gimme Shelter, which followed the Rolling Stones on the tail end of their alternately transcendent and calamitous 1969 U.S. tour. Many cultural critics point to Gimme Shelter as the film that shows the end of the '60s "peace and love" movement, with its footage of the tour's climactic and chaotic Altamont concert. Mick Jagger was punched in the face on the way to the stage, and a young black man was fatally stabbed by a Hells Angels biker at the foot of that stage while the Stones were performing "Under My Thumb."
But before it gives us the darkness,Gimme Shelter gives us the shimmering light. Most live music footage is deadly dull, unable to re-create the immersive experience of a concert; but the Maysles captured the rapturous quality of communion—with a performer, with other audience members, with music—that many say has yet to be matched. Gimme Shelter is still considered one of the best rock documentaries ever made.
Conveying reality sometimes meant deploying cinematic techniques. The use of music, color and Charlotte Zwerin's masterful work in Gimme Shelter—she included scenes of Jagger watching the Stones' concert footage, creating a "film within a film" effect—feel so natural that their artfulness is often overlooked.
The Maysles were sometimes accused of exploiting their film subjects. In Gimme Shelter, they were faulted for including the Altamont stabbing in the film, dubbed the "Rock 'n' roll Zapruder" by critic Amy Taubin. And critics took issue with them filming two women some have described as mentally ill in Grey Gardens, the documentary about Jacqueline Kennedy's eccentric aunt and cousin. Albert responded by saying they directed nothing. They filmed only what was there. This is partially true.
"In Grey Gardens," says Rich, "they broke their own rules and stepped out from behind the camera, interacting with their unruly subjects, Big Edie and Little Edie, as they entered their lives and won their trust." Grey Gardens was named the top documentary of all time in a recent PBS poll and spawned a Broadway musical and an HBO movie starring Drew Barrymore and Jessica Lange. "The film is a Rorschach test for people's acceptance of the unconventional and eccentric," Albert told The Boston Globe.
Making an appearance at a screening of Salesman in November 2014 at DOC NYC, the annual documentary film festival in New York City, Albert introduced it not with cinematic theory but with anecdotes about friendship and love. He chose salesmen from his hometown in Chicago, he said, because they were Irish and there had been strife between Jews and the Irish when he was growing up. He had hoped he would get to know them better by making the film, and he remained friends with The Rabbit, James Baker, until his death.
"As it says in the Bible," he told the audience, "love thy neighbor. And I hope you'll be able to feel that kind of love from your heart as it was from my heart in making the film."