Felicia Marcus, chairwoman of the State Water Control Resources Board, is trying really hard to convince me that the California dream isn't dead.
We're driving in my beat-up Volkswagen through the Central Valley, just south of Sacramento, and even here the effects of the drought are stunning: the hills to the west, usually soft and green, are burnt-crisp and yellowed. The fields spreading for miles in both directions are also toast; they look as if they would crumble under your feet. Here and there, crops still live, but they are hedged in on all sides by death.
In the past few years, a drought has been slowly strangling California. Low rainfall and record-high temperatures have created a historically devastating climate. One recent study based on tree ring data suggests that the current drought, which most consider to have started back in 2011, is the worst the area has seen in 1,200 years. Earlier this month, California's annual April Snow Survey, which measures the snowpack in the Sierra Nevada on the day of year when it is typically at its highest, found just 5 percent of the historical average. The previous low, 25 percent, was set last year.
Marcus says the good news is that no one denies reality anymore; people are ready to talk, and they think they have a solution. "It's not really a perfectly crafted plan," she admits, "but it's a promise from this administration about what we are going to prioritize over the next five years."
Governor Jerry Brown had one look at the snowpack results and took the unprecedented step of issuing an executive order that requires cities and towns throughout the state to cut back water usage by a staggering 25 percent. At an April 1 press briefing announcing the first mandatory water restrictions in California's history, he talked smack with some of his typical rough-hewn candidness: "The idea of your nice little green grass getting lots of water every day, that's going to be a thing of the past."
It took decades of work by some of the country's greatest scientists and engineers to create the infrastructure needed to feed all those lush lawns Brown verbally laid to waste; California is in many ways the world's greatest geoengineering project. But there was a fatal flaw in their system. "We had no idea how the water cycle worked" in the early 20th century, says Jay Famiglietti, senior water scientist at the NASA Jet Propulsion Laboratory. "We didn't even know what 'climate change' meant."
The ecosystem those midcentury movers of the earth created, so powerful when there is rain and snow, is entirely impotent when it stops. And now it is dangerous.
Welcome to Life on Mars
For most of the 20th century, California was as much an ideal as it was a place, sold to transplants as a true paradise—beaches, vast green lawns, eternal sunshine and the country's fertile crescent. But that was a lie. California is not lush; it's arid and dry, more Greece than Grenada. Nature certainly did not intend for there to be hundreds of thousands of acres of lawns and orange groves and almond orchards there. Nor could it ever have supported the 38 million people who now live there. The sprawling Southern California megalopolis—bleached by the sun and desiccated by its heat—is like a settlement on Mars: Everything it needs to survive is hauled in.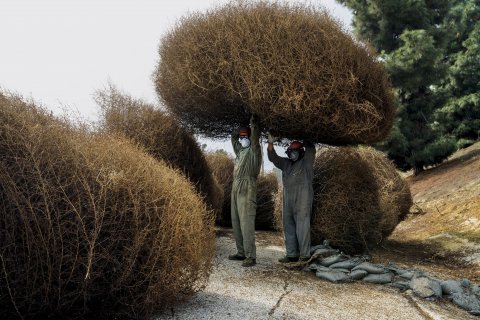 It took a unique confluence of irrigation evangelism, engineering know-how and an appetite for large public works to make California California. It started up north. San Francisco was the state's first urban hub, and as the city grew in the early 20th century, so did its thirst. In 1916, construction began on the Hetch Hetchy water system, a project to dam up its namesake valley and construct waterways to deliver water to the Bay Area. Over the next two decades, engineers built tunnels, dams, reservoirs, hydroelectric powerhouses and a 150-mile aqueduct; in 1934, the water started to move. It was one of the largest man-made water conveyances in the world, delivering about 260 million gallons per day.
A quick note about measuring water: Chances are, you think of it in terms of gallons. But counting gallons quickly becomes impossible when scaled to the levels of California's needs. The water management industry measures in million acre-feet (MAF). It takes more than 325,000 gallons to make 1 acre-foot. Hetch Hetchy, which delivered over 290,000 acre-feet per year, was big for its time, but was nothing compared with what was to follow.
The success of Hetch Hetchy begat further feats of engineering spurred on by some of the country's wealthiest businessmen (including the owners of the Pacific Fruit Express, a joint venture between the Southern Pacific and Union Pacific railroads focused on shipping produce back East) and their evangelists, who had designs on making the Central Valley—which had sun and soil, but no water—the Eden of agriculture. In the late 1930s, the Central Valley Project (CVP) put up its first dams and canals.
Today, the CVP stores about 11 MAF of water in 22 reservoirs and delivers 7.4 MAF a year to the Central Valley, irrigating more than 3 million acres of cropland. Sacramento followed suit in the 1960s, building the State Water Project (SWP), a system of 20 reservoirs that can hold 5.8 MAF, along with waterways that crisscross the state and deliver about three MAF annually to over 25 million residents and more than 750,000 acres of agricultural land. Combined, these two water conveyances traverse over 1,200 miles and are by far the two largest such projects in the U.S.
They were also largely responsible for creating what we all think of as California. The CVP helped turn the San Joaquin Valley from a high desert into the country's most important hub of agriculture (a stunning feat of hubris and engineering that the U.S. Geological Survey called "the largest human alteration of the Earth's surface"), while the SWP provides a good chunk of what makes Los Angeles and the Inland Empire livable.
"California [became] associated with producing all the food people eat. And that imagery is very much associated with the rise of Southern California in particular—this paradise where they can just grow oranges," says Robert Chester, an environmental historian at the University of California, Berkeley. "It's the foundation upon which a larger identity is then cemented...California as the land of opportunity."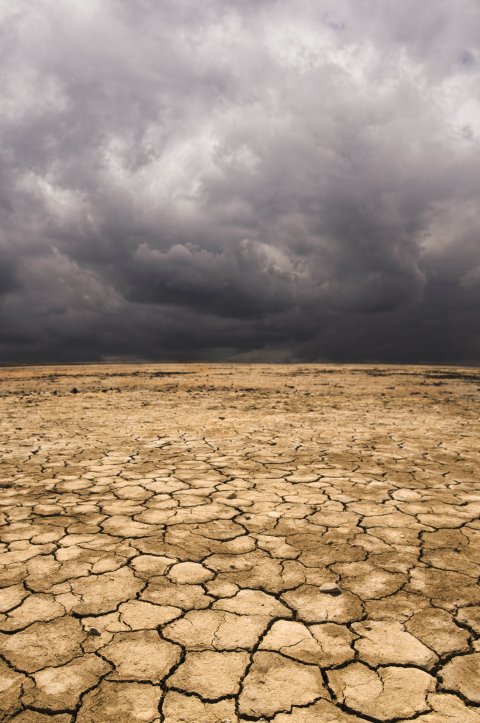 The staggering ingenuity of those hydraulic scientists and engineers seduced the state's residents into complacency; they assumed the pocket-protector geeks could always figure out new ways to shift water around. Cut back? Conserve? Not in the Golden State! That attitude still exists in many corners: There have been not entirely facetious proposals to, for example, build a massive pipeline from Alaska down to California's Shasta Lake and construct a channel to shore up the flows of the Colorado River (which feed San Diego and other cities) with waters from the Missouri River.
Water engineering created "a momentum that took on a life of its own as the panacea," says Chester. "This same mentality acts as a cultural myopia that prevented the consideration of alternative approaches that incorporate more practical and adaptive responses to limited water."
As the Stanford Woods Institute for the Environment pointed out in a 2014 paper, technological change in the water sector "has generally been marked by stagnation" since the 1970s. A striking comparison can be made with the clean energy sector: From 2000 to 2013, $69 billion was invested in clean energy, and just $1.5 billion was invested in water. In the past decade, solar panels have become increasingly efficient and electric cars close to ubiquitous. Meanwhile, we have come up with no new technologies for increasing water supply or lowering demand. On top of that, the water infrastructure is decaying. The California Urban Water Conservation Council works with 76 different urban water agencies. In 2012 (the last year for which it has data), those agencies lost an estimated 57.3 billion gallons of water.
The recent drought has made clear how obsolete California's water technology has become. The silver lining: It may also force California to invest in new science that can help save the state from itself.
Drinking From the Toilet
Take Interstate 5 south 400 miles from Sacramento and you'll end up in Orange County—so named, wrote local historian Jim Sleeper, not for any existing orange groves but instead for the promise of a paradise in which the citrus might, one day, thrive. As it did. For years, that covenant was fulfilled with waters piped in from the north. Today, in the aptly named suburb of Fountain Valley, one of the country's most innovative wastewater recycling solutions is weaning the county off those wet imports.
Everything is shiny as hell at the Groundwater Replenishment System (GWRS). The administrative building is roofed in red Spanish tile and has air conditioning to meet your body's every need and dream. There are tidy trophy cases in the hallways, and upon leaving, I am given a swag bag that includes A History of Orange County Water District, an 85-page booklet printed on 32-pound bond paper, full color. The GWRS is a prodigiously efficient network of thousands of gleaming pipes, hundreds of pneumatic valves and various other plumbing fixtures, all operating at full capacity with almost no one in sight.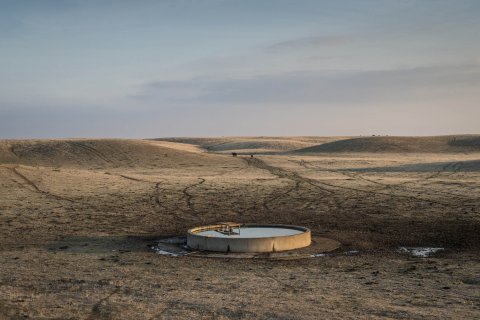 The GWRS is the world's largest indirect potable-water system, producing, on average, 215 acre-feet of drinking water a day. It's been in operation since 2008 and is such an unmitigated success that it's already expanding; by the end of May, it will be up to 307 acre-feet per day. That's enough, says General Manager Michael Markus, to provide for the daily water needs of 850,000 people—about one-third of Orange County's residents. "We looked like geniuses in 2008 because we were in the middle of a drought," he says, "and now we look like geniuses again."
The GWRS provides the county with a drought-resistant source of water, at very reasonable prices: It costs water retailers just $478 per acre-foot. That price is driven down by "subsidies" in the form of grants from an old state water bond. But if you took that out of the equation, says Markus, you are still talking just $850—very reasonable compared with the $1,000 per acre-foot it costs to import water from the Colorado River and Northern California. It also requires only half the energy of imported water.
The plumbing is daunting, but the science and water policy implications are fairly straightforward. The county's Sanitation District is required, by law, to take indoor wastewater (sinks, showers, toilets) and treat it to the point where it is clean enough to dump into the ocean. That, of course, is a massive task...and a huge waste. So instead, the treated wastewater is sent to the GWRS, which puts it through an additional three-stage purification process: physical microfiltration (to remove solids, protozoa, bacteria and viruses), reverse osmosis (forcing it through semipermeable membranes in a pressurized vessel to rid it of dissolved salts, organic chemicals, pharmaceuticals and even the smallest of viruses) and UV treatment (to disinfect the water and destroy any last, tiny organic compounds). At the end, it's been thoroughly rid of all contaminants—the GWRS tests for 7,400 compounds as required by its state permit. The end product is probably cleaner than what comes out of your tap.
The GWRS is "the best-kept secret in Orange County," says James Herberg, general manager of the county's Sanitation District. Though there are small wastewater recycling plants in California, nothing is remotely close to the scale of Orange County's project. There are plenty of reasons why, but primarily it's because there hasn't been much appetite for or investment in water-recycling technology.