It was an outlandish act of political theater, and one that resulted in utter failure. In the fall of 2013, the Republican Party decided to take a stand against the Affordable Care Act, President Barack Obama's signature health-care legislation. The GOP's strategy was as simple as it was quixotic: With a majority in the House, conservative lawmakers refused to pass a bill needed to fund the federal government unless the measure stripped away all money for "Obamacare." Of course, since the Democrats controlled the Senate, the plan was never going to work. But the Republicans plunged ahead to make their point, even if it meant shutting down Washington.
The shutdown began on October 1. Hundreds of thousands of federal workers were furloughed, causing delays in Social Security checks and new passports. All of the country's national parks were closed, upending vacation plans from Yosemite to the Washington Mall. Republicans initially celebrated, but before long, opinion polls showed that the public blamed them for the imbroglio, jeopardizing the GOP's election prospects for 2014. Within weeks, Republican leaders caved and agreed to fully fund Obamacare, along with the rest of the government. The 16-day shutdown cost the economy an estimated $24 billion.
These days, few in the GOP are talking about a government shutdown, but the party once again may be stumbling toward self-destruction, thanks to some of its most conservative members. The latest clash between the White House and the far right involves Obama's effort to sign a nuclear deal with Tehran. In March, Senator Tom Cotton of Arkansas and 46 other Republicans sent a letter to Iranian Supreme Leader Ayatollah Ali Khamenei, warning that the next U.S. president could easily abrogate any nuclear deal. And now the GOP is focused on a Senate bill that would prevent Obama from waiving any sanctions against Iran while Congress reviews a final nuclear agreement, which both sides are committed to reach by the end of June. In mid-April, the bill received unanimous approval in the Senate Foreign Relations Committee. The White House even pledged to sign it into law after Bob Corker, the panel's silver-haired Republican chairman, agreed to soften its language.
In the coming weeks, however, the bill will go to the Senate floor, where Majority Leader Mitch McConnell, a conservative from Kentucky, has pledged in principle to honor rules that allow any member to propose amendments. If a bill passes with provisions that restrict the president's ability to reach a deal, Obama has vowed to veto it. "There is not going to be a whole bunch of poison pills or additional provisions or amendments added to it," the president said about the bill recently. "It's not going to be tilted in the direction of trying to kill the deal." A potential presidential veto would stand, unless Republicans can come up with a two-thirds majority in both chambers. And right now, Obama seems to have the support of enough Democrats to prevent an override, which makes any attempts to meddle with the legislation risky. "If this bill unravels on the floor because of toughening amendments," says Norman Ornstein, a congressional analyst at the conservative American Enterprise Institute, "then the Republicans are going to have a failure on their part."
A Pro-Israel Poison Pill
The temptation to turn Obama's Iran diplomacy into a partisan fight may be hard for the GOP to resist. The nuclear deal has become wrapped up in presidential politics. Marco Rubio has vowed to offer an amendment requiring Iran to recognize Israel—a poison-pill provision Tehran would undoubtedly reject.
Rubio's amendment, which echoes a demand by Israeli Prime Minister Benjamin Netanyahu, may be attractive to McConnell because it would force Democrats to choose between supporting Israel or the White House. "I can see him saying, 'These votes will divide the Democrats,'" says political analyst Stuart Rothenberg. Influential pro-Israel groups, such as the American Israel Public Affairs Committee, have thrown their weight behind Rubio's amendment, adding pressure on lawmakers to vote for it if it comes to the floor.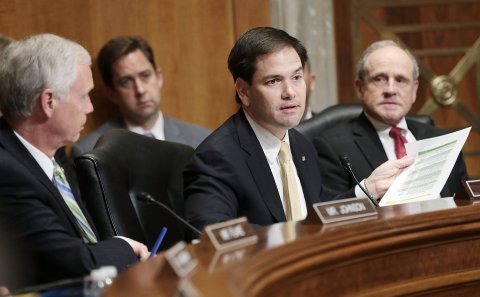 Analysts see Rubio's amendment as a bid for the support of hard-line, pro-Israel donors such as billionaire casino magnate Sheldon Adelson. Rubio "will be sending copies of his amendment and his Israel position paper to all potential Jewish supporters, as well as his evangelical mailing list, with an appeal to help him defend Israel with their generous contributions," wrote veteran political commentator Douglas Bloomfield in a column for The Jewish Week.
The Florida senator won't be the only Republican to offer amendments when the Iran bill comes to the floor. Senator Ron Johnson of Wisconsin, another Tea Party loyalist, wants any final deal to be a formal treaty, requiring ratification by two-thirds of the Senate. Meanwhile, Senator Johnny Isakson of Georgia wants the final nuclear accord to include compensation for the American diplomats taken hostage at the U.S. Embassy in Tehran more than three decades ago. Isakson's amendment captures the deep resentment toward Iran that lingers among many lawmakers.
Dividing Democrats
Congressional experts say all three amendments have a good chance of passing—and drawing Obama's veto—so Corker faces a major test as he tries to shepherd his bill to pass in its current form.
Ornstein, the congressional expert, says it remains unclear whether Corker will be able to dissuade his Republican colleagues from offering their amendments, or failing that, to convince McConnell not to allow them onto the floor. In the meantime, Democrats are bracing for a battle to preserve the current language of the bill. "There may be some horrible amendments that could be offered on the floor," says Senator Barbara Boxer of California. "I'm going to use every tool at my disposal to keep [the bill] the way it is." Other Democrats warn they will stop supporting Corker's bill if Republican amendments undermine Obama's chances for a deal. If that's the case, says Delaware Democratic Senator Chris Coons, "I would drop off in a second."
McConnell isn't saying what he'll do next. But he has politics to consider. Looking toward the 2016 elections, one of his top priorities is making sure Republicans retain their 54-seat Senate majority. That means giving incumbents—particularly Mark Kirk of Illinois, whose home state has a large Jewish population—the opportunity to show their support for Israel. "Having Democrats divided on issues of Israel and Republicans united behind a strong Israel—he may view letting Mark Kirk vote for something like that as more in his interest than the Corker bill," says Ornstein.
But analysts also say McConnell must balance political concerns against the possibility that the Republicans come up looking intransigent, or worse, that the party kills an Iran deal and sets the nation up for another war in the Middle East. "If a bipartisan deal gets torpedoed by Republicans," says Rothenberg, "everyone is going to say...'You killed this deal, now what?'" An Obama veto of a toughened Corker bill, followed by an unsuccessful override attempt, would only cement the Republicans' reputation for overreach.
Compared with the hard choices the Republicans face on Iran, the government shutdown seems almost benign.