"She just said that she's a mercenary and that she killed people for a living."
With that line, what should have been a routine family court case blew up TMZ and every major sports website in America. Kurt Busch, a top NASCAR driver GQ ranked the third most-hated athlete, was recalling the night he met Patricia Driscoll, his ex-girlfriend. He was in family court in Delaware because Driscoll claimed he had choked her and bashed her head into a wall in September 2014 and she was seeking a no-contact order. But on the witness stand, Busch was the one lobbing accusations, claiming he wouldn't have dared assault Driscoll. "I knew that she could take me down at any moment," he said, "because she's a badass."
He added that Driscoll went on covert missions in Africa and South America and had been hired to slay drug traffickers. Once, he said, she showed up at their hotel room in El Paso, Texas, wearing a trench coat over a blood-soaked evening gown. "It gave me every reason to believe that this was an operative that worked in the underground of the military," he said under oath. "Everybody on the outside can tell me that I'm crazy, but I lived on the inside and saw it firsthand."
Busch never used the words "trained assassin" to describe his ex—that was said by someone else called to the witness stand—but the tabloids pounced on that term, in part because the claim made Busch sound unhinged and desperate. People were already comparing him to Ray Rice, and NASCAR executives were scrambling to avoid a PR nightmare like the one that had rocked the NFL last year, when surveillance video that showed Rice knocking out his fiancée in a hotel elevator went public.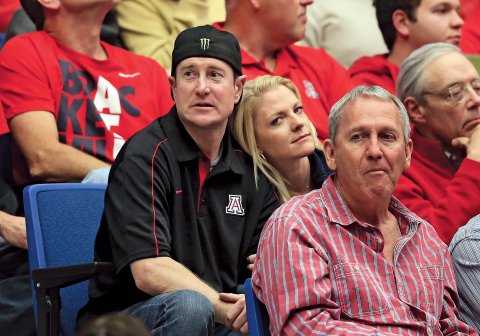 Driscoll, who sells sensors to the government and runs a nonprofit for struggling veterans, now mocks her ex's claim. "I'm 5 foot tall. I've never worn a trench coat in my life. It would drag on the ground…. But the bloody ball gown? You're sitting there thinking, What movie were you watching last night? Or what crack are you smoking right now?"
She says Busch plucked the assassin idea from a screenplay she wrote, called Enigma, "about a female CIA operative, so kind of like the female Jason Bourne." Someone who knows both Driscoll and Busch said in materials submitted to the court that Driscoll had told him Enigma was based on her life.
But there's another Hollywood film that might be an even better model here, says one former friend of Driscoll: "If there was ever a movie written about her, it would be Gone Girl."
'Very Pale and Crazy'
Their four-year relationship was going south, fast. Kurt Busch had been driving well for much of the 2014 NASCAR season, but whenever he slipped in the ranks, he blamed his lover, Patricia Driscoll. She was too controlling, he later said, and she kept him away from his team. After one particularly bad race, he broke things off with her. Five days later, on September 26, 2014, she texted him: "I hope you're OK." His response troubled her: "I'm crying laying on the floor," he wrote. "I don't know which way is up."
"I love you," she wrote.
"I know, but I don't know if I do. I don't love anything right now," he texted back. He said he felt like the world was "down on top of me."
Having worked with veterans struggling with post-traumatic stress disorder (PTSD), Driscoll says she is attuned to the clues of people toeing the ledge. So when she got those texts, the diminutive blonde put her 9-year-old son in the back of her white Range Rover and drove 90 miles from Maryland to Delaware to check on Busch.
Dover International Speedway has an enormous parking lot for drivers' fancy motor homes in the middle of the racetrack. (People call it "the million-dollar trailer park.") Busch was there that night, prepping for his next race, in two days. At around 10 p.m., the guard let Driscoll through the security gate (she still had her NASCAR full-access card). She parked outside Busch's motor home, punched in the key code for the door and entered with her son. She found Busch at the back of the bus, in his king-size bed, naked. What happened next is in dispute, but according to what Driscoll said in court, Busch greeted her with, "Why the fuck are you here?"
"We're here because we love you and we care about you. Are you OK?" she said.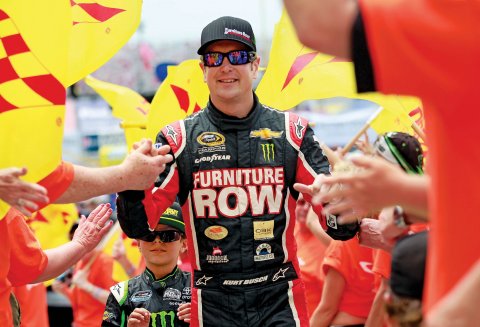 She said she told her son to wait in the other room and that Busch called her a "psycho" and looked "very pale and crazy." He said if he had a gun he would shoot himself.
Busch then told Driscoll they were through. Wanting to "call his bluff," she told him to go break the news to her son. "He jumped up from the bed, grabbed her throat with his left hand, placed his right hand on her face with his thumb near her chin and his fingers near her left ear, then strangled her while he smashed her head into the bedroom wall" three times, according to court documents. She said she "couldn't breathe" and felt like Busch "was crushing her throat."
When asked by his lawyer if he assaulted her that night, Busch responded, "Absolutely not." She wanted to ruin his image, he said.
'Can You Get This Motherfucker Out of My Face?'
"If you're a Kurt Busch fan, you deal with a lot," says Cinde Trebesch, who has run a fan club for the driver since 2005. "You deal with people booing you. You deal with people pouring beer on you in the stands. You deal with a lot of harassment because of all the controversy he's been through."
Busch was a winner and a loser in NASCAR almost from day one, great behind the wheel—except when he was very, very bad. He made the pro circuit in 2001, and his first big chug of trouble came the following year, when NASCAR fined him $10,000 for bumping a car during a race. He had several more flare-ups with drivers, and in 2005 police pulled him over on suspicion of drunk driving. They only cited him for reckless driving, but news spread that he hadn't played nice with the cops. (Police said Busch asked, "Do you know who I am?" and told them he would not be doing the "gay-ass" field sobriety test.) His race team suspended him for the last two races of the season and said they were "retiring as Kurt Busch's apologists."
In 2007, NASCAR fined him $100,000 and put him on probation after he nearly drove head-on into another driver's crew member following an altercation with that driver during a race.
In February 2011, Busch separated from his wife of five years, but that didn't seem to cool his fire. That September, during a press conference, an Associated Press reporter asked him to comment on something nasty he had said about a competitor. "I didn't say that tonight. Did not," he responded. When the conference ended, the reporter offered him the printed transcript; he tore it in two and threw it in her lap. Two months later, while waiting to go live on-air with an ESPN reporter, he said, "Can you get this motherfucker out of my face?" For that and for giving the middle finger to a crew member that same day, NASCAR fined him $50,000.
Busch announced in December 2011 that he would see a sports psychologist to work through "personal issues." The following spring, NASCAR put him on probation and fined him $50,000 after he ran into a car in the pit and had to be restrained from fighting the driver's crew. Months later, when a Sporting News reporter asked how the probation was affecting his driving, Busch replied, "It refrains me from not beating the shit out of you right now because you ask me stupid questions."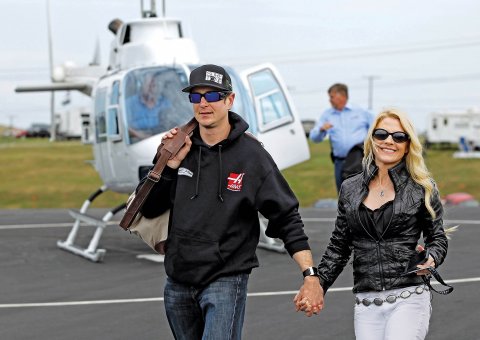 From early on in their relationship, Driscoll, whom he met at a veterans' event in September 2010 and began seeing in the months following, knew Busch had to learn to shut up and sit down. "That kind of anger will eat you up," Driscoll said in a 2012 documentary about his career. She later testified in family court that during that time, Busch turned his anger on her and once assaulted her. "You pass it off…as a drunk incident," she says now. She recalls telling Busch, "If you quit drinking, get back on your meds and you go see the psychiatrist, I will continue my relationship with you." (A publicist for Busch's racing team declined to make him available for an interview, and Busch testified that the incident Driscoll is referring to never happened.)
In 2012, Busch and his team decided to turn his reputation into a marketing opportunity. They introduced a nickname—the Outlaw—and slapped it on his car and merchandise. "I'm done fighting the battle," he said in that 2012 film. "My image is what it is."
For a while, he seemed to have his anger under control. But after several disappointing performances, halfway through 2014, Driscoll says, "He just quit exercising and started drinking again, and it was a downward spiral pretty quick."
Their relationship crashed soon thereafter. On September 21, 2014, after a race at New Hampshire Motor Speedway, the couple fought in a Hertz rental car. Busch, upset about his finish, ripped the rear-view mirror off the windshield, cracking the window, and Driscoll later testified that he bruised her leg as he threw the mirror in the backseat. They fought during the 90-minute drive to Boston's Logan International Airport, and he broke up with her on the way. She also said he pulled the seat belt around her neck and then let it go, which he has denied. At a fork in the road, somewhere between "Departures" and the "Rent-a-Car" return, he pulled over. When he got out of the car, she hopped into the driver's seat and sped off with his luggage.
He texted her after she pulled away: "bye forever."
'I'm Going to Ruin Him'
After fleeing from Busch's motor home that night in Dover, Driscoll and her son stopped at a nearby acquaintance's to tell him and his wife what had happened and then drove back to Maryland. She spent the drive frantically phoning friends. Some of them couldn't understand what she was saying because she was sobbing so hard. Back home, at around 1:30 a.m., she invited over a neighbor, who later testified that Driscoll's neck was red, suggesting she'd been choked.
Driscoll says she barely slept that night. At one point, she went over to a mirror and examined her neck, where she says bruises were starting to appear. She took photos (submitted in court, they can be seen here, here and here) and says she thought about how a friend had died at the hands of a man. She told herself: No matter what he says to you, sweet talks you, this is the end.
One person she called that night was Richard Andrew Sniffen, a minister who has known the couple since around 2012. Sniffen says when they first spoke after the breakup, Driscoll sounded heartbroken and hoped she and Busch would get back together. But that hope faded quickly, and "any emotions of wanting to reconcile...immediately turned to revenge," he says. "She made very specific comments about getting him out of the car and attacking his career so that he would never be able to drive again."
Jonathan Helfman, who worked in marketing with Driscoll and Busch and was friends with both of them, told Busch's lawyers in documents submitted to the court that after the breakup she said, "If he thinks he can just walk away, turn his back on me and [my son], he is going to regret it for the rest of his life." In late October, she allegedly told him, "It can't be over, but if it is, I'm going to ruin him.… You don't know what the fuck I'm capable of."
"We said move on," says Beverly Young, who until recently was the namesake of a fund awarded by Driscoll's nonprofit. "You're smart, you have money, you have a business, move on before you get into trouble. And she started with all of these accusations, and it kept getting deeper and deeper." Driscoll considered the Youngs her adoptive family, but, "She wouldn't listen to us," says Young, who flew up from Florida to see Driscoll the night after the alleged blowup in Busch's motor home.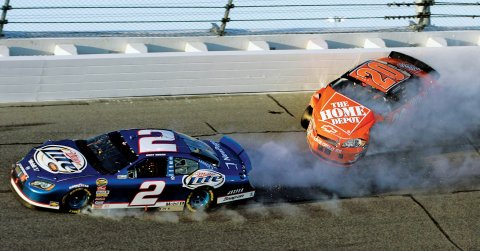 On November 5, 2014, about six weeks after that incident and the day after the midterm elections, when all of her Washington friends were preoccupied, Driscoll went to the police and then filed for an order of protection.
The story broke on November 7. Busch retained Rusty Hardin, a Houston-based lawyer with a Southern drawl who has become the go-to attorney for sports stars accused of doing bad things, including Roger Clemens and Adrian Peterson. Hardin denied all of Driscoll's allegations.
The family court judge, Commissioner David Jones, held four hearings in December and January. On the witness stand, he would later write, Driscoll seemed "genuine" and "her throat muscles appeared to contract, as if she were re-experiencing the alleged strangulation." Busch's testimony painted Driscoll as a crazed ex who broke into his trailer while he was sleeping and refused to leave. He said he only "gently cupped her cheeks with his hands."
Jones didn't buy Busch's testimony. He later wrote that the driver "appeared to have memorized his version of events," and he also discredited people who testified on Busch's behalf, saying they had financial ties to the driver. But several of them point out that they have money tied up with Driscoll too. "I'm at least one person that knows absolutely for a fact what her intention and motives were," Sniffen says about Driscoll. "She was basically poised to destroy his career, his character and his finances."
'Evaluated for Mental Health Problems'
On February 16, Jones granted Driscoll the order of protection from abuse. Busch would not only have to keep away and not contact her, but he'd also have to "be evaluated for mental health problems related to anger control and impulse control" and follow any recommended treatment.
Within days, and just before the Daytona 500, Chevrolet dropped its sponsorship of Busch and NASCAR suspended him indefinitely.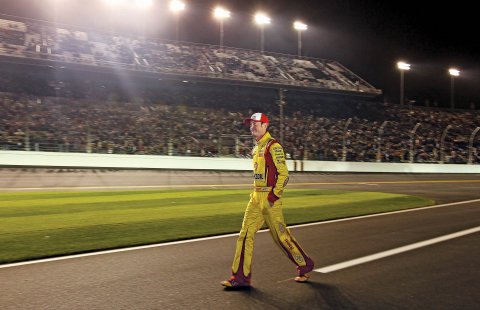 On February 19, Hardin filed to reopen the case and had a list of new people willing to testify on behalf of his client, including Jonathan Helfman and Beverly Young. On March 5, the Delaware attorney general's office said that after reviewing the police findings, it would not pursue a criminal case. A few days later, NASCAR reinstated Busch. Chevrolet also took him back.
The news devastated Driscoll. "To find out magically he's cured, he's reinstated, it just doesn't make sense to me," she says now. The decision also irritated victims' advocates. Kim Gandy, president and CEO of the National Network to End Domestic Violence, wrote to NASCAR, expressing a "deep concern regarding your organization's position on domestic violence.… Your decision to abandon your suspension sends the wrong message on this important issue."
Back behind the wheel in March, Busch again proclaimed his innocence. "It means the world to me to be back in the car," he told the press. "It's been a tough situation the last few months, and I've gone through this with confidence knowing that I know the truth and that I never did any of the things that I was accused of. It was a complete fabrication."
'I Like to Shoot as Much as I Like to Have Sex'
In Washington, D.C., an intern for the Armed Forces Foundation, the nonprofit Driscoll heads, is navigating the stop-and-go traffic near the Capitol. From the passenger seat, Driscoll sees her iPhone buzz to life with a message from her lawyer: Jones would not be granting the motion to reopen the family court case.
She relays the good news to her PR team in the backseat, but her reaction seems muted, and she changes the subject. She has other things on her mind, like the meeting she's about to have with a senator for Louisiana and two congressmen to discuss mental health care funding for veterans.
The lawmakers greet Driscoll like an old friend. That's because she's been making a name for herself around the capital for more than a decade. In 2002, she founded a sensors and surveillance company, Frontline Defense Systems, and the following year she became president of the Armed Forces Foundation. She's co-authored a book on soldiers with PTSD, produced a documentary about veterans' issues and increased revenues at the foundation 80-fold. Her foundation has awarded more than $95 million to military families. NASCAR is one of its sponsors. Busch was a spokesman.
Among her fans is Major General Randall West, who served on her board and says she "had a zeal and an enthusiasm to do the right thing and help as many people as she could." But despite her many high-ranking admirers, the single mom from Texas with no college degree knows she's disliked by some in D.C. and the NASCAR world, and she half-jokingly refers to herself as "public enemy No. 1" in certain circles.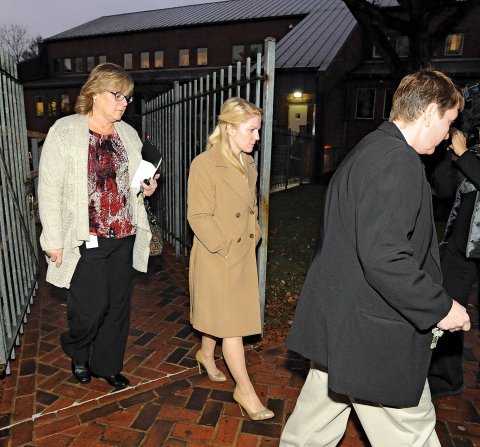 Driscoll grew up in El Paso, the oldest of three kids. Her dad was in the National Guard, led a teachers union and worked for a defense contracting company. Her mother was a military brat and became a nurse. Driscoll says she was a leader in high school, joining as many clubs and sports teams as she could and becoming one of the first girls in Texas to play high school football.
After high school, she followed a boyfriend, Gilbert Chiquito III, to Cape May, New Jersey, where he was training for the Coast Guard. The two of them married in 1995, a month before her 18th birthday. They later moved to Maryland, and Driscoll attended night school. "I didn't really fit in with the college crowd. I had different ideas and agendas of what I wanted to accomplish in life, and a lot of these guys wanted to party and lived off their parents' money," she says. "I was living on my own since I was 17 years old. I paid my own bills. I didn't have my parents paying for college. I didn't have a lot of what other kids had."
The marriage didn't work out. Chiquito could not be reached for comment, but his father and stepmother say that toward the end of the marriage, Driscoll claimed he threw her down the stairs, causing her to have a miscarriage. A former friend recalls her speaking about other violent incidents. Chiquito has always denied that he assaulted her, his father and stepmother say. "She's fabricated a lot of stuff," Sandra, the stepmother, says. "She was a good storyteller."
Driscoll won an order of protection against Chiquito and says now that he stalked her. The police were called at least once, in 1999, when Driscoll claimed he violated the no-contact order and assaulted and harassed her. The case went to criminal court and resulted in a stet docket, meaning if he stayed out of trouble for three years, he would face no charges.
She never finished college and, still only 23, Driscoll married Geoffrey Hermanstorfer in 2001. Also around that time, she founded Frontline Defense Systems and was suddenly in the world of power brokers. In 2003, she testified before Congress that her customers included the White House Military Office, the State Department, the Department of Defense, the Department of Energy, the Federal Aviation Administration, the Coast Guard, the Centers for Disease Control and Prevention, eight foreign governments and "classified sites of U.S. intelligence community."
She and Hermanstorfer had a son in 2004. But their marriage ended in February 2011, and soon after, their custody battle began. In custody documents, Driscoll again alleged that her partner had physically abused her. Hermanstorfer tells Newsweek those claims are untrue. "It is interesting that Patricia has made similar accusations of the last three men [with whom] she had substantial relationships," he told Newsweek by email. That custody case remains open.
"I'm not unlike a lot of women of domestic violence; we keep choosing violent partners," Driscoll says in response. "They want to paint me as a bad guy here just because I keep picking bad people."
It was around the time of her second marriage that several people who knew her say Driscoll began speaking of her work as a secret hit woman. "She's been telling people that stuff for years," says the former friend who likened Driscoll to the Gone Girl character and who did not want to be identified, out of fear of retribution, adding that Driscoll would say it "every single time" she met someone new. "She would start with this story that she had a boyfriend that was running drugs and the DEA asked her to…inform on him and...help them on their missions with Mexican drug lords."
"She told me the same stories," says another past acquaintance who has severed ties with Driscoll and feared retaliation for speaking about her. "It's not like she's a third-grade kindergarten teacher by day and assassin by night," this person says, but "she's talked about that plenty."
Beverly Young's son, Billy Young Jr., and a former employee of Driscoll's also say she frequently talked about being a mysterious operative. And Charis Burrett, a Playboy Playmate whose sister is now dating Busch and who does business with Busch, told the website Kickin' the Tires and ESPN radio that the second time they met, Driscoll showed her a picture of a man with his head blown off, whom she said she killed. Burrett said Driscoll also lifted her shirt to reveal a scar on her stomach that she said she got on a mission. (Driscoll recently filed a $10 million defamation suit against Burrett and her husband for various comments she made on ESPN radio and they made on Twitter about Driscoll being a "hit woman," and the stomach scar detail. Driscoll says she has no such scar.)
In papers submitted to family court, Helfman claimed Driscoll told him she owned boots with a hidden switchblade and "used them on bad guys." And Michael Domcheff, who drives Busch's motor home, told the court that Driscoll talked about being a "trained assassin."
In a reality show sizzle reel called "Pocket Commando" that a production company made with Driscoll years ago, she says, "I'm not a regular mom.… I've worked and supported the military for many, many years. I am one of the few women who own and run a defense company. I like to shoot as much as I like to dance and have sex. I have a reputation for not being the nicest person in the world, and I've earned it." She's shown at a firing range, wearing a low-cut shirt.
Driscoll adds: "There's a lot of sensitive things that I work on; most of them you're never gonna see."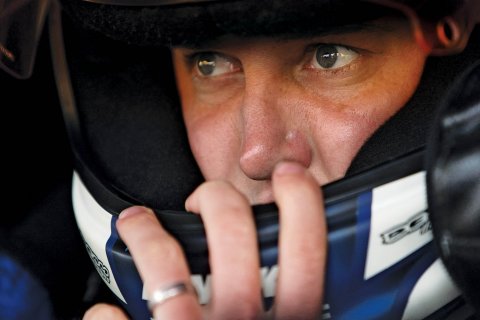 'On a Warpath'
At Phoenix International Raceway on March 15, 2015, in his first race back after his suspension for the Driscoll affair, Busch finished fifth. It was his first top-five finish in 12 races. One week later, he finished third. James Edward Yorks, who wrote a recent book about NASCAR, says Busch is in a "resurrection phase...on a warpath to getting back to where he was."
Traveling with Busch now is a new girlfriend, Ashley Van Metre, the 24-year-old sister of Burrett, who introduced them last November and says Van Metre is "a total polar opposite" to Driscoll, "quiet and on the more submissive side." The second change: Busch's car no longer says "the Outlaw."
Busch's team has filed an appeal in family court, and Hardin says his client is determined to clear his name.
Driscoll wouldn't comment on what legal action she might pursue against Busch. "I was attacked on September 26, and the attacks continue," Driscoll says through tears. "The people who come forward and are brave enough to say, 'This is wrong' and report the crime, they should not be continued to be beat up.… He assaulted me. And at the end of the day, we're just two people. And he is a celebrity, yes, but he is not above the law."
Her biggest fear, she says, is that victims of domestic violence won't speak up after seeing what happened to her, including women in the NASCAR community, who she says have contacted her privately. "Too many women stay silent. Your heart gets in the way," she says.
Still, some people who know both parties in this domestic conflagration say it's Busch who needs protection. Since this affair is as much Hollywood as it is family court, it's fitting that the last word here comes from a now-former colleague of Driscoll's, speaking of her in "Pocket Commando": "If you cross her, she'll grab you by the [nuts] and twist them, tear 'em right off."
Transcripts from family court proceedings:
Driscoll Vs. Busch, Dec. 16, 2014
Driscoll Vs. Busch, Dec 17, 2014
Driscoll Vs. Busch, Jan. 12, 2015