"Who is stealing the money?" Sergei Melikov shouted at the mayor of Derbent, Russia's oldest city. "There is no place to kneel down here, no place to touch with a Ribbon of Saint George, how could you bring the city to this condition?" The mayor stared at the table, quailing in the face of the Kremlin's rage.
The furious row last week between President Putin's envoy to the North Caucasus Federal District, Sergei Melikov, and Derbent's mayor, Imam Yaraliyev, and his administration is the culmination of a huge vanity project, behind which surges the dark undercurrents of Vladimir Putin's Russia.
In Putin's ideal world, Derbent, in the republic of Dagestan, would shine as a tourist gem of the North Caucasus; a historical, peaceful centre uniting Islam and Christianity.
In the real world, Derbent's history is turbulent, with a growing Islamist threat and an administration known for staggering corruption and oppression of critics.
Nevertheless, Putin ordered more than €30m of spending on a massive renovation project for Derbent to make his vision a reality. His plan was drawn up two years ago. September 2015 was to be a celebration of the 2,000-year anniversary of the city – an idea that baffled locals, who had already celebrated the city's 2,700th anniversary some 40 years earlier.
More surprising declarations soon followed: a house Peter the Great had stayed in was "discovered", it was revealed that symbols of Christianity had been "invented" in the Persian Naryn Kala citadel overlooking the city. The old town was to get a makeover too, the ancient fortress refaced with fresh yellow stone.
The money served another purpose – to soothe forces hostile to the Kremlin, in a region that Putin worries could be slipping beyond his control. With rebellious leaders causing trouble and an increasingly active Islamist element, Derbent is an example of how the Kremlin's attempts to keep far-flung regions in check have sometimes failed.
The development money was stolen; the city mayor is being investigated for corruption; his critics have been abducted and beaten; the local Muslim community is revolting under pressure from the authorities; and dozens of young people, both boys and girls, have left for Syria to join Isis.
Why was the mess such a surprise to the Kremlin? Perhaps because the voices that had spoken out had been violently silenced.
Last month, civil activist Ruslan Magomedragimov, who organised street protests and spoke out against police corruption in Derbent, was found dead. Earlier this month, three men in masks abducted Stanislav Starodubets, a Moscow blogger, drove him to the mountains, beat him nearly unconscious and warned him to go back to Moscow, otherwise he would be dead.
"Important materials disappear from my case file, the police investigator is useless – he is doing everything the mayor's people and his organised criminal group tell him," Starodubets says. Nonetheless, the blogger has decided to stay in Derbent and seek justice.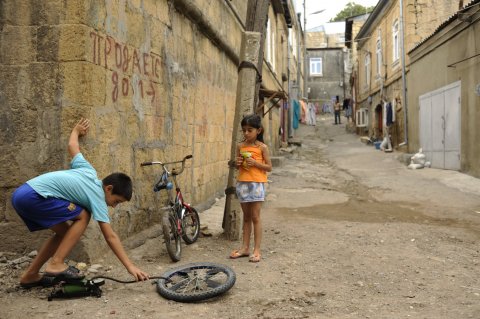 Corruption isn't the only problem facing the North Caucasus – the region is spinning beyond Moscow's control. Hundreds of Russian citizens are killed every year as a result of armed conflict and organised crime. Authorities have blamed the unrest on Islamists and security services have cracked down on the Muslim community. Add Isis propaganda – increasingly broadcast in Russian over the internet – and the result is that hundreds of young people from Dagestan and neighbouring Chechnya are travelling to fight in Syria.
More than 80 have left from Derbent – a city of 120,000 – alone. Sevil Navruzova, director of the Centre for Countering Extremism in Dagestan, is charged with trying to persuade these young jihadis to return home, "but only a tiny percentage of those who don't fight agree to come back to Russia", she says.
What's more, the worries over returning jihadis are the same here as in Western Europe. "There is a concern that former Isis members can spike terrorism in the North Caucasus, once they return from Syria, Iraq or Afghanistan," Navruzova says.
In Chechnya, which has a long history of Islamist violence, the Kremlin-installed leader, Ramzan Kadyrov, seems to have outgrown his dependence on Moscow. The recent investigation into the murder of opposition leader Boris Nemtsov has stalled because a key witness, Ruslan Geremeyev, is hiding in Chechnya. Kadyrov was also unhappy when Moscow arrested five Chechen suspects, including two from his elite North Battalion guards. "It's obvious that Russian federal law enforcement cannot act at all in Chechnya. They've lost their monopoly on violence," said State Duma deputy and friend of Nemtsov Dmitry Gudkov last week.
Caucasian Knot editor-in-chief Gregory Shvedov agrees: "Putin controls Kadyrov single-handedly but it is unclear for how long Putin would be capable of controlling the institutions behind the most influential leader in North Caucasus and tens of thousands of Kadyrov's well-trained military forces," he says.
This is why big state spending projects, such as the celebrations in Derbent, have taken on a new importance to the Kremlin as it seeks to reassert its authority over the troubled region.
The Derbent project follows a pattern of big-budget projects that allow the Kremlin to project its power across the nation, stoking patriotic pride and providing high-value contracts for local companies. In the past few years, the Kremlin has spent €2bn on 2013 Summer Universiade in Kazan, more than €18bn on the construction of a modern university and two bridges in Vladivostok by APEC Russia 2012, and €48bn on Sochi 2014 Winter Olympics. In each case, original budgets announced by authorities ballooned by the time the projects were finished. Surveys by opposition leaders, including Nemtsov, revealed state corruption on an industrial scale.
Meanwhile, plans for Derbent's anniversary celebrations push ahead, varnishing Putin's re-engineered history of the troubled city, according to which Christianity and Islam have always lived in harmony. And while these big-budget state funded projects are often designed to fill the pockets of local officials, Derbent's mayor may have underestimated the complex tensions between state and region. "The city will not be able to prepare itself properly for the celebrations or be able to live at all as long as it does not have good administration, or a sterling manager," Putin's envoy Melikov concluded, as Derbent's mayor cowered.