There are bodies everywhere, and rumors of so many more.
That's one of the major reasons people are fleeing Kathmandu by the hundreds of thousands. The broken streets of Nepal's capital have emptied as so many of the young men and women (mostly men) who left their far-flung rural villages to make their fortunes here are now going back home. "There are corpses in the buildings that are beginning to smell," says Bhaba Thami, who lives in the city with his wife and two children. "It's scaring people."
Many of the city's fallen buildings have still not been fully exhumed after a magnitude-7.8 earthquake and its many trailing tremors started leveling Kathmandu on April 25, so no one knows how many more people are buried in the rubble. In the neighborhood of Swayambhu, people say, Mass was being held in a church when the earthquake hit. The minister had the doors shut and told his congregation to pray, but the building collapsed anyway, crushing everyone inside. The bodies of the supplicants are still there. The story may be apocryphal, but the horror behind it is palpable and pervasive.
There are other fears too. Waterborne diseases could soon spread, just as cholera cut a lethal swath through Haiti following the 2010 earthquake there. Theft and looting are brought up regularly as more prosaic concerns, as are potential food and water shortages. "It's suffocating at the moment," says Thami.
It's one reason he has decided to go back to his ancestral home in Suspa-Kshemawati, a village development committee in the Dolakha district, a mountainous region about 90 miles from Kathmandu. His father and sister are still there; he spoke with them after the quake and knows they're alive and uninjured. He also knows the house he had been living in with his family is a pile of bricks and dust. He wants to ensure that his father and sister have a place to stay, food to eat and water to drink, so he'll leave his wife and two children in Kathmandu for now. He will also be riding up those treacherous roads as a sort of emergency relief worker, taking notes on the damage in the far-off village and returning to Kathmandu in a few days to report to a makeshift group organizing aid. The vital information he collects will help determine what gets loaded into the next truck making this perilous, tortuous trip—tents, or food, or doctors.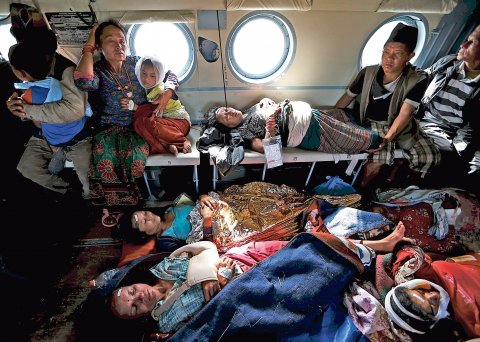 The day Thami and I head out from Kathmandu, 600,000 people are already on the same road. This is one instance in which the Nepalese government, overwhelmed by this tragedy, has stepped up in a significant way: It has provided free transportation out of the city to the villages. But that means there are lines a half-mile long at the bus stops, and on the road, buses loaded to the ceiling with the displaced swing through hairpin turns. Even the rooftops of the buses are packed with people of all ages clutching to the railings to keep from falling off as their bus swerves around massive cracks in the road. Our much more nimble car skirts these blockages with relative ease, despite being loaded down with four people and bags stuffed with food, blankets and clothing.
I'm told repeatedly that this is the most beautiful time of year in Nepal—the valleys are verdant, the flowers are blooming and the monsoons are still waiting in the wings. But what would normally be spectacular views are marred by wide, ugly gashes of destruction. Brick-and-timber roadside shops and restaurants and family homes nestled in the terraced hillsides have been flattened.
After four hours of driving, we stop in Khadichaur, a small town close to the border with China in the Sindhupalchok district. We pick up Rastra Bhusan Khadhka, who went to high school with Thami and is traveling back to his village to check on his handicapped father. We also buy rolls of plastic sheeting, which we will give to the villagers to use for shelter. Here, as in every town and village we've passed through, almost every building has been crushed. But we find a restaurant serving lentil soup and rice, curry chicken and soy meatballs.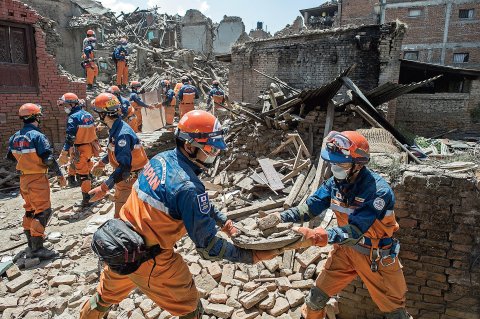 As we eat, the owner tells us that throughout the area, the dead are trapped in cars and pinned to the mountainside by bikes that tumbled off roads when the quake hit. They remain unclaimed, he says, because no one will climb down a hillside that appears to be on the verge of collapse. Those fears are well-founded: The roads below these Himalayan foothills (though that name is a severe understatement for an area that in places reaches 13,000 feet above sea level) are littered with fallen earth, ranging from mudslides to boulders as big as a Honda Civic.
As we pass village after village, we rarely see a building that is still standing. In the district headquarters of Charikot, a government official tells me 95 percent of buildings are uninhabitable.
As our SUV climbs and climbs, a mist envelops us, and the pitch of the mountainside makes the telephone wires into the valley appear to trail off into the nothingness. On both sides of the road, we see hundreds of people picking through the remains, searching for some small, unbroken piece of their former lives. Their eyes mostly appear to be focused on some middle distance, to some place or time beyond all this death and debris.
Disaster Matchmaker Service
Money is being wired into Nepal from all corners of the globe in every currency imaginable. Planes carrying rescue teams speaking two dozen different languages and loaded with sundries meant to sustain the newly homeless circled for hours before being turned away because the single runway at the Kathmandu airport was logjammed. Do-gooders arrived immediately after the earthquake with the best of intentions but the least of plans—and no place to stay, no contacts or translator and no idea how to even feed themselves.
The fresh-off-the-boat aid workers "were not ready for the reality on the ground," says Jacob Rinck, a Nepal-based sociocultural anthropology student working on his Yale Ph.D. "They didn't know what was up and what was down." The United Nations is operating the country's largest official coordination program, and Nepal's Ministry of Health and Population is asking doctors and health worker groups to register with it and then take its instruction on where to go.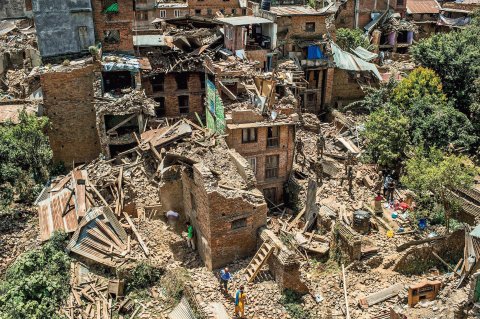 That's how it's supposed to work, "but in reality, it's a cluster-fuck," says Amit Aryal, an adviser to the ministry and a health systems expert. "Some don't go where they are assigned to go. Some get lost. Some don't report to the district offices." In response, Rinck and his wife, Aditi Shrestha, along with Dawa Stephen Sherpa, Parakram Singh Yonzon and other like-minded citizens, have created a sort of disaster matchmaker service. Based in Yonzon's Tibetan furniture store, Samsara Studios, they figure out who can supply goods and services and who needs them the most, then put them together.
The Samsara Studios volunteers are frustrated by the government's slowness, ineptitude, graft and corruption. In the early days of the crisis, says Yonzon, the government was charging huge taxes on imported tarpaulins—unless those imports went through government channels instead of through nongovernmental groups like the U.N. "The government is trying to get things under their control," he says, but is also hobbling the efforts of aid groups and individuals to assist the estimated 8 million people who so desperately need help.
On May 3, the government issued a press release stating that this was not the case: "We also appeal to everyone to not fall prey to any confusion that has been created through news media's false/incorrect/illusionary/rumourous reporting of relief material not being provided with custom exemption, now and then, and their import being made complicated." But there continue to be daily reports of relief materials piling up in the Kathmandu airport, unable to get through customs.
"We never have high expectations for the government," says Thami. "Political leaders will distribute to their own family and people first." There is a historical precedent for this cynicism: After a smaller earthquake back in 1988, blankets donated by aid agencies were later found in the homes of officials and in warehouses and closets of businesses that had volunteered to distribute them.
The Samsara Studio team is attempting to build distribution channels that draw directly on the knowledge and resources of locals and, therefore, do need to not rely on any government agency. Pragya Singha, whose family owns real estate in Kathmandu, was frustrated that the poorest villages were receiving the least help, so she packed up her car with supplies and hired a driver to bring them out to the village of Taruka, the ancestral home of some of her staff members. Robin Shrestha asked his brother-in-law, who owns a pharmacy, to send all the supplies he could to the Ghorka district where Shrestha is from—and send him the bill. Ana Tara Edwards's family founded Tiger Tops, a trekking company that has hundreds of tents and other useful goods in their storage rooms. She called her brother, who now runs the company, and told him, "We're letting everything go."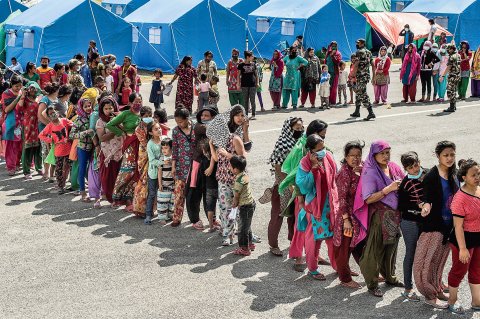 'Unbelievably Corrupt'
It takes about six hours to cover the 90 miles of our trip, and as we pull into the village, nightfall is hovering over us. When our passenger Ram Thami sees his house for the first time, he cries. (He is no relation to Bhaba Thami, though they are both part of the same ethnic group; the Thami widely populate this part of the country, and many of them share the same surname.) The roof has caved in, and huge chunks of the walls are gone; you can see clear through from one side to the other. The kitchen and bathroom are destroyed—no small loss in a village hours from any place selling construction supplies. "I built this house myself," he says. "It's stood for 20 years. [The earthquake] set us 10 years back again." His wife and four children, as well as his aging mother, will sleep outside tonight, and the next night, and into the foreseeable future. One of his daughters, the village seamstress, shows us her sewing machine, the metal crumpled like a discarded ball of paper.
There are no longer homes for people to sleep in, so the villagers in Suspa-Kshemawati have set up makeshift camps in which they now eat and sleep. The families who have been able to recover some of their possessions have their own tent complexes with wooden posts, tarpaulins and colorful rugs and woven cotton sheeting. Those who could not huddle under sheets of corrugated metal pulled from the piles of rubble that were once their homes. There is still food here, but it's running out. Most of the food that was in homes was destroyed or is now tainted, and many people are buying provisions on credit from the two village shops. No one has any idea what will happen when the shop shelves are bare.
"I managed to buy some food in Charikot," says Bir Bahadur Thami, Ram's brother. "We are sharing with all our relatives. But there is a black market that has made all the prices higher. I am worried of a future crisis."
As we speak, the earth shudders. Standing out here under the wide moonlit sky, I know there is nothing that could crush me. And I am already on the ground, so there is nowhere to fall. But the fear around me is more existential. In this part of the planet, where the tectonic plates long ago smashed together and shoved the earth so far skyward, it seems just as likely that at any moment things could reverse course and rip open a gaping hole that would swallow us all.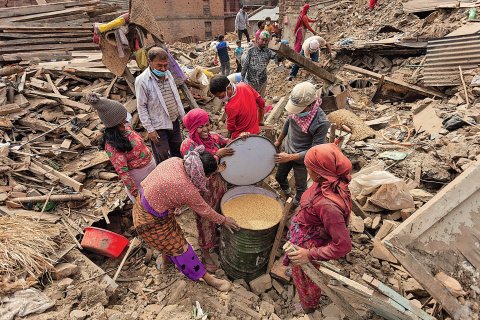 It is now five days after the initial quake, and we are the first people to reach here from Kathmandu. There has been no communication with the outside world, no visits from international aid groups or government assessors; everything they know about the disaster is from firsthand experience or word of mouth. "We're looking for a radio," says Yadav Raj Thami. People say the local police have been nonresponsive, and they have had no means to contact anyone else. "We called the police to record the dead," says Bhim Thami. "But they ran away, scared. We are hopeless that the government will help."