It might surprise you to learn that Paul Shaffer is a morning person. We associate him with late night television, where he has made being a sidekick a cool gig for over three decades. And because he leads a rock-and-roll band (in his hip shades and outrageous suits), and we assume rock musicians are out jamming all night (and they're not known to be Boy Scouts), it is notable that he's invited me to breakfast. To completely shatter the image, I can state with a high degree of confidence that Shaffer is pretty damn perky before his first cup of coffee.
There he is, casually attired in black pants with many zippers and a plain black shirt, arranging a buffet for us from the nearby Gourmet Garage at his Manhattan apartment with its dazzling 200-degree views of New York and New Jersey from the 57th floor. Because it is the morning of the first night of Passover, Shaffer has opened a box of matzohs and set it next to the plate of pastries. In less than 12 hours, leavened bread will be out of both our diets for a week, so he's covered all bases.
His living-dining room is not showbizzy, a memorabilia-free zone; there is a baby grand piano in a corner, but unlike many Manhattan apartments that have one just for show (or to display photographs), this is the instrument of an actual musician. The framed gold and platinum records, signed photographs and other souvenirs of a life spent in the business are hidden away in the den.
His most treasured objet de rock is a hat worn by famed '60s rock-and-roll disc jockey Murray the K, "given to me by Ronnie Spector [lead singer of The Ronettes], a friend.... I am sort of a Murray the K character," Shaffer says. "And this was the kind of hat he was seen wearing on his TV special, It's What's Happening, Baby." That 1965 special featured Murray the K dancing with Marvin Gaye, The Supremes, The Ronettes, Ray Charles, The Temptations, The Four Tops, Tom Jones and many other pop stars of the day.
Shaffer adds that he has never worn the hat. He keeps it under glass.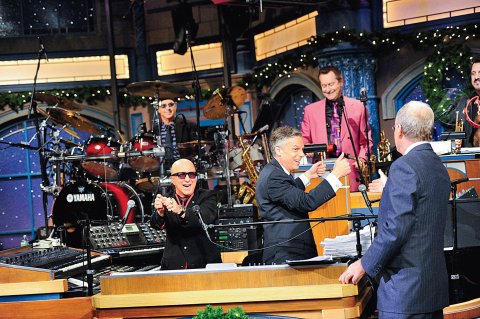 Comically Reverential
We are meeting to talk about Shaffer's 33-year run with David Letterman as it wends to its end in late May. Though we have known each other for years, neither of us is positive about when we first met. I think it was in the early 1980s, when we were both staying at the Westwood Marquis Hotel in Los Angeles: We were the only two guests sitting by the pool (which, if memory serves, was the size of a conference room table). He remembers the pool, but is pretty certain we first met when I was a guest on Late Night in 1984. Nevertheless, over the years we have been friendly, but not intimate. (Let's pretend that was for the purposes of full disclosure.)
Shaffer says 33 years is not what anyone had in mind when he was offered his first Letterman contract. It was for six months—as was his next contract, and the next, and so on for a few years. "I had been used to long runs," he says of that first contract. "I had just been on SNL for five years; I played in the house band, but I got into some of the comedy pieces as well." The blend of music and comedy came easily to the Thunder Bay, Ontario, native. His dad was a jazz lover; his mother loved show tunes. "We made one critical trip to Las Vegas when I was 12. My parents adored show business, not gambling. We saw a Nat King Cole show and another with Juliet Prowse [a dancer]. It was life-changing. I never recovered."
From that moment on, he wanted to be a performer. "I'd describe Paul's feelings about show business as being comically reverential," says his close friend, comedy writer Tom Leopold. "It was magic to him growing up. But even as a kid he thought it was funny that show folk called each other a genius every minute."
Shaffer had a bar mitzvah, took piano lessons all the way through high school and ended up at his father's alma mater, the University of Toronto, where he graduated with a bachelor's degree in sociology. In 1972, he became the musical director of the Toronto production of Godspell. The cast of the musical included Victor Garber, Gilda Radner, Martin Short, Eugene Levy, Dave Thomas and Andrea Martin, who all went on to much (and many) bigger things. "Comedy was fascinating to me. My best friends from Toronto turned out to be the funniest people in the business." Those friends helped lay the foundation of anti-establishment comedy of the '70s, both in Toronto's Second City troupe and TV show, and then, of course, on Saturday Night Live.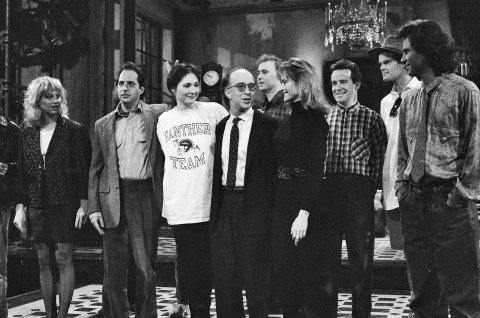 In late 1981, Shaffer was called in for a meeting in a barren office at NBC with Barry Sand, a TV producer, and David Letterman, a weatherman-turned-comedian from Indianapolis who had been hosting an irreverent (therefore unsuccessful) morning show on NBC. Now the plan was to redirect his talents to late night television, and he needed someone to play with on the air. The meeting lasted all of 30 minutes and was followed by another meeting some weeks later at which "they asked the exact same questions," Shaffer says. "Dave claims that he never had anyone else in mind, and I believe him, though other staff members had other ideas...like I think [director] Hal Gurnee wanted Leon Redbone."
Often referred to as "greatest sidekick in television," Shaffer takes that praise humbly, and its title seriously. "Being the sidekick encompasses being the straight man," he says, "which is a venerable position in show business. I am so proud of learning how to be the straight man for Dave. He encouraged me to jump in, 'whenever you have something.' Obviously, I wasn't going to do that during the monologue, but anytime after he got to the desk—even when there was a guest. Our show was reality television. We never knew what would happen. Dave made us a team.
"Unlike our friend, the great character actor—and strange man—Calvert DeForest, who played Larry 'Bud' Melman [on The Late Show], I had a real function. I was not just a funny character. And I got to do everything I do all at once. [Sidekick] is my job description, but I got to play the piano too."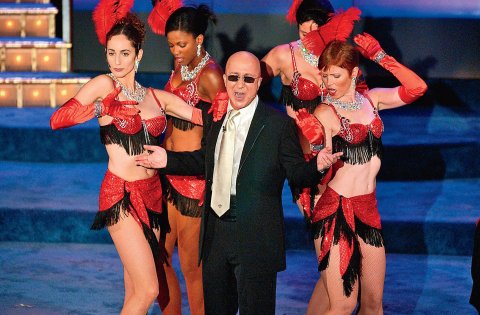 As one who worships the Rat Pack—the posse of impossibly cool entertainers who virtually owned Las Vegas in the '50s and '60s: Frank Sinatra, Dean Martin, Sammy Davis Jr., Joey Bishop and Peter Lawford—Shaffer copied their cool, jazzy, jive talk. "I had a backlog of Rat Pack expressions," he says. "The very first time I spoke on the air, I used one. David said, 'Do more of that. That's hilarious.'
(About Shaffer's reverence for the Rat Pack, Leopold says: "I don't think Paul would trust a man who didn't want to be Dean Martin. Even Jerry Lewis wants to be Dean Martin.")
God Sits In With the Band
The template for the late night show—host, band, sidekick, monologue, guests—was, of course, created on The Tonight Show, and both Letterman and Shaffer were enormously influenced by the original host, Steve Allen, and Johnny Carson, who made it an American pop cultural touchstone in the '60s and '70s. "I was a combination of Doc [Severinsen, Carson's bandleader] and Ed [McMahon, Carson's sidekick]. I couldn't be off [just waiting to play in the breaks]. It took me a while to learn how to focus for the whole hour."
In six-month increments, Shaffer was renewed and grew more comfortable in his hybrid role. At a certain point, while still at NBC, Shaffer says he, "ran out of [Rat Pack] material, so then Dave said it would be great if we had a conversation. That's when it became super interesting for me. It became spontaneous."
But do not underestimate Shaffer's musical talent and how important it was to the show. "Back in the '80s, I got to be the first person with a rock-and-roll band on TV," Shaffer says. "The artists immediately responded. We were playing the music of James Brown, and sure enough we got a phone call from James Brown, who wanted to play with that band, and that shot us into the stratosphere as far as we were concerned. James Brown was the end-all and be-all to me and the other guys in the band."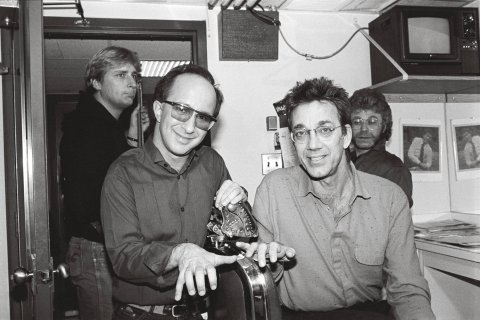 John Helliwell of Supertramp was the first musician to "sit in" with the band. "He said, 'I could be like those jazz cats who sit in.' Then [Eric] Clapton said, 'I'd like to sit in,' and then everybody wanted to do it. And everyone did it, including iconic jazz cats like Dizzy Gillespie, the bebopper of all beboppers. My dad was a jazz fan, and I would call him and say, 'Dad, I played with Steve Miller; he's my favorite,' and he'd say, 'Everyone's your favorite.' The Reverend Al Green played with us many times, and Sly of the Family Stone, and Carole King, and the list goes on and on."
When Letterman decamped to CBS in 1993, he received ownership of the Late Show With David Letterman, and as Shaffer's employer, made sure his new contracts were for five years.
What's their relationship like? "In a run of 33 years, you go through phases," Shaffer says. "We would double-date in the early years, and then there was a period where we thought we should 'save it for the air,' and socialize less. When Dave got his place in Montana, he invited our family out every year for a week to go horseback-riding and fishing. It was always great family time."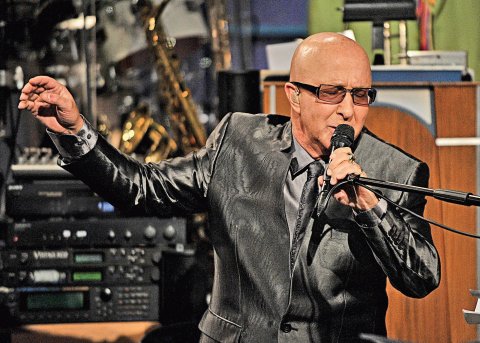 Like Carson before him, Letterman has been in America's living rooms for what seems like thousands of hours but is still not really known. That changed somewhat in 2000 when he left the show to have a quintuple bypass. "It was very emotional for him to return to the show," Shaffer says. "He brought some of his doctors and nurses on the show to thank them. He loved doing the show, and it reminded us how much we loved the show too. He is well-known by the staff for being hard on himself. He watches the show and beats himself up—'Why did I say that?' sort of thing. Dave has never walked through the show. He cares about doing the best he can for his audience."
Perhaps the greatest gift he gave that audience was his return to live television six days after 9/11. "Everyone else in late night was looking to him to see how to behave…. No one was coming back on the air to do comedy until David deemed it appropriate to come back," Shaffer says of the show's return on September 17, 2001. "We were uptown, but when we walked outside the studio, we could smell death. When we came back, it was clear we were broadcasting from a war zone."
The birth of Letterman's son, Harry, now 11, seemed to make the comedian much happier and more open, and Shaffer admires the way his pal (and boss) makes family time a priority for himself and his crew. "This job has afforded me the ability to have a regular family life." Shaffer has been married for 25 years to Cathy Vasapoli, a former talent booker on Good Morning America. They have two children, Victoria, 22, an aspiring talk show host, and Will, 16, who wants to be a professional athlete when he grows up. "The life of most musicians, no matter who you are, is on a bus... if they are lucky," Shaffer says. "I've been luckier."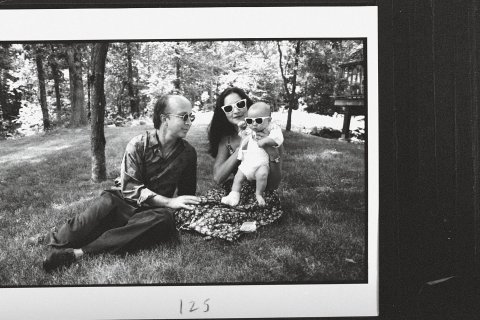 In addition to his Late Show gig, Shaffer has been active in many aspects of the music business, recording with everyone from Donald Fagen to Warren Zevon to Grand Funk Railroad, composing ("It's Raining Men"), appearing as Polymer Records rep Artie Fufkin in the genre-defining This Is Spinal Tap, performing with The Blues Brothers and on sitcoms, and playing backup to all his musical heroes, including Miles Davis. (They performed "We Three Kings of Orient Are" in Bill Murray's movie Scrooged and again on TV.) He is also the longtime musical director and producer of the Rock and Roll Hall of Fame's induction ceremonies. He has been a Hollywood Square, did a cameo on Law & Order: Criminal Intent and published a memoir, We'll Be Here for the Rest of Our Lives: A Swingin' Showbiz Saga.
Instead of bemoaning the loss of his best gig, Shaffer is busily planning the big musical numbers and surprises for the show's wind down. "It's tribute time," he says, referring to the encomia that guests on the show have been breaking into lately. "People have grown up with this show, and now they want to come and say thanks for shaping their comedy personas."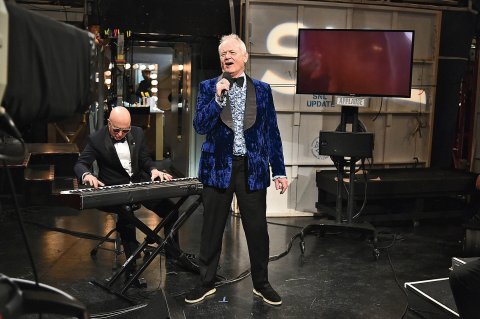 It's been a long morning of reminiscing, and it feels like I have been forcing Shaffer to be more sentimental about the end of his Letterman collaboration than he seems to want to be…at least yet. "Now I'm not focused on what I'll do at 4:30 every day [after the show wraps for good]," he says. "What I'm feeling now is grateful. Dave has been a great boss."
But how could he not be a little wistful? "I'm sure he will miss the show," says Shaffer's pal, Leopold. "Paul is the only person in show business history to have a job for 30 years. People get gold watches in factories for less time than that."
Shaffer says he's in no way ready to slow down or take his gold watch to play golf. He wants to do more acting, but first, "I'm going to learn to sight-read and play the bass pedals on the Hammond organ."
He's not kidding.