In late April, superstar rap mogul Nicki Minaj performed at the bar mitzvah of 13-year-old Matt Murstein, and if the resulting photos didn't break the Internet, they at least occasioned a small rupture in its fabric.
So how does a gold-selling recording artist wind up surrounded by pasty adolescents in a blue-tinted ballroom?
We did some digging to determine how Matt's father, Medallion Financial Corp founder Andrew Murstein, brought the "Anaconda" to the "Hava Nagila." In the spirit of service journalism, here's how to get Minaj to perform at your own kid's bar or bat mitzvah—a nine-step guide.
Step 1: Choose your star.
Which A-list celebrity will you hire to brighten up the biggest day in your Jewish tween's life? Other artists who have been known to appear at coming-of-age celebrations include Iggy Azalea; Aerosmith, 50 Cent and Tom Petty; Nick Jonas; and Beyoncé. But the title of this article is "How to Get Nicki Minaj to Perform at Your Kid's Bar Mitzvah." So you are going to choose Nicki Minaj. Don't choose another star.
For the history books, here is how Murstein settled on the Trinidadian-born rapper: Around six months ago, he was chatting with a friend, Republic Records President Monte Lipman, and asked who puts on a good show for kids. (For the goyim: In Jewish custom, a bar mitzvah boy is usually 13 years old.) Lipman offered up several names, one of which was Minaj. (Minaj's representatives didn't respond to several requests for comment.)
"Mr. Murstein wanted a female performer, as he thought that would be more fitting for his son than a male performer," explained a spokesman for Murstein. Conveniently, Murstein and his son Matt were already fans of Minaj.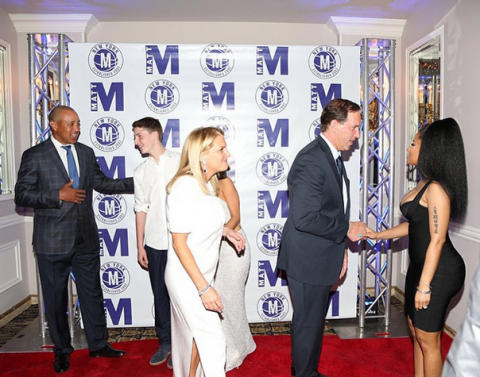 Step 2: Be rich.
Can't hurt, can it? The first step in hiring Minaj for your kid's bar or bat mitzvah is to be able to afford her. Which you probably can't!
Thankfully, Murstein has money—he's the kind of guy who responds to an email inquiry from Newsweek by announcing that he once nearly bought Newsweek. (No such luck. But imagine the holiday parties we could have had!) Murstein made his fortune as the founder and president of Medallion, which services loans financing taxi companies and other sorts of businesses. The company manages well over a billion dollars' worth of investments; Murstein's compensation last year came to $3,543,256, according to Bloomberg.
Step 3: Find a connection.
Money alone won't bring the "Anaconda" singer to your candle-lighting ceremony. You need a means of getting in touch. It was through Lipman that Murstein contacted Minaj's lawyer. His conditions for the performance were threefold: (1) that she wouldn't include any explicit lyrics in her performance; (2) that she would talk about "the importance of education and being your own person in life"; and (3) that she would stick around long enough to pose for photos with the 150 kids in attendance.
That last condition posed a problem at first. A source says Minaj's camp wanted to limit the meet-and-greet after the show. Murstein wouldn't budge—he told them that that wouldn't be fair, that the kids are big fans and would want to meet the celebrity. Minaj agreed to do it.
Step 4: Negotiate, negotiate, negotiate.
One source put Minaj's asking price at "around $750,000," though Murstein's spokesman says the artist just told him to make an offer. That offer was significantly less than $750,000. Minaj's team told him to make a better offer. So he did—and it was accepted. This offer was likely in the range of $300,000 to $500,000; that's what the artist has been paid to perform at other parties, though Murstein is contractually forbidden from revealing the exact price.
For your own Minaj show, don't expect to have the contract inked months in advance. Because of her touring schedule, sources say the contract for Matt's bar mitzvah wasn't actually signed until 24 hours before the event.
Step 5: Have a theme ready. And a cool montage, with other celebrities and stuff.
Matt Murstein, at 6 feet tall, is a 13-year-old basketball star. So the theme for his bar mitzvah was "basketball and staying in school and getting your degree." To this effect, his parents prepared a particularly elaborate video montage, hosted by sportscaster Bob Costas.
"The montage was a takeoff on LeBron James's [televised announcement special] The Decision," Murstein's spokesman explained. "Bob [Costas] and Matt sat in armchairs in a gym much like LeBron did, and Bob asked Matt if he was going to go pro and enter the NBA draft or stay in school. There were many celebrity appearances in the montage, including Patrick Ewing saying how he and team owner Michael Jordan want him to play for the Charlotte Hornets and John Starks saying, 'Come play for the Knicks.'" (The video concludes with the bar mitzvah boy deciding to stay in school, because education is more important than going pro.)
In person, Minaj was faithful to the theme; she urged kids to "get an education. Stay in school. And don't be a slouch or a bum." (Nicki Minaj herself graduated from the Fiorello H. LaGuardia High School of Music & Art and Performing Arts, but did not attend college.
Step 6: Make sure there are other celebrities at the bar mitzvah so Nicki Minaj isn't the only famous person.
While LeBron James and Bob Costas were involved in the video, another sports idol was in attendance himself: MLB star Hank Aaron.
"Hank Aaron, who had a cane from a recent surgery and who is 81, even got up and danced and sang along," Murstein's spokesman said. "The kids also huddled around Hank, which was great to see."
Other notable public figures at the bar mitzvah included Lipman, former Knicks star John Starks, lacrosse player Paul Rabil and New York Governor Andrew Cuomo.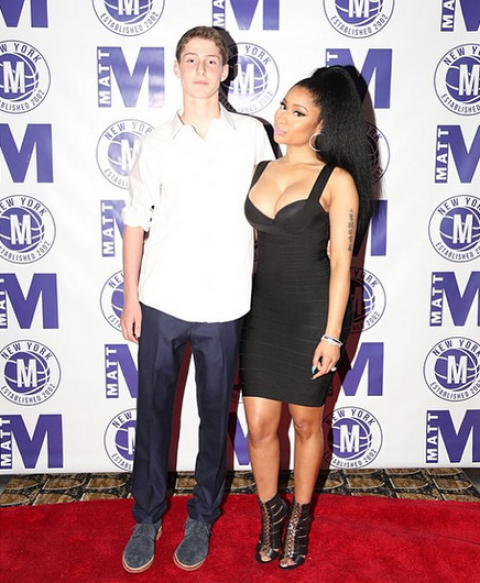 Step 7: Make sure you have a nice setting for the performance.
Matt Murstein's bar bitzvah took place in the ballroom of the Pierre Hotel, a luxury hotel at 61st Street and Fifth Avenue in Manhattan. Photos from the event show tasteful flower arrangements, deep blue lighting, a s'mores table and a big, glowing "M." Which probably stands for "Matt" but could ostensibly stand for "Mazel Tov."
Step 8: Hire (a lot of) security.
Security was deep. Sources for the Murstein family say it was "the most security the [hotel] ever had for any event." That meant four distinct security details: the hotel's team, the Mursteins', Governor Cuomo's and, of course, Minaj's entourage.
None of these security teams prevented the party from continuing until 2 a.m.
Step 9: Keep it on the DL.
But don't be surprised if Minaj shares a photo with her 20 million Instagram followers. (Inimitable caption: "Get a load of these little hunks I met last night @ the bar bitzvah. they were very ummm turnT.")
And don't be alarmed if word gets out quickly and more than a hundred uninvited kids show up on the spot. That's what you hired security for.