Theater's glitziest event of the year, the Tony Awards, was Sunday night, and this year the attendees had even more reason than normal to celebrate. Broadway just pulled the curtains on its best season of all time, with more than $1.37 billion in ticket sales and a total attendance of 13.1 million. The 2014–2015 season was so successful that 10 New York and New Jersey pro sports teams combined could not keep pace with Broadway's box-office.
A total of 37 Broadway productions—20 plays, 15 musicals and two specials—ran between May 26, 2014 and May 24, 2015, with a combined total of 1,626 playing weeks, according to the Broadway League, a national trade association. The shows paid off: Broadway grossed 7.6 percent more than the previous season, and ticket sales were up 7.3 percent.
Compared to Broadway's 13.1 million tickets sold, 10 area pro sports teams—the Mets, Yankees, Giants, Jets, Rangers, Islanders, Devils, Knicks, Nets and Liberty—combined sold far fewer tickets in their latest full seasons: 10.4 million, a difference of 2.7 million, the Broadway League says. (Total attendance figures would be different, of course, because not everyone who buys a ticket necessarily goes to a show or a game.) The Yankees sold the most tickets, 3,401,624, and the Liberty the fewest, 122,217.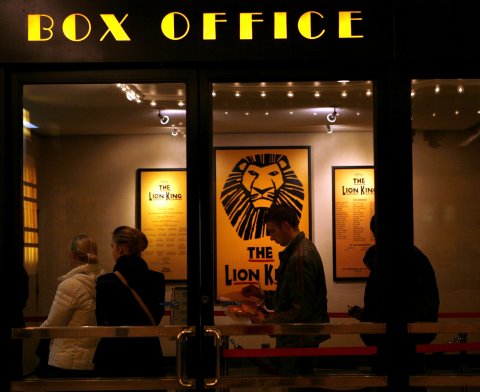 Charlotte St. Martin, president of the Broadway League, chalks up Broadway's relative success to the evolution of theater, not only creatively but logistically. "There's more diversity of product on Broadway than there ever has been. When I came to New York 20 years ago, there was the big musical, the comedic play, and Disney had just come to New York," St. Martin explained. "Now there is something from teeners, tweeners, 20-somethings, 30-somethings."
In addition to more diverse options for shows, St. Martin notes the successful expansion of the Broadway show schedule: "Broadway has been particularly responsive not only to material but to curtain times. There used to be just 8 o'clock and the matinee on particular days. Now there can be 7:30, 8, 2. We have been very quick to respond to theater goers and I think its working."
It also doesn't help that it hasn't been the best of times for New York and New Jersey sports, with the exception of the Rangers, who have gone far into the Stanley Cup playoffs the past couple of years. Perhaps a more winning collection of teams could have hip-checked Broadway.