Sitting in a busy Tunis café, sipping an espresso and wearing a neat button-down dress shirt, the brother of Jabeur Khachnaoui, one of two men who killed 21 tourists at the National Bardo Museum in March, is still coming to grips with what happened that day. "It's so horrible and so ironic, as my brother was dragged into this stuff, and I am writing my doctoral thesis on religious tolerance," says the Ph.D. student of philosophy who asked Newsweek not to use his real name and to identify him as Mohammed. "The day he died, I was marching in a rally against terrorism."
The brothers grew up in the countryside, sons of a prosperous olive farmer. Jabeur, the youngest, often felt isolated because his siblings were so much older, Mohammed recalls. And yet, he was happy and got good grades—the home was full of books and laughter. "We don't come from a poor family," says Mohammed. "But he didn't want our father's money—each summer he went to the coast and worked on construction sites so that he could be independent. There was not much to do in our village, so my guess is that when the Islamists approached him with a new vision of how to live his life, he was ripe."
His family noticed a gradual change in Jabeur. He began to spend hours praying. He stopped shaking women's hands, even relatives'. He sometimes stayed up all night studying the Koran and had memorized nearly half of it. Mohammed, sensing something was wrong, began giving his brother books he hoped would counteract extremist tendencies. "I tried Descartes, Kant, Spinoza," he says. "I don't mind that he was religious—not one bit. But I did not want him to be fanatical."
At one point, Jabeur disappeared for two months. Mohammed says he believes this is when he underwent military training.
Jabeur was only 19 when he and 26-year-old Yassine Labidi armed themselves with assault rifles and entered the lightly guarded museum to hunt down and kill tourists from Italy, France, Spain, Poland, Germany and elsewhere. The attackers were finally gunned down by Tunisia's elite BAT squad.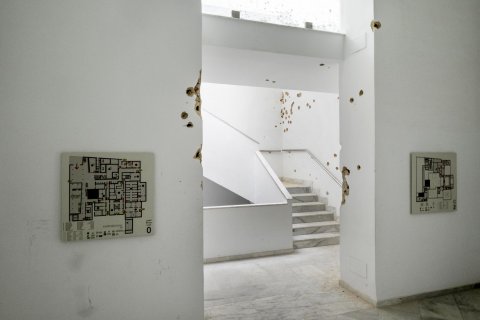 Mohammed begins to cry as he recalls the day of the Bardo attack. "My little brother was like [Adolf] Eichmann," he says, referring to the Nazi war criminal. "He would say he was just following orders. There is no way he was a mastermind behind any of this."
Like most Tunisians, Mohammed was watching the news on television when authorities released the names of the killers. "By 7 p.m. someone called me and said, 'Did you see what your little brother has done?'" He later saw a photograph of the bodies of his brother and Labidi in a pool of blood.
"I really don't understand," says Mohammed. "I just don't understand."
Bullet Holes and Bacchus
Many in Tunisia are trying to understand why so many young men from this relatively advanced and secular country, which emerged from the Arab Spring with a fledgling democracy, are turning to extremism and joining ISIS. Tunisia sends the largest number of foreign jihadists to fight for ISIS in Syria. The Ministry of Interior estimates the number to be around 3,000, although a precise figure is difficult to determine.
Before the museum attack in March, it was easy for many Tunisians to ignore that discomforting statistic. Tunisia is a popular vacation resort, only 600 miles from Italy. It has an educated, multilingual population. Even under the dictator Ben Ali, Tunisia had a highly developed education system that produced some of the best computer scientists in the world (the hacktivist group Anonymous relies heavily on Tunisian hackers). Each week, cruise ships from Europe would dock in the port of Tunis and disgorge hundreds of tourists eager to see the priceless antiquities dating from the time when Tunisia was an important player in the Mediterranean world, close to vital shipping routes and strategically significant to the Romans, Arabs, French and Ottoman Turks.
Now visitors walking through the Bardo Museum's cavernous halls can see bullet holes in a cabinet holding a second century statue of the Roman god of wine, Bacchus. Decorative tiles in several rooms where people tried to hide in corners have been blasted away by gunshots and shrapnel. The attack on the Bardo was not just a blow to tourism in Tunisia, one of the biggest sources of revenue for the country; it forced Tunisians to address radicalization in their society.
In another café in Douar Hicher, a suburb of Tunis, Asim (not his real name), a 25-year-old engineering student, sits drinking tea and smoking a cigarette. He has, at last count, nine friends, some of them college graduates, fighting in Syria. He says most of them dismissed reports that ISIS was committing horrific crimes, such as beheading people and kidnapping minorities. "They said it was Western propaganda against Muslims.
"Each of them has a different reason [for going]," Asim says. "Some have been tricked—that is, they are told what an amazing life they will have in Raqqa [the ISIS capital], that there are pretty women to marry, that life will be easier and they will be successful." He pauses. "Then they get there, and it's living hell.
"Of all my friends who went, I can't say any of them were particularly religious before," Asim says. "Because of the pressure of their lives here—no jobs, no prospects—religion became a refuge, a solace."
He says money can be a factor: "It's said that some battalions do pay. I have heard up to $1,000 a month."
Poverty and unemployment are not as bad in Tunisia as in some other Middle Eastern countries, and there is not the repression that is seen in such neighboring countries as Morocco or Algeria. But for the young, life is not easy.
The official unemployment rate is 15 percent, but Said Ferjani, a senior official of the Ennahda party (a moderate Islamic party that is part of the government's coalition), says it is probably closer to 20 to 25 percent. The African Development Bank in Tunis puts unemployment among young college graduates at 34 percent. "The revolution was an expression of disillusionment," Ferjani says. "But so are the boats that are taking migrants away from Tunisia and other countries to Europe. Something is very wrong. Even if it seems all right here on the surface, people have high expectations. They want a better life. So a recruiter comes around and tells them about a better life fighting in Iraq and Syria—and they accept."
An economist by training, Ferjani says that in order to absorb the 80,000 new university graduates each year—Tunisia has one of the highest rates of education in the Middle East—a minimum of 100,000 jobs need to be created. Tunisia needs more investment, economic reforms and a crackdown on its black market. Corruption is also a problem. It was anger over corruption that drove a vegetable seller to set himself on fire in late 2010, triggering what became the Jasmine Revolution. "But to stop corruption, you need to change the mindset," says Ferjani. "We made a new constitution—that's beautiful. But we are working with an old set of laws."
Tunisia is in transition, says Ferjani. "Everything is not rosy. There is disillusionment. When you are disillusioned, you are drawn to radicalism."
One day in late May, I meet a bearded, tattooed rapper named Da Costa in a park near the Bardo Museum, just as news is emerging of another incident that may or may not be related to terrorism—a Tunisian soldier opened fire on his colleagues, killing seven and wounding many. Again, the capital is in a state of fear.
Da Costa tells me about his brother, Yusuf, who died fighting in Syria in 2012. "He was only 24 years old. By the time he left for Syria, he was so indoctrinated that I couldn't even talk to him. He was so brainwashed. He just kept going to the mosque, and the recruiters know exactly who is vulnerable, who is seeking a new life, who is in despair."
Da Costa says Yusuf came back to Tunisia shortly after he joined a battalion and told him: "I didn't find what I was looking for." The looting and the robbing discouraged him. But back home, "his life in Tunis was hell—the police hassled him constantly." He went back to Syria and died fighting in Kobane. He left behind a wife—provided to him by ISIS—who was pregnant.
Da Costa sips from a glass of mineral water. "I try to tell them, through rapping, not to go," he says, writing down some of his lyrics: "Brothers, do not follow the jihad. They promise you heaven when heaven is not theirs to give." He sighs. "But it doesn't work. There were so many boys from my neighborhood who went to Syria that they actually named a battalion after it."
His Biggest Secret
In Labidi's middle-class home in the Omrane al-Alaa neighborhood of Tunis, his family is still in shock, months after he attacked the Bardo Museum. His mother, father and younger sister (who ask not to be identified by name) receive me graciously, if tearfully. His mother runs a kindergarten. She brings out dishes of homemade chickpea cookies and glasses of tea. They insist there were no signs Labidi was being indoctrinated.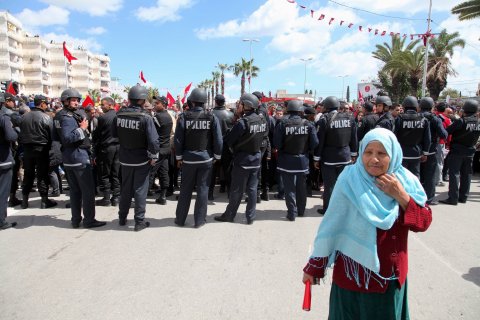 "I knew my brother," says his sister. She describes him as a young man who liked to swim. He was small, thin, with a slight build and a sensitive manner. Labidi was not praying more than usual or seeking out different friends, she says. He did pray at the nearby mosque, she says, but he was not growing his beard any longer than usual. He was not glued to the Internet watching YouTube videos of ISIS fighters. She says she knew everything about him—except perhaps his biggest secret.
He was, in fact, part of a sleeper cell activated after the 2011 Jasmine Revolution. Last December, he told the family he had to go work for a few months near Sfax, Tunisia. It was then, officials believe, that Labidi trained for five months in a military camp in Libya.
On March 18, Labidi went to the mosque and said his morning prayers; he stopped to buy a bottle of milk and some fresh bread for breakfast. "Up until the last minute, when we walked out the door that morning, he acted normally," his sister says. He ate with his family, chatted with his sister about work, then kissed his mother goodbye. He took a sports bag with him and told her he was going to a Turkish bathhouse. Instead, he went out to slaughter tourists.
"My son was the victim of brainwashing," his mother says.
Ghazi Mirabet is a lawyer who has represented several so-called normal young men who became jihadists fighting in Syria. "It always starts at a mosque," he says.
Among Mirabet's former clients is a famous rapper called Emino, now a prominent ISIS member who posts on Facebook. Emino came from a well-educated, middle-class family—his mother is a civil servant in the Tunisian government. He has not contacted his mother or his lawyer since he went to Syria.
"First he used to sing about sex and drugs," says Mirabet. "Then he goes to prison for having weed. In prison, little by little, he became more religious. He stopped rapping. He stopped shaving. He grew his beard. He spent more time at the mosque. Then one day he was indoctrinated."
The entire process to create a jihadist took about six to nine months, says Mirabet. "Terrifying, isn't it?"