Within hours of the shooting attack on June 17 that left nine dead in a Charleston, South Carolina, church, numerous authorities deemed the incident a hate crime. Both Charleston's police chief and mayor agreed, the FBI started investigating the shooting as such, and the Justice Department confirmed that the shooting would be treated as a hate crime.
The general public, too, mostly agreed with that call: After all, the suspect, Dylann Roof, a 21-year-old white man who has made numerous racist comments, was seen on social media wearing the flags of formerly white-ruled South Africa and Rhodesia, and following his arrest, Roof reportedly said he had hoped to start a "race war."
"The only reason someone would walk into a church and shoot people that were praying is hate," Charleston Mayor Joe Riley said.
But even if hatred was the motive, the local prosecutor won't be able to pursue such charges because South Carolina doesn't have a hate crime law. South Carolina, along with Arkansas and Georgia, is one of only three states lacking race, religion and ethnicity hate crime statute provisions, according to the Anti-Defamation League.
Jack Levin, an expert in hate crimes and criminology at Northeastern University, says there's no blanket explanation for why those states haven't signed on. In South Carolina, hate crime legislation has been brought up in numerous legislative sessions, including every year between 2009 and 2014, and it will no doubt be debated again soon, in the wake of one of the deadliest shootings in the state's history. Two Charleston-based Democrats, Seth Whipper and Wendell Gilliard, are among the South Carolina legislators who have long tried to get such legislation passed, and Gilliard plans to redouble the effort. "I don't care if they call it a knee-jerk reaction," Gilliard told the Charleston Post and Courier. "I got to do what I got to do."
Though South Carolina has repeatedly refused to pass a law regarding hate crimes, modern hate groups in the United States have flourished since the 1990s. In 2012, the Southern Poverty Law Center identified 1,018 active groups in the country. In 1998, there were only 537 such groups. Since hitting that peak in 2012, the number of active hate groups has slowly decreased, to 784 in 2014, a number comparable to the early 2000s. The number of neo-Confederate groups on that list has shrunk since 2004, down from 13 percent to 5 percent of the total, but the number of racist skinhead groups has grown, to 15 percent of the total from 6 percent. The center also found that Ku Klux Klan groups had gone underground but not disappeared.
Roof was not immediately linked to a hate group, though photographs in his apparent manifesto indicate he has strong affection for the racist neo-Confederate movement.
This is not the 1950s when it comes to race, at least on the legislative front. But research by Spencer Piston, assistant professor of political Science at Syracuse University, suggests that Americans—including younger ones—are far from color-blind, to state the obvious. In that 2012 survey, people were asked to rate how intelligent and hardworking they considered white, black, Hispanic and Asian people. The survey found 64 percent of white, older people thought whites were more intelligent and worked harder than blacks, while 61 percent of those under 30 agreed with that statement. "White millennials appear to be no less prejudiced than the rest of the white population," Piston told New York magazine at the time of the survey's publication.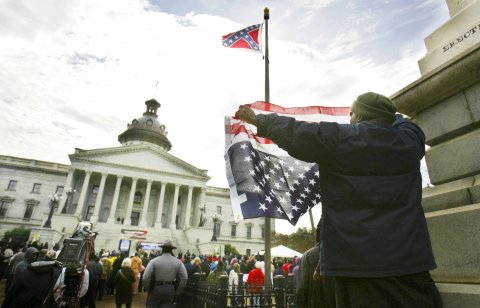 Even if it could be argued that racism and hate groups have diminished in America, awareness of the horrors they can perpetrate has grown, and specific punishments for hate crimes have taken on an important symbolism and often bring a harsher sentence. When someone is convicted of committing a hate crime, the original charge may be enhanced in court: A murder can become an aggravated murder; a second-degree felony may be increased to first-degree felony.
The FBI defines a hate crime as "a traditional offense like murder, arson or vandalism with an added element of bias." This applies to cases involving race, color, religion or place of origin. In 2009, President Barack Obama expanded the federal hate crime law, applying it to acts of violence motivated by gender, sexual orientation and disability. "This federal statute becomes very important, especially for trying cases in states like South Carolina," Levin tells Newsweek.
While the federal government can pursue hate crime charges against Roof, who has reportedly confessed to the killings, South Carolina can try him only for nine counts of murder and one count of weapon possession, in the absence of a hate crime law.
Because of the nature of the crime, local prosecutors are likely to ask for the death penalty, and Governor Nikki Haley has made it clear that is what she wants. Because South Carolina already has a death penalty on the books, it is much easier to pursue this sentence at the state level. That's why it is likely the state will handle the case instead of the federal government. "There will be conversations between the federal government and the state of South Carolina over how this individual should be prosecuted. The parties may decide the state is better to go ahead with it," says Mark Pitcavage, director of the Anti-Defamation League's Center on Extremism.
Roof could be prosecuted at both the state and the federal levels, Pitcavage told Newsweek. "A federal hate crime law could come into play here," he explains. "In some cases, both the state and federal government prosecute; a notable example of this is with the case of Terry Nichols."
Nichols, one of the Oklahoma City bombers, was convicted twice, once in federal court and, because that jury failed to vote for the death penalty, a second time by the state of Oklahoma, which also failed to impose the death penalty. Though this could happen in Roof's case, experts agree it is unlikely.
South Carolina's prosecutors could follow a strategy similar to what was used in the Boston Marathon bomber trial, in which one jury convicted Dzhokhar Tsarnaev and a second set the sentence, Levin says. If a second jury in the Charleston case were to come back with a death penalty sentence, it is unlikely the federal government would proceed with hate crime charges.
In some cases, it's a matter of making the symbolism of the punishment fit the offense. Hate crimes "don't necessarily affect just the person and the people close to them. They affect an entire community," Pitcavage says. "In some cases, if it's high-profile enough—which I think this shooting is—it affects the entire country." Recognizing hate crimes in a court of law may also allow communities—and in this case, all those in the country affected by the shooting—to heal.
Experts also point to the potential impact of prosecuting a hate crime. "If you just say shooting someone is a murder, that is one thing, but to prosecute it as a hate crime, that gives you a better chance of, hopefully, discouraging people. [Charleston] is an aggravated case. It should be treated as such," says Randall Kessler, a Georgia-based attorney. He notes that hate crime prosecution can be seen as the highest form of intolerance toward hateful acts.
"What we have here is a hate crime that South Carolina cannot officially recognize as such," Pitcavage says. "They have no way to give respect to the victim by charging the suspect with a hate crime, and that is a shame, as it is symbolically significant. It will be recognized that they are victims of a crime, but not victims of hate."