Every May, when commercial airline pilot Benja Henderson flies in and out of Vientiane, the capital city of Laos, he has to navigate a perennial hazard: rockets flying over the great Mekong River.
These projectiles are not the products of battle, despite the area's history of sky-borne destruction—a covert war waged by the CIA brought over 2 million tons of ordnance down on Laos between 1964 and 1973. They're part of an ancient agrarian ritual. At the height of Laos's dry season, says Henderson, flight paths are modified as thousands of villagers up and down the country fire ballistics at the troposphere during boun bang fai, or rocket festivals. The rockets—PVC tubes packed with charcoal, bat excrement, sulfur and sometimes more than 250 pounds of gunpowder—are meant to provoke the irascible sky god Phaya Thaen into stirring up storms and nudge him to honoring a rain-sending pact he made with the Toad King, an incarnation of the Buddha.
Rocket festivals are a reminder that the fragile relationship between agriculture and climate in Laos is imperiled. From the riverine paddies to the limestone karst, Laos' subsistence farmers—about 80 percent of the rural population—depend on getting the right amount of rain at the right time. But in recent years, changes in global climate have resulted in long dry seasons, and then short, intense rainy seasons that drown cropland. Flooding destroys around 60,000 hectares of rice in Laos annually, and that number is expected to rise. Rigorous International Water Management Institute analyses of Mekong basin rainfall from 1953 to 2004 showed a trend of longer dry seasons, and wet seasons with shorter but more intense bouts of rainfall.
Extreme weather in Laos isn't just destructive; it's deadly. In 2011, the Southeast Asian floods destroyed over 140,000 homes in Laos, leaving nearly 430,000 homeless, and killed at least 30 according to the U.N. In 2013, floods killed 20 people.
On a recent Sunday in Phognern Village, less than 10 miles outside of Vientiane, guards with rifles slung over their shoulders ushered garlanded Hyundai trucks past vendors selling scouring pads, laundry detergent and kitchen knives. Some trucks carried rockets in 30-foot-long bamboo cases. On one truck, a monk sat atop stacked speakers that blared mor lam, the Laotian country music popular in the region; farmers in drag followed another truck, thrusting wooden phalluses at the sky.
Under the eaves of a stilt house set back from the highway, Khanjana Ounmany pours rice whiskey for friends seated on plastic lawn chairs. "The fields are very dry, and the water from the river is not enough. That is why we need to ask for rain," he says through an interpreter. Khanjana, who now works for an architecture firm in the capital, had come home to celebrate boun bang fai with his family. As he toasts the start of the planting season, a loud crash sends drinkers scampering under the awnings as a rocket lodged in the gap between two aluminum roofs scatters burnt plastic onto their plates of fried grasshoppers and bowls of duck-blood soup.
Phognern's growing population and the creep of the Vientiane suburbs has scaled down the rocket festival. "Before, there were few houses and no roads. It was all rice fields," Khanjana says. For Laotians like Khanjana and his brother Kiengkay, a lecturer at National University of Laos, development has delivered opportunities unknown to their farmer parents. Economic growth helped reduce poverty rates from 46 percent in 1992 to around 23 percent in 2013, according to the World Bank.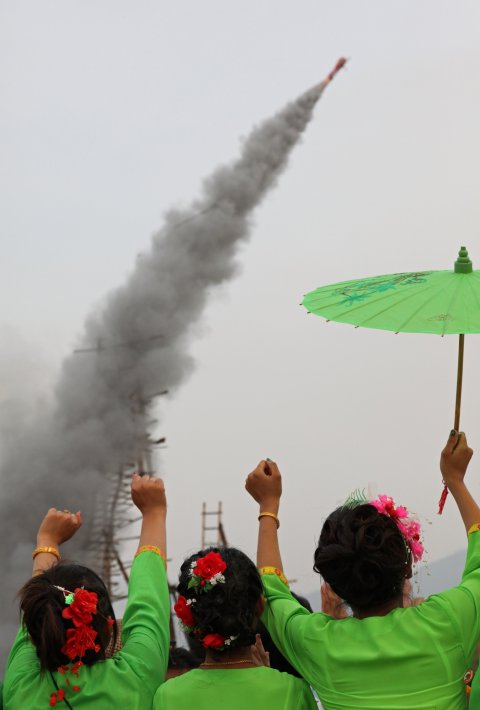 But many in the village still depend on Phaya Thaen's response to the rockets. Flooding and drought, which hit at different times and intensities across the country's hilly topography, can be devastating to subsistence farmers, the majority of whom own less than two hectares of land. "We cannot get much yield from the rice if the rain pattern is not normal," Kiengkay says.
Climate change isn't the only threat to rural livelihoods. The spate of investment that has enabled Laos to post remarkable growth rates in its gross domestic product for the past nine years has added pressure to vulnerable systems. Between 2000 and 2009, Laotian land deals for agribusiness, mining, hydropower and other industrial development increased fiftyfold. The problem is that much of this development has clipped back Laotian forest. According to the Laos government, only 41.5 percent of the country's land area remains forested. Food and Agriculture Organization studies indicate that deforestation makes soil more vulnerable to erosion and decreases fertility.
Poorly regulated foreign investment has displaced people as well as forest. Land leases drive communities off their land without adequate consultation or compensation. There has also been government harassment, intimidation and arbitrary detention of land rights defenders who objected. One particularly troubling example of what can happen to those who speak out was the abduction of internationally acclaimed community development worker Sombath Somphone. CCTV footage showed Sombath being stopped by police in Vientiane in December 2012 and then driven off in a pickup truck. He has not been seen since. The same month, Anne-Sophie Gindroz, then country director of Swiss agricultural development organization Helvetes, was given 48 hours to leave Laos after writing a letter considered critical of the government.
But despite the political peril, many are stepping up to help Laotian farmers. Aid agencies, for example, are improving water management systems and introducing more climate-resilient rice varieties. And technologies such as the International Rice Research Institute's prototype WeRise system—which combines real time weather forecasts with crop models and nutrient management tools to enable farmers to plant the most suitable crop at the right time—offer hope to some.
The government has a plan to increase rice production, secure land rights, introduce more climate resilient varieties and improve quality to meet the demands of the export market.
One option is to expand and modernize an ancient practice: rice-fish farming. In these biodiverse systems, fish and other aquatic creatures are cultivated alongside rice in flooded paddies. Commercialization of rice-fish farming in Indonesia and other countries has improved rice yields as well as aquatic protein for consumption and sale.
But for upland subsistence farmers who till some 400,000 hectares outside the lowland paddies that the government has earmarked for protection and development, prospects remain bleak. Michael Trockenbrodt, who runs workshops about the value of biodiversity in some of Laos's most remote areas, says farmers are left to debate why their crops are failing. "Some people say bad luck, some people say bad spirits. Some people say straight away, deforestation—that we don't have any forest anymore," he says.
Back in Phognern Village, a country band played to a crowd in a field strewn with empty beer bottles and taffeta. The last of the rockets had been launched, and revelers drank under fading vapor trails. On the horizon, thick cumulus created a haze that blocked out the afternoon sun.
Phongsavanh Phommavongsa, dripping with sweat, smearing white makeup across his cheeks, was among the dancers near the stage. "The rockets are going to work," he shouted over the music. "If the rains don't come in 15 days, you can cut off my head."