A little less than four years ago, 70 businesses and professional organizations made a dramatic stand on one of the country's most divisive social issues. In November 2011, they signed on to a legal brief asking a U.S. appeals court in Massachusetts to overturn the Defense of Marriage Act, the 1996 law that barred the federal government from recognizing gay marriages.
Getting the backing of major corporations, including Aetna, Google and Nike, wasn't easy. The lawyers who wrote the "friend of the court" brief "had to work hard to find the right people," says Susan Manning, an attorney with one of the firms that helped write that brief.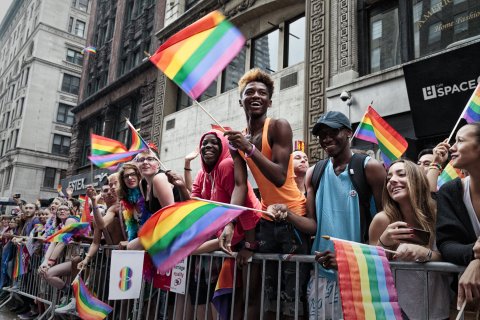 Contrast that with what happened this past spring, when Manning and her colleagues at Morgan Lewis, a law firm with a long list of corporate clients, set out to write a similar brief in Obergefell v. Hodges, the case the Supreme Court decided on June 26, which effectively legalized same-sex marriage nationwide. The day the court agreed to take that case, Manning says, she had business leaders calling her up and asking, "Are you guys going to do this? We want to be involved." She says 379 companies signed that brief, including behemoths of retail (Wal-Mart), finance (JPMorgan Chase) and sports (the New England Patriots).
That's a sign of how quickly public sentiment has shifted on gay marriage, but it's also an indicator of how strongly many U.S. corporations feel compelled to weigh in on social issues, whether it is gay rights, the gender gap in pay or the fight over the Confederate flag. At a time when America's political class is catering to ever-narrower slices of the electorate, Fortune 500 corporations are trying to appeal to (or at least avoid offending) the widest possible swath of Americans. "Inclusiveness" may not be good politics in this day of polarization and micro-targeting, but it seems to be good business. And that is making the business community the sort of "big tent" political force that neither major political party can claim to be.
Related: Revolutionary (and Hypocritical?) Supreme Court Makes Gay Marriage Legal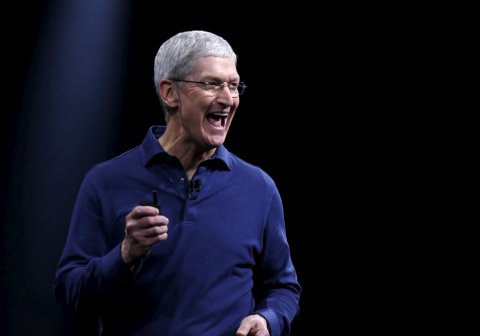 "We want everybody to shop at Wal-Mart," CEO Douglas McMillon told the Fox Business Network in late June, explaining why the retail giant was halting the sale of all Confederate flag merchandise. That was less than a week after a mass shooting during a Bible study gathering in Charleston, South Carolina's historic Emanuel African Methodist Episcopal Church.
Wal-Mart's move was swiftly followed by other major American retailers, including Amazon, eBay and the venerable Sears, while CEOs Marc Benioff of Salesforce.com and Tim Cook of Apple echoed the anti-flag sentiment on Twitter. Apple has since moved to pull from its app store games that feature the flag.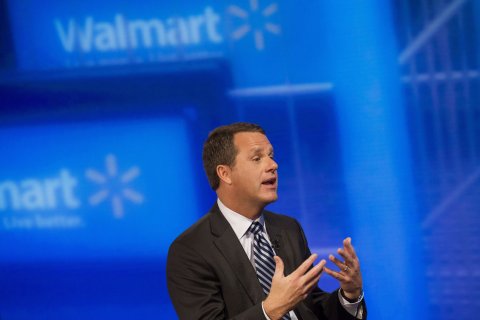 This is a significant shift for major companies, who used to duck for cover whenever these kinds of controversies kicked up. But expectations for corporate leadership have changed in recent years, and, as Benioff pointed out to Newsweek in a phone interview from Europe, social media make it far easier to weigh in on the topic du jour. Even a decade ago, "it was not as easy to get your message out," he says. "Today, if I have my cellphone with me, I have the ability to communicate with millions of people at a time." That's the kind of social debate that once played out only on a local level. Back in 2000, for example, South Carolina's Chamber of Commerce lobbied heavily for the state Legislature to remove the Confederate flag from the Capitol dome after the NAACP launched a tourism boycott. But it wasn't until this June that corporate America rejected the flag en masse.
A religious freedom law enacted this spring in Indiana propelled corporations, in and out of state, to fight the measure because it seemed to sanction discrimination against gays. Local organizations, like the NCAA, headquartered in Indianapolis, feared a boycott. But the more compelling argument in the national business community was that the new law would have a negative impact on companies' large and diverse workforces, spread across states that have a range of marriage laws.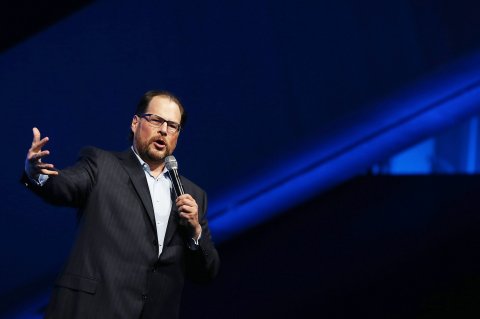 "I had no choice, as the largest tech employer inside Indiana," but to speak out, Benioff says. "My employees were...so rattled by what was going on." That echoes a central plank of the Supreme Court brief backing same-sex marriage nationwide, which declared, "Employers are better served by a uniform marriage rule that gives equal dignity to employee relationships."
That's a far cry from the notion, popularized by University of Chicago economist Milton Friedman in the 1960s and '70s, that "there is one and only one social responsibility of business—to...increase its profits." That is what Benioff was taught in business school, but today, he says, "the business of business is improving the state of the world, and that includes the social issues that we're discussing."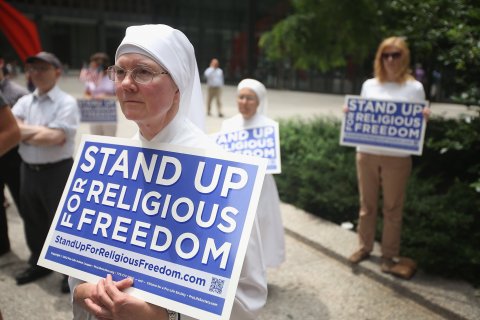 Companies are now celebrated for thinking about something more meaningful than their bottom line—see Google's "Don't be evil" corporate slogan or Starbucks's (not always successful) efforts to inject itself into the debate on gun control and race relations. Even old-school corporate giants like drugmaker Eli Lilly are stepping up; the Indianapolis company was a key player pushing Indiana lawmakers to change that state's religious freedom law.
"There's been a major transformation in thinking," says Peter Madsen, a professor of ethics and social responsibility at Carnegie Mellon University. Now "corporations have stakeholders, not just shareholders."
Those stakeholders include customers and employees—as well as anyone else affected by the actions of the company—a far broader array of people with more diverse backgrounds and values than simply the investor class. Big U.S. corporations like Apple and Wal-Mart are now trying to recruit and maintain massive workforces with all sorts of backgrounds, and serve a growing, changing population. As Wal-Mart's McMillon puts it, "We want everybody to be comfortable coming into our stores, and we want our own associates to feel good about where they work."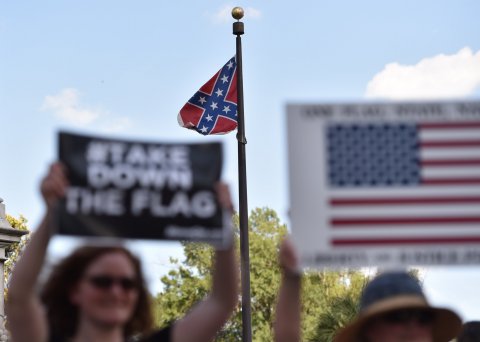 Political parties, by contrast, are narrow-casting, putting the bulk of their efforts into revving up their base while spending less time trying to persuade swing voters. Republicans focus on trying to energize reliable religious conservatives, while Democrats look to drive up turnout among minorities, single women and other segments of the party faithful.
When it comes to the partisan divide, big business has traditionally lined up with Republicans and their free-market principles. But as they try to keep pace with social currents, some CEOs are having very public splits with the GOP. As issues like gay rights hit a tipping point of public acceptance, few corporations want to be caught on the wrong side of history.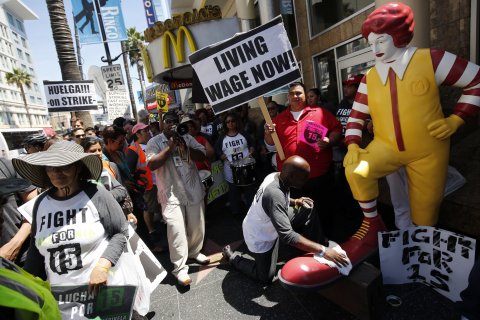 Social norms are also starting to shape Fortune 500 companies' stance on policy issues that obviously do affect their bottom lines—things like labor and employment practices. In recent months, McDonald's, Target and Wal-Mart have announced they'll raise worker pay above the federal minimum wage, while other companies, such as Chipotle and Microsoft, are now promising paid leave. Executives say this is based purely on business calculations, but they have to be watching over their shoulder as cities and states around the country pass laws raising the minimum wage and mandating paid leave. Democrats have campaigned heavily on both issues in recent years, and these are popular policies among voters. But the Republican-led Congress has resisted.
Even as those debates about labor become a focus of the 2016 presidential election, a few gay marriage skirmishes are bound to continue. As the Supreme Court's decision inObergefell sinks in, there will no doubt be other states looking to pass religious freedom laws like Indiana's, which backers argue are necessary to allow business owners and private individuals to decline to participate in gay marriage ceremonies on religious grounds. Timothy Head, executive director of the conservative Faith & Freedom Coalition, vows to take on pro-gay-rights companies. Fighting corporate social activism, Head predicts, will become "a new front line, so to speak, in this national debate."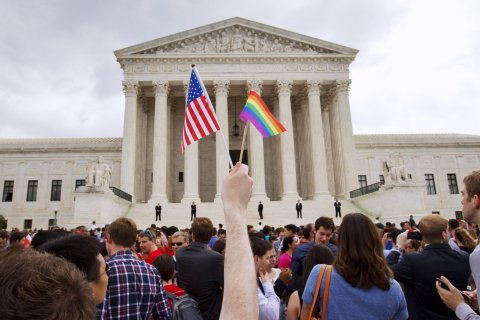 Manning is skeptical. She says she doesn't know of any "mainstream criticism or backlash…our clients have had as a result" of signing onto pro-gay marriage legal briefs. In fact, she says, these types of social stands have proved to be good for business. Friedman himself was a great proponent of letting free markets work their will on society. When it comes to the culture wars, the markets seem to have spoken.