Curiosity was peaking at the New York International Auto Show in April as the mainstream press, car bloggers and the public all jockeyed for a peek at the Lyons Motor Car LM2 Streamliner, heralded as the leader of a new American auto revolution.
European companies like Lamborghini, Ferrari and Bugatti have long dominated the "supercar" and "hypercar" field, yet Kevin Lyons's New York-based company had gearheads poring over slick renderings of a car he promised would hit an unbelievable 290 mph. The Streamliner also promised a new wireless data system, a sleek look that had no need for traditional air vents, and a carbon fiber body and chassis that would make it extremely strong for its weight. Who cares if it had a seven-figure price tag, to be paid in advance?
As the Streamliner generated more buzz, some wondered whether its big reveal could live up to the hype. The odds of any small-car company succeeding are tiny, but it is especially improbable for a novice like Lyons, which started up in 2011, to take off. "Most companies hit the skids long before they have a car with four wheels that can drive under their own power," says Robert Sorokanich, a reporter for RoadandTrack.com, who calls Lyons's attempt "noble."
Writing on TopSpeed.com, Richard Rowe says plenty of startups with better plans and more money than Lyons "have still gone the way of the dodo," pointing to a list of defunct American car manufacturers that numbers in the hundreds. "This would be one of the great automotive stories ever," says Mike Ballaban, a writer for the automotive website Jalopnik.com.
The first public sign things were not what they appeared for the Streamliner came on press day for the auto show. Lyons arrived empty-handed. When he did belatedly bring his foam model to the show, he largely kept it under wraps because, he says, it was damaged. Still, he drew a crowd and, he says, captured the attention of potential buyers, including one he claims will invest tens of millions in the company.
The auto show, however, was not impressed. Lyons was shown the door—a rare occurrence. "The administrators of the show said it wasn't up to their standards," he says. Despite that, he insists coming to the auto show was a success. "We've got the contracts out.... [The car] is right on track."
Those contracts are for $1.6 million—plus taxes, an assortment of options and mandatory fees—all paid in advance. Larry Lewis of Nelson Racing Engines, which would provide Lyons with all his horsepower, says that's a steep buy-in for even the world's hottest car. "You're asking an awful lot for people to spend on a car that has not been made yet."
Rowe says Lyons's lackluster planning makes the car's price tag irrelevant. "Maybe it will hit 290 mph, and maybe it won't," he wrote. "But it will almost certainly explode by the time it gets there." The first red flag: an exterior design Sorokanich says "looks like a sketch out of a comic book." Disaster truly lies in the details, where, Sorokanich says, Lyons seems to be swerving head-on "into the land of fantasy." The original renderings had no vents, "which is really crazy," he says.
(Lyons is not the only Don Quixote tilting at the European hypercars. In late May, PSC Motors, an unknown, Las Vegas-based startup, also began touting a 1,700-horsepower hypercar. Most observers will assume it's vaporware until it's actually on the market.)
When Jalopnik's Ballaban interviewed Lyons at the car show, he promised "ample vents"—21 overall, with 19 under the car. But even that won't work, Ballaban says, because rocks and debris could get into the vents. A few weeks later, Lyons gave Newsweek a new answer: "We do have vents on the side of the car; they are just slickly hidden." Later he added, "Who cares? That's why I hired people smarter than both of us."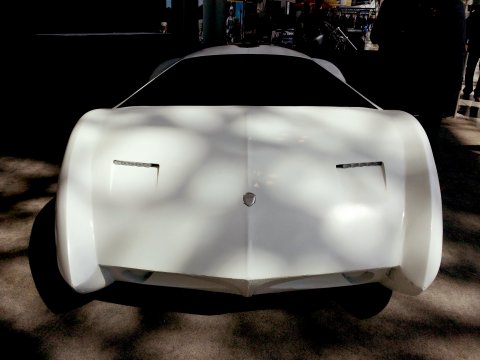 He insists his car is a sure thing, regardless. "This is completely, 120 percent engineered," he says, with a design so solid, he initially said there was no need to road-test it. "The aerodynamic testing is done, all this can be done in the computer. You don't need an actual car."
Even his brother Bryan, who is the company's chief operating officer (and also works in hospital maintenance and as a martial arts instructor), couldn't stomach that. "We're not going to sell the car without testing it," he says. "That's just ridiculous."
Kevin later amended his answer to say they'll do road tests but no crash tests —which still raises eyebrows among industry observers.
A big selling point for the Streamliner is its carbon-fiber body and chassis. Those will be tricky to pull off and hugely expensive, but Lyons has claimed publicly that he is working with deBotech, which has built parts for Ferraris, Lamborghinis, commercial and military aircraft and even the U.S. Olympic team's bobsleds and skeleton sleds.
This affiliation, though, was news to deBotech. When contacted by Newsweek, CEO Hans deBot said he did not know Lyons was using his name. He says he got a call from Lyons, but when deBot explained the costs of his work and the necessary crash tests, "I never heard anything more from him."
Just as well, deBot adds. "He did not even have a real design. His math data was all wrong. It didn't add up. You couldn't technically build the car from it."
But Lyons insists he has customers lined up, and promised I could talk to them. "I'm really close to these people," he said. "I can pick up the phone and call them now." But he never came through on this demonstration. And then one of those buyers turned into something much bigger, Lyons said, an investor willing to pour $15 million to $20 million into Lyons Motor Car. The guy's worth $900 million, according to Lyons, and wears $6,000 shoes. "He's a really cool guy. He showed me the registration for his yacht and his jet."
Lyons says this new money man has convinced him he can produce 100 cars a year—"He told me I had been thinking too small." Both Bryan and Kevin insist this investor "is on the up-and-up" and will let them run the company their way.
The name of the investor, Bryan says, is Steve Lisitsa. No, Kevin says, it's Steve Kaplan. "I'm 100 percent sure of his name."
When pressed for clarification, neither brother could produce either "Steve," but Kevin vows that despite all "the haters out there," he'll dominate next year's auto show "with multiple automobiles." It's possible that many critics were demoted to the rank of hater after viewing Lyons's typo-riddled official website: It's the top hit from a Google search of the company, alongside Lyons Motor Car's awkwardly worded slogan: "a ultra high end car builder."
Perhaps unsurprisingly, Kevin Lyons's biography is also tough to pin down. His company website says that he "began his artistic education at the age of 4" and that he is "a 30-year custom car design and engineering veteran," though he admits he spent the past 30 years working as a fitness trainer and a freelance graphic designer.
That artistic education is "a touching story," Lyons says—his father put jelly jar tops on paper and traced them to make wheels so his son could draw a car. His actual education came much later; he says he graduated from the School of Visual Arts in Manhattan. Lyons concedes that his experience in car building consists of a few hot rods and one Lamborghini replica he created from scratch, which he says took about seven years to complete. Lyons poured over $100,000 into that car, but "I made millions on it."
Really? Nah. He sold it for less than half of what he spent. By "millions" he meant that "it brought me closer to my father." Lyons finished working on the car with his dad, Duke Lyons, at his parents' house on Long Island after Kevin got divorced.
"He never respected that I went to art school," Lyons says. "My father was a mechanic, and he really believed in turning a wrench for a living."
His father was a mechanic? Well, no. "He was a longshoreman, but he did repairs."
Maybe Lyons is some kind of savant who, despite his shortcomings, can will his revolutionary supercar to life. As Preston Tucker once said after his ambitious car company collapsed, "Even Henry Ford failed his first time out."
But that seems unlikely, says Ballaban, who sees Lyons more like "a guy building model rockets his whole life who one day says, 'I'm going to go to the moon' and tries building a real rocket in his backyard."