Sitting at the café of the Technopolis cultural center in downtown Athens, cigarillo in hand, Antonis Kafetzopoulos, one of Greece's best-known actors, gives a quick digested history of Greece's travails. "Greece is a failed state and has been since our independence in the 1830s. We have not managed to build the kind of state we wanted. France had a revolution and Enlightenment. But we didn't follow that model. We always tried to compromise between the old Ottoman establishment and modern Europe," he explains through a haze of blue smoke.
In the struggle between modernism and myth, the latter triumphed. "Our narrative focused on national values and our ancient history, rather than the state. That is partly because we were not a homogenous nation then," he says.
"So every time we try to make reforms, the new authorities find that the previous ones left the situation untouched. One reason nothing seems to work in Greece is that we have so many layers of the old system under any new rules."
The Technopolis at least, does work. With its raw brick walls, post-industrial chic, large open spaces and buzzing atmosphere, the Technopolis could fit in anywhere from Brooklyn to Berlin. A former municipal gas works, the site has been converted into a cultural center and imaginative museum that transports visitors back to its 19th-century heyday. A hub for music, dance, theatre and performing arts, it has helped revitalize the city's Gazi neighborhood.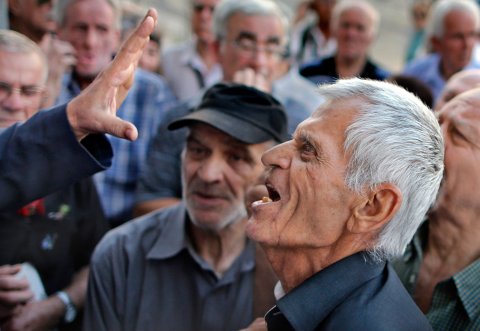 Now 63, Kafetzopoulos has joined the Athens municipality as a deputy mayor, he says, to try and make a difference. "When Greece joined the European Union, the money was channeled through the wrong people. It made a new rich elite. But now there is a new class, of people who are not corrupt but who are interested in making reforms and making Greece work. They are not united yet but reality will bring them together."
Building a new Greece will be a long haul, everyone agrees. The crisis has deep historical roots, emphasizes Yannis Palaiologos, a reporter with Kathimerini newspaper, and author of The Thirteenth Labor of Hercules. "There is a fear and suspicion of the West, a fear of globalization and change, and behind the bravado we have an inferiority complex. We have a heavy inheritance from the ancient world and were never able to make the transition to modernity. We were shielded from our faults and now they have caught up with us. But we are shocked and blame others for them."
Local potentates still exert enormous power, says Palaiologos. "Even now all kinds of business and union leaders have their own power bases and prevent the creation of a strong central state. Instead they exploit the state for rent-seeking purposes."
Greek culture brought the world its richest myths, and myths still play a central role in perceptions nowadays, says Palaiologos. "This ambivalence towards the West goes back to the idea that we are the playthings of the Western powers. But it was the great powers that gave Greece independence. If it was Slovakia that was causing so many problems in the eurozone, it would be long gone. But one of the reasons we were allowed into the EU was our classical heritage."
Centuries of rule by outsiders have left a disconnect between the citizens and the state and a tradition in which avoiding paying taxes and outwitting that state became a patriotic duty. Greece only declared independence in 1829 after centuries of rule by the Ottomans. Ioannis Kapodistrias, the first Governor, tried to build a centralized modern state, thus threatening the interests of powerful local warlords, and was assassinated in 1831. The following year Otto, the first modern king of Greece, was crowned. But Otto was a Bavarian prince and, though he ruled until 1862, the imposition of a foreign royal further widened the gap between Greeks and their new state.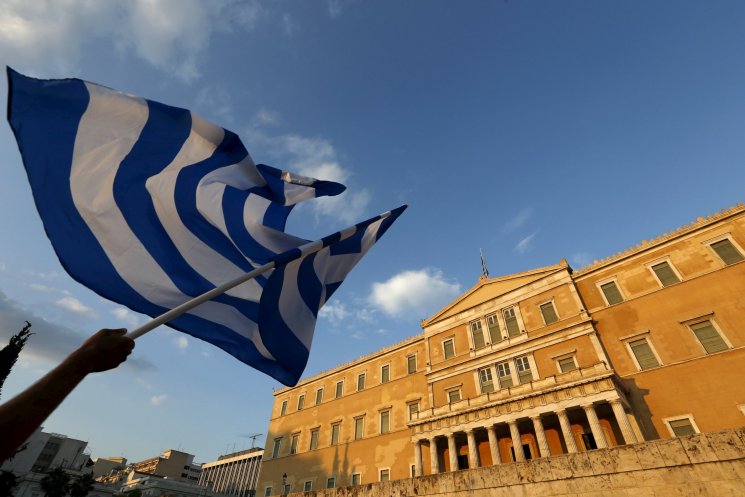 In the 20th century, the country was badly buffeted by forces far larger than itself. After the trauma of the First World War, in 1923, hundreds of thousands of Greeks were expelled from Turkey, and Turks were forced to leave Greece. In the Second World War, Greece suffered a savage Nazi occupation.
"Greece emerged from the Second World War completely destroyed," says Professor Neni Panourgia, author of Dangerous Citizens: The Greek Left and the Terror of the State. "The country had no railways, no roads, her bridges were blown up, her infrastructure wrecked and 400,000 were dead from war, famine and retaliations. The country was completely destroyed financially, and then there was a civil war."
The civil war against the Communists lasted from 1945 to 1949, leaving the country with psychological scars that last to this day. After it, Greece was ruled by a US-backed military junta from 1967 to 1974. Now the troika – the International Monetary Fund, the EU and the European Central Bank – and the Germans in particular are being blamed for Greece's woes.
The struggle against the troika has been subsumed into a deeper historical narrative of the fight for independence. And whatever the faults of successive Greek governments, there is no doubt that for many Greeks austerity has been a disaster. Unemployment and poverty are soaring, and beneath the Mediterranean bonhomie is a bleak undercurrent of despair.
"We feel like we are back in a situation like after the First World War, where the great powers are deciding the fates of other countries," says Professor Stathis Gourgouris, author of Dream Nation: Enlightenment, Colonisation and the Institution of Modern Greece. "Greece has never managed to extricate itself from the network of foreign powers fighting over their regional interests.
"The idea that Greeks don't pay their debts is overstated. We need to create conditions that enable us to pay our debts and create growth. All this was imposed from the outside. If it had been explained to the Greek people, they would not rebel, if there was a sense of justice. Austerity has produced such misery, but the problem is also the way it was done, which has fuelled this sense of injustice. They say we are being reckless, but it's the Germans that are being reckless, with Greece and the EU."
And when things go wrong, society takes a darker turn. A population ruled by outside forces for so long, and once again feeling under siege, easily turns to conspiracy theories. Most Greek Jews were killed in the Holocaust and only a few thousand remain. But 69% of Greeks harbour anti-Semitic attitudes, according to the Anti-Defamation League, the highest proportion outside the Middle East and North Africa, and 85% believe Jews have too much power in the business world.
"Greeks buy into conspiracy theories, that the whole world is against us and trying to destroy us," says Constantinos Koufopolous, managing director of Axia Capital Markets, an Athens investment banking group. Koufopolous represents a new generation of business people who have no patience for the old excuses for Greece's economic torpor. "The Jews, the Americans, there is always a bad guy to blame for what is happening. Now it's the Germans. Greeks have a superiority complex because they feel inferior. We don't respect ourselves and our legacy and our ancient history. We feel that the world owes us, which may be true but we have to do something ourselves."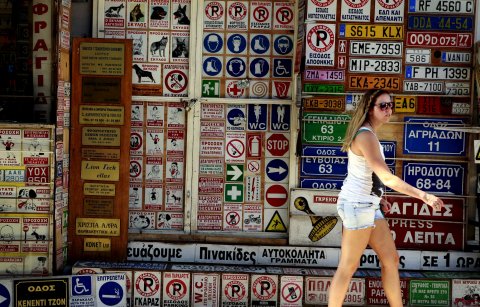 A hard bargain
On a bright sunny Sunday morning, Plaka, the tourist heart of Athens, is crowded with visitors from around the world. The maze of streets and alleys spreading out on the slopes of the Acropolis echo to a babel of languages. But the global downturn means that while many are looking, few are actually buying and when they do they try to drive a hard bargain. The golden age of Greek tourism has taken multiple blows: from 9/11, the global recession and the imposition of the euro. When $1 bought 400 drachma, it was easy to feel like a millionaire on holiday.
"We see more people, but they aren't spending money because of the recession in Europe," says Margaret Stylianou, of Zorba's Odyssey, a jewelry shop. "The people who can afford to buy here aren't coming. They are going to other countries. I think things will be difficult for many more years and it will take time before we can recover."
A few doors away, at the Athens Shop, Christina Ifanti tells a similar story. "There are many tourists but they aren't buying. They try and bargain a €1.50 ($1.64) fridge magnet down to €1 ($1.09)." The shop sells handmade replicas of Greek antiquities, and the walls are lined with Spartan helmets, friezes and statues. The business was set up in 1935 by Ifanti's grandfather, who opened the first workshop, and Ifanti, 24, is optimistic about the future. "We are in the heart of Athens. People always want a nice holiday with friendly people. This is my country and I want it to get better."
Greece is a tough environment for entrepreneurs, says Koufopoulos. "Greeks have a Left-wing heart and a Right-wing pocket. This is a very divided economy. There is a private sector that works very hard and a huge public sector that was has been brought up without taking any risks and an increasing sense of entitlement. People are very strong for socialism, but when it comes to their pockets they don't want to pay taxes."
Successive governments have fed the public sector to build their electoral base, says Koufopoulos. "The public sector is so big and so organized, they keep feeding it for votes. Pasok, the socialists, were amazingly good at this."
All of this hampers entrepreneurs and business people. "It's extremely difficult to do business in Greece. It's very bureaucratic, the licensing and the permits all have to go through the public sector. It can take years to go by the book."
Decades of rule shared between Pasok, the socialists, and the conservative New Democracy party, saw a cosy consensus about patronage networks, says Palaiologos. "Pasok and New Democracy disagreements were about who would run the state and spread the patronage networks. All this relativises citizens' allegiance to the state. They ask, 'why should I pay taxes when the government just lines its pockets?' When roads and hospitals are built, it's without any cost control. "
And now it goes as it goes
And where it ends is Fate.
And neither by singeing flesh