Officer Harold Moore is cruising through the tree-lined backstreets of Savannah, Georgia, when he spots someone who draws his interest. "This gentleman walking down the street, he's looking a little suspicious," Moore says from behind the wheel of his squad car. He pulls up alongside the man and steps out into the Georgia heat. "Come here, my man," Moore says. The suspect, staying at a distance, tells Moore he's out on bond for armed robbery. He's wearing an oversized T-shirt and pulling up his sagging blue jeans. He's black. Officer Moore is white.
The man suddenly takes off. Moore gives chase, panting into his walkie-talkie, "I got one running!" Moments later, Moore spots the suspect as he emerges from the crawl space below someone's home. Moore draws his weapon. "Let me see your hands," he commands before wrestling the man to the ground. Moore then holsters his weapon and cuffs the suspect. A second white officer arrives and helps the man stand up. "Put your feet up. You know how to do it. You've been arrested before," he says.
The subject tells the cops that he ran because he was scared, and that if the police find anything under the house—say, a bag of weed—it's not his. He's no snitch, he says, but, come to think of it, he may have seen something like that back there. "I ain't trying to go back to jail," he explains to the cops. "I'm on the straight and narrow road to success."
The encounter, from a past season of the perennially airing TV show Cops, was probably funny the first time it aired, but it can seem cringe-worthy given today's national controversy about white policing in black communities. The suspect is the butt of a joke that the viewer is in on with the police, and this dynamic has been at the core of Cops since it first aired on Fox in 1989. Now on Spike and in syndication elsewhere, the police ride-along show is one of the longest-running series on television, longer than The Simpsons, America's Funniest Home Videos and The Real World.
Season 28 debuted June 20, at a time when the tide has turned regarding the depiction of cops on screen. For nearly three decades, viewers watched real officers on TV from squad-car passenger seats and beside them on calls. Now, however, videos on the news are from the perspective of ordinary citizens, who watch in horror from the sidelines. Amateur videos depicted the officer-involved killings of Walter Scott in South Carolina, Eric Garner in New York City and others. In June, video emerged of a white police officer in Texas drawing his weapon in the presence of black teens who appeared to be unarmed and using force on a bikini-clad teenage girl after what police described as a disturbance at a public pool.
When Cops debuted, the war on drugs was at the forefront of a nationwide tough-on-crime policy, and crack cocaine had gripped neighborhoods around the country. Cops creator John Langley declined to comment for this article, but Stephen Chao, a former Fox executive who developed Cops and, in 1988, America's Most Wanted, recalls when Langley showed him a tape of a live drug bust on the news and said, "I can do this every week." Chao says, "Turns out, he could."
Now, though, many states have decriminalized marijuana, and aggressive and racially biased policing are in the headlines. For some people, those changes make the show feel dated. "There's been a huge paradigm shift. I actually was surprised it was still on," Elayne Rapping, author of Law and Justice as Seen on TV, says about Cops. Decades ago, she says, television depicted police as "always perfect. They never even swore, they went home to their wives. And the people that they policed were dehumanized. They were just like animals. That was supposed to be reality." Now, Rapping says, amateur footage presents a more accurate view of reality, one "that gets shown over and over and over again, and the cops look like the crazy maniacs."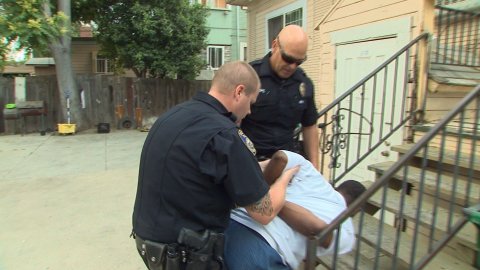 Sergeant Andrew Fincher of the Atlanta Police Department, who has appeared on three seasons of Cops, including the current one, defends the show, saying it's "100 percent reality. One of the first things that the crew will tell you when they arrive with you is basically to ignore them. They want you to conduct your day-to-day operations.... If they get a story, then they roll with it."
As for the headlines involving overly aggressive police, Fincher says, "There's always going to be a public perception, but [Cops] is a true depiction of those of us who legitimately care about catching and getting rid of that criminal element in the communities we work."
An African-American advocacy group, Color of Change, doesn't buy it. The group says on its website that Cops "relies heavily on degradation and mockery of suspects, presumption of guilt and audience identification with unfailingly 'good guy' police protagonists." The show also underrepresents people of color as police officers and overrepresents them as criminals, the group claims.
In response to Color of Change's allegations, Fincher says his policing zone happens to be "a very predominantly African-American community" and adds, "I don't see color. I see criminal element, and I see protecting people, no matter their status."
Though Fincher says the Cops production team instructed him to act normally, Arisha Hatch, managing director of campaigns for Color of Change, points out the potential danger of having cops "perform" for the cameras, citing a 2010 incident in which police shot and killed a 7-year-old girl during a raid that was filmed for The First 48 on the A&E channel. Critics of that show accused the officers of using over-the-top techniques to excite TV audiences, but a federal investigation cleared the officer of wrongdoing.
Stephen Downing, a retired Los Angeles Police Department deputy chief who later worked in television as a producer for T.J. Hooker and other law enforcement shows, says programs such as Cops have "conditioned the public to make you think everybody that used drugs was some kind of evil incarnate in a wife-beater T-shirt in a trailer house." And, he adds, they present "a complete distortion of the overall job of police officers."
Downing notes that officers on these shows don't always appear to follow police procedures. "You just see 'wham, bam, thank you, ma'am.' And it conditions the public to think that's OK, but these are violations of search and seizure laws, [or] a violation of the Fourth Amendment."
Fincher says just because viewers aren't seeing procedural specifics on screen doesn't mean they aren't happening. "I am a very meticulous individual," he says. "These are seven-minute stories.... You're not going to get the entire picture."
Chao, the former Fox executive, says he has remained close with show creator Langley and insists Langley isn't concerned with politics. "He's not on a stump, he's not a politician. He's really just trying to make a very pure television show."
Chao rejects the suggestion that the current anti-police sentiment devalues Cops, citing the Rodney King beating video from 1991 and how Cops thrived after that. "To me, that's a much more damaging, much more incriminating piece of evidence and police brutality than what I've seen recently," he says.
Perhaps the amateur videos of police behaving very badly only make shows like Cops more important, as they seem to provide a transparent look into the world of policing. As police departments nationwide consider body cameras, the officers on TV already have lenses pointed at them.
The show continues to draw eyeballs. A spokeswoman for Spike said no network executives were available to comment but added that new episodes average 1.5 million viewers. Rapping, the author, isn't one of them. "From my point of view, the narrative has changed to such an extent that...in some ways it's almost silly that these perfect cops and these crazy people are just running around like maniacs," she says. "Cops is a very low-level kind of view of the world, where everything is black and white. There's the good guys, and there's the bad guys. I think that view is now running out of steam."
Still, Cops fans say the basic thrill provided by the show isn't something that loses relevance. "When we see blue lights flashing in our rearview mirror, we get kind of scared," Chao says. "That simple emotion, the simplicity of the production, the clarity of the concept, is so pure that it's very hard to beat the show."