In February, Courtney Love staggered into Fox's hip-hop drama Empire as Elle Dallas, a fading R&B diva and former junkie who has to convince a ferocious record exec that her vocal chords and talent aren't totally fried. After a do-or-die chat, Dallas tears off her fake eyelashes and unleashes a melodic howl that nearly blows the recording studio into Lake Erie.
Love—either a feminist icon or a homicidal grunge poser flop, depending on whom you ask—may have been playing herself there, but the guest shot was far more than a last chance to cash in on former glory. The Empire appearance, along with an upcoming tour (with the equally polarizing Lana Del Rey) and a role on Revenge, is all part of her calculated power move forward, beyond the demonization by the press and former friends, including the producer of her band's first album, Pretty on the Inside (this one goes out to you, Kim Gordon!).
Everyone—save for a subsection of feminists, forward-thinking punk bands and Rookie readers—loves to hate Courtney Love. Because…? She killed Kurt, the hirsute K Records-tattooed fanboys declare! Look, Cobain was a genius, but he had issues that went way beyond marriage counseling.
But she's talentless, the Billy Corgan apologists cry. Seriously? Give any track off Live Through This, Celebrity Skin or one of her new solo singles "You Know My Name" or "Wedding Day" a spin—I dare you to resist picking up an air guitar and screaming along with her. The woman can write the hell out of a pop song and can also bring a storied cover to its knees. (Put Hole's renditions of "Gold Dust Woman" and "Over the Edge" in your ear.)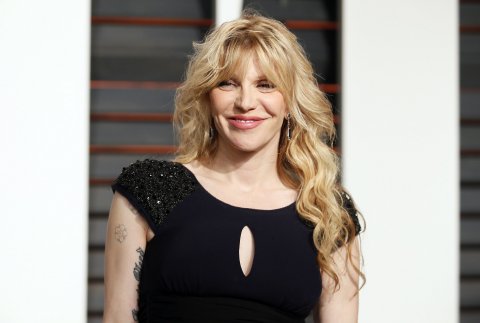 She's a terrible mother, the helicopter parents squeal. And John Lennon was Father of the Year? Love has acknowledged her shortcomings as a human and a parent, and her daughter, Frances Bean—who recently was executive producer for her late father's HBO documentary Montage of Heck and is an accomplished visual artist—appears to be doing quite well.
Other criticisms: She hates other women, she's a slut, she sullied the name of Dave "Good Guy" Grohl... The vitriol against Love is endless. The truth is, Love is loathed for being a vocal, unapologetic woman. She is not silent about being a survivor of abuse, and speaks openly about her highly publicized addictions to heroin, pills and now English cheddar (which coincidentally has a similar enzyme to heroin). Of course she wants to be the girl with the most cake; Love only knows how to live in extremes. Which is what we pay our rock stars to do.
Some hate Love for having no filter, but parse old interviews and you'll find gobs of salient advice and deadly one-liners—"Why cower from the corporate ogre when you can give it incurable syphilis?" she told NME. Who else has the cojones to crack wise about her own demise? She has "Let It Bleed" tattooed on her right arm.
Sorry, Courtney Love is not a blond ingenue who conned her way to fame and pelf. No, she hustled (literally, at a Times Square peep show in the '80s to pay the bills), and was almost burned at the stake after Cobain killed himself. She lived through that, and, trust me, she can live through this.
Most celebrities for whom "the human Enron" was the nicest thing said about them might attempt to expiate their tabloid sins by whoring on Dancing With the Stars. But Love is turning the hate inside out—by once again proving she's talented, as a singing specter in the rock opera Kansas City Choir Boy, on-screen in Sons of Anarchy and beyond. She is giving everyone the finger as she simultaneously wraps us around her little one. Well played, Miss World.