Fourteen-year-old Fawzi lies in a hospital bed in Amman's Al Maqased hospital, pulling at the stuffing poking out of a plush toy basketball. Propped up by a Spider-Man pillow, he is surrounded by his mother, brother and medical workers. He is nervous.
The teenager, who has big brown eyes and a mop of brown hair, was on the roof of his uncle's house in March when a plane dropped a bomb nearby. The explosion resulted in a fracture to his left leg and hip. It also blew Fawzi's intestines out of his body, where they remained until he received emergency surgery in Syria during which his abdomen was clipped together with staples. He was later moved to Jordan, and the staples were due to be removed the day Newsweek met him in May.
"This is the life of Syria's children," says Fatima, Fawzi's mother, who lives in the hospital with him. "Suffering from pain and having surgeries."
Syria's civil war has staggered into its fifth year, claiming the lives of at least 230,000 people and displacing more than 4 million. Life expectancy for Syrians has dropped by more than 20 years, and an estimated 1 million Syrians have been injured. Roughly 80,000 need prosthetic fittings to replace limbs lost to the war—by comparison, 1,573 U.S. soldiers had their limbs amputated after serving in the Iraq and Afghanistan wars between 2001 and 2014, according to U.S. government data.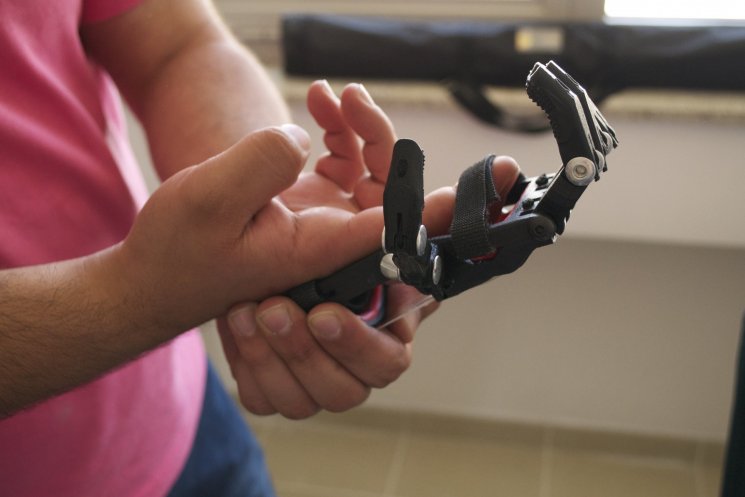 Jordan, a country of 6.5 million, has absorbed more than 628,000 Syrian refugees since 2011, according to the Office of the United Nations High Commissioner for Refugees. Jordan is starting to feel the economic and social challenges posed by the Syrian crisis, says Anne Garella, regional representative for nongovernmental organization Handicap International's emergency response mission in the Middle East. In November, the Jordanian government ceased providing free health care to Syrian refugees living outside the country's two refugee camps; despite not having the legal right to work, they now have to pay for medical services.
On a balmy May afternoon, a physical therapist and social worker from Handicap International made house visits to injured and disabled Syrians living in Sahab, a neighborhood in southeast Amman. One of their patients is Jamal, a 45-year-old father of four who contacted the organization for rehabilitation after six months of torture by the Syrian government left him with a spinal cord injury, scoliosis and difficulty moving.
In October 2012, the Syrian army arrested Jamal, a former car salesman who wears a black and blue sports suit and has a thick black mustache, in his home after he watched street protests against the government. While he was detained, he says, he was beaten with the butts of his captors' guns, abused with water and electricity and hanged upside down, all forms of torture documented by Human Rights Watch in Syria. He says he was never given a reason for his arrest.
Upon his release, Jamal says he felt nothing. "I thought I would die," he says, starting to cry. He wants to see his children grow up and, like many refugees, return home to Syria.
Access to prosthetics is a growing problem in Jordan, but one organization is taking a technology-centric approach. Refugee Open Ware (ROW), an Amman-based startup, is developing ways to help refugees through open-source software, 3-D printing, robotics and wireless technology. Future projects for ROW, which was founded in August 2014, include developing myoelectric arms, a kind of powerful prosthesis that can be controlled using electrical signals generated naturally by the patient's muscles, for upper-limb amputees and transhumeral prostheses for amputations between the shoulder and elbow. For now, though, they are focusing on basic prosthetics.
"It's challenging to have electronics and think about that as a scalable solution, so we prefer the simple stuff that's easy to make," says Dave Levin, founder and executive director of ROW. New tech will help make that happen. "3-D printing and 3-D scanning and digital fabrication are all the future of the prosthetics industry in the next five to 10 years," he adds.
ROW's aims in Jordan extend beyond limbs. The group hopes to construct three digital-fabrication labs, including a $1.5 million project in the Zaatari refugee camp, which Levin says will promote self-sufficiency in the camp and reduce the economic burden of refugees on Jordan.
Asem Hasna, a volunteer assistant prosthetist and 3-D printing technician with ROW, learned 3-D printing in two weeks. A Syrian refugee and former paramedic who lost his leg to a piece of scrap metal from a bomb explosion in the countryside around Damascus, Hasna displays a small rubber component called a "heel pumper" that fits in the heel of his prosthetic foot. Usually, it costs around $35 new and lasts six months, but Hasna was able to print his for $1.41 using FilaFlex, a type of rubber used for 3-D printing.
"This is a very new thing for Syrians, the number of amputees," says Hasna. "Acceptance will be more difficult until people like me spread this culture" and amputees see more people who look like them.
In addition to the physical and emotional scars of fleeing the war in Syria, refugees face discrimination, especially those who don't have social standing or family ties in Jordan, says Bill Frelick, director of the refugee division of Human Rights Watch. Last year, the group found Jordanian authorities were forcibly deporting Syrian refugees, including the injured and children, and Syrian medical workers back to their war-torn country.
Losing a limb is also a deeply traumatic experience that brings risk of stigmatization, says Melissa How, who was recently medical team leader with Doctors Without Borders in Jordan's Zaatari refugee camp, the sprawling mini-city home to more than 80,000 Syrian refugees. "Patients…do worry about how they will be viewed and what the future will look like," How says.
Azraq refugee camp, located in the middle of the desert an hour and a half east of Amman, is home to around 18,500 Syrian refugees who live in rows of white metal shelters. Constantly baking in the unrelenting sun, the camp's terrain is rocky, making it precarious for wheelchairs and walkers.
Inside a shelter on the edges of Azraq, with views of two lonely goalposts, lives Rajab, 63, and his large family. In what has been his home for the past month, Rajab is seated in front of a pile of rocks collected by his grandchildren from around the camp, a pastime carried over from Syria when stones used to fill the family aquarium. A bombing severely injured his right knee and resulted in a leg amputation below his left knee. Like many injured Syrians who live in Jordan, Rajab first had surgery in Ramtha, Jordan, a city located just southwest of the Syrian border. During a therapy visit by Handicap International staff, his small grandchildren clamber over him as he uses a resistance band to move his leg back and forth to strengthen the muscle.
The biggest challenge for Syrian refugees now is to find a country willing to give them safe haven, says Handicap International's Garella. Funding is falling for NGOs in the region, partly because of donor fatigue five years into the war and crises in other parts of the world. Donations from the European Commission's Humanitarian Aid and Civil Protection department, which funds NGO operations in Jordan, have dropped by a third since 2013, despite many injured Syrians needing long-term treatment, says Garella. The U.N. has requested some $8 billion in funding to support the refugee crisis in 2015, but currently it has a funding gap of $5.7 billion. The World Food Program's regional response is 81 percent underfunded. According to António Guterres, the U.N.'s high commissioner for refugees, the overall funding crisis is so "dangerously low…that we risk not being able to meet the most basic needs of millions of people over the coming six months."
Handicap International paid for the travel and accommodation for this article. Family names of some Syrian refugees have been omitted to protect the safety of family members who remain in Syria.