Last year, when Joanne Jones learned that her son Nate had been arrested, the last thing she worried about was her phone bill. The police in San Marcos, Texas, had charged him with aggravated robbery, but when Jones tried to call him in jail, she quickly realized it was going to cost her. There was a $3.99 "wireless administration fee" and a $2 "non-use" fee, not to mention the cost of the call, about $10 for a 15-minute conversation.
Over the past year, Jones, 60, an occupational therapist in Warwick, Rhode Island, has racked up over $1,000 talking to her son behind bars. The money goes to Securus Technologies, a Dallas-based company that's one of the largest players in the prison tech industry. The company employs 1,000 people in 46 states, contracts with 2,600 jails and prisons across North America and provides service to more than 1 million people. Every day, inmates and their families place about 400,000 calls on Securus phones, according to company statements. And because they can choose only the one provider in their jail or prison, business has been booming for Securus.
Yet critics say the company, along with the industry in general, is getting rich off exorbitant fees and sweetheart deals to local sheriffs. "This is about shifting the cost of the police state onto the backs of the poor people being policed," says Paul Wright, executive director of Human Rights Defense Center.
Securus says it's not doing anything wrong. Company officials say that their business isn't wildly profitable and that their margins are comparable to other phone operators such as Verizon and AT&T. But leaked documents from a Securus investor presentation, published by The Huffington Post and reported elsewhere, show that in 2014 Securus earned $114.6 million in profits on revenues of about $404 million—margins comparable to those at companies like Apple and Google. In an email, Securus CEO Rick Smith says the website received the presentation "illegally," and in a letter to the Federal Communications Commission (FCC), a Securus lawyer wrote, without elaborating, that "the figures set forth in the article are simply incorrect or taken in the incorrect context."
Either way, the FCC is now closely watching the industry. By the end of this summer, it will expand its regulations on the prison phone business. The new rules could lower rates for inmates and their families, and reduce the amount of money sheriffs receive from the fees charged for those calls. As FCC Commissioner Mignon Clyburn says, "People should be treated with as much dignity and respect as possible, even if they are incarcerated."
Ripping Phones From the Wall
One of the main things the FCC may target are the billions of dollars in commissions that companies like Securus pay local sheriffs. Jail and prison administrators say allowing inmates to talk on the phone costs them money, as they need to pay guards to monitor the calls. Yet the fees seem unusually hefty; some sheriffs may collect up to 90 percent of the call revenue, which can amount to millions of dollars a year. And there's little oversight once the money is in the bank. "Every single filing I've ever seen from the sheriffs is about the money," says Wright. "They aren't giving a rat's ass about safety."
In the past year, more than 200 sheriffs have filed letters to the FCC, threatening to rip the phones from the wall if the government takes away their commissions. "They don't have to provide a call service," says Jonathan Thompson, executive director of the National Sheriffs' Association.
The size of the commissions—and the price at which companies like Securus place their rates—are often big factors in winning bids with jails and prisons. At Hays County Jail, where Jones's son is incarcerated, Securus collects $9.29 for each 15-minute call he places, the maximum time inmates are allowed to use the phone. Yet in 2011, the San Marcos Mercury reported that Securus pays up to 58 percent of that, $5.39, back to the Hays County Sheriff's Office.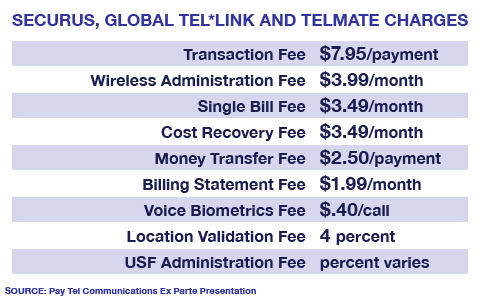 This relationship has become a good selling point for prison tech companies. Over the past 10 years, Securus claims, it has generated some $1.3 billion in commissions for local sheriffs. But critics like Peter Wagner, executive director of the Prison Policy Initiative, say the commissions are why it's so expensive for inmates to make calls. Wagner says Securus and other prison tech companies have "a financial incentive in making sure that the rates are as high as possible."
'Where the Real Money Is'
If Securus is paying such high commissions, how can it possibly make substantial profits? The answer, analysts say, is simple: Prison tech companies have increased fees to recoup lost revenue from the commissions. "Rather than actually selling phone service and making money as a phone company," Wagner says, "the phone calls are just a gimmick in order to charge the fees, because that's where the real money is."
Securus appears to be getting rich from the fees, which are not included in sheriffs' commissions. "The companies playing the fee game look generous because they are promising to share up to 99 percent of the rate revenue with facilities," Wagner wrote in a June report. "But that 'generosity' is only possible because the company is hiding the revenue it collects from fees."
Investors still seem enthused. In 2013, Abry Partners of Boston bought a major stake in Securus for $640 million, valuing the company at around $1 billion. At the same time, Securus has expanded into a variety of new services, including video visitations and electronic monitoring. Over the past 39 months, Securus has purchased 13 companies, and it recently opened a 10,000-square-foot "technology center" to show off its new products.
But Securus's recent growth might be cut short by the new regulations. In the lead-up to the FCC's decision, dozens of Americans have sent letters to Washington urging action. The prison phone business "is rife with greed, shameless profiteering and the exploitation of vulnerable consumers," wrote Michael Hamden, a lawyer in North Carolina, earlier this summer. "Industry executives have colluded with correctional professionals to bilk millions of dollars from prisoners and their families."
Joanne Jones agrees. Recently, she wrote Smith two letters, urging him to reduce the cost for families trying to talk to their loved ones behind bars. Smith, she says, has not yet responded to her. (He also declined to comment on Jones's case.) "It makes me ill," Jones says. "Their fees and their rates are unethical and immoral, and I just don't understand how they can get away with it."
Eric Markowitz is a senior writer with the International Business Times. Follow him on Twitter @EricMarkowitz.