Aliens chose Devils Tower in Wyoming as their landing site in Close Encounters of the Third Kind. President Teddy Roosevelt made it America's first national monument, and later a taxidermist for the American Museum of Natural History (AMNH) in New York visited the spot to collect mule deer specimens for a habitat diorama.
The diorama, completed in the 1940s, is now one of at least 117 at the museum, and Michael Novacek's favorite display. "I can almost feel the air. It's so perfect. The little amount of haze, the clouds floating by. It's so transporting," he says during a recent visit, without looking away from the diorama. A deer stands perched with its majestic antlers framing the Devils Tower rock formation painted in the background. Another deer sniffs the sloping ground behind a needley shrub. Novacek, the museum's senior vice president and provost for science, folds his arms, shakes his head and says, "Just amazing."
Since museums began constructing them more than a century ago, habitat dioramas have carried millions of visitors to other times and places. The mule deer display triggers such an emotional response from Novacek because it reminds him of when he was a graduate student, studying extinct mammals near Devils Tower. Not that one needs a personal connection to feel its power. A few display cases away, visitors are practically climbing over one another to get a better look at the jaguars. There's a chorus of whoas and oh my gods, and one kid says with awe, "It looks so real!"
Dioramas arose in the late 1800s, largely out of a desire to return to nature following the Industrial Revolution. "These are what you might call the earliest version of virtual reality," says Stephen Quinn, who recently retired as senior project manager and longtime diorama artist at the AMNH. The displays consist of taxidermied animals, foreground props and artfully painted panoramic backgrounds. More than just works of art, dioramas are true to science; for decades, artists and scientists went into the field to collect specimens and their surroundings and replicate them exactly as they appeared. "This sense of place and this sense of reality and a personal encounter is so strong that they are a real powerful medium for teaching science," Quinn says.
The form peaked around the 1920s, and interest began waning after World War II. Today, dioramas are as endangered as many of the animals they portray. Since TV sets entered living rooms, and with so many subsequent technological innovations, natural history museums have agonized over what to do with their increasingly antiquated-seeming habitat dioramas. Willard Boyd, former president of Chicago's Field Museum of Natural History, wrote in 1999 that dioramas "are often viewed by today's visitors as a dead zoo located in a dark tunnel."
Museum specialists call it the "diorama dilemma," and they've struggled to solve it for decades. Some museums have supercharged their century-old displays with gaudy interactive and multimedia features. Others have left them alone and allowed them to fall into disrepair. The worst offenders have scrapped the old dioramas, pillaging them for parts and banishing their remains to storage or garbage dumps.
There are examples from all across the country. The California Academy of Sciences in San Francisco closed in 2003 and reopened in a Renzo Piano-designed building in 2008 with only one of the two diorama halls surviving the move. Around that time, the Smithsonian's National Museum of Natural History in Washington, D.C., closed two diorama halls and reopened them with video screens, interactive features and stand-alone specimens where the dioramas had been. "From the beginning, I didn't like the decision to dismantle these exhibits," says Frank Greenwell, former chief taxidermist and conservator at the Smithsonian, where he worked from 1957 to 1999. "I retired rather than be a part of dismantling these dioramas. I was not alone with this opinion."
When the Grand Rapids Public Museum in Michigan moved to a new building in 1994, it abandoned many of its dioramas, locking them inside its old facility like a mausoleum. They remained largely untouched until 2012, when the museum granted an artist, Alois Kronschlaeger, permission to remove the glass and manipulate the displays for an installation. Curators warned him that the animals contained arsenic. "It's almost like [being] a grave digger," he says. "You open up a tomb that was closed, in this case, for five decades."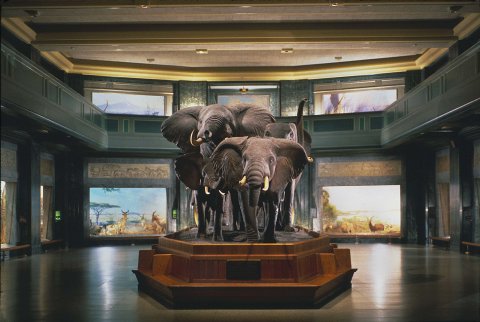 And as part of a restructuring in the 1980s and '90s, the Field Museum in Chicago hired "exhibit developers" and children's museum experts to oversee scientifically trained curators. The dioramas survived, albeit with added animal noise sound effects, but the shifting focus to more "edutainment" displays divided staff and made headlines. "The natural history museum as a unique kind of cultural institution—as a place for aesthetic and historical appreciation—has been lost," said a 2009 article in The Chronicle of Higher Education.
The public's view of dioramas has shifted, too. In an article titled "Teddy Bear Patriarchy," published in the journal Social Text in the mid-1980s, feminist scholar Donna Haraway criticized dioramas as trophy rooms for rich, white, Western men. Native American groups have called for the removal of certain "human" dioramas, including at the University of Michigan Museum of Natural History. And at the Oakland Museum of California, a 2008 study found that 11 percent of visitors questioned said they felt uncomfortable gawking at dead animals.
The "diorama dilemma" is now unfolding at the Bell Museum of Natural History at the University of Minnesota. Last year, Quinn, who has worked as a consultant there, sent an urgent message to friends and colleagues after he learned that the museum would be moving to a new location and chopping up some of its century-old dioramas for rearranging and leaving others behind. "With all my heart, I believe this plan, if acted out, is a grave mistake, and that history will look back on this action as a great and tragic loss," he wrote. The museum had constructed its building specifically to house those dioramas. In a Facebook post, he likened the plan to ripping Michelangelo's frescoes out of the Sistine Chapel.
Bell Museum Director Susan Weller says staying put is not an option; the building is outdated, lacks visitor parking and is far from curator offices. Installing proper air conditioning alone would cost $20 million, Weller says, which "does nothing for the visitor experience." Moving means that more visitors can have access to the dioramas and experience them in better conditions. "There are people who look at [dioramas] as a dead, boring zoo, and it hurts when they say that," she says. "But I have to give it to them. The way they're currently displayed, they do not speak to the 21st century audience."
The Bell Museum will break ground on a $57.5 million facility next summer and open in 2018. Eleven of the 16 large dioramas will likely make the move. It is still being decided exactly how they will look when they arrive, but curator Don Luce says, "There will be some probably very simple experiential elements that will be added to that area in front of the diorama that will give people a sense of being in the picture," such as rocks or antlers available to touch, and "a sound environment."
But there are some signs that just maybe the curators are wrong. In April, Chicago's Field Museum crowdfunded $155,000 in a single month to construct its first new diorama in at least 25 years, using animals mounted in 1896. Plus, climate change and environmental threats present opportunities to make dioramas more relevant. After all, some of the real habitats that the AMNH dioramas depict, such as coral reefs and parts of Alaska, look much different today. The Oakland Museum finished repurposing its dioramas last fall in ways that "move beyond depictions of idealized nature," a senior exhibition developer has written, and "represent the enormous impact that our species has on the world." Taxidermy is also experiencing a comeback—this spring's World Taxidermy & Fish Carving Championships had 571 entries from 48 U.S. states and 14 countries.
"With computer interactive display in a natural history museum, you can do the same sort of things on your laptop at home," Quinn says. "The thing that natural history museums provide that is such a unique experience is showing you the real thing.… That kind of personal encounter cannot be experienced through modern media."
Those worried about the future of dioramas should visit the Hall of African Mammals at the AMNH on a rainy summer day. The grand two-story room has dark marble walls; a ring of wooden benches surrounds a crowd of elephants at the center. Kids on field trips in matching shirts stream from case to case, breaking from the hands of their assigned buddies to gesture excitedly at the giraffe, its head rising above the display window frame. A young boy pounds his chest, and his reflection aligns with a nearly 100-year-old gorilla doing the same. For an instant, the diorama appears to come to life. Then the boy shouts, "Next!" and leads his herd toward the nearby Serengeti.