In the late 1980s, Yonkers was in chaos. After decades of using public housing to illegally segregate its minorities, the city—just north of the Bronx in New York—faced judgment from a federal court. Yet after the order to desegregate came down, Yonkers refused to let go of the past. Politicians whipped up outrage among residents, and council meetings were mobbed with hordes, furious that minorities would no longer be sequestered and screaming insults and disrupting the proceedings. Those politicians willing to accept the court's decision were harassed and received death threats. Meanwhile, the federal judge overseeing the case was issuing fines hefty enough to bankrupt Yonkers if it did not comply.
This real-life turmoil is the subject of David Simon's new six-hour miniseries for HBO, Show Me a Hero. Directed by Paul Haggis, Hero stars Oscar Isaac as Nick Wasicsko, an ambitious, young politician caught in the maelstrom, plus Catherine Keener, LaTanya Richardson Jackson, Winona Ryder, Bob Balaban and Peter Riegert.
Simon initially took on Hero—based on a 1999 book by Lisa Belkin—back in 2001, just as he was starting The Wire. He subsequently shelved it for one time-sensitive project (Generation Kill, about the Iraq War) and then another (Treme, about the aftermath of Hurricane Katrina)—but despite its long gestation, Show Me a Hero resonates uncomfortably in 2015, as it explores the political gamesmanship and struggles behind America's racial and economic woes. "I somehow had a clue that the American problems of race and class were not going to go away," Simon says wryly.
Surveying a current landscape filled with paranoia-fueled debates over health care and immigration, plus Tea Party hostility and the racial strife in cities such as Ferguson, Missouri, and Baltimore that captured headlines during filming, Simon sees many connections back to Yonkers. "There's the permanence of the racial component with this overlay of 'I should just be left alone to make my money and do what I want, and I don't have any responsibility to the health of the greater society.'"
The Yonkers saga began as a fight over school segregation, but the schools were segregated because the city had spent decades using federal money to isolate minorities. Almost the entire black population had been shoved into housing within 1 square mile, in a city more than twenty times that size.
The Justice Department, along with the NAACP, sued Yonkers in 1980. Their win in 1985 meant Yonkers had to create desegregated public housing within the city's white communities. White residents were infuriated, yet insisted it wasn't about race but about the culture fostered in public housing. Recalcitrant officials stalled...and stalled...and stalled some more. As the miniseries begins, local politicians who want to preserve the status quo are pushing for an appeal to the Supreme Court, even though their lawyers have told them they will continue to lose.
NAACP lawyer Michael Sussman (played by Jon Bernthal) was involved in the segregation case from 1980 until it finally wound down in 2007. He tells Newsweek that no matter what Yonkers residents claimed, "this case is about Northern racism—what it looks like and continues to look like."
But Angelo Martinelli, the incumbent mayor in 1987, tells Newsweek it was about politicians like Hank Spallone (played by Alfred Molina) "whipping up a mob because it was the easy and popular thing to do, instead of looking at a problem to find solutions."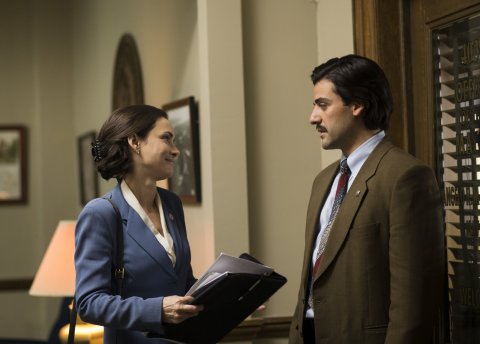 Martinelli (portrayed by Jim Belushi) was defeated by Wasicsko in the following election, largely because Wasicsko exploited Martinelli's refusal to support the endless appeals. Later, though, Wasicsko changed sides, even standing up to Spallone and other bullying extremist politicians.
But Show Me a Hero looks beyond the political battle to show how the tumult affected the citizens of Yonkers. "I see a number of heroes," author Belkin tells Newsweek, pointing to people who moved from the projects into hostile areas, despite knowing that their new neighbors had fought vociferously to keep them out. She also holds up a woman named Mary Dorman (played by Keener), who adamantly protested the desegregation plan at first. When Dorman saw how hateful her side had become, she reversed course and worked to build a sense of community with the newcomers in her neighborhood. Belkin says Dorman initially complained when she read about herself, until she was shown the notes from Belkin's research and her interviews. "She said possibly the bravest thing you could say," Belkin recalls. "'You are right—I didn't recognize the person I used to be, and I didn't like her very much.'" Simon says he loves how some of the heroes are "quiet bureaucrats." Oscar Newman (played by Riegert) designed 200 units in townhouses—rather than impersonal high-rises—to make public housing residents feel invested in the community and encourage people to see the homes as a legitimate part of the neighborhood. (Simon adds that 200 units had a minimal impact on desegregating a city of 200,000 — and that none of the imagined nightmares came true.)
When Simon first signed on to develop the miniseries, he called a former newspaper colleague, William Zorzi (then a Baltimore Sun metro editor), and pestered him until he became a co-writer and executive producer. Zorzi interviewed many of the participants and quickly realized that while the political battle was riveting, the story's centerpiece "was really the women of Yonkers," like Dorman and others portrayed on the show. "They are the human faces who show what is at stake," Zorzi says.
Simon and Zorzi knew that telling those stories meant narrowing the political fight to focus just on the city's refusal to accept the order for public housing, instead of including the equally divisive issue of school desegregation.
"Frankly, it's a delight to have six hours on HBO to discuss the issues of public housing and hyper-segregation," says Simon, who adds that he didn't want to be too preachy or "stack the deck in a polemical way." As a result, many of the show's most wrenching speeches are taken directly from the historical record.
It's a history that remains frighteningly relevant. "It's deeply depressing that I've spent my whole life working on these issues, yet this miniseries is so necessary and feels so current," says Sussman.
So current, in fact, that after what happened in Ferguson and Baltimore, the Obama administration took a cue from Yonkers and announced a plan to require cities to use federal housing funds to reduce segregation, as well as a new voucher program to help people leave public housing for better neighborhoods. Simon sees the fear-mongering in the Yonkers council as a perfect metaphor for the current U.S. Congress. "A lot of the writing about our political system—I'm looking at you, Mr. Sorkin—is aspirational," he says, referring to Aaron Sorkin, director and creator of the political drama The West Wing. "Sorkin's got remarkable chops, but his political universe is Father Knows Best. I think it's almost a subversive act to say, 'Here's politics. No, come closer, smell.'"