Toward the end of July, Turkey's President Recep Tayyip Erdogan went to war. On his orders, 40 jets pounded strongholds in northern Iraq belonging to Kurdish separatists, killing at least 190 militants, according to the Turkish military. Turkish police also rounded up 1,050 terrorist suspects in raids all over the country—some of them supporters of ISIS and radical leftist groups, but over 80 percent of them suspects linked to the Kurdistan Workers' Party, or PKK. At the same time, Kurdish militants ambushed army vehicles, shot policemen on the streets of Turkish cities and bombed police stations, killing at least 13 in the bloodiest fortnight of Turk-Kurd violence in decades.
Just months after Erdogan came within a whisker of striking a grand peace deal with the Kurds, which would have ended a 30-year-old insurgency in southeast Turkey that has claimed nearly 40,000 lives, the war is on again. "It's not possible for us to continue the peace process with those who threaten our national unity and brotherhood," Erdogan said as he announced the airstrikes in retaliation for PKK attacks on Turkish soldiers.
The switch from near-peace to all-out war has not only been sudden—it is also a radical U-turn for Erdogan and his conservative Islamist AK Party. For most of his 12 years in power, Erdogan has been an ally of Turkey's 20-million-strong Kurdish minority. "I know how my Kurdish brothers have suffered," Erdogan told a rally in Diyarbakir, Turkey's biggest ethnic Kurdish city, in 2011. Ditching decades of nationalist distrust, Erdogan declared an end to forcible assimilation of the Kurds and legalized Kurdish-language television stations. And this February, his top lieutenants sat down with PKK representatives in Istanbul's Dolmabahce Palace to hammer out the details of a full disarmament of the insurgent group and negotiate its full withdrawal from Turkish soil.
"The talks came very, very close to a breakthrough," says one senior Western diplomat in Ankara who followed the peace process in detail. "But the AK Party leadership took a decision to stall a grand deal on the Kurdish question till after [parliamentary] elections in June.… They were saying to the Kurds: You vote for the AK Party, and we'll give you what you want at the negotiating table."
Erdogan said as much when he addressed a rally in Gaziantep in March. "Are you ready for a decisive settlement [to the Kurdish question]?" Erdogan asked supporters. "Then, brothers, give us 400 deputies and let this issue be resolved peacefully."
The problem was that Turkey's Kurds didn't listen. They deserted the AK Party in droves and voted instead for a new, upstart pro-Kurdish movement called the Peoples' Democratic Party, or HDP. In a shocking result, the HDP scored 13 percent of the vote, passing a 10 percent threshold that allowed the party to enter the parliament with 80 MPs—and depriving Erdogan's AK Party of an overall majority for the first time since 2002.
Overnight, the AK Party turned its rhetorical and political guns on the HDP and its charismatic young leader, Selahattin Demirtas. Deputy Prime Minister Yalcin Akdogan—who represented the government in the Dolmabahce talks—denounced the HDP as a "front" and "subcontractor" for the PKK, which is designated a terrorist group by Turkey and the United States.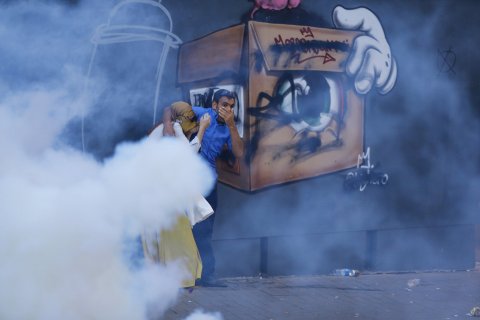 It was the PKK, though, that pushed rising tensions into violence. On July 16, the group, which is headquartered on the Kandil Mountain range in northern Iraq, announced the end of a two-year-old cease-fire and days later began killing Turkish policemen. When a suicide bomber trained in Syria by ISIS killed 32 young pro-Kurdish student volunteers as they gathered in the border town of Suruc, Turkey, the PKK's response was to blame the Turkish security services for allowing the attack to happen, and it retaliated by killing four Turkish soldiers. The Turkish state's response was swift and devastating—airstrikes against ISIS targets inside Syria, as well as PKK targets inside Iraq. Ankara also finally succumbed to months of U.S. pressure and allowed U.S. warplanes to use the Incirlik Air Base in southeast Turkey to wage an air campaign against ISIS.
Though the PKK undoubtedly began the shooting war, it's also true that conflict with the Kurds suits the AK Party's electoral purposes. So far, Prime Minister Ahmet Davutoglu—a close Erdogan ally—has failed to strike a postelection coalition deal with any opposition party. Those talks are ongoing. But a more radical way forward, reportedly favored by top AK Party figures including Erdogan himself, would be to break the coalition deadlock by calling for new elections. It's a high-risk strategy—but if the AK Party manages to regain a large enough majority, Erdogan can press on with his pet project of rewriting Turkey's constitution to create a French-style executive presidency, thereby giving himself sweeping new powers. "Erdogan asked himself what had prevented him from exercising full executive power," says veteran commentator Murat Yetkin. "The answer is the HDP. If the HDP can be pushed back under the 10 percent threshold in a new election, the AK Party can rise again and the problem can be solved."
Clearly, the AK Party is counting on renewed conflict with the Kurds to discredit the HDP. In the wake of the PKK attacks, Erdogan called for Demirtas and the HDP's MPs to be stripped of their parliamentary immunity so that they could be investigated for "links to terrorist organizations." The newly minted parliamentarians of the HDP, for their part, welcomed the suggestion and even moved to voluntarily surrender their immunity—and suggested that all other MPs do likewise. They also lodged a cheeky counterblow, petitioning for a host of top AK Party officials to be investigated for corruption and enriching themselves while in office. Clearly, all hope of a true reconciliation with the Kurds for the time being has taken second place in Erdogan's mind to destroying the HDP.
"Erdogan began disliking the peace process with the PKK when the HDP emerged as an obstacle for his presidential ambitions," says Mustafa Akyol, author of Islam Without Extremes: A Muslim Case for Liberty . "Those ambitions come first, in other words, and peace is not very welcome when it does not serve [the AK Party's] political purpose."
Renewed hostilities worry Turkey's allies—and complicate the U.S.-led efforts to combat ISIS. In Syria, Kurdish fighters known as the People's Defense Units, or YPG, are the main bulwark against the expansion of ISIS—and have been receiving weapons, air and intelligence support from the United States. But with the YPG closely allied with the PKK, Ankara is deeply wary of anything that strengthens Syria's Kurds, who also have begun establishing self-ruled cantons all along the border with Turkey. Ankara vigorously opposes these, lest the Syrian Kurds' independence inspire their ethnic brothers in Turkey.
"Ideally," says the Ankara-based Western diplomat, "the Turks would like to see [ISIS] and the Kurds fight each other into the ground—then come along and whack the winner."
It's hard to blame Erdogan for responding to PKK attacks. But though Kurd-bashing may suit the AK Party's short-term political ends, it's potentially disastrous for Turkey. In the years of Erdogan's rule, Turkey's gross domestic product has tripled, and the country has acted as a rock of stability as its neighbors, from Iraq to Greece, have been overwhelmed by turbulence. For the Erdogan generation, the old tribal differences between Turk and Kurd that saw the southeast of the country turned into a vast militarized zone in the 1980s—and millions of Kurdish villagers expelled from their homes—were set aside in favor of making money and pursuing the good life. Renewed war risks escalation into nationwide conflict that could derail everything Erdogan created—from Turkey's prosperity and stability to his own legitimacy.