The first time Pieter Langendijk and Marcella van Huisstede got married, the ceremony took place at Burning Man, in Nevada's Black Rock Desert, 5,200 miles away from their home in the Netherlands. There was no white dress, no parents, no drunken uncles, no vows. The bride wore a black crop-top, veil and tulle skirt. She used a wood-veined parasol to block the sun. The groom donned a white linen shirt and pants, black sunglasses and a turban.
Marcella's parents weren't pleased. Not only was their daughter marrying a man 20 years her senior, but they wouldn't be there to witness it. Not to worry, she told them. We'll get married again next year too. And the year after that. And the year after that.
Pieter and Marcella made this decision not long after he proposed to her, in 2010. Years before that, they'd separately come to the conclusion that conventions are meant to be ignored; both swear that they painted "Fuck the System" on their bedroom walls at age 13. They wanted to get married, but their way. "I told him I think it'd be nice to go and marry between dolphins," she says. "Or in Thailand; at a festival; in the bathtub." And he said, "Let's do that."
So in 2011, the two made a pact: We'll marry every year, in a different place. Wedding No. 2 was in Zanzibar, in 2014. And on August 15, they did it in Amsterdam, in front of all their friends and family. There was a garden, a teepee, a tree house and a campfire. This time, Marcella's parents got to watch. Next time, maybe not.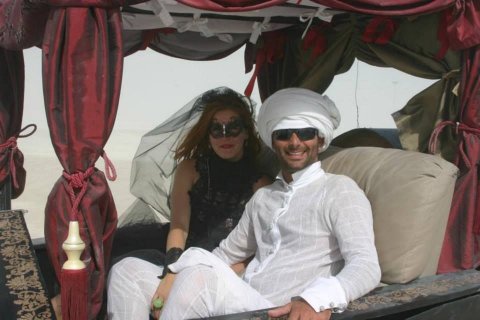 My Boyfriend Has to Own a Phone
Marcella grew up in the rolling hills of rural Holland, in a small village. She studied hospitality in school and, at 19, landed an internship at a hotel in Amsterdam. Not long after she started, though, her mom was diagnosed with cancer, and the two moved to Amsterdam so her mom could get treatment at a hospital that happened to be near a little waterfront café called Langendijk. She and her mother stopped in for a meal. The café was beautiful and sunlit, and Marcella got to thinking: Wouldn't it be nice if my internship were here? I could visit her every day. She walked in and asked for a job. She got one.
The owner of the café was Pieter Langendijk. When they first met, Marcella wasn't interested. She was convinced Pieter was gay, because he was so affectionate with the café's manager. Plus, she had a boyfriend.
Pieter wasn't gay; he had a girlfriend, and when they broke up, he quickly turned his focus to Marcella. He wooed her with little notes left around the restaurant: "I like you" or "Hey you again." They made her smile. She told her boyfriend she was falling for a guy at work. Then she confessed she was in love with him. A week later, Pieter and Marcella moved in together. She was 20. He was 40.
Because of their age gap, most of Pieter's and Marcella's friends were skeptical. But Pieter became increasingly convinced he had finally found the right person for him. He had been through plenty of relationships, and he had a very specific idea of what he wanted in a woman: friendly, intelligent, sporty, empathetic; someone who valued independence and liked sex. "She had all those things and at a very young age," he says.
Marcella had a list too. Her future husband had to cook. He had to have a phone ("My first boyfriend had no phone"). He couldn't be a soccer fanatic or a country dancer. And whoever it was, he had to marry her by age 25. By the time she met Pieter, 180 requirements were on Marcella's list. (One day, they went through them all, one by one, with red and green markers. Pieter met 153 of her conditions.)
Age gap or no, Pieter and Marcella came to believe they were right for each other. "Every relationship I've had got better and better," Pieter says. "But what I experienced right from the start with Marcella was this feeling that this couldn't get better anymore."
Betrothed at Burning Man
It wasn't always bliss. Weeks after they started dating, Pieter and Marcella went on a skiing holiday in Austria. Pieter had no interest in snowboarding, but she talked him into trying it. He struggled through the first day of lessons, then decided to employ a technique called neuro-linguistic programming; it involves saying something loudly to wire the brain's neurons and accelerate learning. Which is to say he spent the day on the slopes screaming at himself. "Everyone was looking at him, like this guy is crazy," she says. "I didn't want to be with him anymore. If we were in Amsterdam, I would have left."
A few months later, they went on another holiday, this time to Greece, at the invitation of one of Pieter's friends, who lived in a van on the beach. The quarters were close. Pieter's pal snored. The couple had to sleep on skinny, separate mattresses in the van. At night, they held hands across the gap.
Pieter had brought a ring with him. One day, he and Marcella were walking on the beach. He was going to run back to the van to grab a couple of beers, he said. He came back with the ring and a proposal. Marcella said yes. The band was way too big for her finger, but she kept it on day and night, crooking her finger as they swam in the Aegean Sea to keep it from falling off.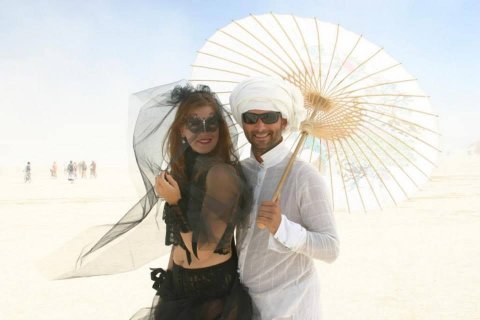 It was Pieter who suggested Burning Man for the first wedding. He'd been to the counterculture festival the year before, and it seemed like a "fantastic" place for nonconformist nuptials. He knew a Dutch artist named Dadara who was planning to travel to Nevada and display a giant, gold thumbs-up button for a Facebook-inspired piece he called Like for Real . Pieter got permission to have the ceremony on the like button, using the thumbs-up as an altar. The couple asked Dadara to officiate and invited two close friends from the Netherlands. As a sandstorm approached, Pieter and Marcella exchanged their vows. "You can take the blue like and stay in reality—nothing changes and you can believe whatever you like, it's very safe. Or you can take the red like..." the minister said, but the howling wind drowned out the rest of his ceremony. The couple chose red. They downed shots of tequila and glasses of champagne. A Venetian gondola on wheels pulled up. Pieter and Marcella rode off into the distance, on a "honey sail."
Later that night, they set the thumb on fire.
'Her Shirt Was Soaked in Blood'
A few months after Pieter and Marcella returned from Nevada in 2013, they went to Zanzibar to escape Amsterdam's gloomy winter. They rented a car, stayed at a local resort and decided to venture out to a romantic restaurant one night, careening down an unlit highway in Africa. As they neared the village of Stone Town, a car approached in the other direction, flashing his lights at them again and again, blinding Pieter and Marcella and maybe trying to warn them about something.
By the time Pieter slowed down, it was too late to avoid the broken-down truck in their lane. Its lights were out. There were no reflectors. The vehicle was just a ghost in the middle of the road, and Pieter and Marcella's car slammed into it at 40 miles an hour. Their car was totaled. Marcella's neck was sliced open. Pieter says the wound stretched from her chin to the top of her spine. He could have stuck his fist in the opening. There were no ambulances. They had no idea how to find the nearest hospital.
Pieter crawled out of the car; he pulled Marcella out as well. He told her to tilt her head toward her shoulder to keep the wound closed. He begged her to stay awake. A van stopped. Pieter ran to it. "You're going to bring us to the hospital," he barked at the driver. A girl inside the van spoke Swahili and English and had a phone. "Please come with us," Pieter said. "I need you to make phone calls." He loaded Marcella into the van and ran back to his totaled rental. He grabbed the locks of Marcella's strawberry blond hair, lopped off in the wreck. "Don't ask me why," he says.
The nearest hospital was 90 minutes away. Pieter held Marcella's head in place the whole time, talking to her, keeping her conscious. He used the telephone to ask the resort manager to help him find a surgeon. "It was a hell drive," he says. For Marcella, everything happened in slow motion. That whole ride, she knew she was near death. Just staying awake, she says now, "was like a marathon for me." She spit blood and glass out of her mouth.
Pieter and Marcella arrived at the hospital. He lifted her into a broken wheelchair, hurried past homeless people sleeping in the hallway and laid her down on a bed with no sheets. The doctor prepared the operating room and administered anesthesia. Marcella screamed as she passed out, certain she was dying. The doctor cleaned her massive wound and sewed her back together. Pieter stayed awake that night, batting cockroaches away from his sleeping wife.
A Grand Bohemian Affair
Marcella spent the next two years in recovery. Nightmares haunted her dreams. For closure, the pair decided to go back to Africa in 2014, for their second wedding.
Pieter emailed the owner of the Zanzibar resort, and he happily agreed to host a ceremony. They studied the local customs and invited the villagers and the people from the hospital who'd helped them after the crash. Pieter and Marcella were married on a beach this time. He wore white linen with a green crown adorned with bright red flowers. Marcella wore green-and-black printed tribal robes. Henna tattoos covered her arms and legs. A thick scar ran down her neck. The next day, they went on a weeklong safari.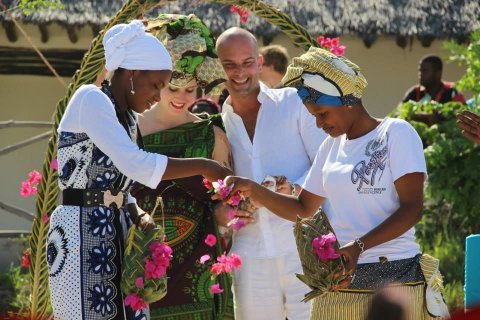 On August 15, wedding No. 3 took place in Amsterdam. Pieter and Marcella were married standing atop hay bales. Two hundred guests were invited. There was champagne and cocktails plus American barbecue and wood-fired pizza.
After that, who knows? Indonesia is on their list. Marcella dreams of a ceremony beneath the northern lights. Pieter wants at least one wedding with "just the two of us." They could get married on an airplane and then jump out of it. But there are no clear plans at this point, he says. "We just want to be really open."
Sometimes friends or family members question their annual renewal of vows. Will the magic fade with each ceremony? Pieter and Marcella say those questions miss the point. Marriage is about emphasizing that you've made a lifelong commitment; re-emphasizing that commitment each year can only make it stronger. "The year you don't want to get married anymore," Pieter says, "you need to talk."