Updated | Lieutenant Colonel Jason Amerine was one of the first U.S. soldiers into Afghanistan. He landed there with an Army Special Forces A-Team in late October 2001, when everyone agreed the war would be brief and the objectives were clear: Avenge the terror of the 9/11 attacks, depose the Taliban and leave. Nearly 14 years later, he went to Capitol Hill to explain why he's still fighting his way out.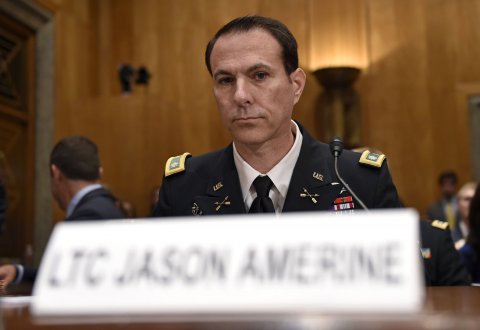 Until this past January, Amerine worked at the Pentagon, where he led an Army team ordered to bring home Sergeant Bowe Bergdahl, a mission that was expanded to include several civilian hostages held by Taliban-aligned militants in Pakistan. Bergdahl had been captive for nearly four years by the time Amerine got involved, making him the longest-held prisoner of war since Vietnam and a key to any end-of-war negotiations. In 2013, Amerine lured the Taliban to a series of secret talks that identified a solution, but then hit a wall in Washington's bureaucratic maze. As he wrangled more with federal agencies in D.C. than with the Quetta Shura in Pakistan, Amerine reached out to Representative Duncan Hunter, a Marine veteran and Republican member of the House Armed Services Committee.
Hunter wrote letters to then–Secretary of Defense Chuck Hagel and President Barack Obama pleading that someone cut through the interagency squabbling between the Army, the State Department, the FBI, the intelligence community and the Department of Defense. When Bergdahl was finally released last year in a trade for five Taliban prisoners at Guantanamo Bay, Hunter complained that a far better deal brokered by Amerine was ignored. Worse still, six Western civilians, including two Canadians and a newborn child, were left behind, held by terrorist groups protected by the Pakistani government, a pivotal U.S. ally in the global war on terror.
This January, the day after an errant CIA drone missile killed one of those hostages, international aid worker Warren Weinstein, Amerine was abruptly escorted out of the Pentagon. The Army informed him that its Criminal Investigation Command (CID) had opened a case against him. His pay was halted, and his retirement was put on hold. Hunter says this was a hit job by the FBI, payback for infringing on the bureau's hostage-recovery turf. The CID would not comment on the case for Newsweek, and the FBI redirected questions back to the Defense Department. Meanwhile, the hostages remain in Pakistan, the investigation of Amerine drags on, and an internal Pentagon investigation is investigating the CID's investigation.
Testifying in June at a Senate hearing with the contorted title, "Blowing the Whistle on Retaliation: Accounts of Current and Former Federal Agency Whistleblowers," Amerine did not relish his rebel status. "I am labeled a whistleblower, a term both radioactive and derogatory," he said. "I am before you because I did my duty, and you need to ensure all in uniform can go on doing their duty without fear of reprisal."
'Let's End This War'
On the morning of September 11, 2001, Army Captain Amerine was walking into a pizzeria in Almaty, Kazakhstan. Osama bin Laden was the obvious suspect behind the day's atrocities, and by the end of that night, Amerine and the Green Berets under his command were mobilizing for war. They deployed the next month, making their rendezvous in Pakistan with Hamid Karzai, the future president of Afghanistan and an emerging leader of the country's southern Pashtun rebels.
Amerine's men faced a more difficult and dangerous situation than their Army counterparts in the north, who landed near Mazar-i-Sharif and rode horseback alongside the CIA-backed Northern Alliance. There was no organized resistance to the Taliban in the southern tribal belt. Kandahar, the country's second largest city, was the de facto capital under the Islamic Emirate, and the Americans expected a fierce battle over the city. Karzai told Amerine that if the Americans could help him liberate Tarin Kowt, the capital of Uruzgan Province about 80 miles north of Kandahar, it would strike an early blow to the Taliban's grip on the south.
Black Hawk helicopters dropped the Green Berets in hostile territory. To blend in and show respect for their new allies, they had grown out their beards and dispensed with the Army dress code. They covered their camouflage fatigues with fleece jackets and hoodies. The night they landed in Uruzgan, each man carried more than 200 pounds of weapons, supplies and gear.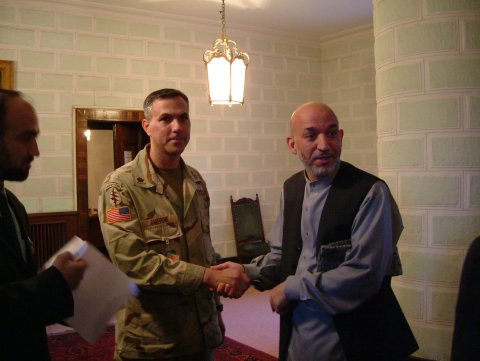 U.S. Army commanders wanted proof that Karzai could organize a force of at least 300 guerillas, and Amerine expected he would have weeks to rest his men and prepare for the first major battle. But less than 48 hours after the Green Berets were dropped into the rugged terrain, the people of Tarin Kowt unexpectedly rose up and killed their Taliban governor. Going on three days without sleep, Amerine's men had one option: Defend the town against a Taliban onslaught with help from just a few dozen Afghans with guns.
They staked out an observation post on a high plateau overlooking a wide valley and the distant mountain pass where the Taliban's counterattack would begin. It was an ideal perch, but when the Afghan guerillas saw the dust trails of so many Taliban trucks racing toward them, they turned to run. "They basically started to panic," Amerine told PBS in 2002. There were no interpreters, and the Afghans did not understand the capacity of the three F-18 fighter jets flying 30,000 feet overhead. "They didn't know what we were actually about to bring down on the Taliban. So to them, we were crazy."
Vastly outnumbered, the Green Berets called in air support from across the region. Fighter jets bombed and strafed the Taliban convoy, pickups exploding in flames one after the next until those remaining eventually turned in retreat. After Karzai's guerrillas fended off a small-arms attack on the town's rear flank, the battle was won. Were it not for the Americans, a local mullah told Karzai, the Taliban would have killed them all. With the Americans now clearing his path to power, Karzai and Amerine agreed on their shared objective: "Let's get to Kandahar, and let's end this war.'"
The American-Afghan coalition was headed south, village by village, when disaster struck. On the morning of December 5, just outside the town of Shawali Kowt, an American B-52 that had received faulty coordinates dropped a 2,000-pound satellite-guided bomb directly on top of Amerine's men. Three Green Berets and 27 Afghans were killed, and every man was wounded, including Amerine, who took shrapnel in his leg. Three days later, the supreme leader of the Taliban, Mullah Mohammed Omar, fled Kandahar on the back of a Honda motorcycle as the city fell to the coalition.
Amerine's team earned three Silver Stars, seven Bronze Stars and 11 Purple Hearts. His story was immortalized in a New York Times best-seller, Eric Blehm's The Only Thing Worth Dying For. In January 2002, he was invited as a guest of President George W. Bush to the first post-9/11 State of the Union address. He visited New York, rang the closing bell of the New York Stock Exchange and did interviews with CBS, Fox and CNBC. He returned to West Point to teach international relations and Arabic to the young men who would take his place in the war. When he moved to Washington to work at the Pentagon, he received the orders that would derail his career.
Turf Wars Trump Real Wars
Then-Private Bergdahl had been stationed just 25 miles from the Pakistani border, and within two weeks of his disappearance there was overwhelming intelligence that he had been smuggled into Pakistan. Two days after he went missing, a regional Taliban commander, Mullah Sangeen Zadran, claimed him on behalf of the Haqqani network, one of the war's most relentless agents of mayhem. Kidnappings were the group's business model; just nine days before they acquired Bergdahl, they lost the man who had been their highest value hostage, New York Times writer David Rohde. Bergdahl took his place as the Taliban and Haqqani's most valuable prize of the war.
Bergdahl had fallen beyond Washington's reach. As an active serviceman, his safety was a Defense Department problem. But the U.S. military couldn't go into Pakistan. Any recovery mission, by legal and diplomatic necessity, had to be a CIA or Special Forces rescue ordered by the White House (such as Operation Neptune Spear, the 2011 raid on Osama bin Laden's compound in Abbottabad, Pakistan).
Amerine's team at the Pentagon began by conducting a thorough audit. "The reason the effort failed for four years," he told the Senate in June, "was because our nation lacked an organization that can synchronize the effort of all our government agencies to get our hostages home." His team "also realized that there were civilian hostages in Pakistan that nobody was trying to free, so we added them to our mission."
That last point was a not-so-subtle jab. Amerine's "nobody" was and is the FBI, the agency responsible for U.S. citizens kidnapped abroad. His Army team had access to a vast human intelligence network the military had spent more than a decade assembling in central Asia, in countries where the FBI had little reach. He wasn't convinced the bureau was making progress, so he added the civilian cases, including two Canadians, to his recovery mission.
His team set three main goals: (1) Develop viable prisoner swap options, (2) bring the Taliban back to the negotiations and (3) fix the government's broken hostage recovery policy. On the first two, they made progress. Army intelligence reported that Bergdahl and the civilians had become a burden on their captors. In the spring of 2014, an unnamed Pentagon official told the Associated Press that the Taliban was "reaching out to make a deal" for the American soldier. But in Washington, federal agencies pursued different agendas, often in secret, sometimes at cross-purposes. And nothing got done.
"The Department of Defense, U.S. Central Command, the Joint Staff, U.S. Special Operations Command, the Department of State, the Central Intelligence Agency, the Federal Bureau of Investigation and the National Security Agency, among other government entities, are all involved in this operation," Hunter wrote to the president that spring. "It is essential that all government elements are working together in coordination."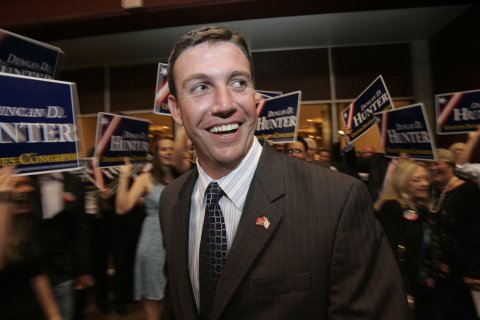 The coordination Hunter sought never came, so Amerine's team forged ahead on its own. It continued negotiations to release all seven hostages in exchange for just one Taliban-aligned drug kingpin, Haji Bashir Noorzai, who is serving a life sentence in U.S. federal prison.
Hunter advocated for the deal, telling the White House and Hagel that "the Department of Defense is best suited and best organized to lead all planning for Bergdahl's release." Officials at the State Department and the Pentagon assured Hunter that both agencies would "coordinate closely" on a "mutually reinforcing" process. "We will continue to keep you and your colleagues apprised of our efforts on [Bergdahl's] behalf," they wrote on May 6, 2014.
Their vows were quickly forgotten, and when Bergdahl was released on May 31 under terms much more favorable to the Taliban, Hunter received no prior notice. Instead of releasing Noorzai, a tribal leader with a long history of cooperating with American authorities (and who was lured to New York under the premise of sharing information about terror financing and then detained by the Drug Enforcement Administration), the government released five Taliban detainees, two of whom had been military commanders.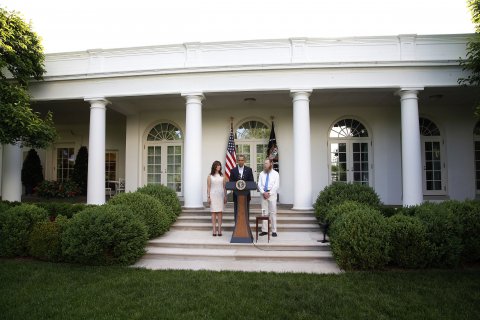 The ensuing political furor obsessed over the threat posed by the released Taliban prisoners and distracted from what had troubled Amerine and Hunter from the start: Six civilians remained in Pakistan, their hopes tied to the FBI, an agency with neither the resources nor the legal authority to operate independently of local governments in South Asia or to bring them home.
FBI Stumped by Facebook