A young woman walked into a Family Dollar store in Cleveland, exhausted, sweaty and desperate. Michelle Knight was 21 years old, and she'd spent the past few hours searching for the location of a crucial meeting. The appointment, with social services, was to discuss how she might regain custody of her 2-year-old son, who'd been placed in foster care a few months earlier after her mother's boyfriend got drunk and, Knight says, became abusive and broke the boy's leg.
It was August 2002—years before smartphones and Google Maps—and after nearly four hours of wrong turns, Knight spotted the Family Dollar store. She bought a soda and started asking people for directions. A woman in the soda aisle couldn't help. The cashier couldn't either. Knight was about to walk out when she heard a male voice: "I know exactly where that is." She looked up and saw a man with thick, messy hair and a potbelly, dressed in black jeans and a stained flannel shirt.
"Oh my gosh, you're Emily's dad!" Knight said. Standing before her was Ariel Castro, the father of a girl she knew from the neighborhood. While Knight had never met him, she'd seen photos of him on Emily's cell and overheard her talking to him on the phone.
Castro smiled. "If you give me a second here, maybe I can show you how to get there," he said softly. "Want me to give you a ride?"
She gratefully followed him out to his car.
Castro's orange Chevy was littered with Big Mac wrappers and Chinese food containers. "Wow, you must live in this place," Knight said, as recounted in her memoir, Finding Me: A Decade of Darkness, a Life Reclaimed. He laughed. Instead of driving straight to the social services meeting, he told her he had to make a quick stop at his house first. They started talking about Knight's son, Joey, and then Castro mentioned that his dog had just had puppies. By the time he pulled up to his house on Seymour Avenue, just a few blocks from where Knight lived, he'd convinced her to take one home for Joey.
A tall chain-link fence surrounded the dilapidated, multi-story home, and trash was strewn across the lawn. Castro drove down the driveway, got out of the car and secured a large padlock on the gate. That puzzled Knight. Weren't they only going to be there for a few minutes? Castro said something about not wanting his truck to get stolen, then helped her out of the car. She saw an old man standing in the yard next door, so she waved. He waved back. Then she followed Castro inside.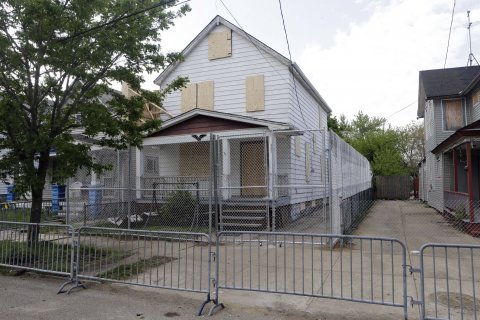 The thick air smelled like stale beer, urine and rotten black beans, and many of the windows were boarded up. Knight couldn't believe Emily spent time here. "She's right downstairs, putting some laundry in the machine," Castro said. "Why don't you come with me upstairs so you can go ahead and pick out a puppy?" Knight hesitated. She didn't hear any puppies. She didn't hear Emily either. But Castro had an answer for everything: The puppies were sleeping, and Emily would be up any moment. He pointed to the staircase, and Knight started climbing.
On the second-floor landing, he directed her to a small bedroom with pink walls. "They're under there," he said, pointing to the dresser. Knight took another step forward and—BAM!—Castro slammed the door shut behind them. He then slapped one hand over her mouth and nose and the other against her head, and pushed her to the ground. Knight started shaking. She couldn't scream. All she could do was stare at the two metal poles on either side of the room, and the taut wire running between them. Castro tied an orange extension cord around her ankles and wrists, yanked her limbs together behind her back, then wrapped the cord around her neck. "You're only gonna be here for a little while. I'm not gonna keep you that long," she remembers him saying as he unzipped his pants and masturbated until he ejaculated on her.
Castro then sat on a stool, breathing heavily. "Now I need you to be still so I can put you up on these poles," he said, shoving Knight onto her stomach. He tied a second extension cord to the one around her limbs and neck, then attached it to the wire hanging between the poles. Suddenly, Knight felt herself being roughly hoisted into the air. Her entire body dangled, face down, in a plank position about a foot above the floor, neck cocked, back arched slightly, hands and feet bound behind her. Castro stuffed a smelly sock in Knight's mouth, covered it with duct tape, blasted the radio and walked out. She heard the door slam shut and his feet pounding down the stairs. Then, nothing.
"The first thing that came to my head was, Holy shit, I'm gonna die here," Knight says. "I'm not gonna be able to hold my son in my hands. I'm not gonna be able to say I love him. I'm gonna miss every moment of his life."
Knight choked back those same fears, day after day, for the next 11 years.
Sadism Sells
Knight closes her eyes for a moment and tilts her head up toward the sun. When she opens them, she says, "Watching the clouds go by is so beautiful!" I follow her gaze and notice that the pale-blue sky is studded with delicate white wisps. It dawns on me that someone who was held captive for over a decade—raped, beaten, starved, chained and rarely let outside—would of course want to stop and watch the clouds float by.
We're sitting outside a restaurant in downtown Cleveland. Knight, who's 34 now, wears a magenta and black-leopard-print blouse, dark jeans and pink lipstick. She gently pats her short blond hair and points to a meaty green animal tattooed around her right wrist. "This is a protection dragon," she says. She raises her left sleeve and drops her shoulder, revealing five large roses cascading down her arm, each one covered in drops of blood. "Every rose is for every abortion that I had in the house."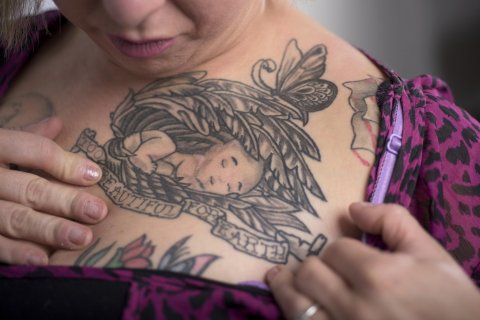 It's mid-June, just 10 days after the two-year anniversary of her rescue from Castro's house. Since then, Knight legally changed her name to Lillian Rose Lee and has become an advocate for victims of abuse and violence. She's also covered her body with tattoos. On her right shoulder, there is a brown teddy bear decorated with red hearts, a design she drew during captivity. On her chest, a baby and the phrase "Too beautiful for this Earth." On her right calf, there's a large face, part skeleton and part flesh. "This tattoo represents my life from the past and my life in the future. It says, 'My heart is not chained to my situation.'" Knight often talks in quotes like this, especially when describing her life today—life after "the dude," as she calls Castro, and the nearly 4,000 days she spent trapped in his grotesque prison of abuse.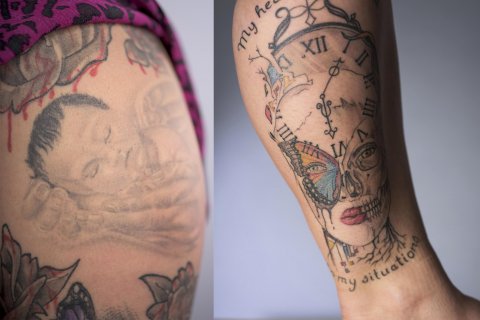 From concentration camps to war experiences, history proves that people can survive unspeakable traumas. Yet there is no neat and tidy explanation as to how they do it. "Core elements are keeping hope up in some way: thinking about the future, and having something to occupy your mind so you're not dwelling on it all the time," says David Finkelhor, director of the Crimes Against Children Research Center at the University of New Hampshire. Some captives learn to dissociate or minimize what they're going through. "Some of the defense mechanisms that are occasioned by trauma may help victims get through really horrific experiences," says Dorchen Leidholdt, director of the Center for Battered Women's Legal Services at Sanctuary for Families in New York. "But when they get out it can make it harder for them to heal and rebuild their lives."
Culturally, we are fascinated by these modern-day Brothers Grimm fairy tales—the details of capture, the sadistic acts of violence, the complete and utter subjugation. But we are largely uninterested in their aftermath. Recovery, which presents a deluge of challenges (post-traumatic stress disorder, depression, substance abuse, chronic health conditions, abusive relationships and subsequent victimization), is far less uplifting than rescue, justice and restoring order to the world. "We want to believe that stories of kidnapping and captivity end, like the Disney version of Rapunzel, happily ever after," says Bruce Shapiro, executive director of the Dart Center for Journalism and Trauma at the Columbia University Graduate School of Journalism. "But life after captivity can be harrowing too. We don't really want to know about that, because in a way, that's more frightening."
There is a cohort of women who know exactly how terrifying recovery can be. They are members of a society they never wanted to join, because membership meant enduring harrowing traumas and surviving to tell their stories. The names evoke some of the most hideous captivity tales on record. There's Jaycee Dugard, who, in 1991, was abducted while walking to a bus stop in South Lake Tahoe, California. Convicted sex offender Phillip Garrido and his wife, Nancy, held 11-year-old Dugard for 18 years in a makeshift compound of sheds and tents behind their house, where Phillip repeatedly raped Dugard and where she gave birth to two children.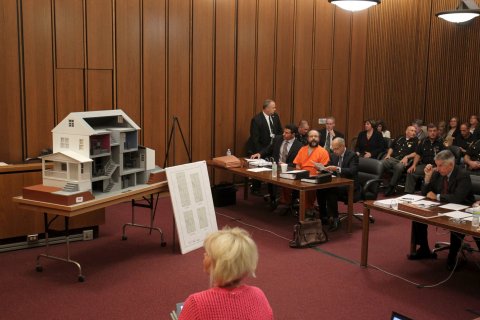 Elizabeth Smart was 14 when, in 2002, Brian David Mitchell plucked her from her bedroom in Salt Lake City and kept her for nine months at a nearby campsite, raping her daily. In Austria, Natascha Kampusch spent eight years of her childhood imprisoned in a cellar. For 24 years, Elisabeth Fritzl's father stashed her in a basement dungeon, where he raped her and fathered seven children. And then there's Knight, whose torture was so brutal that, as Cuyahoga County Prosecutor Timothy McGinty puts it, "no one went through what [she] went through, barring the Korean or Vietnam prisoners, and they didn't go through it as long."
These stories are so darkly fascinating that many have been adapted into books, movies and TV shows. A Lifetime Original Movie, Cleveland Abduction, based on Knight's story, aired in May. The two other women Castro abducted, Amanda Berry and Gina DeJesus, co-authored Hope: A Memoir of Survival in Cleveland. Smart wrote My Story. Dugard penned A Stolen Life: A Memoir. All four books became New York Times best-sellers. Kampusch recounted her ordeal in 3,096 Days in Captivity, and she, Smart and Dugard were also the subjects of TV movies and films.
Hollywood loves to glamorize torture and sexual violence, from ripped-from-the-headlines tales to the 1991 thriller The Silence of the Lambs, about an FBI trainee (Jodie Foster) interviewing a brilliant psychiatrist turned cannibalistic psychopath, and Liam Neeson hunting down sex traffickers in Taken. And that makes it even harder to identify with real-life survivors of real-life cases. Perhaps for good reason: "None of us wants to imagine ourselves as that vulnerable," Shapiro says. " We say, 'They must have been implicated in their captivity in some way.' Or we focus for five minutes on the sensational details and the trial and then stop thinking about it."
It's a lot easier to focus on women like Knight when they're rescued—when their futures are filled with opportunity—than a few years later, when the sparkling promise of being saved may have given way to personal or professional struggles, or depression, or worse.
Recovery for the victims of these monsters is a lifelong maze, sometimes without a very bright light at the end. Survivors like Knight rarely have the chance to talk to someone who truly understands—from personal experience—the extended, twisted degradation they endured. Some are left dangling from a precipice that we'd rather not help them scale, either because we simply don't know how to or because it's easier to pretend they aren't dangling at all.
Sleeping in a Blue Garbage Can
Before Knight wandered into that Family Dollar store and accepted a ride from Castro, she had already survived a childhood mired in hardships. She grew up in a frenetic haze of poverty and filth, where school was an afterthought, soap and toothpaste were luxuries, and Pop-Tarts and SpaghettiOs were as nutritious as things got. She and her younger twin brothers, Eddie and Freddie, spent about a year living in a brown station wagon, and when their parents—who she says rarely held steady jobs—finally moved the family into a house, it was in a neighborhood crawling with prostitutes and drug dealers. They moved often, and with each new home came a revolving door of relatives, roommates and strangers.