The refugees making life-threatening journeys across the Mediterranean and through Europe have a new hero—German Chancellor Angela Merkel. While Europe has largely flailed in the face of the greatest such crisis since the end of World War II, Merkel has provided rare leadership. The most powerful country in Europe expects to take in 800,000 people this year, four times as many as it did in 2014. Instead of tightening border controls and insisting the country has no room for more refugees, as some governments have done, the German government has made it clear that it will welcome large numbers of the people fleeing the conflict in Syria and other troubled parts of the Middle East, Africa and South Asia. Asylum seekers have taken to calling the German leader "Mama Merkel."
The chancellor's most significant move in the crisis was her government's announcement on August 24 that it would no longer apply the Dublin Protocol to Syrian refugees. Under the protocol, refugees are tested to see if they first entered the European Union via another member state. If officials determine that to be the case, they can return the asylum seekers to that state. Germany also canceled all planned deportations of Syrians. The move was welcomed by the European Commission, the executive arm of the European Union, as an "act of European solidarity."
Not long ago, Merkel's image in Europe was less sympathetic. As Greece teetered on the brink of leaving the eurozone, she and her government stood resolute in demanding that the left-wing Greek government accept new austerity measures before it could receive another financial bailout—even if it meant more economic pain for ordinary Greeks. So how to explain what appears to be Merkel's sharp turn toward compassion?
Two key factors are shaping her response to the crisis, say those who know her. The first is Germany's—and Merkel's—considerable experience over the past 70 years of benefiting from the kindness of strangers. After the war, the United States and other former foes of Germany contributed huge financial and practical resources to help the country recover economically and politically. More recently, East Germans—including Merkel, who was born in West Germany but grew up in East Germany after her Lutheran father accepted a pastorate in the Soviet protectorate—were embraced by their West German neighbors after the fall of the Berlin Wall in 1989. "Angela Merkel shows a lot of understanding for people who flee from war and despair," says Stefan Kornelius, author of Angela Merkel: The Authorized Biography. "There is no moral questioning of her motives."
The second factor motivating Merkel has little to do with generosity. Accepting skilled and educated refugees like Syrians is in Germany's economic self-interest. The German population is falling rapidly, in part because of low birth rates, and the German economic machine needs new workers.
Merkel's openness to the refugees will likely have a significant impact on Europe's broader response to the crisis. "Germany has rediscovered leadership," says Mark Leonard, director of the European Council on Foreign Relations think tank. "Germany is the critical power on the biggest issues facing many other countries in the EU." The country has an unusual ability to link disparate issues, says Leonard. "Germany can say, for example, that it will show solidarity with Eastern Europe on Russia because it is a good European. But Germany will also say that those countries need in turn to be good Europeans on the migration issue."
One of the countries least inclined to be what Merkel might consider a good European partner on the crisis—the United Kingdom—had repeatedly insisted it had no room for more refugees. But on September 3, as criticism mounted of governments that stood firm against accepting more asylum seekers, British Prime Minister David Cameron appeared to bow to the growing pressure. British officials told journalists that Cameron had decided that the U.K. should accept thousands more Syrian refugees. Officials said Cameron was responding in part to a series of shocking images of a 3-year-old boy whose body washed up on a beach in Turkey.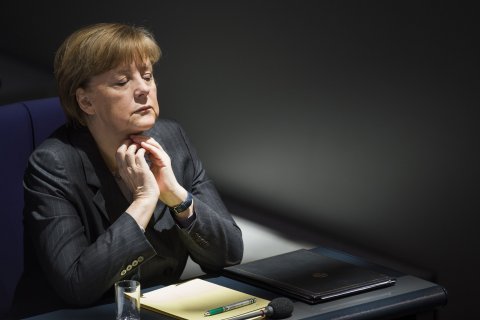 Europe is seeing other signs of a shift, among both politicians and citizens, on refugees. Yvette Cooper, a candidate for leader of Britain's opposition Labour Party, called for Britain to take in 10,000 Syrian refugees even before Cameron made his decision to welcome more Syrians. Ferenc Gyurcsány, a former Hungarian prime minister, hosted several refugees in his home overnight. Volunteer networks are springing up across Europe, offering shelter and food. German authorities have been so overwhelmed by donations of food, water, clothes and diapers at Munich's main train station that they have asked the public not to bring any more supplies.
The intensifying human and political drama of the crisis each day makes it ever more evident that Europe's system for dealing with refugees is overwhelmed and broken. In July alone, 107,500 people were detected at EU borders, more than three times as many as in July 2014, according to Frontex, the EU border agency. More than 2,000 people per day are crossing the border from Serbia to Hungary to enter the Schengen area of visa-free travel, say Hungarian officials, a total of more than 150,000 this year.
The EU's response has been a complete failure, says Zoltán Kovács, a spokesman for the right-of-center Hungarian government. "It does not differentiate between those who are in real need of help. Genuine refugees are pushed together with economic migrants. We are not facing a refugee crisis, we are facing a migration crisis. People are coming here from a hundred countries around the world. It is completely unacceptable that illegal means of movement are now institutionalized."
Making matters worse, old divisions have reappeared. Germany, France and the Scandinavian countries—the liberal core of the original European project—have accepted hundreds of thousands of asylum seekers. Former Communist countries like Poland, Slovakia and Hungary, which have a shorter history of democracy and whose populations are less multiethnic than many Western European countries, are reluctant to accept more than a handful. Hungary and Bulgaria have built razor-wire fences along their borders, and Hungary's prime minister, Viktor Orban, has said the message from European leaders to refugees should be: "Please don't come." In August, Robert Fico, the prime minister of Slovakia, offered to take in 200 Syrian refugees—but only Christians. His stated reason: There was a lack of mosques in Slovakia. In early September, police in the city of Breclav took 200 refugees from a train and used pens to mark the asylum seekers with numbers on their arms. Human rights activists and Jewish groups said the procedure was reminiscent of prisoners being tattooed at Auschwitz. Officials said it was the simplest way to deal with a large number of people who did not speak Czech or English and to keep family members together but said they would stop the practice.
Such incidents highlight how Europe has failed to produce a strategic response to the crisis, says Gauri van Gulik, deputy Europe director at Amnesty International. Merkel is likely to lead a wholesale reform of the asylum and refugee system, says van Gulik. "Germany has recognized that this is inevitable and that migration needs to be handled on a Europe-wide basis."
The memories of 1989, when tens of thousands of East Germans fled through Hungary to the West, are helping drive Germany's response to this crisis, says Julian Rappold, of the German Council on Foreign Relations. "The German media is referencing the experience of 1989 and the solidarity that East Germans received when they arrived in Hungary and Czechoslovakia."
But Merkel's position is grounded in demographics and economics as much as it is in history and ethics, says Leonard. Germans are not having enough babies, and so the population is set to decline from 82 million to 65.4 million by 2080, according to projections by Eurostat, the statistical office of the European Union. Powerful German firms have made it clear they need more workers. It may be no coincidence, then, that Germany has eased the Dublin Protocol specifically for Syrians, rather than for any other population. Forty percent of Syrian refugees now in Greece are university educated, according to the U.N. High Commissioner for Refugees. Many speak English and could be expected to quickly learn German. Syrian refugees who have made it to Europe have often shown remarkable courage and resilience. Now many feel they have identified a country that could give them a fresh start.
Ahmed, 28, a Syrian lawyer who was among thousands of refugees stranded at Budapest's Keleti station in early September, left Syria a year ago. Together with his parents, his wife and their son, he had spent two weeks traveling overland from their temporary home in Turkey to Greece, Macedonia and Hungary. As others marooned at the station chanted "Germany, Germany," Ahmed, who asked that his family name not be published, showed a handful of train tickets to Munich. "I want to live in a country that will give me security, freedom and a future for my family."