In February this year, I made a commitment to spending the next 10 years doing everything I can to make the world a safer place for children. In my role as a UNICEF goodwill ambassador, I launched 7: The David Beckham UNICEF Fund, promising to use my voice and influence to help raise vital funds and to speak up for children who need it most.
After the launch of the fund, I traveled to Cambodia in June to focus attention on the issue of violence and how it affects children. I visited Siem Reap, a busy tourist town right next to Angkor Wat. In the intense heat, amongst thunder and rainstorms, I spent time talking to children and young people about some of the devastating experiences they'd gone through at the hands of the people who were supposed to protect them.
I'd traveled with UNICEF many times before. I'd met children living in the aftermath of Typhoon Haiyan in the Philippines. I'd met children and mothers in South Africa living with HIV. But I'd never traveled anywhere to focus on the issue of violence. This was different. I quickly became aware of how difficult it was going to be to find out about the children's experiences.
At the end of a dusty street, set back from the road behind a big iron gate, I visited a refuge run by one of UNICEF's partners, Friends International, which was a temporary home for around 50 children who've all had incredibly tough lives. Many of the children have been subjected to violence and abuse.
It was very quiet when I arrived, unusually quiet for a place with so many children. I met 18-year-old Saron* first. I sat with her and her social worker whilst she was brave enough to tell me what had happened to her. Saron was abused and raped by her stepfather when she was 15 years old. It was from being raped that Saron became pregnant and gave birth to a little boy.
I saw that Saron was deeply traumatized and she clearly struggles to cope. Her son has been placed in foster care while she stays at the refuge, getting the help she needs to try to overcome what happened and rebuild her life.
I find it devastating to think that any child should have to suffer pain like this, to wake up at night in fear and to have to live with the memories of this type of violence every day, but sadly Saron is not alone.
Every five minutes, somewhere in the world, a child dies from violence. Millions more are in danger of physical, emotional and sexual abuse that could destroy their childhoods forever. Violence is often hidden from view, making children invisible and easy to remain unnoticed.
Another girl showed me around the refuge with Saron, Tavey*, a 13-year-old girl with a bright smile. She was very excited to challenge me to a game of volleyball, laughing as she talked. Despite the happiness she appeared to show, I couldn't help but feel deeply distressed and saddened about what she had been through.
Before she arrived at the center, Tavey had run away from home after being beaten by her brother-in-law. She found herself alone, walking the streets at night, too afraid to return back to her house. To me, this is every parent's nightmarethe thought of someone beating their child so badly that he or she needs to escape and ends up alone, wandering the streets and being put at risk of even more violence. My heart broke that day thinking that anyone could ever hurt someone like her. A stranger saw Tavey and called a dedicated hotline for violence cases like this run by UNICEF's partners in Cambodia, and she was immediately referred to the refuge. Thankfully, she is now safe and happy.
During my visit, I also visited a Friends International drop-in center, another facility supported by UNICEF to keep children safe. Here, children who live on the streets go for a shower, to rest, play and talk to social workers; it's a place to get some help when there is nowhere else to turn. I was shocked to meet teenage girls who have been forced into prostitution to help support their families or to simply survive on their own. Sitting on the floor of the center, the girls told me about their lives, "working" all night and then coming to the center to get some sleep and respite. One of them slept on the floor the entire time I was there, exhausted. The others sat making flowers out of tissue paper and doing origami. It was deeply disturbing to hear how these young girls had grown up without a childhood and were forced to work on the streets.
I asked one of the girls where she would go if she couldn't come to the center, and she said "nowhere." It really hit home at that moment that for these children the drop-in center is their only lifeline. They haven't got anywhere else, and I don't want to imagine what would happen to them if it didn't exist.
UNICEF is working with the government and its partners on the ground in Cambodia and across the world to protect vulnerable children. The amazing social workers at the refuge and center that I met are helping children get off the streets, out of violent homes and back into school. I could see how deeply they care about the children they are helping, and to me, they are heroes.
Nothing could have prepared me for what these children and young people in Cambodia have experienced, and it is devastating to know that children in all corners of the world, in all communities and all countries, are suffering the same violence.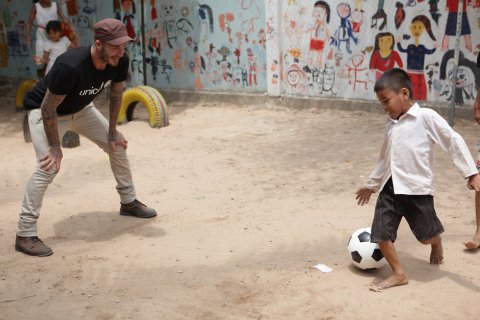 I feel honored to be in a position to do something to help if I can. After listening to Saron and Tavey, I now want to do more to shine a light on what is happening to children across the world. Things have to change. It's time for the world to come together and do more to actually prevent violence against children, not just respond to it when it happens.
If these children are brave enough to tell their stories, then we all have to be brave enough to take on the responsibility to listen to them and do something to help.
Some young people have already taken this step. Eighteen child survivors of violence have addressed a letter to world leaders calling on them to end violence once and for all. The letter comes at a time where the world is about to have a new set of Sustainable Development Goalsa set of goals that can shape the future for all of us for the next 15 years. This is a moment to make sure that world leaders take note of the letter, and make sure that children grow up in a world where they are not beaten, where they are not raped and where they are not neglected or traumatized by violence.
The individual stories from the 18 young people are heartbreaking. Zina, 10, from Ukraine, is a survivor of war; Rabia*, 9, from Pakistan, a survivor of child trafficking; and Ravid, 16, from Cambodia, a survivor of domestic abuse. And they have come forward to fight for a world free from violence.
I think everyone needs to understand what these children have been through, that they hear their stories and that we all do what we can. This September, I will travel as UNICEF goodwill ambassador to the United Nations in New York and will stand alongside the secretary-general to make sure global leaders understand how children are affected by violence and help put children at the heart of the new goals.
I want a world where children grow up safe: safe from war, violence, poverty and preventable disease. I hope others will join me to call on world leaders to put children, especially the most disadvantaged, at the heart of the new global goals and commit to ending violence against children. For Saron and Tavey, for all children everywhere, let's end the threat of violence right now.
Former professional footballer David Beckham is a goodwill ambassador for UNICEF. Names marked * have been changed to protect their identity.
What follows is a joint letter from 18 children to world leaders urging them to end violence against children.
Dear World Leaders,

Every five minutes, somewhere in the world, a child dies as a result of violence.

We are young people from 18 different countries, survivors of violence who have experienced pain and abuse.

There are millions of children just like us.

We have been forced to flee our homes, fight as child soldiers and work as domestic slaves. We have been raped, beaten and attacked in our own communities. We have watched, powerless, as our parents, siblings and friends were murdered in front of us. Memories like these make our bellies burn with fear.

No child should start their life like this.

In September, you will meet to agree new global development goals, a plan of action for the next 15 years. As young citizens of the world, we call on you to come together to build a safer world for children.

We hope that one day the only bruises on the skin of children will be the ones they get from playing in the playground.

You must act now to end violence against all children.

Do not wait another five minutes. Our lives depend on it.

Parwana* (20), Australia; Joao* (18), Brazil; Ravid (16), Cambodia; Laetitia (14), Democratic Republic of the Congo; Sabreen (15), Gaza; Dalds (19), Iceland; Tommy* (16), Ireland; Ashley* (23), Jamaica; Mohammad (15), Syrian refugee in Jordan; Akhrat (16), Netherlands; Babagana* (12), Nigeria; Rabia* (9), Pakistan; Alice* (18), Portugal; Sane* (18), South Africa; Boto* (16), South Sudan; Magu* (17), Spain; Zina (10), Ukraine; Jodie (20), United Kingdom.