Updated | The text was sent to 2.4 million people by Freddie Bologno: "I've texted for DoSomething as Alysha for 3yrs, but I've been struggling. Im trans, Im Freddie!"
Bologno, 27, works at Do Something, a digital organization that helps young people push for social change through social media and text messaging. For Bologno, the text was a way to both come out publicly and start a conversation about being young and transgender. But before coming out to the world, Bologno had to talk to his then-girlfriend, Tile Wolfe. "I just started crying," says Wolfe, remembering the moment Bologno said he wanted to start taking hormones to transition from female to male. "Not because I was sad, but because this was suddenly so real."
Wolfe, 23, has lived in New York for five years and identified as a gay woman. She met Bologno four years ago while standing in line for the bathroom at Metropolitan, a grimy gay bar in Brooklyn. "I said something like, 'I hope to meet you again in a less gross place,'" Bologno recalls. Wolfe remembers the moment as "deeply corny." They've been living together for two years now, alongside Buddha, their chubby gray cat. "We're so in love," Wolfe says, blushing.
Like Wolfe and Bologno, there are hundreds of couples across the country with one or both members transitioning. And while transgender celebrities like Caitlyn Jenner and Laverne Cox have offered profound insights into what a transitioning individual goes through, there is little out there concerning what it's like to transition as a couple, or even what it's like to date as a transgender person or fall in love. "It's quite common for trans people to wonder, Will anyone love me?" says Walter Bockting, a psychiatrist and co-director of the LGBT Health Initiative at Columbia University.
It's an issue Bockting has devoted two decades to trying to understand. He has spent so long studying the LGBT experience because, he says, there's "hardly any research on understanding transgender people as social beings in loving relationships."
To change this, Bockting started Affirm, "a study that aims to learn more about the identity development and health of people who identify as transgender." William Mellman, one of Bockting's Ph.D. students and the coordinator of Affirm, is spending the next 12 months talking with trans people and their partners in New York, San Francisco and Atlanta—the first comprehensive study of its kind.
For Basil Soper, 29, gender identity had always been an issue that was either dismissed or suppressed—especially when it came to confronting his father, who he says was "drunken and abusive." Soper moved out at 16 and found a welcoming LGBT scene in Asheville, North Carolina. Still, Soper was homeless for six months, struggling to find the emotional and financial support necessary to start the transition process. He says he looked for solace in "excessive drinking and drug use."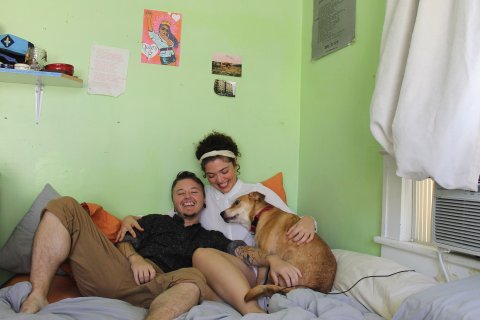 Substance abuse is common among trans people. The Center for American Progress estimates that up to 40 percent of U.S. homeless youth identify as lesbian, gay, bi or transgender, compared with only 5 to 10 percent of youth overall. The same study found that 62 percent of homeless LGBT youth experience discrimination from their families, and they are also 8.4 times more likely to attempt suicide than their straight peers.
Those are statistics Alana Feral, 32, understands well. She tried to talk to her family about coming to terms with her female gender identity several times, but soon realized that "no help was forthcoming." Without money or support, Feral says transitioning didn't seem like an option. Instead, she made the extreme choice to join the Army's special operations forces—an act she describes as a "passive form of suicide." She served for six years, including a stint in Afghanistan as a medical sergeant. Though she still publicly identified as male, Feral says she actively tried to compensate for her inner femininity by "building a character…a mix of the Terminator, John Wayne and Wolverine." But by the end of her tour, the pressure of maintaining the facade was too much: "I remember sitting next to an open chopper door and wanting to jump out."
Though Feral says she had been open with her then-girlfriend about her gender identity questions, when she got back to her home in Asheville, her "body issues and dysphoria made sex very difficult." Ultimately, her girlfriend saw through the mask. "She brought me a dozen red roses, told me she loved me," Feral says, "and broke up with me because she 'didn't want to be a lesbian.'"
Feral says the breakup was a kind of relief, because it confirmed that she could no longer hide her true self, even when she wanted to. It proved to be just the push she needed to start the long transition process.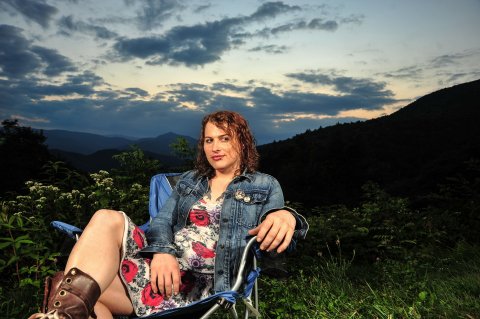 It's a common occurrence in transgender relationships: As trans people start to embrace a new gender identity, their partners often must come to grips with their own sexual identity. Often this can end a relationship, but according to Bockting it can also help both partners become more open-minded about their own sexuality and the labels they put on it.
This is certainly true for Wolfe, who has long identified as a gay woman but now finds herself with the prospect of having a boyfriend. "I guess we're just another straight white couple now," she says with a laugh, though she quickly affirms that she and Bologno will "always be a queer couple."
Soper's current girlfriend, Johanna Campbell Case, had to deal with similar questions when they started dating. Campbell Case says she was very attracted to Soper but had never dated a trans person. "I always felt like I was scratching at the surface of my sexuality, and with Soper I feel like I've had this huge awakening. It's the best relationship of my life."
Campbell Case considers Soper her boyfriend—a designation that's helped him feel more comfortable with his gender identity. "It feels really good to be seen as on par with other men," says Soper. "I'm just like the other guys."
For families of trans people too, seeing their loved one with a partner can be incredibly encouraging. One of the biggest concerns from Bologno's family was over whether anyone would be willing to enter a relationship with a trans man. Having Wolfe, he says, makes the answer pretty obvious. As Bockting explains, "When the family sees a person in love and in a relationship, they can no longer deny that this transition is good for them."
But ultimately, the importance of being in a relationship as a trans person goes far beyond just feeling more socially acceptable. Transitioning is a long, complex and often alienating process: Without support from family, friends or a significant other, it can seem impossible. "I know that this is who Freddie is and always has been," Wolfe says of her partner. "But it takes feeling loved to do this."
This story has been updated to reflect that Tile Wolfe identified as a gay woman and that she is no longer Bologno's girlfriend.