Telecom analyst Susan Welsh de Grimaldo knows better than to watch a presentation by John Legere when her daughter is nearby. "Mommy, he's swearing again!" the girl said the last time she saw the wild-haired man in the black leather jacket in a video on de Grimaldo's home computer. Legere is the CEO of T-Mobile, and if it seems like some aging biker now occupies the company's corner office, the grownups at Deutsche Telekom, T-Mobile's majority owner, probably feel the same way; the 57-year-old Legere once opened a speech at DT's headquarters in Bonn, Germany, by saying: "I got a lot of shit on my mind."
Legere is good at running his mouth, but he's been even better at running T-Mobile. Over the past three years, his attacks against wireless providers AT&T and Verizon—"dumb and dumber," he calls them—and more recently Sprint have forced the $188 billion industry to change. Last year, the company used lower pricing and simpler, more transparent service plans, plus an improving network, to help win 8.3 million net new customers for the "T-Mob"—and a million Twitter followers for Legere. "They've really outperformed," says de Grimaldo, senior analyst at Strategy Analytics, a Newton, Massachusetts, company. "But where does that go from here?"
Try further disruption. Rebranded as "the Uncarrier," T-Mobile has been gleefully trying to disconnect Verizon and AT&T's high margins by eliminating pain-in-the-ass barriers that deter people from changing cellphone companies. Once, we were locked into contracts and even paid outrageous charges for using too much data. Not anymore. "This is an industry that pisses off the customer," Legere said at an employee awards event in Los Angeles earlier this year. "We want to be famous as a company that goes in an entirely different direction."
It's already happening. Today, more than 83 million mobile subscribers have no contracts, up from approximately zero three years ago. And over the last two years, T-Mobile has serially eliminated what it calls "pain points" in mobile service. Among the latest? Extending coverage to Mexico and Canada without added charges. Earlier this year, the company began to allow subscribers to roll over their unused data, an important play for young consumers. As a result, competitors have been forced to cave on some of their more lucrative programs. Upgrading, which used to cost a fortune, is now free, industry-wide. AT&T grudgingly allows its best subscribers to roll over some unused data. And Sprint recently started using soccer legend David Beckham to promote its new no-contract "All-In" pricing plan, which largely follows T-Mobile's lead.
For Legere, it's all business, but things got personal in August after the T-Mobile chief executive criticized Sprint on Twitter. "I am so tired of your Uncarrier bullshit when you are worse than the other two carriers together," Sprint CEO Marcelo Claure tweeted at Legere. His response: "You mad bro?" And then: "Think I hit a nerve at the end of a rough week? Maybe end of the Q is a hard day over there. @T-Mobile numbers speak for themselves."
Legere's rationale for picking fights with Verizon and AT&T is that people love their smartphones but hate their phone companies. "Part of my style is to set a compelling strategy and declare victory," he says. Becoming the Uncarrier gave T-Mobile credibility to channel the bile against AT&T and Verizon and win over customers. Introducing a radically simple pricing plan—and making the iPhone available—gave people a reason to switch.
In the process, Legere has turned his company from fourth-place loser into a rising power that recently overtook Sprint in subscribers. To get there, T-Mobile bought 1.8 million subscribers out of competitors' contracts. That's a costly strategy that led to a string of unprofitable quarters. But sales also jumped 21 percent last year to $29.6 billion. The company's momentum has continued this year. In the second quarter, revenue jumped 14 percent over last year.
By repricing the wireless industry, T-Mobile has also forced AT&T and Verizon to forego billions in revenue to retain customers. According to consultant Chetan Sharma, data pricing plummeted by 77 percent in 2014, even as data usage rose. Now Legere is taking aim at the lush profit margins on cellphone service that AT&T and Verizon have enjoyed, nearly 50 percent in some cases. "It's almost abusive!" he almost yells. Legere suggests those pre-tax profit margins should be more like 32 to 34 percent, which would cost Verizon something on the order of $10 billion.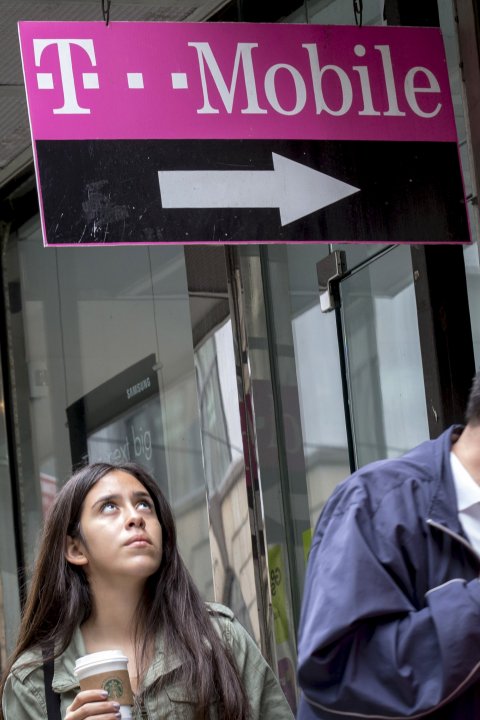 Neither Verizon nor AT&T seem to have the stomach for an all-out price war. And that's exactly what Legere and then-DT boss René Obermann banked on when they first talked strategy in early 2012. At the time, Legere was considering the job. Having turned around Global Crossing, a cable and broadband infrastructure company that imploded in the dot-com bust of 2000, he had a reputation for success. (He later sold the company to Level 3 Communications.) But Legere was also considered a bit of a walking land mine. His informal style didn't mesh with German business culture, and his strategy—guaranteed to lose money initially—didn't sit well with some shareholders. "In the beginning, they were saying, 'What the hell are you doing about this guy? He's wrecking everything.' And [DT] would say, 'Listen, I can't control him.'"
Neither can AT&T and Verizon, which are instead doing the minimum necessary—Verizon just abandoned contracts—to counter T-Mobile's tactics. When analysts asked Verizon Chief Financial Officer Francis Shammo about declining sales and higher customer churn, he averred it was merely noise. "We're not going to chase every customer based on price."
Go ahead and ignore us, says Legere. He thinks his steady stream of new customers can turn into a flood because of the trust the company is building with consumers. The company's rising profits—as much as $7.2 billion this year—are evidence of what Legere sees as a powerful cycle developing. "Growth does lead to revenue, does lead to [operating earnings], does lead to cash," he says. "And I think it's only in the past quarter or two that people started to see that our model works." Case in point: In the first half of 2015, T-Mobile accounted for nearly all of the industry's new subscribers.
Even before he fixed T-Mobile's subscription model, Legere took aim at its culture, with equally good results. In his first months on the job, he spent a lot of time at call centers listening to subscribers interact with customer service reps. At the same time, his management team communicated openly with the work force, so employees understood exactly where the company was headed. "There was a sense that the only thing we could do to screw this opportunity up was to keep doing what the company was doing," says Mike Sievert, T-Mobile's chief operating officer.
To attract young store employees, who are vital to selling phones to their millennial peers, the company nixed prohibitions against piercings and tattoos, and outfitted everyone in magenta T-shirts instead of dorky khakis and collared shirts, à la AT&T. Legere realized that past failures didn't matter to these youngsters. "The average age in this company is 28; there's no institutional memory," he says. At this point, they're more interested in money than a career path. So T-Mobile raised pay in part by handing out shares. "The battle is on the street and in the store" says Jon Freier, T-Mobile's executive vice president of retail.
Last year, Legere also decided that T-Mobile's call centers should be open on Christmas to help customers who received phones as presents. So he spent the holiday at one of the centers, dressed as Santa, and handed out gifts. Today, he says, he makes himself available to employees and customers by email and frequently engages with them on Twitter. "Some of my online rants come back to haunt me," Legere admits. "[I tell people] 'It's very simple: If we suck, fire us.' I get that every day: Dear John, you suck."
Despite Legere's success, T-Mobile still faces a broader strategic problem. The carrier is less than half the size of Verizon and AT&T in an industry in which scale really matters. The only way to close the gap would be to buy or merge. That leaves outfits such as Sprint, Comcast and Dish Network as potential partners. Although T-Mobile has made big improvements in its network, in some places the company is still short of spectrum—the wireless bandwidth that makes mobile communication possible—which it hopes to buy at the federal government's next auction. And de Grimaldo notes that, unlike previous models, the newest iPhone runs on T-Mobile's band 12,700 MHz spectrum, thus expanding the company's marketing potential.
Legere vows that if T-Mobile can get more spectrum, he'll amp up the competitive pressure, and consumers will benefit. "There's so much work to do on solving the problems of this screwed up wireless industry," he says.
Having gone on the offensive in consumer wireless, T-Mobile is also attacking the business segment, where AT&T and Verizon have benefitted from long-term corporate relationships. T-Mobile sees those as vulnerable, and given that the company has a negligible share of an $80 billion market, why not take a shot? "No one is saying that big customers are going to switch to T-Mobile if we're 10 percent cheaper," says Sievert. "But what if we're 70 percent cheaper?"
Legere, of course, puts it more bluntly. "We're bombing their factories. That's what scares the crap out of them."