This article contains graphic images.
The photograph, even though it was taken in the age of the Reaper drone, Instagram and ubiquitous smartphones that create and disseminate images in nanoseconds, arrived with the primitive force of an arrow to the chest. Turkish photojournalist Nilufer Demir's picture of 3-year-old Syrian refugee Aylan Kurdi lying facedown in the sand near the Turkish seaside resort of Bodrum, his outfit of red T-shirt, blue shorts and plastic shoes grotesquely well suited to the kind of carefree excursion a young boy might have been enjoying in such surroundings, swiftly became the defining image of Europe's refugee crisis.
When she came across Aylan's body around 6 a.m. on September 2, Demir "was petrified," she said in an interview with the Dogan News Agency, the organization she works for. "The only thing I could do was make his outcry heard."
Why did this one image, out of the millions taken during the largest movement of refugees in Europe since World War II, prick the conscience of the continent? There's nothing remarkable about it in terms of technique or composition. Its power derives from its terrible normality: that affordable leisure-wear, the apparent peacefulness of the boy's body, the way his face is half-hidden.
The photograph of Aylan has one other key attribute—a sense of absolute authenticity. And in an era when manipulation, mainly through the use of photo-editing software like Photoshop, is as widespread as the means of distributing images, that quality feels especially valuable. The photojournalism community has been increasingly embroiled in a controversy over what degree of digital editing is and is not permissible. For all of its awfulness, the image of Aylan facedown on the beach in Turkey felt to many photographers like an affirmation of their craft.
At the world's leading festival of photojournalism, Visa Pour L'Image, held in Perpignan, France, in early September, the industry's concerns about integrity and authenticity were the topic of many conversations. The event's director, Jean-Franois Leroy, refused to display any work by prizewinners from the World Press Photo contest because he believes the organization does not uphold the essential values of press photography. Lars Boering, director of the World Press Photo Contest, announced at the festival that his organization will draft a new code, formalizing its definition of staged images. The already animated debate was enlivened by the arrival, a week into the event, of the simple image of the drowned Aylan.
Although the debate about altering works of photojournalism has intensified in recent years, the manipulation of images that become iconic has a long history. Robert Capa, the most renowned photojournalist, took his most celebrated picture, usually known as "The Falling Soldier," during a Spanish Civil War battle in Crdoba on September 5, 1936—or at least he claimed he did. Doubt persists concerning the picture's authenticity: Some maintain it was staged, while some question whether he even took it. (Capa is no longer around to defend himself, having stepped on a land mine in Vietnam in 1954.)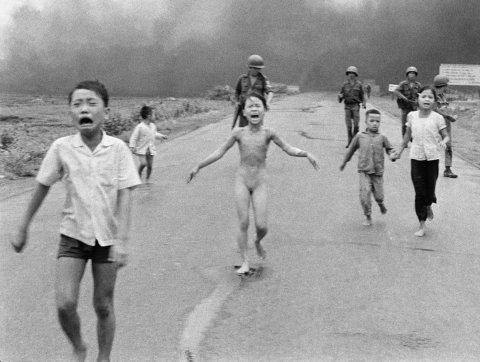 Even images that have no such doubts hanging over them can provoke suspicion. Take, for example, Nick Ut's photograph of a 9-year-old girl, Phan Thi Kim Phuc, fleeing down a road near South Vietnam's Saigon, in 1972, screaming in pain from napalm burns. Then-President Richard Nixon, when confronted with Ut's seminal image, famously asked (the recording survives), "I wonder if that was fixed?"
Does it really matter if a picture is staged? Yes, according to award-winning American photographer Bud Lee, who died in June. One of Lee's prizes was awarded for a 1967 cover shot for Life magazine, which became the most memorable image from that year's Newark, New Jersey, riots: a 12-year-old African-American, Joe Bass Jr., lying in the street, shot twice by police.
"When I arrived at the riot," Lee told me years after the event, "there were kids hanging round; they'd all been stealing. The storefronts were all trashed. I asked them if they'd go back, so it would look like they were looting again. As soon as they did, the cops arrived. The kids froze, all except one, Billy Furr. He panicked and ran. Joey Bass got hit but survived. Billy bled to death, in front of me."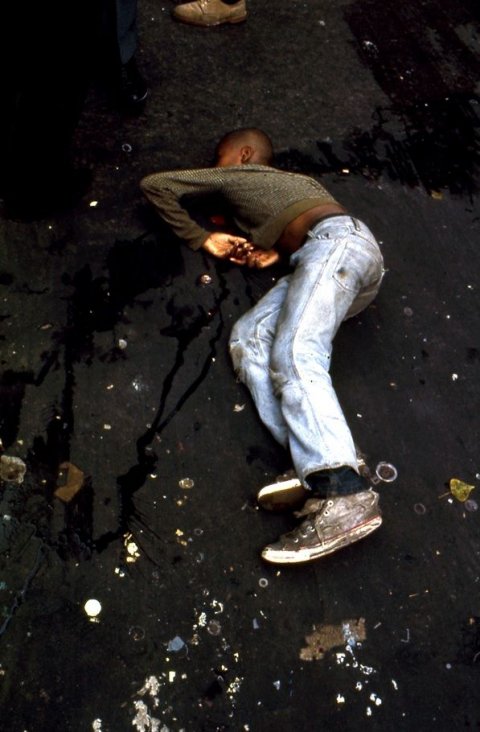 Lee told me that he acted instinctively. "I took my Leica and shot like crazy. I felt ashamed when I saw my pictures. I felt humiliated. All I wanted was a photograph. I didn't want anybody to die."
London-based photographic director and curator Cheryl Newman agrees with Lee that there is no room for manipulation in photojournalism. "Documentary work," she says, "should be a truthful account of an event. It shouldn't be tampered with in any way. It's true that some images work compositionally as well as being powerful records of an event. Other images grab a collective consciousness, as was the case with Aylan Kurdi. That picture could have been taken on a mobile phone. That doesn't matter. What matters is the reality."
The debate about manipulation has intensified in recent years, partly because of changes in the economic model of publishing—notably, the way the Internet has made it harder for even seasoned professionals to make a living. Online outlets generally pay lower fees than print publications and tend to rely on images distributed by agencies rather than hiring photographers themselves.
Photojournalism—even in its glamorous heyday, in the '60s and '70swas never the most comfortable of occupations. Today, with the market dominated by the large agencies, the business is even harder. In the mid-'90s, I worked with a courageous American photographer named Carolina Salguero in the former republic of Bophuthatswana, in South Africa. Salguero retired after shooting pictures of the terrorist attacks in New York on September 11, 2001. She now lives on a boat in Brooklyn, where she runs PortSide New York, an organization dedicated to improving the city's waterways.
"It was getting harder," she says. "I felt pressured to specialize in violence and genocide. The fees weren't great. Who else gets sent to the most dangerous places on earth and winds up with a tiny vertical credit?"
There are still hugely gifted professionals working in this challenging area, people like British photojournalist Marcus Bleasdale, who last year won the Robert Capa Gold Medal for his work in the Central African Republic, on a commission from Human Rights Watch. Increasingly, though, established photographers say they are making way for inexperienced, low-cost newcomers.
Some leading photojournalists have shifted their focus from the editorial desk to the gallery wall. Luc Delahaye, a highly respected French war photographer who worked in the field between the late 1980s and early 2000s, now produces panoramic tableaux intended for museum exhibition. Brighton, England-based former documentary photographer Simon Norfolk now exhibits conceptual work that draws on his material shot in Afghanistan, Iraq and Liberia. This line of work can be considerably more remunerative than regular photojournalism.
As photographers who once identified themselves primarily as journalists are positioning themselves more as artists, disputes have begun to surface over what differentiates art from legitimate reportage. In March, administrators of the traditionally much respected World Press Photo Contest stripped an Italian, Giovanni Troilo, of a major award because they decided his work could not be defined as documentary photography. Troilo had photographed his cousin having sex with a woman in a car and used a flash positioned inside the car to illuminate the scene, a technique judged to constitute unacceptable manipulation.
As the debate continues over what—if anydegree of alteration of an image is acceptable in journalism, it seems unlikely there will be any shortage of tragedy for photographers to chronicle.
"The thing about a photograph like the one of Aylan Kurdi," Newman tells me, "is that it is impossible to forget once you've looked at it. Even if you shut your eyes immediately, it's too late. The image is with you. It will remain in your memory forever. And that," she adds, "is what gives photography the power to change events."