Imagine for a moment that a group of art enthusiasts have squeezed into mom's old minivan (perhaps dragging along some art skeptics for good measure), loaded up the car with snacks and playlists, and set out to visit some of the country's top museums. There are hundreds of exhibits they could see this fall, but perhaps there's not enough time to reach them all.
Newsweek has compiled a list of 10 worthy stops from New York to Los Angeles and Portland, Oregon, from Dallas to Detroit and Chicago, and from Boston to Philadelphia and Washington, D.C.
Whatever the tastes of the imaginary road trippers, this list has the potential to intrigue and satisfy each member of the troop—and even perhaps to capture the attention and win the affections of those who are not naturally inclined to step over the threshold of a museum.
"Picasso Sculpture"
September 14, 2015–February 7, 2016
Museum of Modern Art, New York City
Pablo Picasso is a household name if there ever was one, but the familiar paintings and drawings that come to mind when he's mentioned are not the protagonists of this exhibit. Instead, the Museum of Modern Art has decided to focus on Picasso's work in three dimensions to highlight a lesser-known side of one of the most well-known artists of the 20th century.
Unlike his painting, which was continual throughout his lifetime, Picasso turned to sculpture several times over the years for discrete periods. The exhibit is divided into chapters, with each gallery or two corresponding to Picasso's various forays into the medium. "Whereas in some rooms it's an emphasis on a kind of serious mood, others may be a much more lighthearted whimsical mood," says Ann Temkin, the Marie-Josée and Henry Kravis chief curator of painting and sculpture. There are "rooms that border on abstraction and others might be absolutely figurative," she adds, with sculptures that "seem like somebody you could talk to or pet."
Visitors will see works like the She-Goat (1950), made of bronze and often on display at MoMA; Guitar (1924), made of painted sheet metal, a tin box and iron wire, reminiscent of Picasso's cubist paintings and a sculpture that "completely changed the world," Temkin says; and Bull's Head (1942), fashioned from a bicycle seat and handlebars.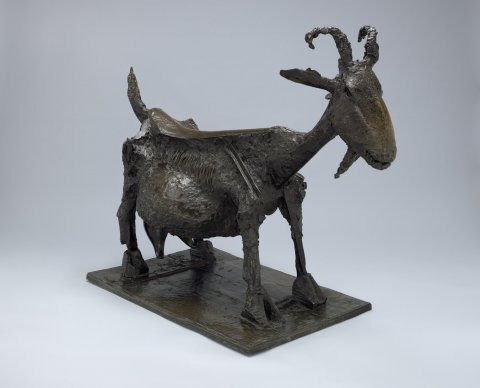 "Spirit and Matter: Masterpieces From the Keir Collection of Islamic Art"
September 18, 2015–July 31, 2016
Dallas Museum of Art, Dallas
The Dallas Museum of Art is the first institution in North America to mount an exhibition of pieces from the Keir Collection—the rarely shown collection that comprises almost 2,000 works of Islamic art made over the course of 13 centuries on three continents. The collection has begun arriving in Dallas this year for a long-term loan of a decade and a half.
The show is an introduction to Islamic art and culture that features pottery, metalwork, works on paper and textiles, Sabiha Al Khemir, the DMA's senior advisor for Islamic art and curator of the exhibit, tells Newsweek. "The majority of Islamic art does not have a religious function, but is filled with spirituality."
Until now, Islamic art didn't have much of a presence in Dallas or Texas in general, says Al Khemir, despite the fact that the state ranks fifth in the country in percentage of the population identifying as Muslim adherents. But with the Keir Collection loan, the DMA becomes the third-largest holder of Islamic art in the country after the Metropolitan Museum of Art in New York City and the Smithsonian's Freer and Sackler Galleries in Washington, D.C. "This is an encyclopedic museum," Al Khemir says. "We have a responsibility to represent 23 percent of the world population."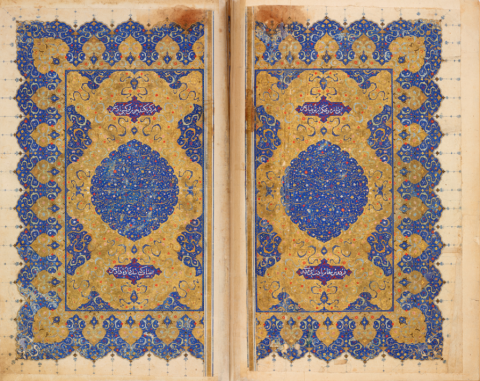 The Broad's Inaugural Installation
Opened September 20
The Broad, Los Angeles
The new building housing works from Eli and Edythe Broad's collection of contemporary art is a work of art in itself. Designed by Diller Scofidio + Renfro—the firm responsible for the High Line and the upcoming expansion of MoMA in New York City—the bright white facade faces the Walt Disney Concert Hall and Museum of Contemporary Art and houses 50,000 square feet of exhibition space.
The inaugural installation includes more than 250 works by at least five dozen artists, representing just a fraction of the 2,000-piece collection. On the third floor, beneath more than 300 skylights, visitors can see works made primarily between the 1950s and the 1990s by artists such as Andy Warhol, Cy Twombly, Roy Lichtenstein, Jean-Michel Basquiat and Cindy Sherman. The first floor features more recent works such as Yayoi Kusama's Infinity Mirrored Room (2013), an immersive display of mirrors and LED lights.
"As vast as the inaugural installation is, very few galleries show the full depth of our holdings in the work of any given artist," Joanne Heyler, The Broad's founding director and curator of this first show, said in a press release. "This gives the public just a hint at the totality of the collection—and a reason to come back many times to see fresh rotations, new acquisitions and more in-depth special exhibitions."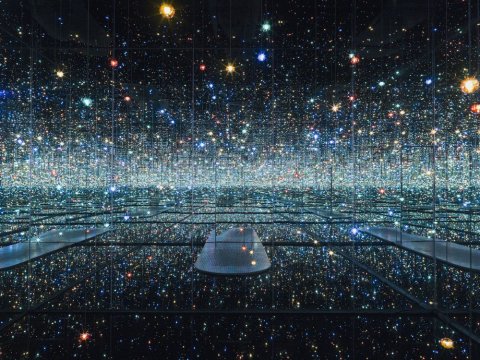 "Superheroes in Gotham"
October 9, 2015–February 21, 2016
New York Historical Society Museum and Library, New York City
Movie screens in recent years have been crowded with superheroes, and theaters with audiences eager to take in their latest world-saving adventures. But "the blockbuster era didn't come out of thin air," says Nina Nazionale, the New York Historical Society's director of library operations and co-curator for the upcoming exhibit titled "Superheroes in Gotham," which looks back to these characters' origins and how they became "a great American form of popular culture that has gone global."
The first superheroes—Superman, Batman, Wonder Woman, Captain America—were created at a time when the country was struggling to come out of the Great Depression and entering into World War II, Nazionale explains. Storylines during the war saw them battling Hitler, Mussolini and Hirohito. Characters like Spider-Man and Iron Man appeared during the Cold War, playing on themes of science, technology and experiments gone wrong.
The exhibit traces the evolution not only of characters and storylines but also of technology, as characters leapt from printed page to radio, animation, color television and film. It includes one of the Batmobiles used in the 1966 Batman television show, original drawings by Steve Ditko from Spider-Man's first-ever appearance in the Amazing Fantasy comics in 1962 and a Superman costume worn by George Reeves in the Adventures of Superman television series in the 1950s, as well as a superhero photo booth and interactive asking, "What kind of superhero are you?"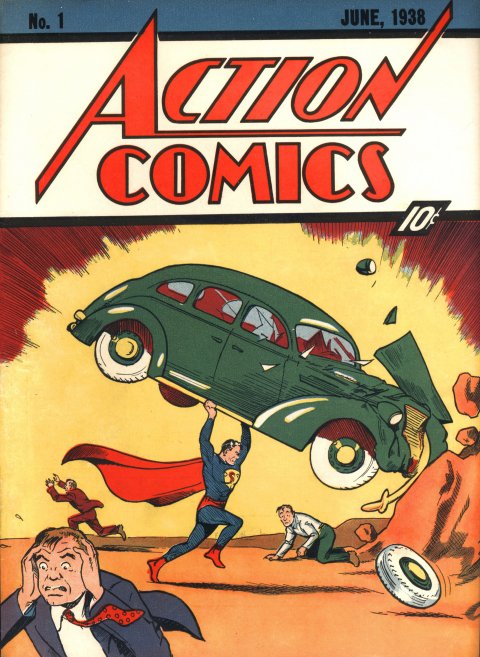 "Seeing Nature"
October 10, 2015–January 10, 2016
Portland Art Museum, Portland, Oregon
An exhibit organized by the Portland Art Museum and the Seattle Art Museum presents more than three dozen landscape works created over hundreds of years by some of the most recognizable names in art history. The idea of "seeing nature" allowed the curators "to trace key moments in the evolution of landscape painting from the 17th century to the present," Brian Ferriso, chief curator of the Portland Art Museum, tells Newsweek.
With 39 pieces drawn from the collection of Microsoft co-founder Paul G. Allen, "audiences will be able to understand how landscape painting evolved from being a backdrop for mythological and allegorical themes in the 17th century to a more prominent and accepted genre in the classical landscape of the 18th and 19th centuries," Ferriso says, as well as how landscapes were depicted through movements like impressionism, modernism and surrealism in the 19th and 20th centuries.
The show includes works from Jan Brueghel the Younger, Canaletto, Claude Monet, Paul Cezanne, Gustav Klimt, Edward Hopper and Georgia O'Keeffe, among others. "Each piece in this exhibition is a masterpiece worthy of a single-painting exhibition," Ferriso says.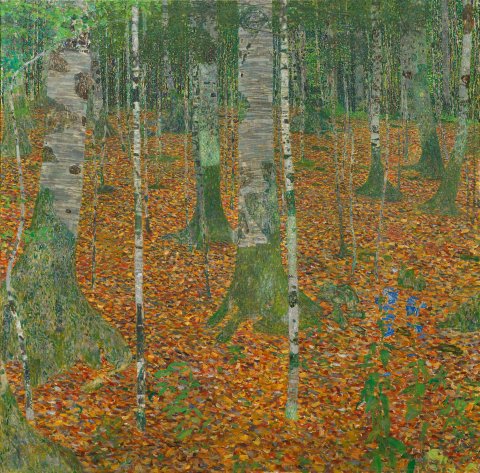 "Class Distinctions: Dutch Painting in the Age of Rembrandt and Vermeer"
October 11, 2015–January 18, 2016
Museum of Fine Arts, Boston
The Museum of Fine Arts in Boston has spent more than five years planning for an exhibit of 75 works that depict the upper, middle and lower classes in the Dutch Republic of the 1600s, nearly a third of which have never before been displayed in the U.S.
Visitors will wend their way through galleries to see paintings that portray rulers; landed nobility and aspiring nobles; regents and wealthy merchants; professionals and educated businessmen; and shopkeepers, craftsmen and tradesmen; as well as rare depictions of lower-class laborers and the poor. The final room of the exhibition is devoted to situations that brought members of the different classes together, with works like Hendrick Avercamp's Winter Scene on a Frozen Canal (est. 1620) and Jacob Ochtervelt's Street Musicians at the Door (1665).
Curator Ronni Baer—who plans to spend a lot of time with Rembrant's The Shipbuilder and His Wife (1633), from the British Royal Collection—hopes the exhibit "will deepen visitors' (and scholars') understanding of Dutch painting and the context in which it was made," she tells Newsweek. "Visitors might also come away from the exhibition thinking about the role that rank and status play in their own society."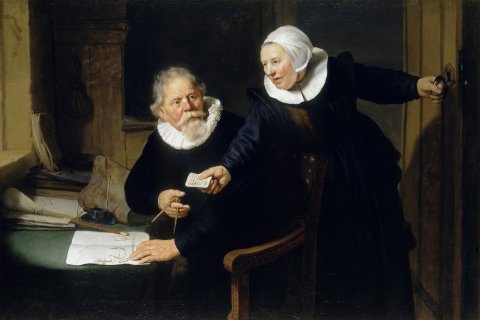 "30 Americans"
October 18, 2015–January 18, 2016
Detroit Institute of Arts, Detroit
The Rubell Family Collection first curated and presented 30 Americans in Miami in 2008, bringing together work by African-American artists of the last three decades. The exhibit has since made stops in Raleigh, North Carolina, Washington, D.C., Norfolk, Virginia, Milwaukee, Nashville, Tennessee, New Orleans and Little Rock, Arkansas. In October, the Detroit Institute of Arts will present an abbreviated version—55 pieces—of the original Miami show in its special exhibitions spaces.
The earliest piece in the exhibition is Noir, a 1978 portrait of a black man in a suit by Barkley L. Hendricks, whose work inspired some of the younger artists represented, like Kehinde Wiley. The show features paintings, photographs, installation and performance art, video and sculpture from artists such as Kerry James Marshall, Nina Chanel Abney, Lorna Simpson and the late Jean-Michel Basquiat.
"As the show evolved, we decided to call it 30 Americans. 'Americans,' rather than 'African-Americans' or 'Black Americans,' because nationality is a statement of fact, while racial identity is a question each artist answers in his or her own way, or not at all," Dan and Mera Rubell said in a statement. "And the number 30 because we acknowledge…that this show does not include everyone who could be in it."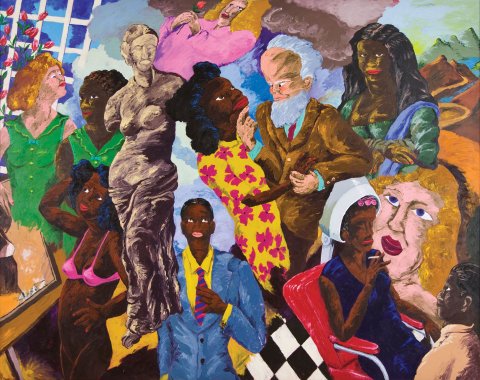 "Audubon to Warhol: The Art of American Still Life"
October 27, 2015–January 10, 2016
Philadelphia Museum of Art, Philadelphia
Close your eyes and conjure up an image of a "still life." There's a decent chance that what comes to mind involves a bowl of fruit and a whiff of boredom. But at the Philadelphia Museum of Art, an upcoming exhibit on "the art of the American still life" has very few works that would typically be described as such.
"Even the most mundane subjects in the eyes of these artists become truly fascinating," says curator Mark Mitchell. The relationship with objects has changed over the years, he explains, and can be split into four distinct periods of practice, which are represented in four sections of the exhibit: describing, indulging, discerning, animating.
Visitors will have a chance to see etchings from John James Audubon's The Birds of America (1827-1838), for example, representing the "discerning" period during which artists attempted to record and define the world around them. A hundred years later, as part of the animating period that endowed things with lives of their own, Georgia O'Keefe painted Two Calla Lillies on Pink (1928). Each of the four sections will have walls of different colors, distinct voices on the audio guide and other markers to emphasize the discrete periods of practice.
"One thing [visitors are] definitely going to take away is a different definition of 'still life' than they came in with," Mitchell says, as well as "a really different understanding of how they look at the things around them."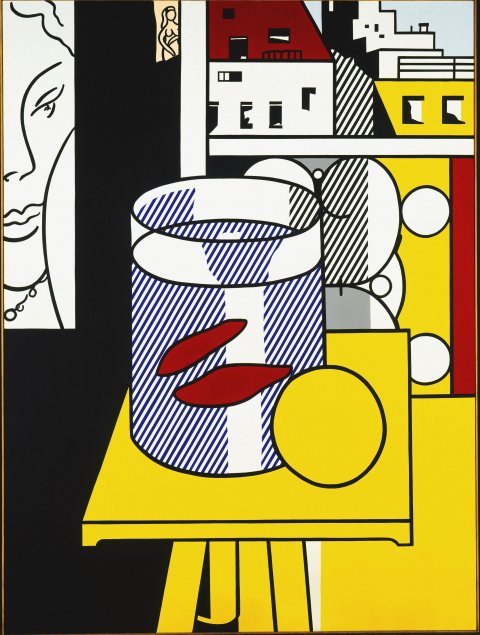 "Celebrating Photography at the National Gallery of Art: Recent Gifts"
November 1, 2015–March 27, 2016
National Gallery of Art, Washington, D.C.
The National Gallery of Art founded its photography collection 25 years ago. The museum decided to put on three exhibits in 2015 to celebrate the growth of the collection over two and a half decades. The first two—"In Light of the Past" and "The Memory of Time"—explored, respectively, highlights of the collection from the late 19th century to the 1970s, as well as how photographers explored time and memory from the 1990s to 2014.
The third and final exhibit in the series, "Recent Gifts," features just that—works the museum received from donors in honor of the quarter-century anniversary. The exhibit is composed of 200 works by 45 artists, including pieces by William Henry Fox Talbot, a British photography pioneer who developed an early process of using a negative to make prints in 1840; Duchenne de Boulogne, a French scientist who made a series of pictures studying human emotions in the 1860s; and 20th-century photographic luminaries like Robert Frank, Richard Avedon and Diane Arbus.
There's a roomful of works from the 1970s that show how photographers were thinking about landscapes in new ways, says Sarah Greenough, a senior curator and head of the department of photographs, as well as a group of more recent works at the end of the exhibit that use photography to explore the concept of time. She hopes the "wonderful sampling from throughout the history" of photography will allow visitors to "see the richness of the medium now as it approaches almost two centuries."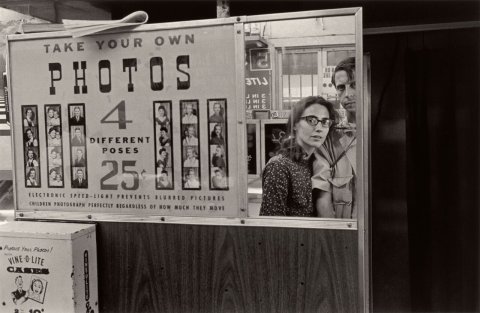 "Surrealism: The Conjured Life"
November 21, 2015–June 5, 2016
Museum of Contemporary Art, Chicago
The Museum of Contemporary Art is dedicating an exhibit to surrealism based primarily on pieces found in the MCA's collection. "It's rare to have rich holdings in surrealism, [but] it's the way we were birthed," says curator Lynne Warren, explaining that many of the founding trustees of the museum and legendary collectors of Chicago were oriented toward the movement formally described by poet André Breton in his 1924 Manifesto of Surrealism.
The exhibit includes work from famous surrealists like Max Ernst and Rene Magritte, whose piece The Wonders of Nature shows a couple of reverse mermaids (human bodies with fish heads) blending into the stone bench upon which they sit in front of a waterscape and a sailing ship that blends into the waves.
Artists not usually associated with surrealism, like Jeff Koons and Cindy Sherman, will be featured in the exhibit, along with several Chicago-based artists working in the second half of the 20th century, who are less familiar nationally and internationally. Warren is particularly proud to present works by female surrealists such as Leonora Carrington and Ernst's wife, Dorothea Tanning, despite the male-dominated narrative of the movement.