Thirty years ago, the music industry changed forever in the midst of the Parents Music Resource Center's fight to identify and label explicit lyrics.
The Parents Music Resource Center (PMRC) formed in 1984 around the collective outrage of four women known for their ties to Washington political life. Founding members Susan Baker (wife of then-Treasury Secretary James Baker), Tipper Gore (wife of senator and future Vice President Al Gore), Pam Howar (wife of Realtor Raymond Howar) and Sally Nevius (wife of Washington City Council Chairman John Nevius) had become disturbed by Prince, Madonna and other music their kids were listening to. And on September 19, 1985, the culture wars came to a head in a "porn rock" Senate hearing featuring testimony from John Denver, Dee Snider and Frank Zappa.
From this political fervor emerged the "Parental Advisory" sticker that probably dots your CD collection today. In this oral history, Susan Baker, Dee Snider, Gail Zappa, Sis Levin and others tell the inside story of how it happened—and reflect on the 30 years that have gone by.
All of the material contained in this oral history was provided in the form of separate phone interviews with Newsweek, with three exceptions. Tipper Gore declined to be interviewed but did supply a statement through a representative. Cronos, of the metal band Venom, responded to interview questions via email. And the quotes attributed to the late Frank Zappa are from the artist's autobiography, The Real Frank Zappa Book. (The book was written in the late 1980s, hence the use of the present tense when referring to the then-active PMRC.)
Susan Baker, co-founder of the PMRC: It started because one day my 7-year-old came in and started quoting some of Madonna's lyrics to me, wanting to know what they meant. And I was shocked. I knew that you had to be concerned about movies and TV, but I didn't have a clue that my 7-year-old would be exposed to inappropriate songs.
Pam Howar, co-founder of the PMRC: I had a daughter. And anything delivered through music can be pretty powerful.
Susan Baker: It was "Like a Virgin." She [my daughter] said, "Mama, what's a virgin?" And I said, "What do you mean?" She said, "Well, Madonna sings this song: 'Like a virgin / Touched for the very first time.' What's a virgin?" I was speechless. Here she was still playing with dolls at 7.
Frank Zappa, musician and composer (in The Real Frank Zappa Book): There are several "historical accounts" from which to choose. Let's arbitrarily choose this one: One day in 1985, Tipper Gore, wife of the Democratic senator from Tennessee, bought her 8-year-old daughter a copy of the soundtrack album to Prince's Purple Rain—an R-rated film which had already generated considerable controversy for its sexual content. For some reason, however, she was shocked when their daughter pointed out a reference to masturbation in a song called "Darling Nikki." Tipper rounded up a bunch of her Washington housewife friends, most of whom happened to be married to influential members of the U.S. Senate, and founded the PMRC.
Sis Levin, executive director of the PMRC: I did a doctorate in conflict resolution in nonviolence. Which I teach at the university level all over the place. The fit is that the music is a form of violence in our children.… I took a desk and we had meetings and we talked about having opportunities to speak to the public. We would say, "Just listen to what they're listening to! And get a handle on it!" Because it does have an effect.
Susan Baker: We decided we would get together and get everybody on our address list and have a meeting and show them what we were upset about. Most of them didn't have a clue what was going on. That's how it started. We had no idea we were going to start an organization. We were just mad mamas who wanted our friends and, particularly, educators to know what kind of trash our children were buying. We felt we needed some information [in the form of] product labeling.
Kandie Stroud, journalist and PMRC spokeswoman who debated Frank Zappa on TV: We were a family completely saturated in music. I remember one time, one of my kids said, "Listen to this song, but don't listen to the lyrics, mom, you won't like them." Sure enough, it was some explicit song. I think it was something by Prince. I kind of looked into the topic and interviewed a bunch of different people in the music world. I thought, "Wow, it's really changed since the days of the Beatles and Elvis."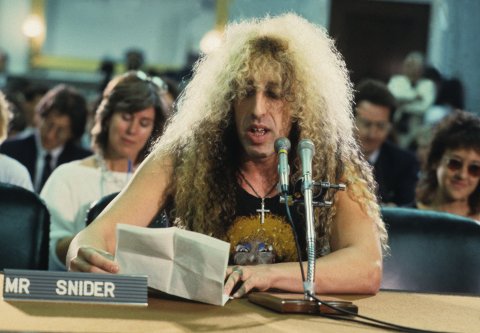 The PMRC set to work compiling contacts from their respective Christmas card lists and issuing press releases. The group sent a letter to the Recording Industry Association of America (RIAA) and more than 50 record labels. According to A History of Evil in Popular Culture, "The letter proposed that record companies either cease the production of music with violent and sexually charged lyrics or develop a motion picture-style ratings system for albums.… Violent lyrics would be marked with a 'V,' Satanic or anti-Christian occult content with an 'O,' and lyrics referencing drugs or alcohol with a 'D/A.'"
In 1985, the PMRC issued a list of 15 songs—nicknamed the "Filthy Fifteen"—​which it deemed particularly objectionable and deserving of being banned from radio airplay. The Filthy Fifteen included songs by household-name pop stars like Madonna, Cyndi Lauper and—of course—Prince's "Darling Nikki." It also took aim at heavy metal, targeting lesser-known groups W.A.S.P., Venom and Mercyful Fate. The list included Twisted Sister's "We're Not Gonna Take It," which had become a hit single and video on MTV in 1984.
Susan Baker: Our goal in the beginning was just to alert people.… We just said, "Well, we'll start this group and see if we can get some labeling or some ratings. Kind of like movies." Within the first five or six months, we talked to Stan Gortikov, head of the RIAA. So we were working with him, and within a year they agreed that they would do something. One year afterward, they really weren't doing much of anything. When they were putting labels on things, they were real small and you couldn't read them. We had a big-time meeting with him. And by that time, we had a lot of publicity—in Newsweek and on the TV with Oprah and different things, Good Morning America. People were really getting riled up about it. Some legislators were even introducing bills to have in their state so they would have to have certain things on the labels.
Cerphe Colwell, longtime Washington, D.C., radio personality who testified at the PMRC hearing: Ironically, most of the heavy metal songs that they listed at the time were virtually unknown to the public. Heavy metal as a music format hadn't really blossomed. I truly believe to this day that one of the reasons that metal took off so much in the 1980s as a successful format is that the PMRC brought attention to what they thought was unacceptable, and of course that made it very much in the spotlight.
Cronos, singer for the Filthy Fifteen-targeted Venom: I was told about the PMRC during a recording session in the '80s, and I thought someone had hidden cameras, like pulling a prank on me to see my reaction, so I dismissed it as bollocks. Then, when I found out they were real, I couldn't understand how supposedly intelligent people could be so ignorant. Of course rock and roll has all of the subject matter they accused it of having. It's rock and roll! It's supposed to be hard-core and edgy. Most of us rockers have families, and we are responsible parents. We don't need the PMRC doing our jobs of protecting our kids from the harmful shit in this world. I would have been more upset if one of my songs or albums had not taken pride of place on their list.
Dee Snider, frontman for the Filthy Fifteen-targeted Twisted Sister: You talk about the music that was on the Filthy Fifteen, it's easy listening by today's standards. It's more than ironic that in the movie Rock of Ages, the Parents Music Resource Center-esque group headed by Catherine Zeta-Jones sang "We're Not Gonna Take It" at the rock star! That's irony in its purest form.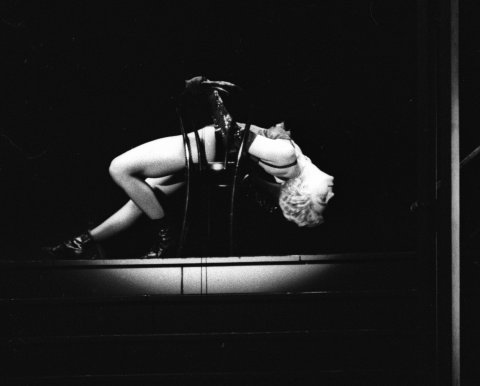 Susan Baker: We went all over the country talking to PTA groups and parent groups. And we'd say, "Look. This kind of inappropriate stuff is going to be out there in the culture. So you have to teach your kids to think critically about it."
Blackie Lawless, singer for the Filthy Fifteen-targeted W.A.S.P.: It's true, they made us a household word. But they made us a household word of people's grandmothers in the Midwest. Because the kids already knew who we were. The kids already had the records. Yeah, they make you a household word to somebody's grandma, but grandmas don't buy records. I think a lot of artists thought, OK, this exposure's gonna help us sell more records. But I don't think in reality it did. I know it didn't for us.
Joanne McDuffie, singer for the Filthy Fifteen-targeted Mary Jane Girls: I thought it was weird. It was like, "Really?"… When they picked that song ["In My House"], I remember being really, really irritated, because there was nothing in the song that would suggest anything inappropriate. Was the song about sex? Of course it was. But lyrically, it was very tastefully done. It wasn't something that would make your kids go, "Oooh, I'm gonna go figure out what she's talking about."
Blackie Lawless: I'm coming from a whole different perspective because I don't know if you're aware or not, but I'm a born-again Christian. I've not played that song ["Animal (Fuck Like a Beast)"] for almost 10 years. That song would not be something I would want to be represented as.
Joanne McDuffie: I think it was a blacklist. Or a modern-day witch hunt. Or an attempt at censorship for certain artists and certain songs. When I look at what happened, it didn't stop the airplay.… What it did stop was our consideration for the awards that I think any other artist of our stature or our popularity would have gotten.
On September 19, 1985, the PMRC's efforts culminated in a much-publicized Senate hearing to consider the group's proposal. There, Tipper Gore advocated for "a warning label on music products inappropriate for younger children due to explicit sexual or violent lyrics." Alongside members of the PMRC, the Senate Committee on Commerce, Science, and Transportation heard testimony from three popular musicians: Frank Zappa, Dee Snider and John Denver.
All three argued voraciously against what they characterized as censorship. In perhaps the most enduring testimony from the hearing, Zappa described the PMRC's proposal as "an ill-conceived piece of nonsense which fails to deliver any real benefits to children, infringes the civil liberties of people who are not children and promises to keep the courts busy for years."
Dee Snider: I just remember getting a call from my management office asking, "Would you testify at these hearings?" And I was like, "Hell, yeah." I assumed this would be, like, young people would rise up! And I was being asked to carry the flag. Didn't give it a second thought. "Yes, I will carry the flag into battle. Follow me!" As I stood out there by myself on the field of honor, I realized that nobody was following.
Susan Baker: Tipper and I were the ones that testified. It gave us more exposure, which we were hoping for. It was kind of a circus.… We were called awful things. They called us bored housewives and a bunch of crazy alcoholics. It was not a pleasant thing. But we said, "Well, so what? We think this is right." We just soldiered on. Like I said, the four founders really felt like we'd made progress and accomplished something.
Cerphe Colwell: I got a call from Frank Zappa and he said that he was testifying. Evidently somebody in his circle said that the PMRC, which was part of a Senate select subcommittee, was looking for some music experts. I was sort of a go-to guy. At that point I'd been on radio in D.C. for maybe 16, 17, 18 years. I played Frank's music and Frank had been a guest on my show many times. I jumped at the chance.