Smith was destined for execution. The lion had already been castrated, declawed, separated from his mate, Amazonas, and caged with another male's offspring. He was agitated. Then one day in August 2014, during a circus performance in Peru, as he sat perched on a pedestal above a spectator's head, which was lowered, exposing the back of her neck, the trainer commanded Smith to jump, and his natural instinct prevailed. He pounced on the audience member, grabbing her in his jaws and dragging her around the ring until a handler beat Smith into submission and forced him back into a cage.
The spectator survived, but the incident triggered an outcry for the lion to be euthanized, says Tim Phillips, vice president of Animal Defenders International. His group countered by pointing out how it was people, not Smith, who had acted recklessly and violated a law banning wild animals in circuses. ADI successfully pleaded with Peruvian authorities for Smith's life to be spared and, with law enforcement's help, the group returned a few days later to seize the lion from Circo de Monaco. "The world would be appalled if a lion is effectively murdered for what comes naturally when it was human beings and the circus being completely irresponsible and stupid," Phillips says.
In addition to Smith, 32 lions and about 60 other animals have been recovered from circuses in Peru and Colombia over the past year—following bans on the use of animals in circuses in those countries—as part of ADI's Operation Spirit of Freedom. In some cases, the organization and the Peruvian government worked together to accept and relocate recovered animals, while other times they had to free the animals from circuses that refused to let them go. The rescue portion of the nearly $1.7 million operation was completed this July.
But freedom isn't enough. These animals need an adequate place to spend the rest of their lives, and one that's not "in the wild." Animal activists can expect to encounter this challenge more often as governments continue to crack down on the use of animals in circuses; 40 nations have now outlawed this practice to some degree. (In the U.S., circuses are allowed to use wild animals in acts, though the Animal Welfare Act of 1966 provides some minimum standards for the care of animals in traveling exhibits.) The stakes are high: Without a rescue group such as ADI assisting with logistics, these animals would likely be euthanized or put in zoos possibly without the infrastructure to accommodate them, or bans would simply go unenforced by overwhelmed authorities.
Husband-and-wife team Phillips and Jan Creamer founded ADI in 1990. Creamer's passion for animal rights began in the 1970s when she saw a leaflet about researchers forcing beagles to smoke cigarettes in lab experiments. She later became chief executive of the National Anti-Vivisection Society, which combats the use of animals in product testing and scientific research. Creamer has filmed the mistreatment of animals in entertainment, circuses, labs and slaughterhouses. As for Phillips, after seeing the 1981 documentary The Animals Film, he promptly quit his banking job, became a vegetarian, bought a camera and started documenting abuse.
About a decade ago, they arranged an undercover team to infiltrate circuses throughout South America. Their clandestine footage revealed appalling instances of animals beaten and shocked with stun guns, chained up, malnourished, living in deplorable conditions and with missing eyes or smashed-in teeth. The work eventually led to Bolivia banning wild and domestic animals in circuses in 2009. But not all complied, and Operation Lion Ark commenced. ADI teams tracked down illegal traveling circuses across Bolivia, rescued 29 lions (as well as other animals) and airlifted 25 of them to the Wild Animal Sanctuary near Denver.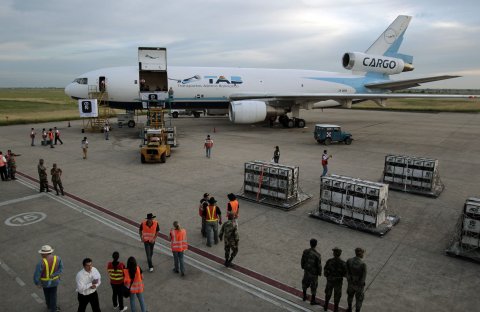 The animals at the 720-acre sanctuary—the largest in the United States—are representative of the animals in such refuges across the world. Most of the roughly 400 large animals here came from people keeping them illegally as pets or in abusive situations. Two black bears were raised by a taxidermist to be killed, mounted and sold. One female mountain lion was confiscated after the person holding her as a pet beat her unconscious with a baseball bat when the lion played too rough. Two wolves were raised in the mountains by a husband and wife who later divorced. The husband, to spite his ex-wife, hired someone to kill the wolves. But the shooter called the sanctuary instead.
Captive-born carnivores have a "very warped view of life," says Wild Animal Sanctuary Executive Director Pat Craig. "Most don't even know how to function in a family setting, or have the muscles or coordination to run or play in a large space." So once an animal is rescued, it will likely need to undergo significant rehabilitation—which can happen only in sanctuaries with enough money to build enclosures where animals have space to roam, and the trained personnel to work on muscle and motor skill development, address medical problems like poor diets and missing teeth, and teach the animals to use their natural instinct.
Once Operation Lion Ark animals were placed, it was time to move on to the next country: Peru, which passed its ban in 2011. Operation Spirit of Freedom began in early 2014, when ADI and Peruvian authorities went about finding circuses and roadside zoos. "When you consider Peru is the size of Texas and California combined and is split by the Andes, you kind of get an impression of the sheer scale of tracking down a small circus that has two lions and might be in the jungle somewhere," Phillips says. And once they did find them, they'd often face hostile opposition from circus workers. For example, some would bang on cages to rile up the animals, making raids chaotic. In another confrontation, a family who owned a traveling circus barricaded a puma in a truck bed behind equipment and tools, refusing to comply. They argued that turning over the animal would destroy their livelihood.
To obtain Smith, Creamer entered the circus—a traveling affair, at the time it was located in Cuzco, the gateway to the Sacred Valley of the Incas and the ancient city of Machu Picchu—with police officers, and a face-off ensued for several hours. According to Phillips, the circus handlers threatened to release the wild animals into the streets if rescuers didn't back down. After more negotiating, rescuers left with three lions, leaving two cubs, Smith and a spider monkey named Pepe behind. A few days later—after Smith attacked the spectator—accompanied by police in riot gear, rescuers seized the remaining animals. Then it was a 35-hour drive back to the temporary holding facility in Lima, Peru. "We go through hell on earth to get these animals," Phillips says.
In the end, about 90 animals—including lions, monkeys, kinkajous, a tiger and a tortoise—were recovered from Peru and Colombia, and placed in the Lima holding facility until they could be relocated to permanent homes. Colorado resident Brenda Lee volunteered at the facility for two weeks, helping with feeding, cleaning and vaccinating the lions and monkeys. "You could tell which ones had been really traumatized," she says; they were easily spooked.
A big chunk of change next went to the construction of habitats and the relocation of 39 monkeys and other animals to sites near Iquitos, Peru—the biggest city in the world inaccessible by road—an effort that required numerous trips through the unrelenting heat and torrential rain of the Amazon rainforest, which Phillips describes as working in an "absolute quagmire." In April 2015, a large group of animals flew 600 miles on a Peruvian Air Force aircraft and then traveled by road to a naval base to board boats headed upriver to their final destination—semi-captive, ADI-constructed jungle habitats, far away from people.
In late October, Smith and the 32 other lions will travel on a chartered Boeing 747 from the holding facility in Lima to Johannesburg, South Africa, and onto the Emoya Big Cat Sanctuary, a 12,000-acre facility where the goal is to reintroduce Smith to his former mate, Amazonas. This will be the biggest airlift of its kind, according to organizers. The sanctuary is on a private estate in Limpopo, the northernmost province in the country, and is closed to the public. It also has a no-breeding policy. Still to come: constructing large, natural habitats and enclosures for these lions—another major expense. Phillips says all the challenges in rescuing and placing these animals have been worth it: "When you see Smith being so playful, you think if you had just taken the easy option, he would have just lived and died in that circus cage."